Last updated on June 6th, 2023
Velvety crawfish bisque combines crawfish tail meat, cream, leeks, garlic and crab boil for a little heat. Serve warm with crusty bread.
This post may contain affiliate links. Click here to learn more about how affiliate links are used on this site.
My husband loves a good old crawfish boil. I like crawfish, but not the process required to extract the meat … pinch the tail, suck the head. All that work for a tiny little morsel and the meat is usually so dang spicy I can't even handle it. Careful, my Midwestern roots are showing.
Thankfully, NONE of that is required for this creamy crawfish bisque recipe. It's velvety smooth and has all that yummy crawfish flavor without any of the work.
What's the difference between a bisque and a chowder
A bisque and a chowder are both thick, creamy soups. However, a bisque is usually pureed until velvety smooth. A chowder has large chunky pieces.
Ingredients and tools needed to make crawfish bisque
Even though this bisque is easy to prepare, it's big on flavor. To make crawfish bisque, you'll need:
3 tablespoons olive oil
2 tablespoons unsalted butter
1 large leek – leeks look like giant green onions, but have a milder flavor. If you can't find leeks, substitute with six chopped green onions instead.
3 cloves minced garlic
1/4 cup all-purpose flour
1 (6-ounce can) tomato paste
1/4 cup bourbon – unless you are a bourbon drinker, don't go out and spend a lot of money here. A small bottle of cheap bourbon is just fine, or if you'd rather, omit and add extra chicken broth later.
1/4 cup cooking sherry – dry white wine can also be substituted.
4 cups chicken or seafood stock – store bought is fine, but I prefer homemade. You can find my posts on making your own chicken stock and shrimp stock.
2 cups heavy cream
1 teaspoon shrimp boil
1 pound cooked crawfish tail meat – here in the Southeast, I can find frozen crawfish tail meat in my grocery store year round. However, if you live outside this area, crawfish tail meat may be harder to find. Frozen crawfish can be purchased online and delivered from one of these reputable distributors: Cajun Grocer or Louisiana Crawfish Co.
Salt and pepper to taste
Wash and trim the leeks
Leeks are grown in sandy soil and are, therefore, pretty dirty. Rinsing the outside of the leek isn't good enough, you'll need to cut it in half to reveal the layers within and wash in between as well. The dark green ends of the leek tend to be pretty tough, so we're using the white and light green parts only, as shown below. If you're feeling thrifty, wash the dark green ends and save it for making chicken stock.
Once you've trimmed down the leek, cut the remaining stalk in half. Run the stalks under cool water, pulling back the layers to allow the water to get in between and wash away all the grime. Then lay the stalk cut side down on a cutting board and cut the stalks into half inch pieces. Set the leeks aside.
How to make crawfish bisque
Heat three tablespoons of olive oil and four tablespoons of unsalted butter in a large stock pot over medium heat. Next add the sliced and washed leeks and sauté them in the butter and oil for about 10 minutes. Add the minced garlic and sauté for an additional three minutes. Then gradually add 1/4 cup of all-purpose flour. Whisk the flour while you're adding it to the pan to prevent it from clumping up. Cook the flour for two minutes to get rid of that raw taste. Follow by whisking in one 6-ounce can of tomato paste.
After the tomato paste, add the bourbon and the cooking sherry. Once you've added the spirits, cook for three minutes. Add the stock, heavy cream and shrimp boil. If you would like a little more heat, by all means, add more shrimp boil. Bring the bisque to a boil, then reduce the heat and simmer until the liquid has thickened. This should take about 3-5 minutes. Be sure to stir frequently to prevent the cream from scorching the bottom of your pan.
Remove the pot from the heat. Add one pound of crawfish meat and stir to heat through. Working in batches, transfer the soup to a blender and puree until smooth. I prefer to puree my soup using an immersion blender. Much less mess. Return the pureed soup to the pot. Season with salt and pepper to taste.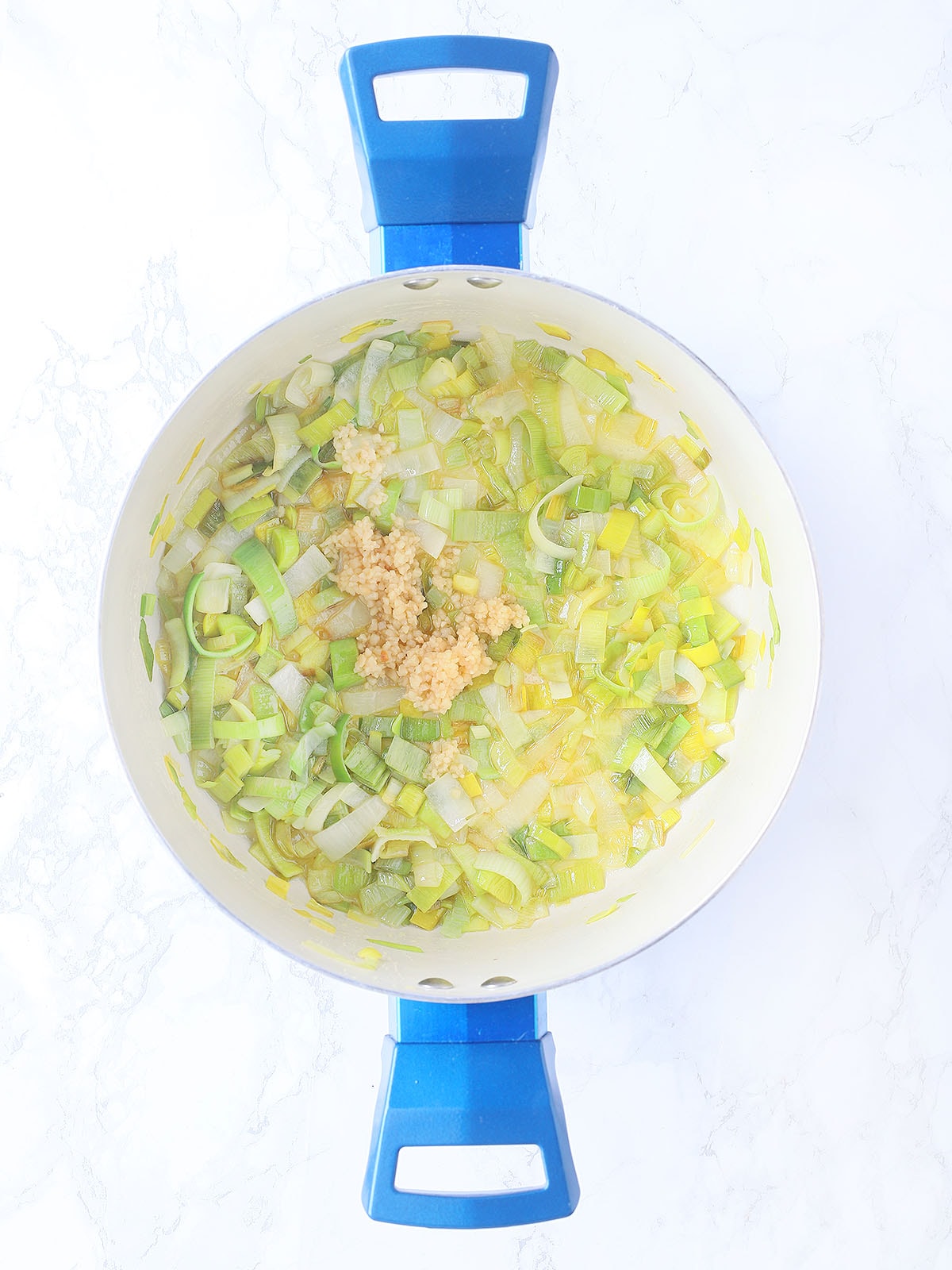 Storage, freezing and reheating
Storage. Crawfish bisque should be refrigerated within two hours. Store in a food safe container with a lid. Crawfish is very fatty and can spoil quickly, so I highly recommend eating the leftover bisque within four days.
Freezing. Transfer any remaining bisque to an airtight container or a freezer bag. If using a bag, carefully remove as much air as you can from the bag before sealing. Be sure to leave some room for expansion. Freeze for up to three months. Thaw completely overnight in the refrigerator before reheating.
Reheating. Pour the soup into a saucepan and reheat over medium low heat. If you are reheating previously frozen crawfish bisque, you may notice the cream has separated from the rest of the soup. Stir the bisque frequently while reheating and the bisque should come together again.
More crawfish recipes: