After making your first batch of homemade strawberry jam, you'll never buy store bought again. It's surprisingly easy and the flavor simply doesn't compare.
This post may contain affiliate links. Click here to learn more about how affiliate links are used on this site.
The act of canning and preserving food in jars – or "putting up" as I have heard some people call it – has become a lost art. I've heard stories from both my own grandmother and The Husband's grandmother about putting up homegrown fruits and vegetables from their gardens. All the women would gather at someone's house and get to work peeling, dicing, stewing, washing jars, and processing the finished products. They turned it into a social event.
Back then people had to preserve their own food. There was no 24-hour big box store selling canned green beans for $.88. There was no frozen foods section at the local general store. You either found a way to preserve the bounty of your harvest or do without come winter.
Preserving your own food has become a dying art
There is no need for it anymore. I can walk into my grocery store and buy a ripe tomato flown in from Florida in December (although it won't taste nearly as good as a tomato from Smith County, MS, in June). Until recently, I would have never considered canning my own food for that exact reason. I have two major grocery stores within 1.5 miles of my house. The aisles of both stores are lined with rows and rows of food in metal cans decorated with colorful paper wrappers.
But What Exactly Is in your food?
I've become a lot more curious about commercial-grade preservatives and what exactly is in my food. After a little research, I've concluded that just about EVERYTHING bought from a store has been treated with something to extend its shelf life. I know the FDA says its fine, but is it really?
Some store-bought jams and jellys contain subpar fruit, artificial dyes, fillers (Like turnips! Yes, turnips!), and artificial preservatives. Buying organic is one route. But have you priced organic lately? I'm a mama that buys store brand whenever she can and a toddler that has recently discovered the goodness that is a peanut butter and jelly sandwich. I cannot afford a $10 jar of spreadable fruit.
 This is what's in my jar of raspberry preserves.  
And yes, that is a blob of peanut butter and jelly on the label.
The Advantages of Making Homemade Strawberry Jam
One advantage is the quality and freshness of the fruit. I used Mississippi strawberries for my jam. They were grown 45 minutes away and picked the day before I purchased them. The only way they could have gotten any fresher is if I had grown them in my backyard and picked them myself.
Finally, I knew exactly what went into my jam – strawberries, sugar, lemon juice, and pectin. Pectin is a soluble fiber used as a thickening agent. It occurs naturally in fruits and vegetables, but some produce contains more pectin that others. Strawberries do not contain a lot of pectin, which is why many recipes will call for the addition of a commercial version – either liquid or powder.
There are some recipes out there that do not use the pectin, but I'll be honest. The jam you see here is not my first batch. I tried a few other recipes without pectin and did not have much luck. I'll be spooning the non-pectin jars over my ice cream this summer.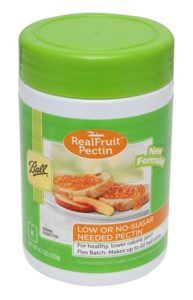 You Don't Need a Lot of Expensive Equipment
This is my first successful batch of homemade jam. It was not hard and I did not need any expensive special equipment. You can purchase this complete kit that proves everything you need to water bath can your finished jars. I purchased this utensil kit for $10.99 in addition to a case of pint jars with lids for $8.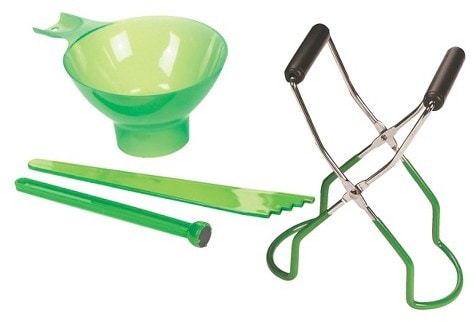 What is Water Bath Canning?
As long as you are processing foods with high acid –such as jams & jellies, tomatoes, and pickles – you can process your jars in a waterbath canner. Acid combined with the high temperature of the boiling water, is enough to kill any bacteria in the sealed jar. Everything else – vegetables, meat, and yes even homemade salsa – requires a pressure canner. Low acid foods must be cooked at a higher temperature – higher than what can be achieved from water bath canning – to kill the bacteria.
The recipe below is for a small batch, meaning it only made two 16 oz. jars. Now that I have a basic recipe nailed down, I'm looking forward to making several other flavor combinations. The strawberry season in Mississippi is coming to a close, so I purchased an entire flat at the farmers' market and froze what I wasn't going to use for later.
Believe me when I tell you, when you pop open a jar and take that first taste of real homemade jam made with fresh strawberries, the flavor is like nothing you can buy in a store.
Want more information on canning your own food?
I recommend starting with the Ball Book Of Canning And Preserving. Marisa McClellan's Food in Jars: Preserving in Small Batches Year-Round is another one of my favorite canning cookbooks. Also, check out my Pinterest board on canning and preserving for some great tutorials I found. Since I'm a novice, any experts out there please feel free to leave comments below.
You Might Also Like:
Basic Homemade Strawberry Jam
After making your first batch of homemade strawberry jam, you'll never buy store bought again. It's surprisingly easy and the flavor simply doesn't compare.

Ingredients
2-1/2

cups

crushed strawberries

about 3 pints

1/4

cup

bottled lemon juice

3

tablespoon

pectin

I used Sure Jell

3-1/2

cups

granulated sugar

2

12 ounce glass preserving jars with lids and bands
Instructions
Fill a large stockpot with enough water to completely cover the tops of your jars. Heat water over high heat until it comes to a rolling boil.

In the meantime, fill another stockpot with water and bring to a simmer. Place jars and lids in the simmering water and leave them until you are ready to fill. This preheats the jars to prevent breakage when you pour your hot liquid into them later. This also prepares the sealing compound in the lids. DO NOT LET THE WATER COME TO A BOIL, or you will activate the lids and render them useless before you even get started.

Place sliced strawberries in a 6- or 8-quart saucepan. Crush strawberries using a potato masher.

Stir in lemon juice, then gradually add pectin.

Bring mixture to a full rolling boil over high heat, stirring constantly.

Add the sugar and stir to dissolve. Return mixture to a boil. Continue to boil for one minute, stirring constantly. Remove pan from heat. Skim foam if desired.

Ladle hot jam into two hot jars leaving 1/4 inch headspace*. Wipe the rim of the jar with a clean, damp rag. Center the lid on jar. Carefully screw on the band until fit is fingertip tight.

Process jars the pot of boiling water for 10 minutes. Remove jars and allow to cool. Once the jars cool, the vacuum seal will form and you will hear the lids "ping" once the seal is complete. Check the lids after 24 hours to make sure the lids do not flex up and down when the center is pressed.
Recipe Notes
*Headspace is the space from the top of the jar to the food or liquid in the jar. Too little headspace, and the food may boil over and prevent the lid from sealing. Too much headspace the jar may not seal properly because the processing time is not long enough to drive the air out of the jar. Food at the top of the jar may discolor.