Last updated on September 9th, 2023
Bacon cheeseburger stuffed French bread has all the fixin's of a cheeseburger without breaking out the grill. It's a perfect make-ahead meal for a busy weeknight.
My oldest son is a fanatic for bacon cheeseburgers. When we visited Disney World earlier this year, I swear he tried his best to eat his way in bacon cheeseburgers across all four parks. While developing this recipe, I wanted to incorporate ingredients you would typically put on a cheeseburger, right down to the tomatoes and pickle relish. As I'm describing my idea, my son adds, "And bacon. It's not a cheeseburger without bacon." And so, this cheeseburger stuffed French bread recipe became bacon cheeseburger stuffed French bread.
Make the Filling
Brown 1 ½ pounds of hamburger meat and ¼ cup of diced onion in a large skillet over medium high heat. Once the ground beef is no longer pink, drain the grease from the pan. Add one teaspoon of minced garlic, two tablespoons of pickle relish and ½ cup (about 5-6 sliced) of cooked, diced bacon.
I also added one 14.5 ounce can of petite diced tomatoes. I didn't want big chunks of tomato in my filling, so I chose petite diced tomatoes because they are cut into smaller pieces. If you can't find petite, regular diced is just fine. Stir all the ingredients together until they are evenly mixed with the hamburger meat.
In a medium mixing bowl, combine 10.5 ounce can of cream of mushroom soup, two tablespoons of milk and two teaspoons of Worcestershire sauce. Whisk these together until smooth, then pour the soup mixture over the hamburger along with one cup of shredded cheddar cheese. Stir again until everything is well mixed.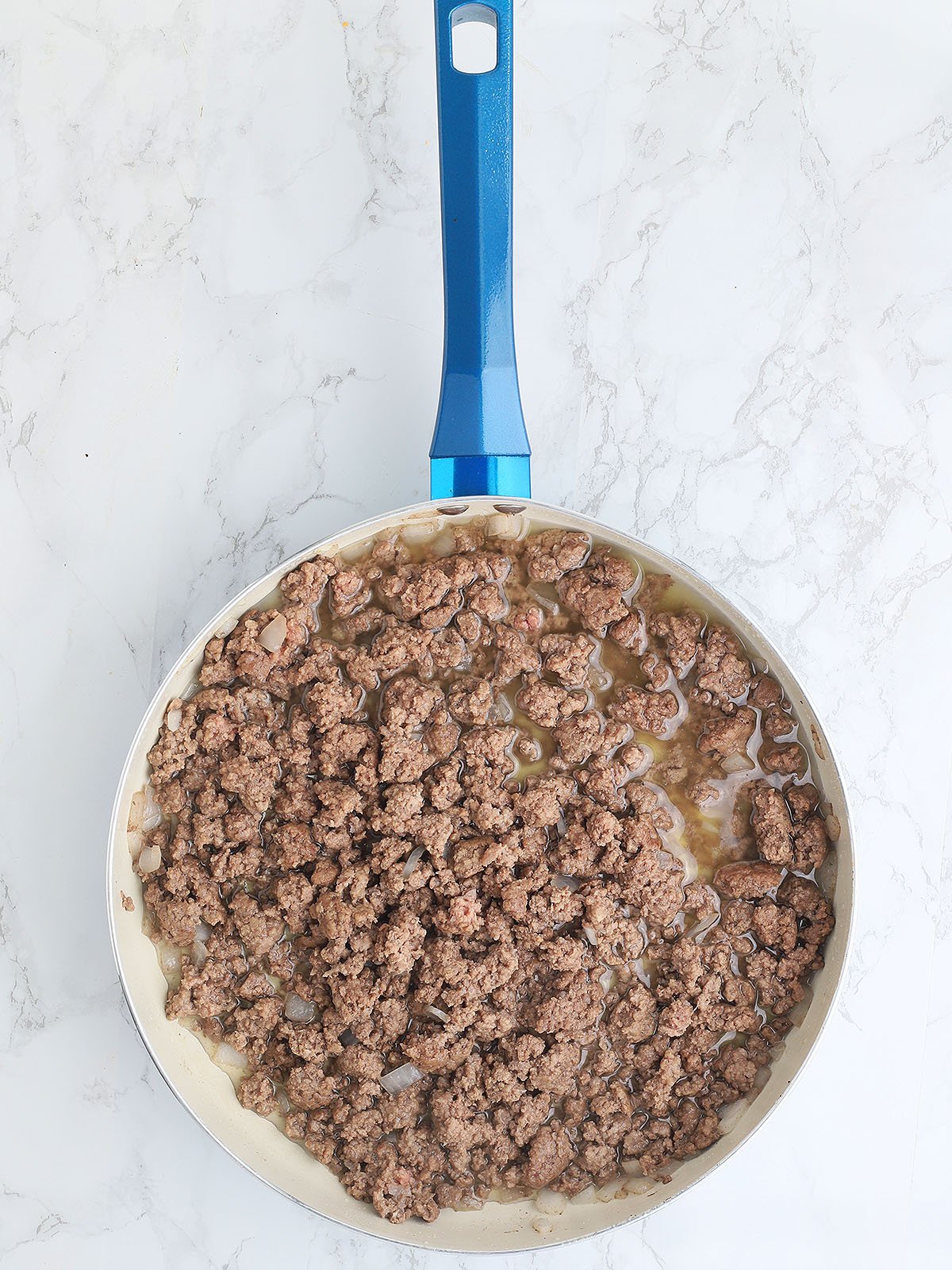 Hollow out the Bread
Any crusty bread that holds its shape will work for this recipe. Using a sharp paring knife, carefully cut out the center of the bread, leaving about a ½-inch border. Be sure not to cut all the way through the bread to the bottom.
Using a spoon or clean fingers, gently remove the bread from the inside. Feel free to save the bread you have remove for another use, like making homemade breadcrumbs. If you do accidentally remove too much bread from the bottom or the sides, simply take some of the bread you removed and press it into the areas that are a little thin to patch it back up.
Stuff the bread
Using a large spoon, carefully spoon the hamburger filling into the hollow area. Once the bread is filled, top with another cup of shredded cheddar cheese. Bake at 350 degrees for 15-20 minutes until the bread is toasted and the cheese is melted.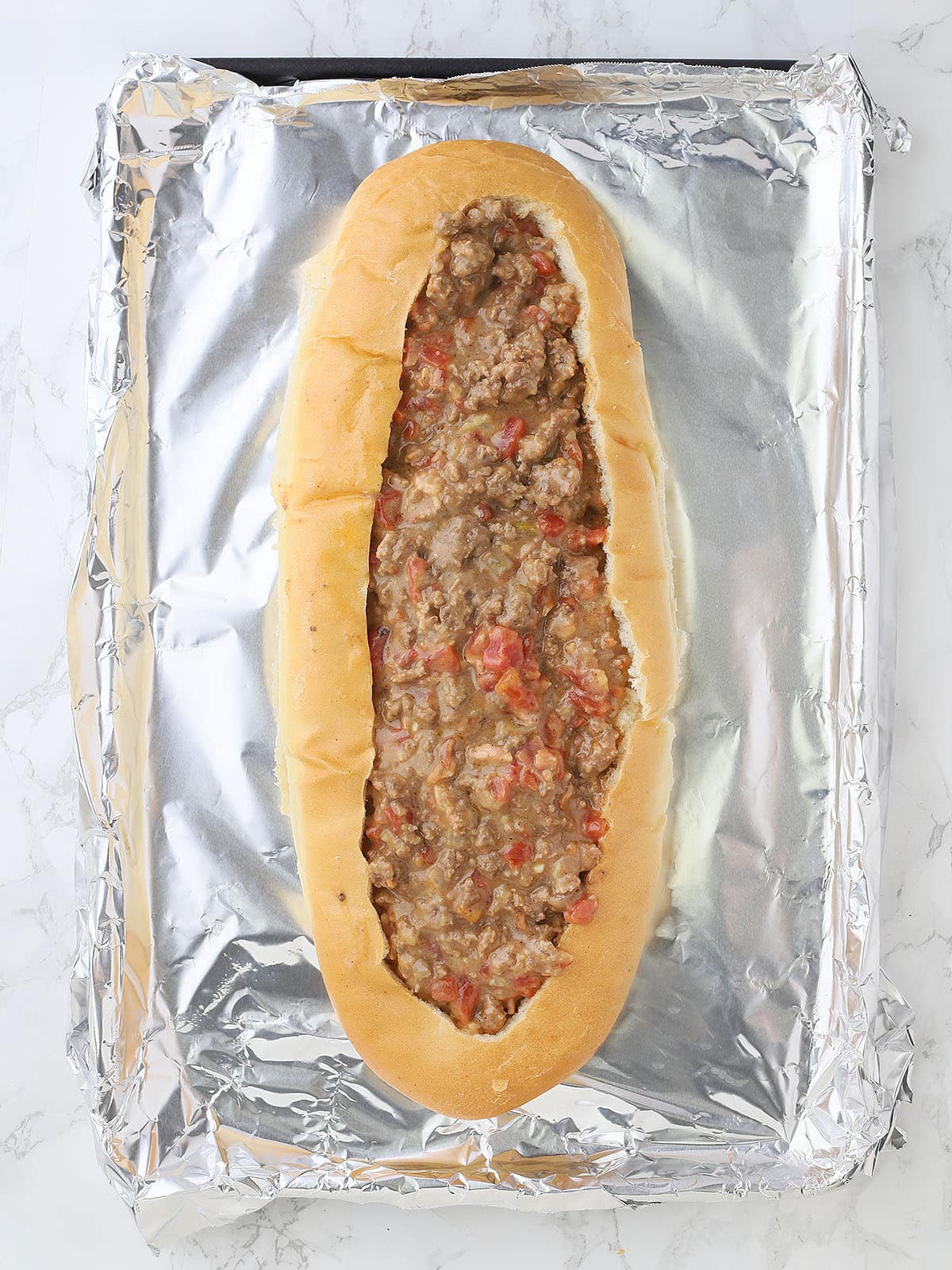 Storage, Freezing and Reheating
Storage. Bacon cheeseburger stuffed French bread can be made up two hours in advance. I would recommend making it much more ahead of time because the bread could become soggy. You'll want to wrap the stuffed bread in plastic wrap to prevent the bread from drying out. If you are looking for a way to save some time during the week, the filling itself can be made several days in advance and stored in the refrigerator in an airtight container. I do recommend warming the hamburger filling before stuffing it into the bread.
Freezing. The bacon cheeseburger filling can be frozen for up to three months. Seal in a freezer bag or airtight container. Allow the filling to come to thaw before heating.
Reheating. For best results, I recommend reheating Bacon Cheeseburger stuffed French bread at 250 degrees for 20-30 minutes until heated through. Likewise, you can reheat this in an air fryer at 350 degrees for about five minutes.
What to Serve with Bacon Cheeseburger Stuffed French Bread