Last updated on May 15th, 2023
Looking for crawfish recipes? Crawfish meat is fritter fried into crispy golden "beignets" and served with a spicy dipping sauce.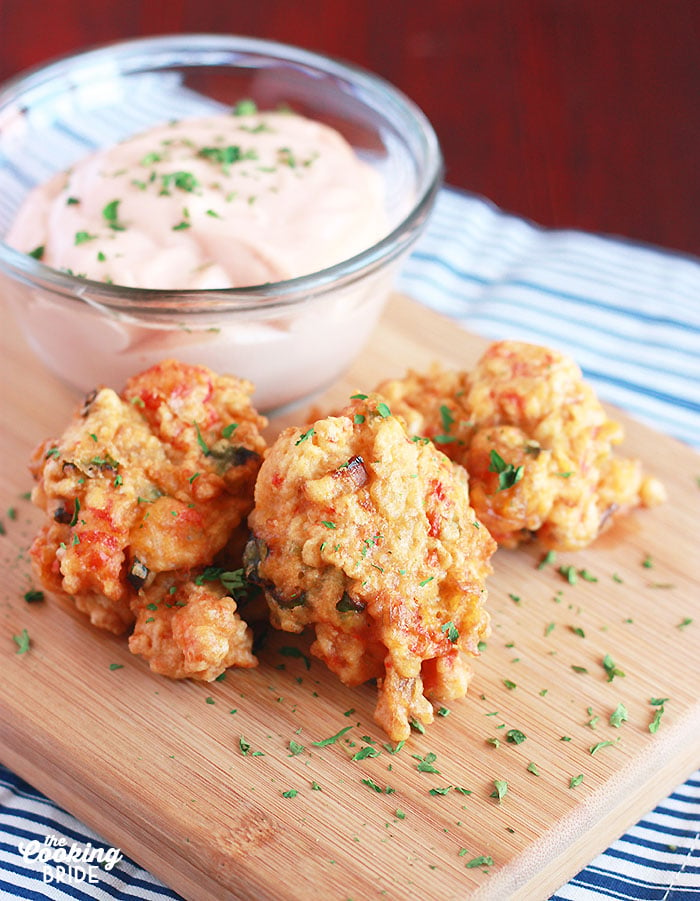 The onset of warmer weather means one thing to my husband – it's crawfish season!  I would venture to say it's the husband's favorite time of year; maybe even more than deer season. A month before the season officially begins, he starts obsessing over these little mini crustaceans. He gets a glint in his eyes and starts licking his lips. It's an addiction he's just got to feed and the man can polish off 10 pounds without blinking an eye.
A few weeks ago, the Husband and one of his friends went on a crawfish eating binge.  The husband purchased more than he could eat and rather than letting all that good crawfish meat go to waste, he peeled the uneaten crawfish and brought home a doggie bag with about a pound of fresh meat.  He brought home the goods. Now it was my turn to find a way to use meat.
What is a crawfish?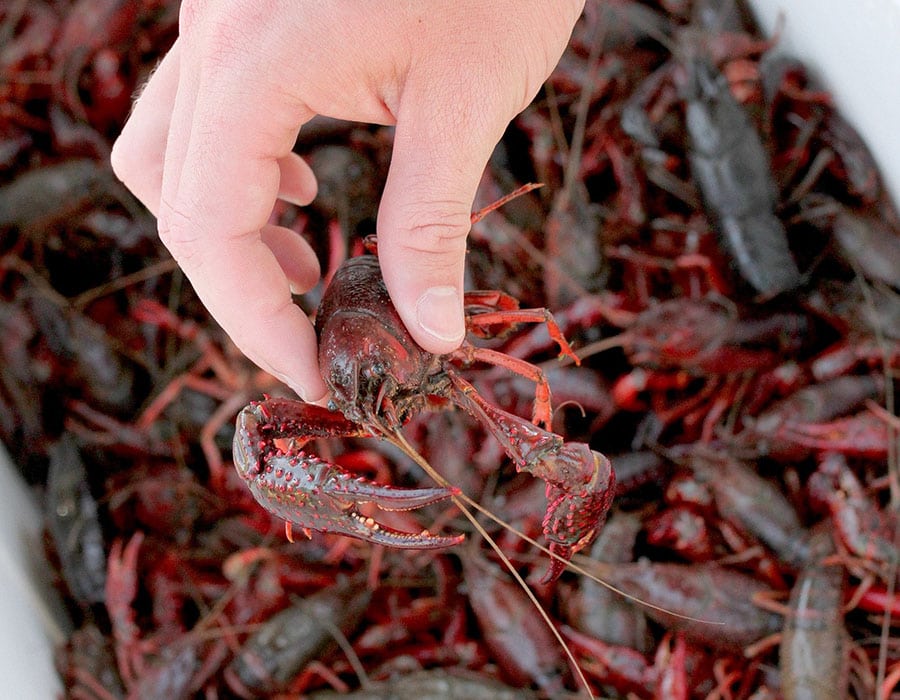 A crawfish is a freshwater crustacean that looks like a little tiny lobster. Other aliases they go by are crayfish, crawdads or mudbugs. Crawfish are freshwater crustaceans resembling small lobsters. Like lobster, the meat is very sweet, succulent, and tasty. Traditionally, crawfish are boiled in a mixture of vegetables (usually potatoes and corn) and spices.  If they are cooked right they are usually REALLY spicy!
As soon as they are cool enough to touch, you pull the head apart from the body.  You suck out any juice that has accumulated during cooking (also known as "sucking the head"), then you extract the meat and discard the headless shell. Juice runs down your arms, your nose is running, and your lips are burning.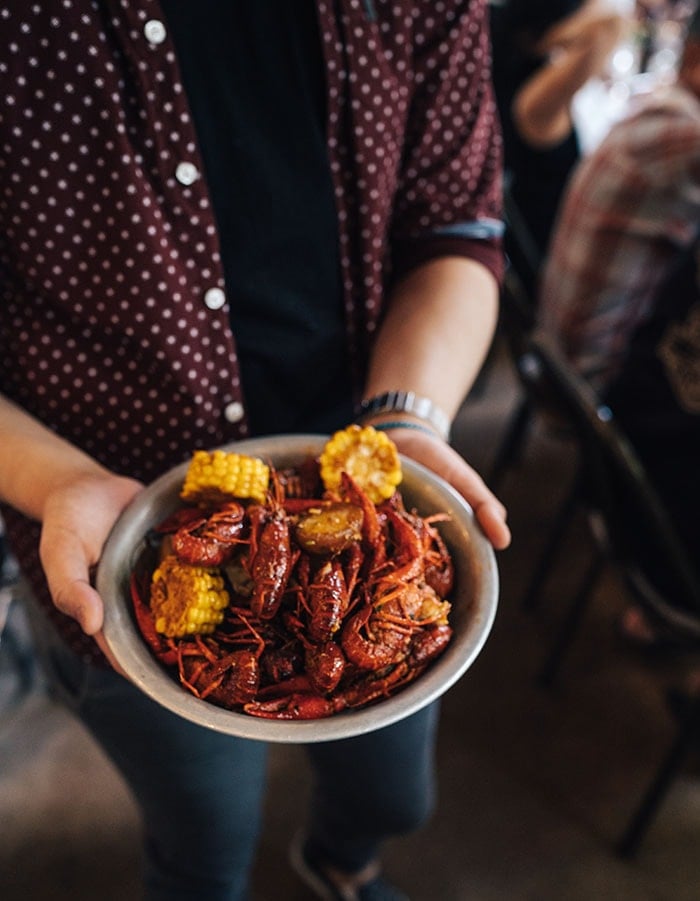 Where to Find Crawfish Meat
If you live in the southern United States, look no further than your nearest seafood shack or crawfish boil from mid-January through early July. Peak months for crawfish are March – May — the price per pound tends to be a little lower during these months as well.
If I don't have access to fresh crawfish meat, I can usually find frozen crawfish tails in the seafood department at my grocery store. However, crawfish are a regional treat. It may be impossible to find in your neck of the woods, especially if you live north of the Mason Dixon line.  Chopped cooked shrimp would be a perfectly acceptable substitute.
If you are truly interested in giving crawfish a go, there are several wholesalers that will ship crawfish – fresh or frozen – right to your door.  If you want the freshest crawfish possible, I urge you to buy directly from a wholesaler based out of Louisiana.
How to Make Crawfish Beignets
Crawfish don't have to be limited to just crawfish boils. The extracted meat is also delicious in a variety of recipes, including fettuccine alfredo, gumbo,  étouffée, this delicious cream sauce poured over cornbread and of course, crawfish beignets.
Beignet the French word for "fritter" or "doughnut." In it's truest form, it's fried dough. You are likely more familiar with the famous beignets of Cafe du Monde in New Orleans, which are sweet and served under a mountain of powdered sugar. Crawfish beignets are savory, golden and crispy on the outside, warm and tender on the inside.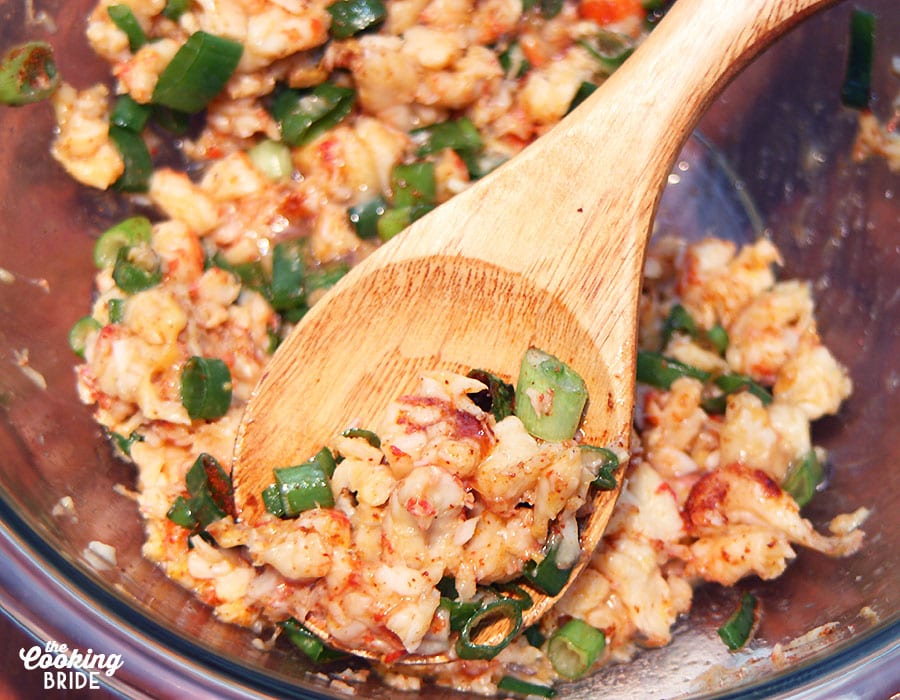 Start with one pound of cooked crawfish tails, roughly chopped. Combine the meat in a large mixing bowl with one large egg, four chopped green onions, 1 1/2 tablespoons of melted butter, 1/2 teaspoon of salt and 1/2 teaspoon of cayenne pepper. Add 1/3 cup all-purpose flour and mixing with a wooden spoon until the flour is moistened and everything is combined.
Heat a few inches of oil in a large skillet over medium-high heat. I prefer to use cast iron for frying because it heats quickly and evenly. Once the surface of the oil looks like it is shimmering, lower the heat to medium. Drop the dough into the hot oil by heaping tablespoons. These don't have to be perfect. Just be sure not to over crowd the pan.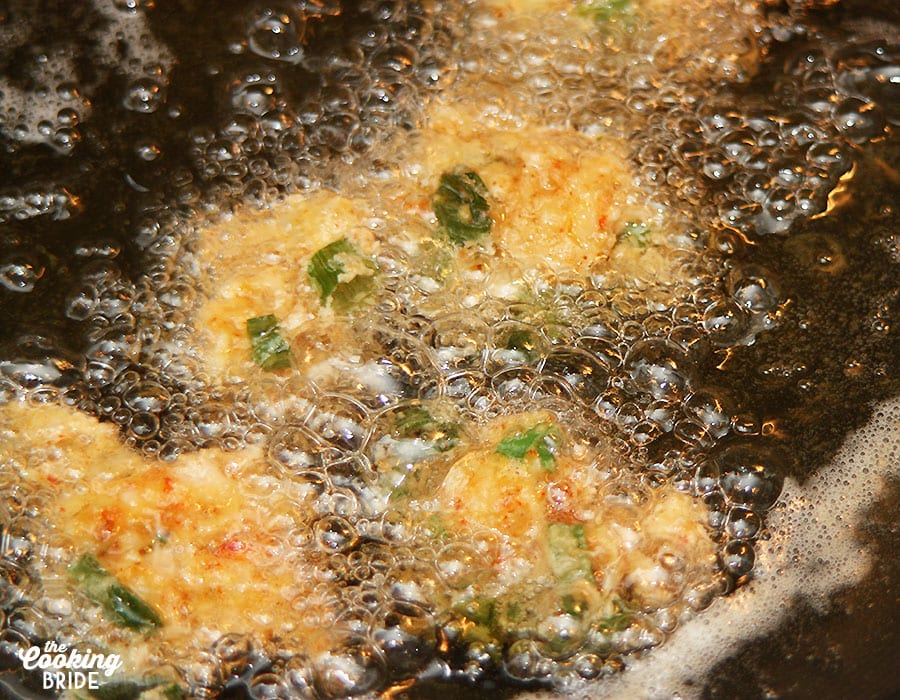 Fry the crawfish beignets until they are golden brown on all sides, about five minutes. Remove them from the hot oil onto paper towels to drain any excess oil.
How to Make Cajun Dipping Sauce
Crawfish beignets are better with something to dip them in. Cajun dipping sauce is the perfect creamy cool, yet spicy accompaniment. Simply whisk together 3/4 cup of mayonnaise, 1/2 cup ketchup, and 1/4 teaspoon prepared horseradish.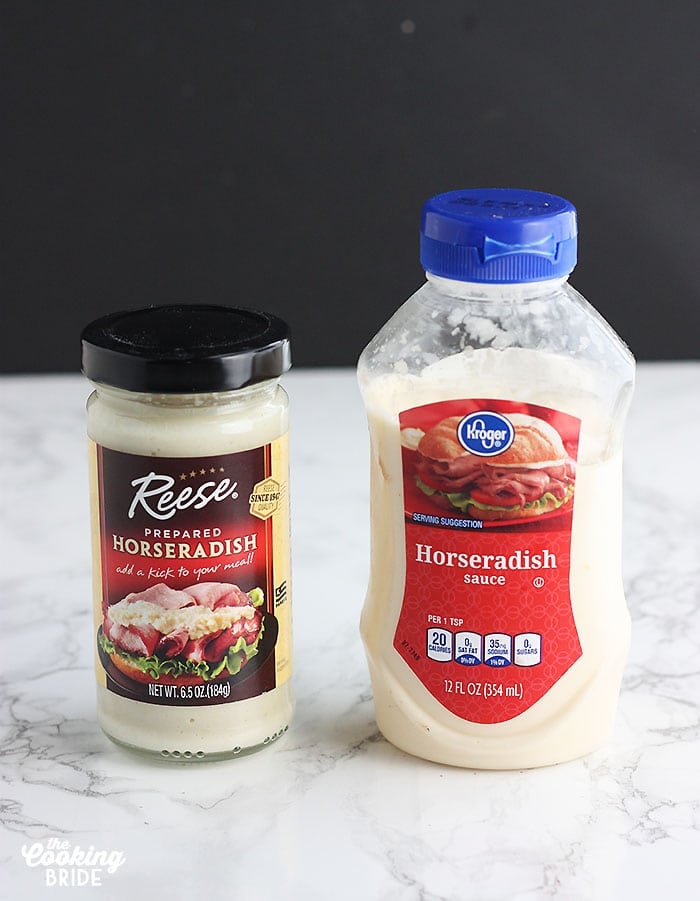 If you've never bough horseradish before, it's important to note that prepared horseradish and horseradish sauce are not the same thing. Prepared horseradish is grated horseradish pickled in vinegar. Horseradish sauce is made with prepared horseradish and mixed with sour cream or mayonnaise. The flavor of horseradish sauce is not as strong as prepared horseradish. Just make sure the label on the bottle says prepared.
Add 1/4 teaspoon of hot sauce like Crystal, Louisiana Hot Sauce or Tobasco to the dip. If you like a spicier dipping sauce, add more hot sauce, a 1/4 teaspoon at a time, until you've reached your desired heat level. Serve alongside your freshly made crawfish beignets.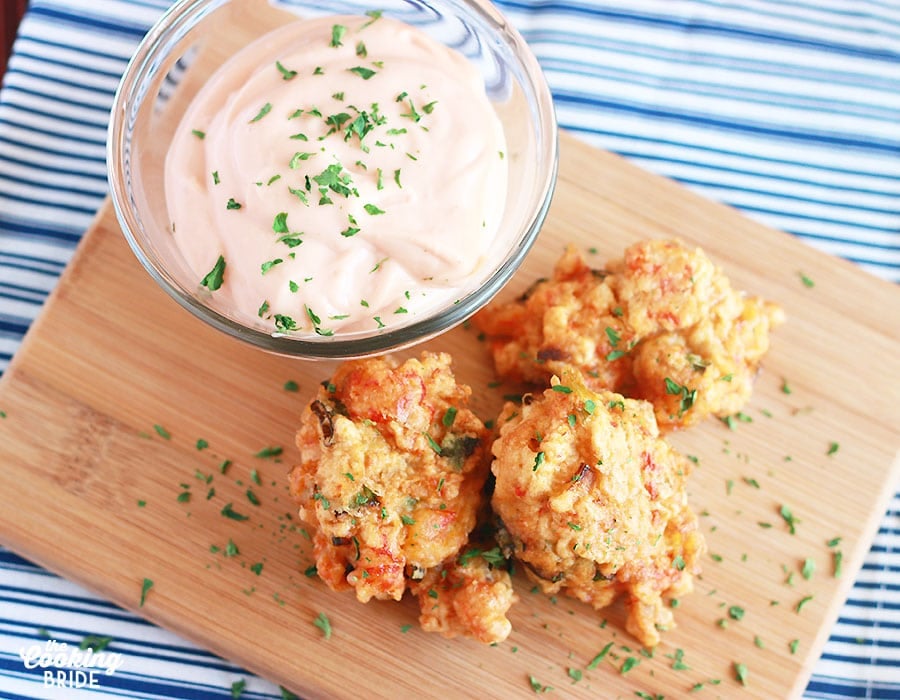 You Might Also Like:
Crawfish Beignets with Cajun Dipping Sauce
Looking for crawfish recipes? Crawfish meat is fritter fried into crispy golden "beignets" and served with a spicy dipping sauce.

Ingredients
Crawfish beignets:
1

egg

beaten

1

pound

chopped cooked crawfish tail meat or shrimp

4

green onions

chopped

1-1/2

teaspoons

butter

melted

1/2

teaspoon

salt

1/2

teaspoon

cayenne pepper

1/3

cup

all-purpose flour

Oil for deep-fat frying

3/4

cup

mayonnaise

1/2

cup

ketchup

1/4

teaspoon

prepared horseradish

optional

1/4

teaspoon

hot pepper sauce
Instructions
In a large bowl, combine the egg, crawfish, onions, butter, salt and cayenne. Stir in flour until blended.

In large skillet, heat oil over medium high heat. Once the surface begins to shimmer, reduce the heat to low.

Drop tablespoonfuls of batter, a few at a time, into hot oil. Fry until golden brown on both sides. Drain on paper towels.

In a small bowl, combine the mayonnaise, ketchup, horseradish if desired and pepper sauce. Serve with beignets.
Notes
Inspired by Taste of Home Magazine
Nutrition
Serving:
1
beignet
|
Calories:
97
kcal
|
Carbohydrates:
3
g
|
Protein:
4
g
|
Fat:
8
g
|
Saturated Fat:
1
g
|
Cholesterol:
35
mg
|
Sodium:
160
mg
|
Sugar:
1
g