Looking for crawfish recipes? Crawfish meat is fritter fried into crispy golden "beignets" and served with a spicy dipping sauce.
The onset of warmer weather means one thing to my husband – it's crawfish season!  I would venture to say it's the husband's favorite time of year; maybe even more than deer season. For a month before the season officially starts, he starts obsessing over these little mini crustaceans. He gets a glint in his eyes and starts licking his lips. It's an addiction he's just got to feed and the man can polish off 10 pounds without blinking an eye.
Me on the other hand. . . It's not that I don't like crawfish. The actual meat is very sweet, succulent, and tasty. I just abhor the method by which you extract the meat.  Once they are cool enough to touch, you pull the head apart from the body.  You suck out any juice that has accumulated during cooking (also known as 'sucking the head'), then you extract the meat and discard the headless shell.  Crawfish are boiled in a mixture of vegetables (usually potatoes and corn) and spices.  If they are cooked right they are usually WAY TOO spicy for me!  Juice runs down your arms, your nose is running, and your lips are burning.  I'm sure if my husband reads this he is thinking, "That's the best part!" and that I sound like a sissy little girl.  Well, so be it.
But again, I like crawfish meat.  I have used it in fettuccini and in gumbo (and I can hear the husband's stomach growling as he wonders, "Yeah woman, when are we having that again?  It's been awhile!").  A few weeks ago I came across a recipe for crawfish beignets and got the enthusiastic nod of approval from him that I expected.  Then a few days later, the husband and one of his friends went on a crawfish binge.  The husband purchased more than he could eat and rather than letting all that good (and for some reason this year very expensive) crawfish meat go to waste, he peeled the uneaten crawfish and brought home a doggie bag with about a pound of fresh meat.  Perfect!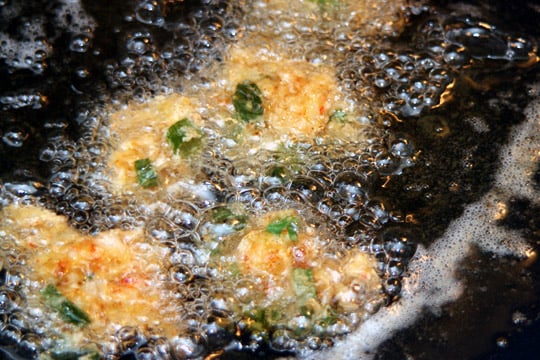 These fritters were golden and crispy on the outside, warm and tender on the inside.  The Cajun dipping sauce was slightly spicy and the perfect accompaniment.  I realize crawfish are a regional thing and may be impossible to find in your neck of the woods, especially if you live north of the Mason Dixon line.  Chopped cooked shrimp would be a perfectly acceptable substitute.  However, if you are truly interested in giving crawfish a go, there are several wholesalers that will ship crawfish – fresh or frozen – right to your door.  If you want the freshest crawfish possible, I urge you to buy directly from a wholesaler based out of Louisiana.
Crawfish Beignets with Cajun Dipping Sauce
Looking for crawfish recipes? Crawfish meat is fritter fried into crispy golden "beignets" and served with a spicy dipping sauce.

Ingredients
Crawfish beignets:
1

egg

beaten

1

pound

chopped cooked crawfish tail meat or shrimp

4

green onions

chopped

1-1/2

teaspoons

butter

melted

1/2

teaspoon

salt

1/2

teaspoon

cayenne pepper

1/3

cup

bread flour

Oil for deep-fat frying

3/4

cup

mayonnaise

1/2

cup

ketchup

1/4

teaspoon

prepared horseradish

optional

1/4

teaspoon

hot pepper sauce
Instructions
In a large bowl, combine the egg, crawfish, onions, butter, salt and cayenne. Stir in flour until blended.

In an electric skillet or deep-fat fryer, heat oil to 375°. Drop tablespoonfuls of batter, a few at a time, into hot oil. Fry until golden brown on both sides. Drain on paper towels.

In a small bowl, combine the mayonnaise, ketchup, horseradish if desired and pepper sauce. Serve with beignets.