Last updated on November 8th, 2023
If cheesy crescent chicken casserole isn't your kid's favorite comfort food meal, it soon will be. Crescent rolls are stuffed with shredded chicken, cream cheese, cheddar, onion and pimentos.
My kids basically love anything made with those refrigerated crescent rolls that come in a tube. As a food blogger that tried to specialize in homecooked meals, that's maybe not my proudest moment to admit to. You know what? Who cares? I will go on record and admit the same thing about Kraft macaroni and cheese. They are my kid's guilty pleasure.
Instead of permanently relegating crescent rolls to something that sits on the periphery of the plate, I made a meal out of it. Each roll is stuffed with a mixture of shredded chicken breast, cream cheese, cheddar cheese, diced onion and pimentos. It's baked over a creamy white gravy until golden brown, then topped with more shredded cheddar. If this doesn't become your kid's favorite comfort food meal, it soon will.
Make the gravy
Melt three tablespoons of unsalted butter in a saucepan over medium heat. Whisk in two tablespoons of all-purpose flour and cook for two minutes to get rid of the raw taste of the flour. Reduce the heat to medium low. Then slowly stir in one cup of heavy cream
Bring the cream to a simmer and continue to cook until the cream begins to thicken. When you stir the gravy, you want it to coat the spoon. Remove the sauce from the heat and season with one teaspoon of Creole seasoning (such as Tony Chachere's). Spread the gravy into the bottom of a 9 x 13 x 2-inch casserole dish.
Make the filling
Melt an additional three tablespoons of unsalted butter and add it to a large mixing bowl with four ounces (half a package) of softened cream cheese. Whip the butter and the cream cheese together.
You will need one cup of cooked and shredded chicken breasts for the crescent chicken filling. I did this by cooking one large chicken breast in five cups of water in my Instant Pot (I was making my Instant Pot Red Beans and Rice for dinner that night an needed the chicken broth). You can boil the chicken, roast it, use a rotisserie from the grocery store or use some chicken leftover from a previous meal. It does not matter.
Add the diced chicken breast, one tablespoon of minced onion, two tablespoons of chopped pimentos and one cup of shredded cheddar cheese. Stir together until the mixture is evenly combined.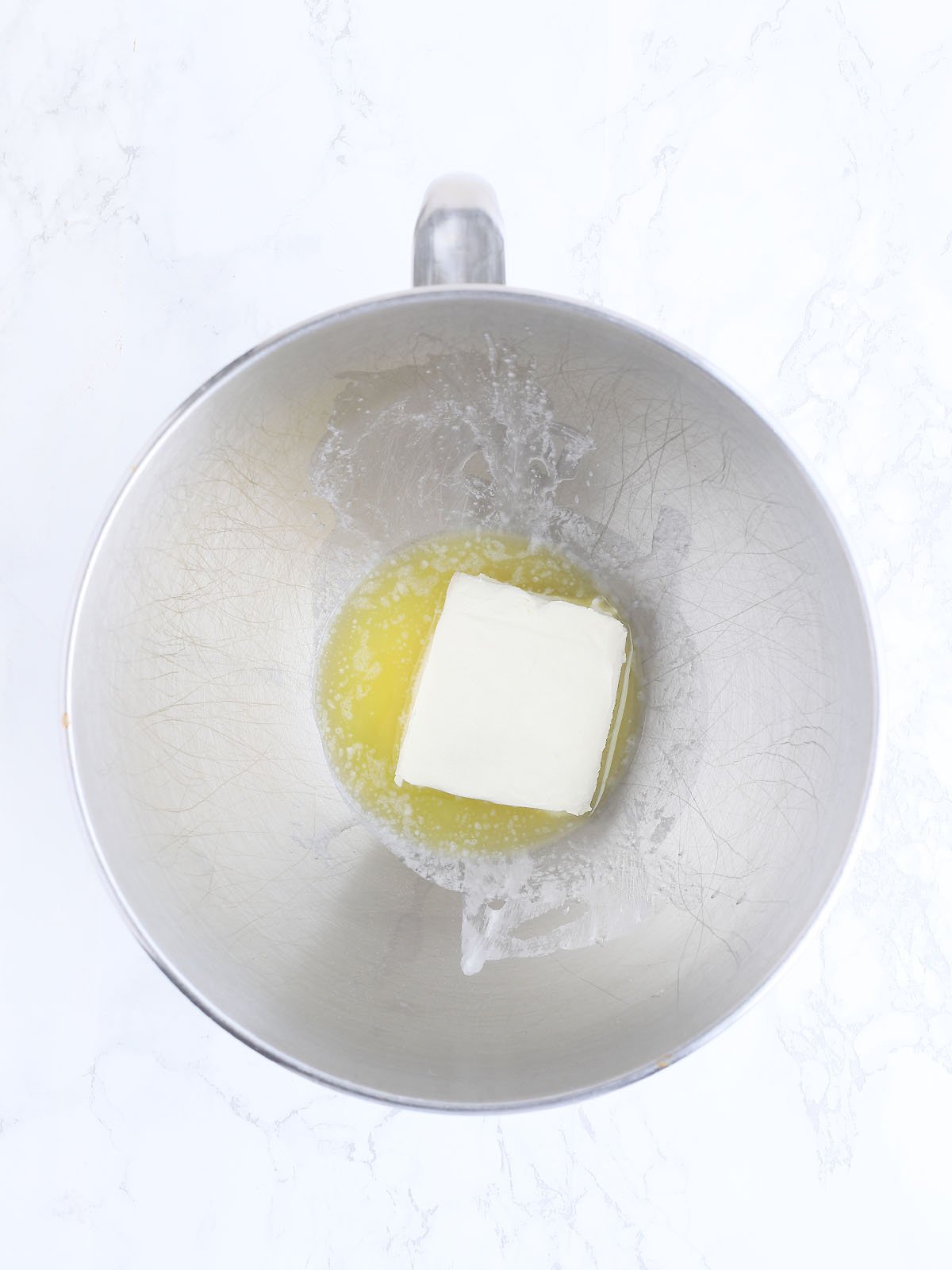 Assemble the crescent chicken casserole
Unroll two tubes of crescent roll dough and separate the triangles along the perforations. Place about one tablespoon of the chicken filling along the wide edge of each triangle. Carefully roll the crescent rolls up around the filling. Arrange the stuffed crescent rolls over the sauce you just spread on the bottom of the casserole dish.
Bake at 350 degrees for 15 minutes. Remove the casserole from the oven and top with one cup of shredded cheddar cheese. Bake for an additional 5-10 minutes until the crescent rolls are brown and the cheese is melted.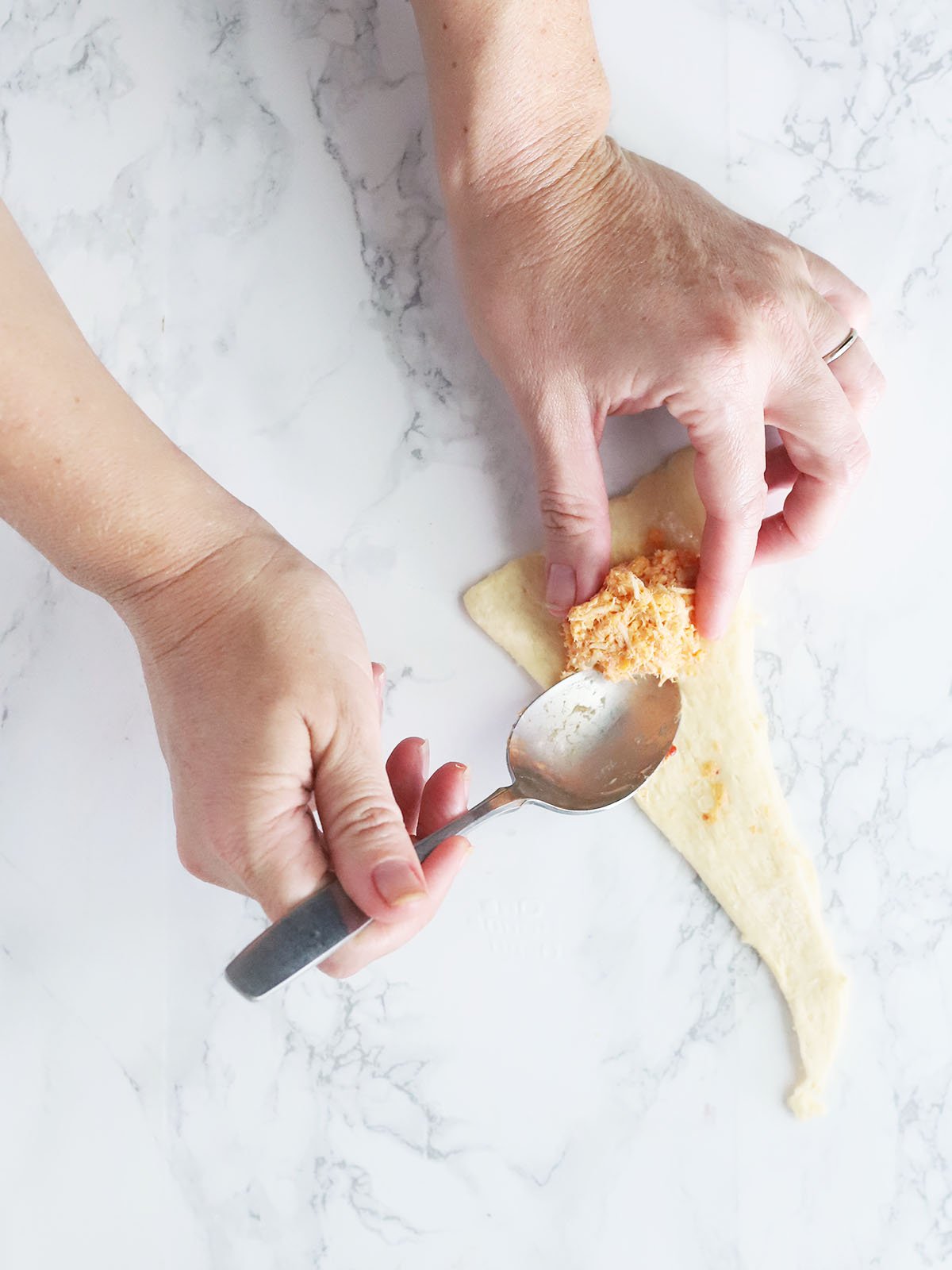 Storage, Freezing and Reheating
Storage. Cheesy Crescent Chicken can be made ahead of time. Assemble the casserole, but do not bake. Cover and store in the refrigerator. Bake within 24 hours. Any leftover crescent chicken casserole that has been baked can be stored in the refrigerator for up to four days. Again, cover the dish so the crescent rolls do not dry out.
Freezing. I don't recommend freezing the assembled casserole, either baked or unbaked. However, the filling can be frozen for up for three months. Transfer the filling to a freezer bag and squeeze out as much air as possible. Or seal it in a vacuum sealed bag. Allow the filling to thaw before using.
Reheating. Heat the oven to 250 degrees. Reheat crescent chicken casserole for 20-30 minutes until heated through and toasted.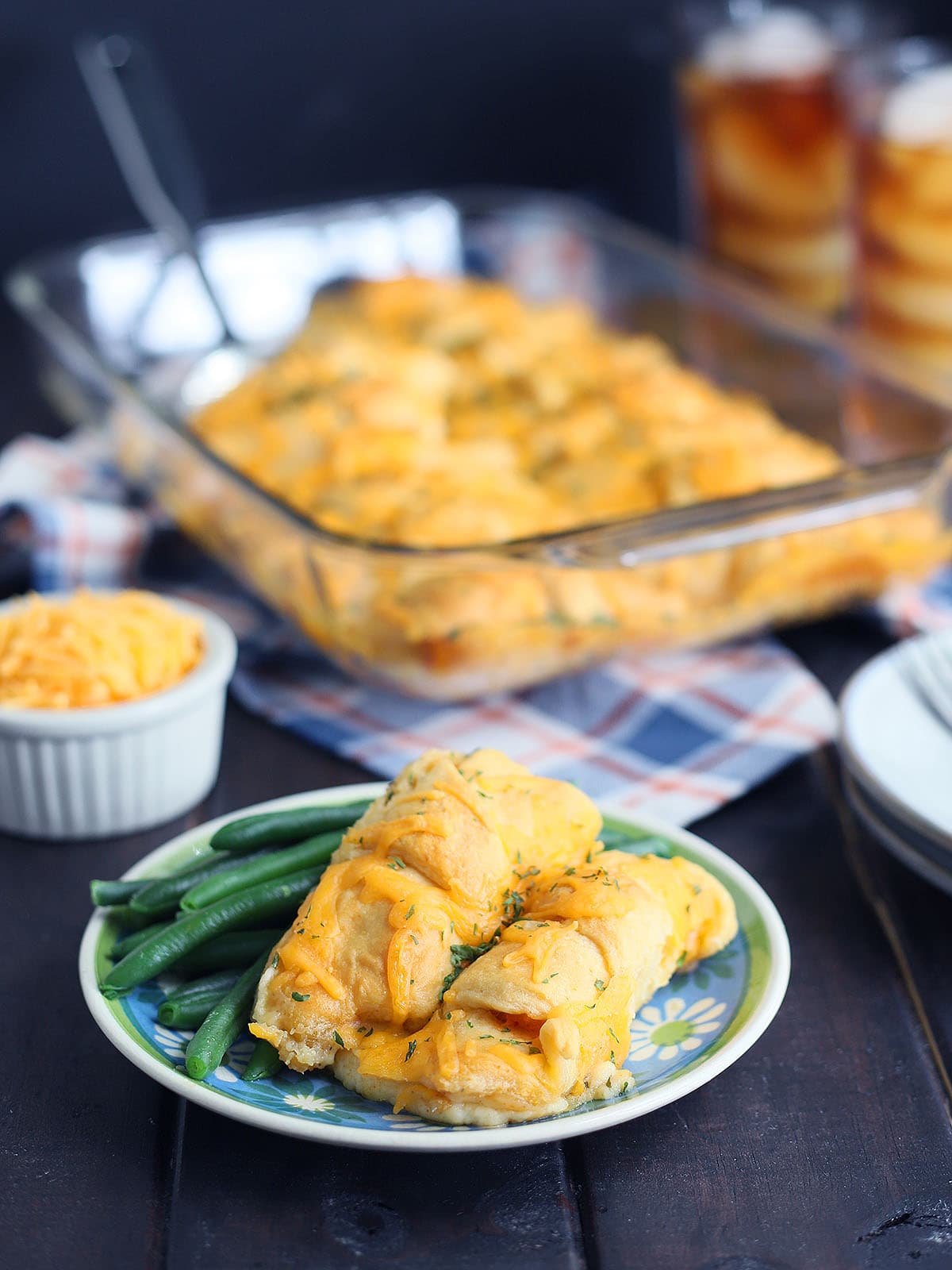 What to Serve with Cheesy Crescent Chicken