Last updated on December 2nd, 2023
Baked bourbon glazed ham is slathered with a thick, sweet bourbon glaze made of brown sugar, orange juice and whole grain mustard. Perfect for the holidays or family dinner!
This post may contain affiliate links. Click here to learn more about how affiliate links are used on this site.

Southerners love their bourbon about as much as we love our "Co-colas." We will find any excuse to add a few generous glugs into pretty much anything. Why shouldn't we? Adding a splash of bourbon to this simple bourbon glaze just brings out the smoky flavors of the ham. And check out the shiny tan on this bad boy! Is that not a pretty ham?
Scotch, Whiskey and Bourbon – What's the Difference?
All bourbon is whiskey, but not all whisky is bourbon. Huh? It's has a little to do with the amount of corn mash used during distilling and location.
In a nutshell, Scotch and bourbon are both types of whiskeys. Scotch is whiskey made in Scotland. Bourbon is whiskey made in the U.S.A. In order for a whiskey to be considered bourbon, it must contain at least 51% corn mash an be aged in a new charred oak barrel.
Choosing the right Bourbon
There are tons of varieties of bourbon on the market, some more expensive than others. Keep in mind, this recipe only calls for 1/4 cup of bourbon, which means you are going to have a leftover bottle in your cabinet. If you enjoy sipping bourbon, then pick something you could see drinking later such as Knob Creek, Maker's Mark or Four Roses (which I have shown in the picture above). If you're not a bourbon drinker, a less expensive brand such as Jim Beam, Wild Turkey, Old Crow, and Heaven Hill are fine for this recipe.
Preparing the Ham
I always purchase fully cooked smoked ham from the grocery store. Since it's already cooked through, it really just needs to be reheated. Preheat the over to 375 degrees. Place the ham in a roasting pan or large casserole dish. Cover with foil then bake the ham for 15 minutes per pound. For a 10 pound ham, I had to bake my ham for about 2 hours.
Preparing the Bourbon Glaze
While the ham is baking, combine 1/4 cup of bourbon with 1/2 cup of orange juice, 3/4 cup brown sugar, and 1 teaspoon mustard. After the ham has baked for about an hour and a half, remove it from the oven and strain two tablespoons of juice from the bottom of the roasting pan. Whisk this "ham juice" in with the glaze along with one tablespoon of cornstarch. Bring the bourbon glaze ingredients to a boil over medium high heat. Reduce the heat to low and simmer until the glaze thickens, about two minutes.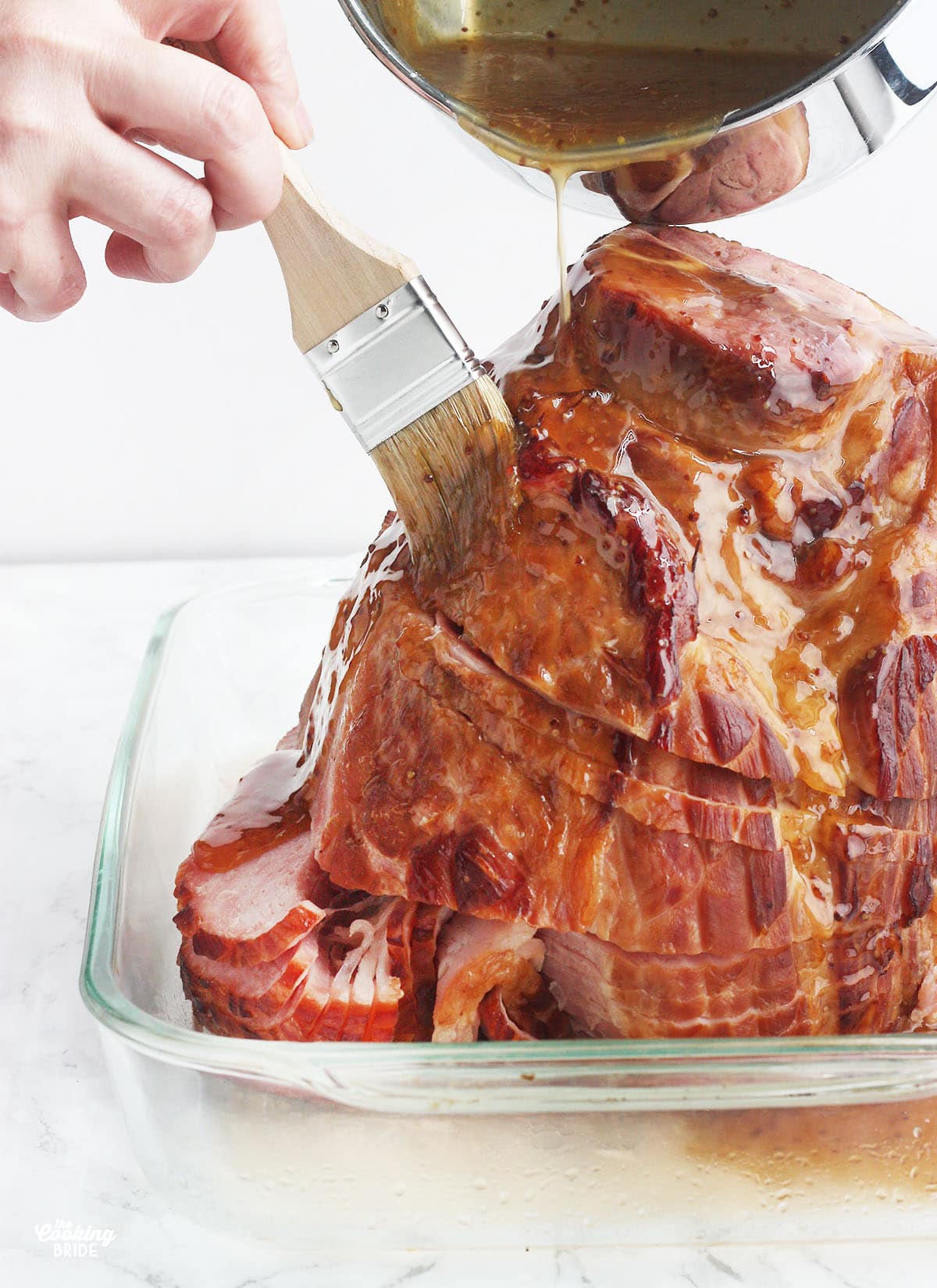 Brush the bourbon glaze liberally all over the outside of the ham. Return the ham to the oven, uncovered. Baste the ham with the glaze every ten minutes for 30 minutes. Remove ham from oven and allow it to rest for 15 minutes.
This bourbon glaze ham definitely has centerpiece potential written all over it. It's salty and sweet, tender and juicy, and will keep you coming back for seconds.
Storing, Reheating and Freezing
Storing: Both the sliced bourbon glazed ham and the glaze should be store in separate airtight containers in the freezer. The ham should be consumed within four days. The glaze should be used within two weeks.
Reheating: Place the sliced ham in a shallow dish. Lay a damp paper towel over the top and cover with a lid or plastic wrap. Reheat in the microwave for 1-2 minutes until heated through. Ham slices can also be reheated in a covered dish in a 350 degree oven for 10-15 minutes. To reheat the glaze, place it in a microwave safe-dish. I recommend placing a paper towel over the top to catch any splatter. Heat for one minute or until reheated. You can also reheat the glaze over low heat on the stove
Freezing: Store ham in a freezer bag or even better, vacuum seal. Consume within three months. Glaze can also be transferred to a quart sized freezer bag. Fold the top down to remove any air and seal. Glaze can also be frozen for up the three months.
Serve Bourbon Glazed Ham With: