Last updated on June 6th, 2023
This beautiful and easy coconut cake with raspberry filling is perfect for a holiday or Easter celebration. Two moist white cake layers are filled with raspberry preserves then iced with a simple coconut spread.
This post may contain affiliate links. Click here to learn more about how affiliate links are used on this site.
Show up to my house for Christmas Day lunch and you are guaranteed a slice of this easy coconut cake. It's a fave of both my mother and I. Later found out coconut cake was always served on Christmas Day when my mother-in-law was growing up. I've been making it ever since. Don't just save this cake recipe for Christmas. It's a perfect addition to an Easter spread as well!
Ingredients and tools you'll need
This recipe is called "easy" for a reason — it only needs SIX ingredients! To make this cake, you'll need:
1 package (18-1/4 ounces) white cake mix – be sure you have all the ingredients listed on the box mix to make the cake.
1/3 cup raspberry preserves
1 cup (8 ounces) sour cream
1 cup sugar
1 1/2 cups flaked coconut divided
1 tub (8 ounces) frozen whipped topping thawed
Additional tools:
Two 8-inch cake pans – I've tried a lot of different cake pans over the years. These 8-inch Chicago Metallic cake pans are my fave so far. I like the deep sides and my cakes seem to rise a lot more in these pans vs. some of the others I've tried. And they are non-stick, so popping the cakes out of the pan are a breeze.
Wilton cake strips (optional) – I always wrap my cake pans in Wilton cake strips

before putting them in the oven. Soak the strips in cold water beforehand, wring them out, then slide them around the outside of the pan. The moisture from the strips prevents the outside of the cake from cooking faster than the inside — creating that pesky "dome" on top of the cake. When I use my cake strips, the tops of my cakes come out a lot more level.
Bake the Cake Layers
The days leading up to Christmas are always a little hectic. I have A TON of cooking to do, so I'm thankful for a few shortcuts to cut down on the amount of time I'm spending in the kitchen. My coconut cake starts with a white boxed cake mix. Divide the cake batter between two round greased cake pans and bake according to the package directions Allow the cake to cool in the pan for 10 minutes. Then remove the cake layers from the pan and allow them to cool completely before frosting.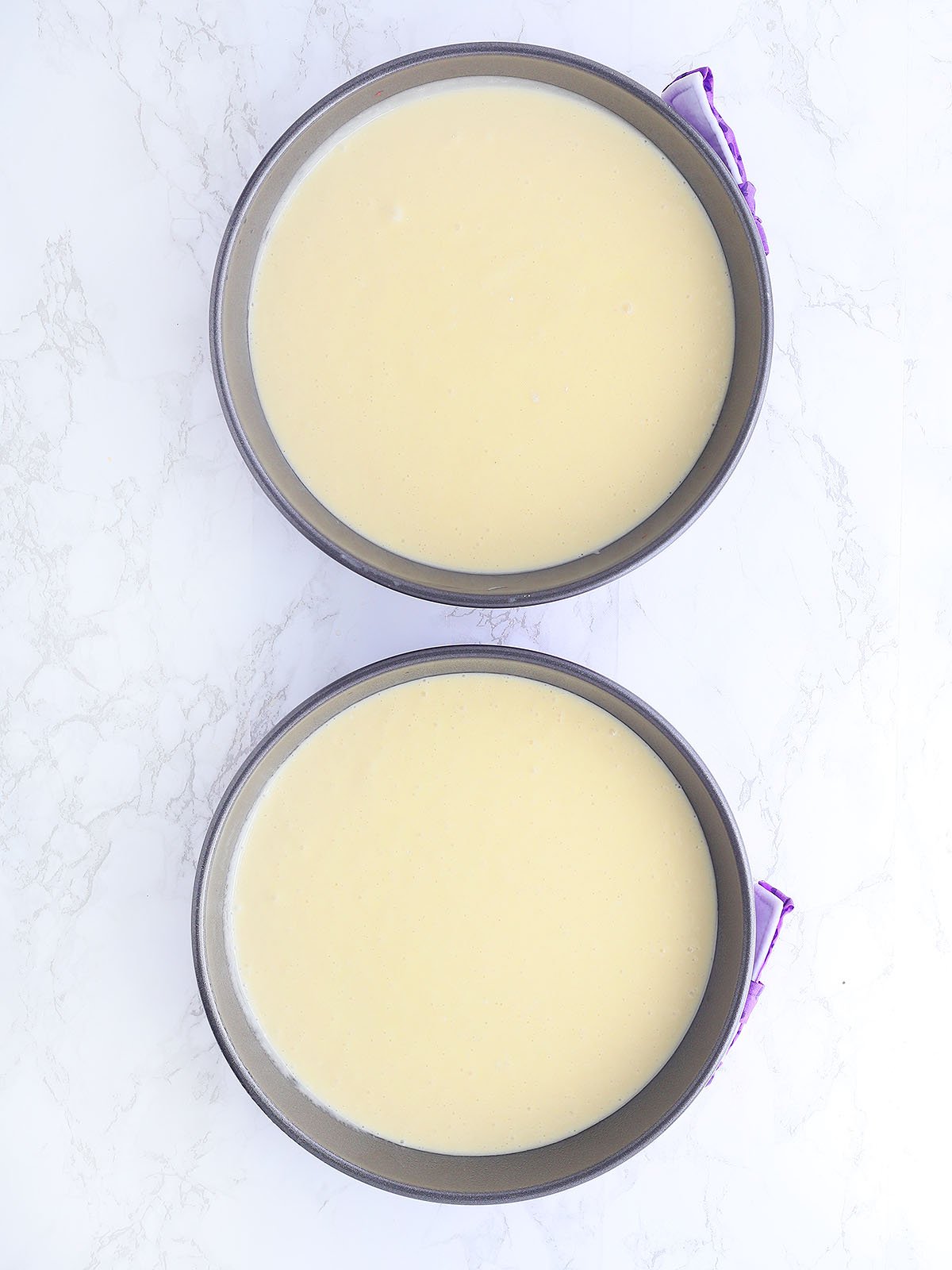 Make the Whipped Cream Frosting
This coconut cake is frosted with a light and airy frosting made from sugar, sour cream and whipped cream. You can make your own whipped cream from scratch if you would like. But I have made this recipe with a tub of store bought whipped topping and it comes out just fine.
Start by whisking together the sour cream and sugar until the sugar is dissolved. Stir in 3/4 cup of sweetened flaked coconut. Then gently fold in the whipped topping. Folding means we're not using an electric mixer, but rather mixing it gently by hand to ensure the whipped cream stays light and fluffy.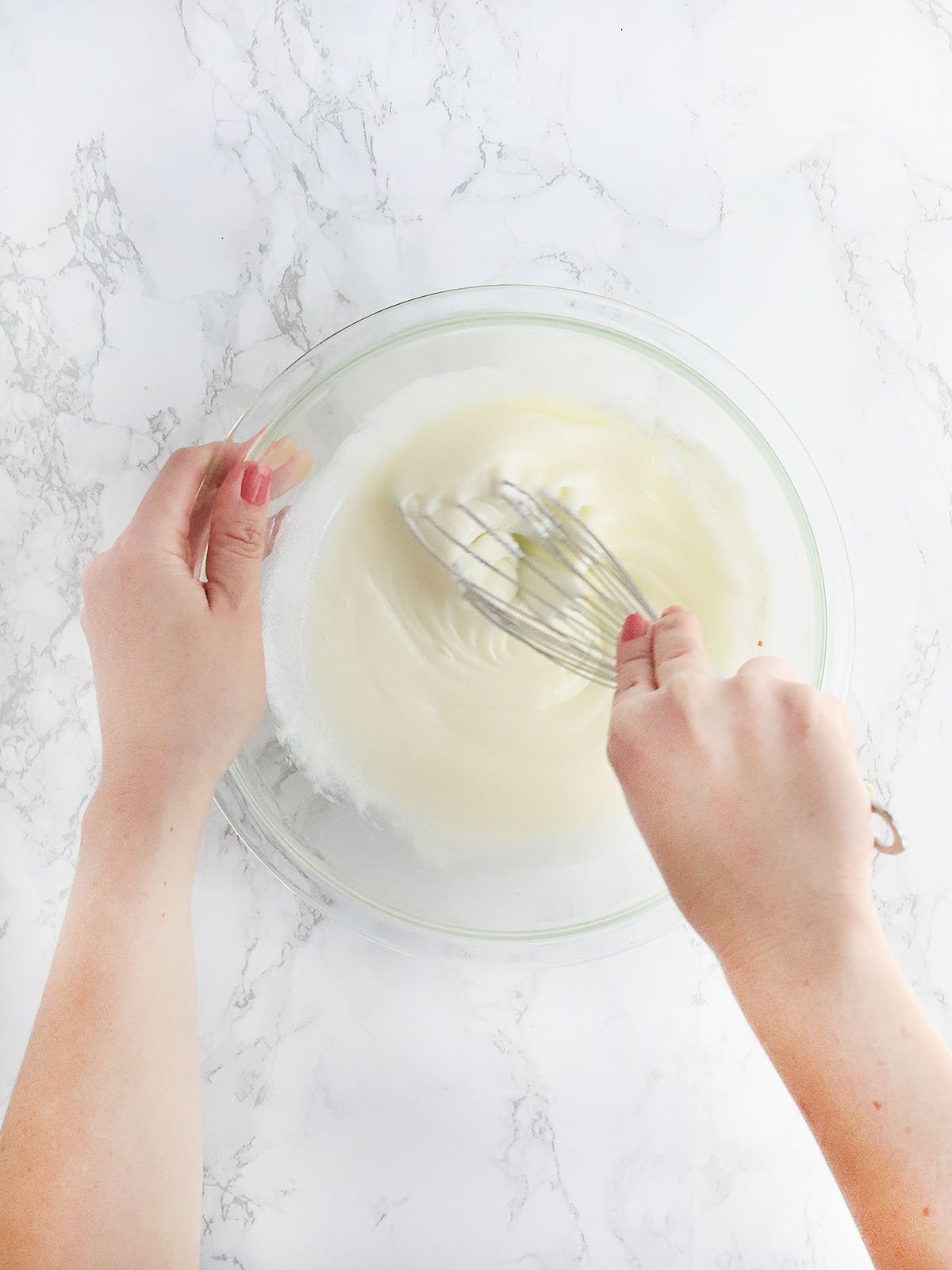 Assembling the Coconut Cake
Before I get started, I like to line the bottom of my plate with a few strips of waxed paper to catch any drips. If you need to, trim your cake layers to ensure the tops are flat. You can do this by hand using a large knife, but I prefer to use a cake leveler.
Place one cake layer on top of the waxed paper. Spread the raspberry preserves in an even layer over the top. It should be 1/4-inch thick and reach to within 1/2-inch of the top. The raspberry layer will spread a little once you place the next cake layer on top.
Carefully add the second cake layer. Next, spread the whipped cream frosting all over the top and the sides of the cake. Take your remaining coconut and sprinkle it all over the top of the cake and press it into the sides. When you're done, gently slide the waxed paper strips out from under the cake.
For a little texture and color, you can also toast about a 1/4 cup of coconut until it is golden brown and sprinkle it over the top of the cake. Refrigerate the cake for at least 4 hours, preferable overnight, to allow the frosting to set.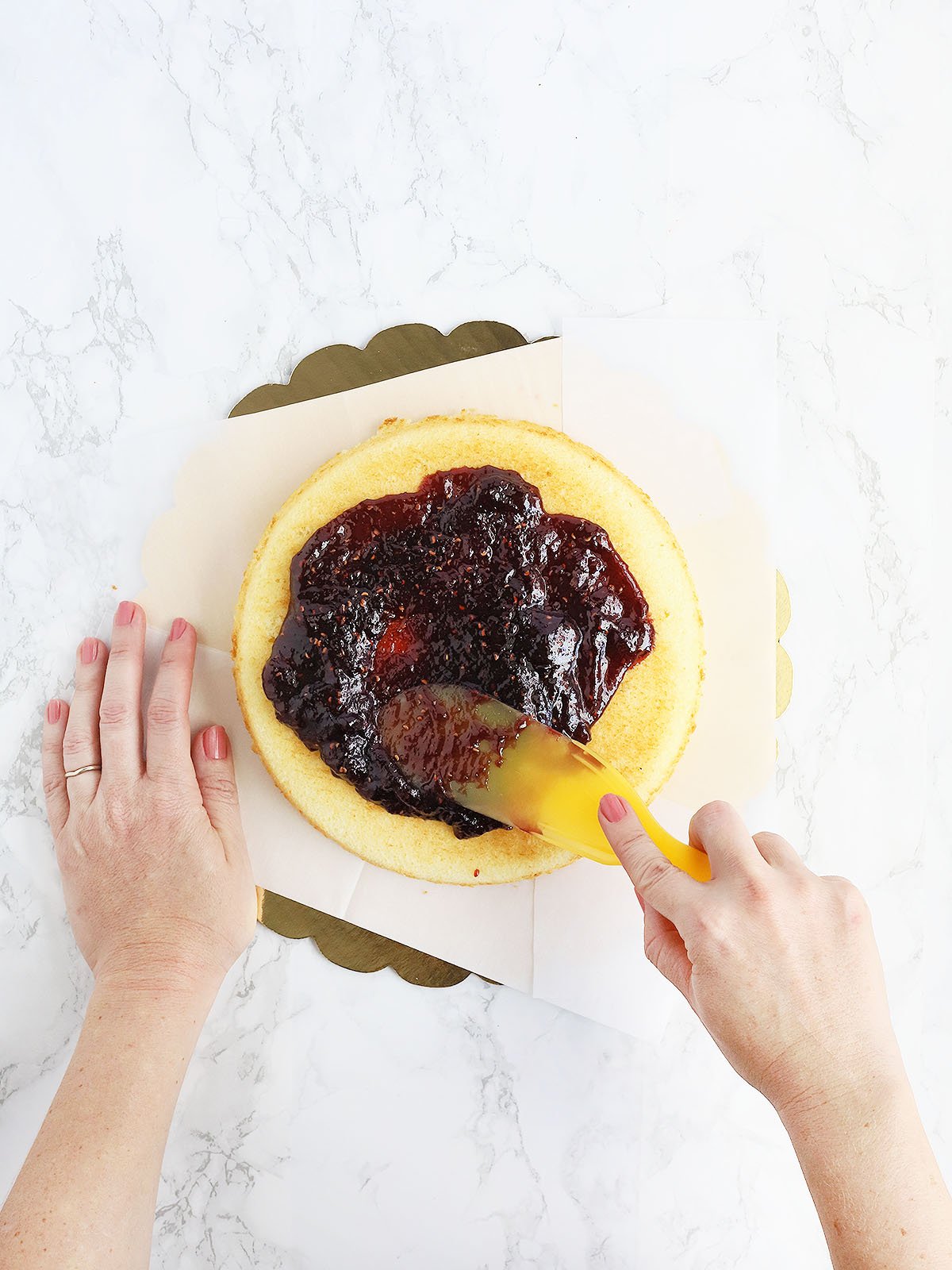 Storage and freezing
Storage. Store the coconut cake covered in the refrigerator. I like this cake saver with a locking lid because it prevents my cake from drying out. The cake can be made up to two days ahead of time. It should be eaten within 4-5 days.
Freezing. Leftover coconut cake can also be frozen. I recommend cutting the cake into manageable portions. Let the pieces freeze first, then wrap the frozen pieces in a layer of plastic wrap followed by a layer of aluminum foil. Allow the cake the thaw in the refrigerator before serving. Eat the frozen coconut cake within three months.
You Might Also Like: