Last updated on September 16th, 2019
Save money and use your creativity to make your own infused vodka at home. The process is easy and the flavor combinations are endless.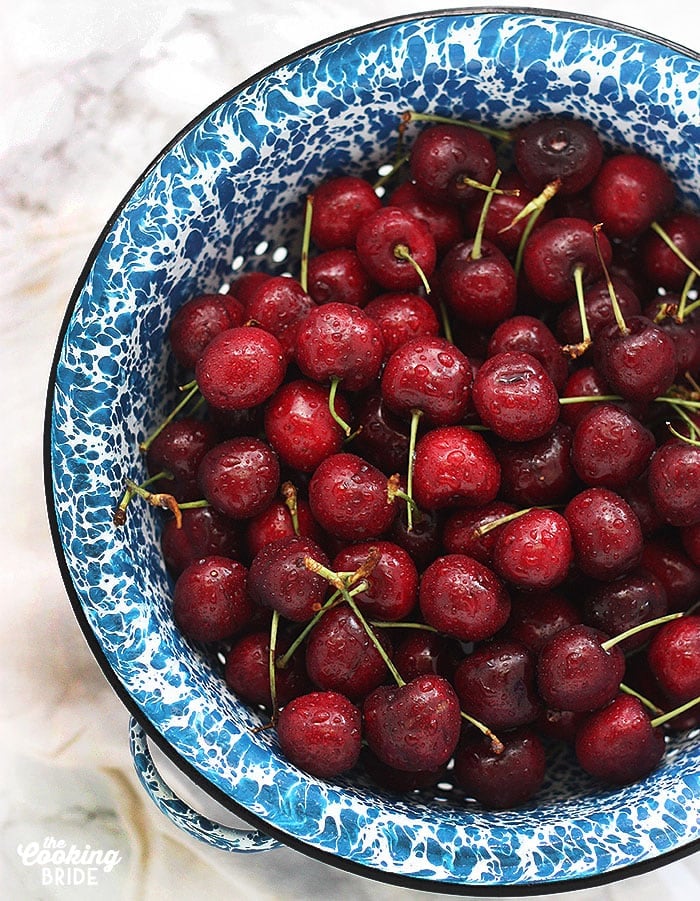 This post may contain affiliate links. Click here to learn more about how affiliate links are used on this site.
Have you noticed that infused vodkas are all the rage right now? I've seen flavors range from toasted marshmallows to cucumbers. But rather than shell out your hard-earned dollars on a premium flavored vodka, I'm going show you how to save some money and use your creativity to make your own.
Go for the cheap stuff
Save the Grey Goose and Belvedere for your dry martinis. Unless a certain brand of vodka just doesn't agree with you, opt for a cheaper brand.
How to Make Cherry Infused Vodka
The actual making of the infused vodka could not be easier. I prefer to use a clean, wide mouth glass Mason jar for this project. I find that plastic that has been left to sit for awhile can give the liquid inside a weird flavor. Glass won't do that.
I chose Bing cherries for this project. They have a bit of a tartness and they are relatively inexpensive when in season. But you could also use another variety such as Ranier. Start by pitting, or removing the seeds a cup of fresh cherries. A cherry pitter makes easy work of this. But I also find a glass bottle and a straw works just as well. Simply place a cherry on the mouth of the bottle, push a straw (a chopstick or skewer would also work) through the cherry until the seed falls out the other side and falls into the bottom of the bottle.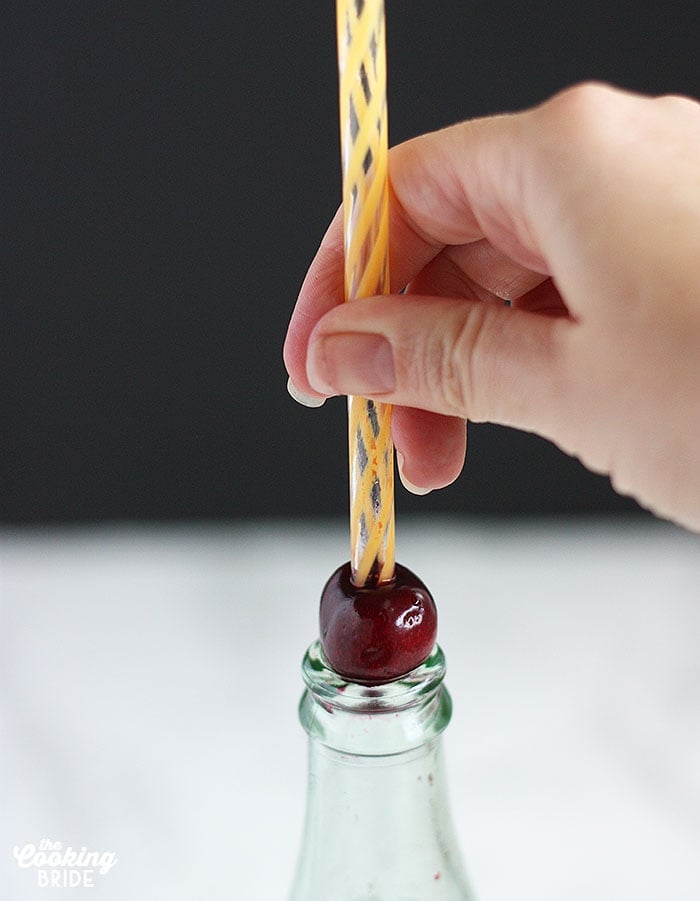 Slice the pitted cherries and place them in the bottom of the Mason jar. Fill the rest of the jar with vodka. You want to make sure all the fruit is completely covered. Place a lid over the top and place the jar in a cool dry place out of direct light. Now all we need to do it wait.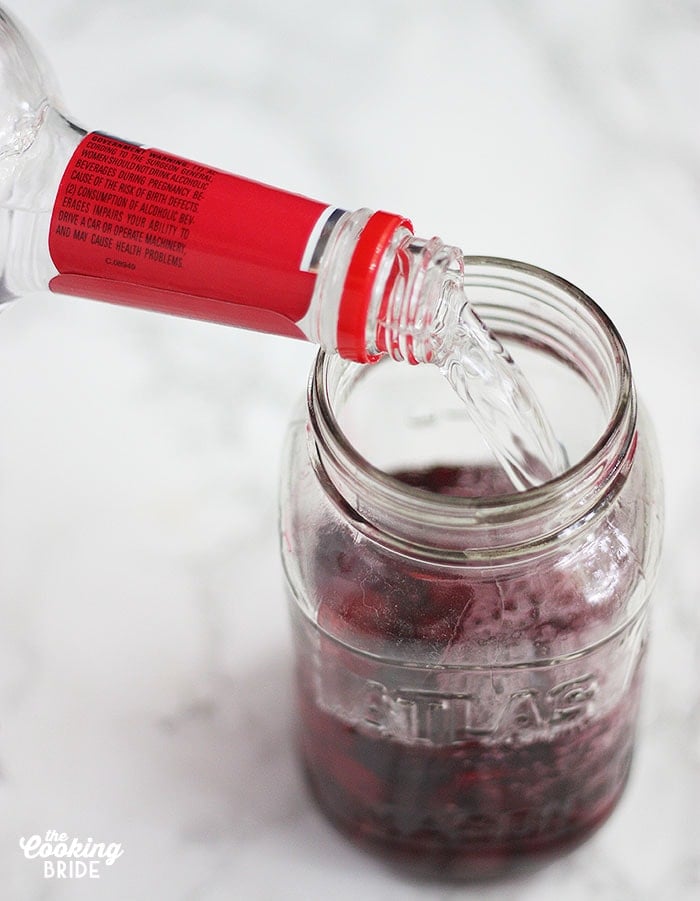 The vodka should have a light infusion after two or three days. The longer you let it sit, the stronger the flavor will be. I recommend letting the vodka infuse no more than three weeks. As long as all the fruit is completely covered by the vodka, you won't have to worry about spoilage. The alcohol will preserve the fruit and prevent any bacterial formation.
After three weeks, you'll want to strain the fruit from the vodka. This is why I recommend a wide mouth container. If you use a bottle with a narrow opening, it will be almost impossible to get all those cherries out.
Once you've strained the fruit, place it in another clean jar with a lid to prevent the liquid from evaporating. If stored properly (out of direct sunlight) the vodka will last indefinitely. Though I venture if you are anything like me, it won't last more than a couple of weekends!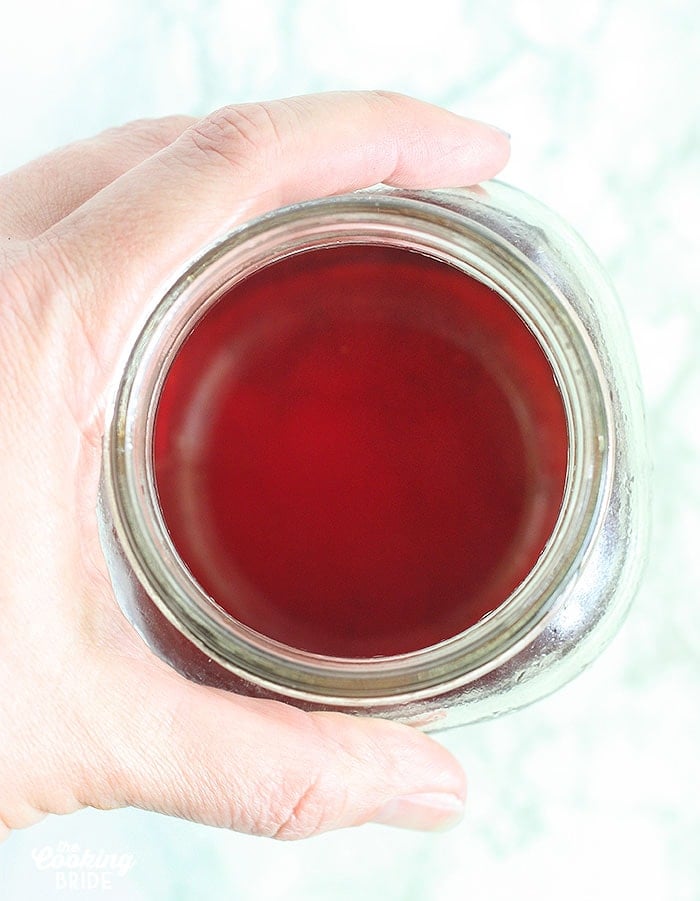 Other Flavor Ideas
Now that you know how to make your own flavored vodka, the possibilities are endless! Some other ideas to try would be:
Citrus fruits – oranges, lemons, grapefruit
Fresh herbs – basil, dill, rosemary
Dried herbs – cinnamon, star anise, cloves, vanilla bean
Fruits – strawberries, pineapple, melons, peaches, apples
Vegetables – cucumber, jalapenos
Or try a combination:
Strawberry and basil
Apple and cinnamon
Cucumber and dill
Peach and clove
Now all you need is a cocktail
My weekend cocktail of choice is a bourbon and coke. But if I have a jar of cherry infused vodka in the cabinet, I'll switch things up. It tastes just like a Cherry Coke, with a punch of course!
If you're itching to make a cocktail, don't worry. I won't leave you hanging. Homemade cherry infused vodka adds a surprising to this refreshing cherry vodka lemonade recipe.