Last updated on May 23rd, 2023
Easy recipe for cheesy mashed potato casserole is cheesy, delicious, only contains five ingredients, and is freezer friendly.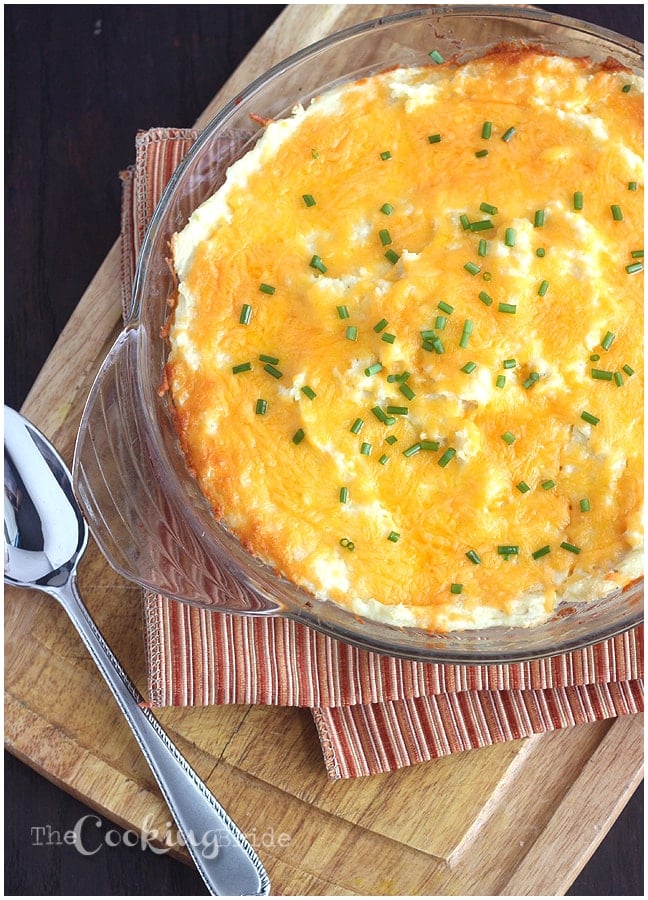 This post may contain affiliate links. Click here to learn more about how affiliate links are used on this site.
During my pregnancy with both boys, I must have had a potassium deficiency. I craved potatoes. With Big Brother, it was French fries. I could smell a McDonald's from a mile away. I salivated at the sight of a yellow Lay's potato chip bag.
With Little Brother, I craved this casserole. I experienced some nausea in the beginning with him and this seemed to be the one thing I could eat that would fill me up without turning my stomach. My mother-in-law introduced me to this recipe and — bless her — if she happened to be making one she would make an extra for me too.
Time Saving Substitution
My MIL's recipe calls for one (16 oz.) box of instant mashed potatoes. And if you are in a pinch or in a hurry, that's fine. Go ahead and use instant. But for the sake of this post, I decided to go all-out and use real potatoes. Because, I don't know, there is something unnatural about instant potatoes. Am I right?
How to Make Cheesy Mashed Potato Casserole
Before you get started, make sure to set out one 8 oz. bar of cream cheese to soften.
Step one. You're going to need to boil some potatoes. I chose Russet potatoes because they are starchy and readily absorb the flavors of what I'll be mixing in later. More so than a waxy variety such as red skinned or fingerling potatoes.
Bring a large stockpot of salted water to a boil. I like to add salt to the water so the potatoes can absorb from additional flavor. While you're waiting for the water to boil, peel your potatoes and cut them into large cubes.
Once that water starts boiling, add your potatoes and boil until they are fork tender. That just means that when you stab a potato cube with a fork, it easily slides right back off the tines of the fork. It should take about 20 minutes for the potatoes to get to this point.
Step two. Once they are fork tender, drain the potatoes then mash them. I like to use a my food mill to do this because it gets rid of any lumps. I used the medium blade, but next time I make it I will run the potatoes through the food mill a second time using the fine blade.
You can also mash your potatoes using a traditional potato masher, a ricer, or a mixer. I like the food mill because it still gave my potatoes that creamy, fluffy texture that I would have gotten had I used instant.
Step three. Add a carton of premade green onion dip and one 8 oz. brick of softened cream cheese. Whip these three ingredients together until they are thoroughly combined. An eclectic mixer works well for this task.
If the potatoes seem stiff, add some warm milk, just a little at a time, until the potatoes reach your desired consistency. They should be creamy and fluffy, not runny.
Step four. Spread the potatoes out into a 8 x 8 inch casserole dish. I actually used a round deep dish pie plate for the picture you see. Either will work.
Spread the shredded cheddar cheese over the top of the casserole.
Step five. Place the casserole into a preheated 350 degree oven. Bake for 20 minutes until the cheese is melted and the casserole is heated through.
How to freeze Cheesy Mashed Potato Casserole
An unbaked mashed potato casserole can be frozen for up to a year. Once you've added your shredded cheese to the top, cover the casserole with foil and freeze. Allow it to thaw before baking.
What I love about this casserole is that it works on a Thanksgiving dining room table just as easily as it does on a picnic table for a family backyard barbecue. There are only FIVE ingredients. And it freezes beautifully, so you can whip up a few now and save them for later. Like when you get a pregnancy craving that just won't go away.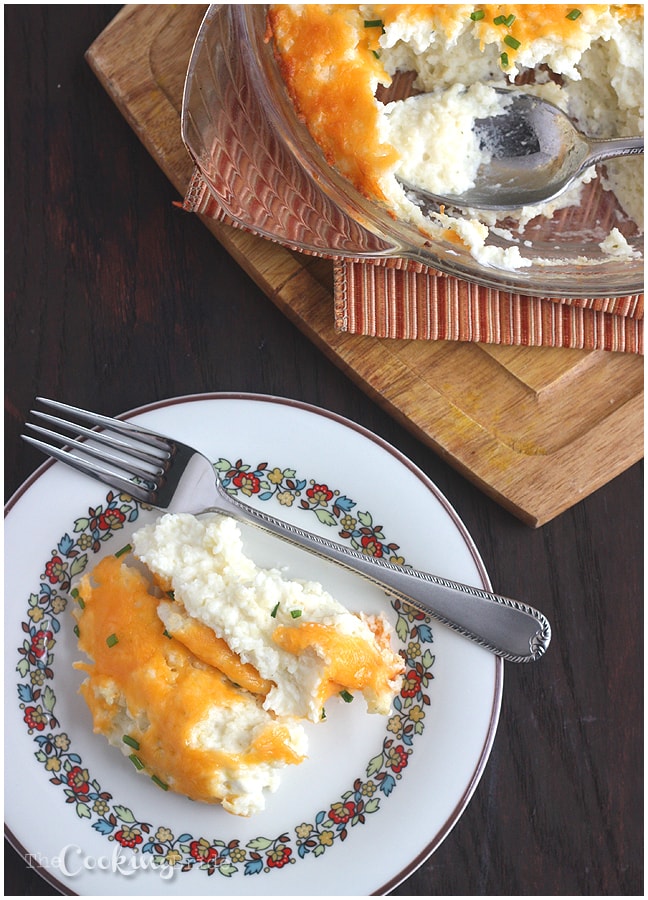 Mashed Potato Casserole
Easy recipe for cheesy mashed potato casserole is cheesy, delicious, only contains five ingredients, and is freezer friendly.
Ingredients
4

medium russet potatoes

peeled and cut into cubes

1

8 oz. block cream cheese, softened

1

16 oz. container green onion dip, room temperature

Milk

1/2 – 3/4

cup

shredded cheddar cheese

Salt and pepper to taste
Instructions
Bring a large stock pot of salted water to a boil. Add the potatoes. Boil until potatoes are fork tender, about 20 minutes.

Drain potatoes and mash.

Add cream cheese and green onion dip. Mix until thoroughly combines. If potatoes are a little stiff, add enough warm milk until potatoes reach desired consistency. They should be creamy and fluffy, not runny.

Pour mixture into an 8 x 8 inch casserole dish. Top with shredded cheddar. If freezing, stop here.

Preheat oven to 350 degrees. Bake until casserole is heated through and cheese is melted, about 20 minutes.
Nutrition
Serving:
1
cup
|
Calories:
355
kcal
|
Carbohydrates:
31
g
|
Protein:
5
g
|
Fat:
21
g
|
Saturated Fat:
13
g
|
Sodium:
343
mg
|
Potassium:
634
mg
|
Fiber:
2
g
|
Sugar:
2
g
|
Vitamin C:
20.4
mg
|
Calcium:
20
mg
|
Iron:
1.2
mg