Last updated on June 6th, 2023
This Southern fried catfish recipe only requires a few ingredients but produces crispy, crunchy, tasty results. Serve hot with hush puppies or fries.
This post is sponsored by The Catfish Institute. The opinions contained within are my own.
This post may contain affiliate links. Click here to learn more about how affiliate links are used on this site.
Since 1988, August has been designated as National Catfish Month. It's a big deal here in the South, not only because we love to eat catfish, but also because ninety-four percent of the farm-raised catfish sold in the United States comes from Mississippi, Arkansas, Alabama and Louisiana. It's a time to recognize not only this versatile and sustainable food, but also the industry as a whole.
Summer in the South usually heralds in a fish fry or two. Once the sun goes down, friends and neighbors show up with lawn chairs and coolers in tow. Someone mans a turkey fryer out in the driveway while everyone else sits around in a circle making small talk and wiping sweat from their brow. The sound of bubbling hot grease drowns out the buzz of mosquitos. The smell of fried fish and cold beer makes the late evening heat and humidity of Mississippi just a little bit more bearable.
Fish Fry Prep
I prefer to use U.S. Farm-Raised Catfish. Catfish farmers in the United States are closely held to abide by very strict government regulations. They must utilize sustainable, environmentally safe farming practices. The catfish are raised in closely monitored freshwater ponds and are hormone free.
In my opinion, U.S. Farm-Raised catfish just tastes better. It doesn't have that muddy flavor that's typically found in wild catfish. The taste is always light, clean and allows the flavors of the spices and seasonings in the cornmeal to shine through.
Traditionally, Southern fried catfish is breaded in cornmeal. However, you don't want to use straight ground cornmeal as that can be gritty. Look for finely ground cornmeal, preferably white cornmeal, mixed with a leavening agent such as flour. You can add the flour in yourself or use a self-rising brand like I do.
You'll need a deep skillet or Dutch oven that will allow you to fill it with a few inches of oil – at least enough so the fish floats easily on the surface. As for the oil, I use plain vegetable oil if I'm pan frying the catfish in my cast iron skillet at home. Some people swear by shortening, such as Crisco. Every social fish fry I've ever been to used peanut oil in a large outdoor turkey/fish fryer.
The secret to that golden brown crispy crust
There is a trick to achieving a super crispy golden brown crust on the outside and tender, flaky fish on the inside – double batter. Set up two dishes side-by-side. Fill the bottom of one with a couple cups of white cornmeal. Break an egg into the bottom of the second. Whisk the egg with a tablespoon of water. If you like a little heat, add a few splashes of tobacco.
Start by dredging four cleaned and skinned catfish fillets in the cornmeal first. Then transfer it to the dish with the egg and coat it on all sides with the egg. Finally, place it back into the cornmeal dish and coat it really well one final time.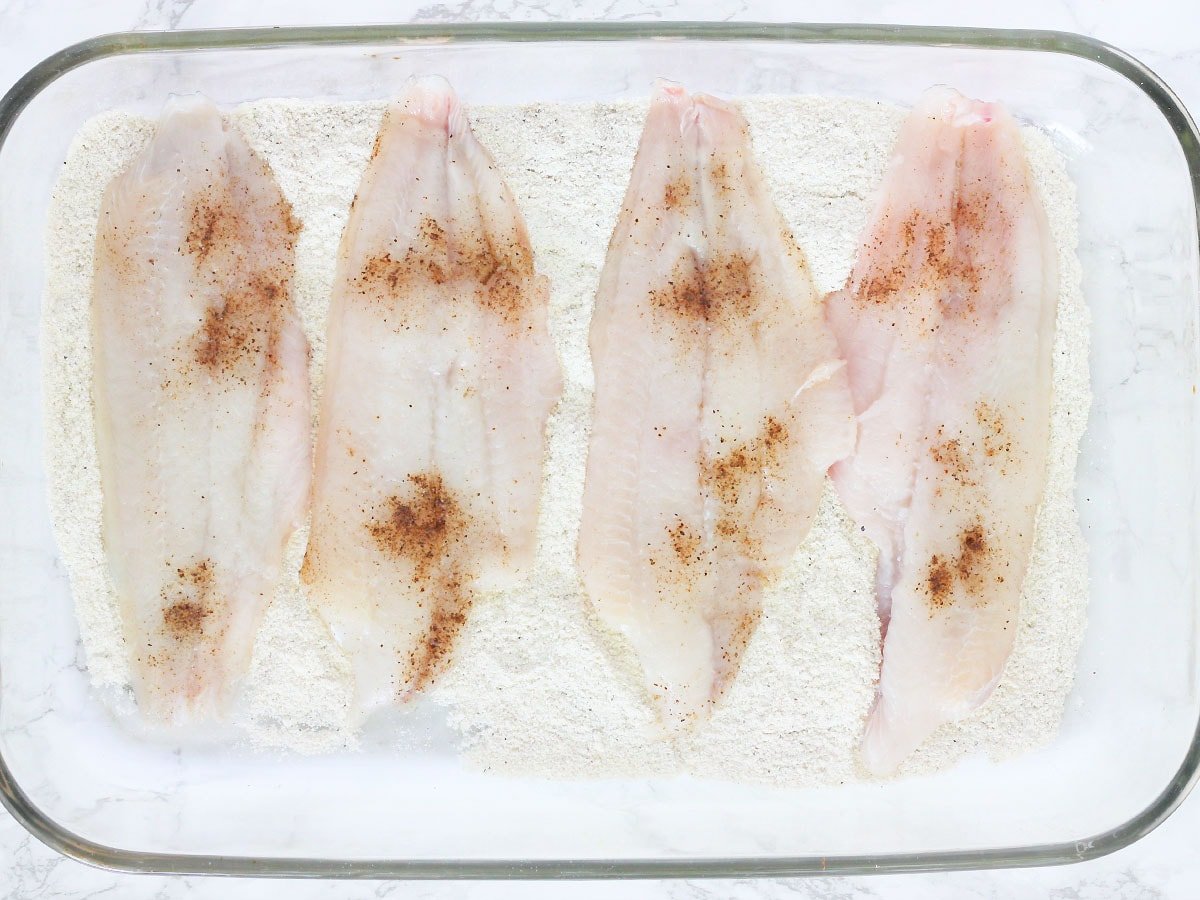 Frying the Fish
It's a good idea to keep a candy thermometer on hand to monitor your oil temperature. Oil should be heated to 350 degrees and instantly sizzle as soon as the fish is dropped into the oil. Too hot and you run the risk of burning the fish. Too cool and your fillets will end up soggy.
Carefully place the coated catfish fillets in hot oil. Fry the fish for 7-8 minutes. You'll have to turn the fillets halfway through if frying in a skillet. The cornmeal coating should be golden brown and the fish should flake easily. Drain the excess grease from the fried catfish fillets on paper towels or newspaper.
Can you reheat fried catfish?
The evening I made these fillets, The Husband was out of town on business. He was extremely disappointed he missed my weeknight fish fry, so I wrapped a couple cooled fillets in a paper towel and stored them in a resealable plastic bag in the fridge.
A couple nights later, my boys wanted breakfast for dinner. The husband decided he wanted leftover catfish instead. I simply preheated my oven to 350 degrees, placed the fillets on a rack on a baking sheet, and baked them until the coating crisped up again, about 7-8 minutes. They were almost as delicious as if they'd come straight out of the frying pan.
Can fried catfish be frozen?
There might be a rare occasion that you've made too much fish and you're faced with leftovers. Previously fried fish can be frozen. Line a baking sheet with waxed paper. Place the fish on the waxed paper and place the baking sheet on a flat surface in the freezer. Allow the fish to freeze solid. Then wrap each piece individually in plastic wrap.
Reheat the fish from frozen. I don't recommend letting the fish thaw since that can diminish the texture of the cornmeal coating. Preheat the oven to 400 degrees and bake for about 20 minutes until the fish is heated through.
What to Serve with Fried Catfish:
Don't even think of hosting a fish fry without some hush puppies to go with it. French fries and coleslaw are two more traditional sides. Down South, catfish is served with ketchup for dipping. I whipped up a little homemade remoulade sauce for something different.
Give some of these side dishes a try at your next fish fry:
Looking for more catfish recipes?