Last updated on May 15th, 2023
Love crab cakes, but don't love the mess of frying? Give these oven baked crab cakes a try! Authentic flavor without the mess.
Crab cakes are one of my guilty pleasure. I love ordering them in a restaurant. But I don't often cook them at home. I hate frying — it's time consuming, messy, and my house smells fishy for days afterward. I wondered if there was a way to create a crab cake that could be baked in the oven, but also taste good. Eureka!
Sauté the Veggies
One of the biggest pluses of this recipe is that the crab cakes can be assembled ahead of time and stored in the refrigerator until you're ready to bake them. Start by melting to tablespoons of unsalted butter in a large skillet. Add one diced red bell pepper, 1/2 cup minced celery, and 1/2 cup of diced onion. Sauté the vegetables for 7-10 minutes until they are tender. Next, add two cloves of minced garlic and sauté for another 30 seconds.
Sprinkle in two tablespoons of all-purpose flour and cook, stirring constantly, for two minutes to remove the raw flour flavor. Remove the skillet from the heat and set aside to cool.
Assemble the Crab Cakes
Dump one 8 ounce can of lump crab meat into a large mixing bowl. Be sure to give the crab a quick once over for any shells and cartilage. It's no fun to bite into something hard! To the crab, two large lightly beaten eggs, one tablespoon of mayonnaise, one teaspoon of Worcestershire sauce, ¼ cup of breadcrumbs, 1/4 teaspoon of paprika, two tablespoons of chopped fresh parsley and 1/8 teaspoon of cayenne pepper.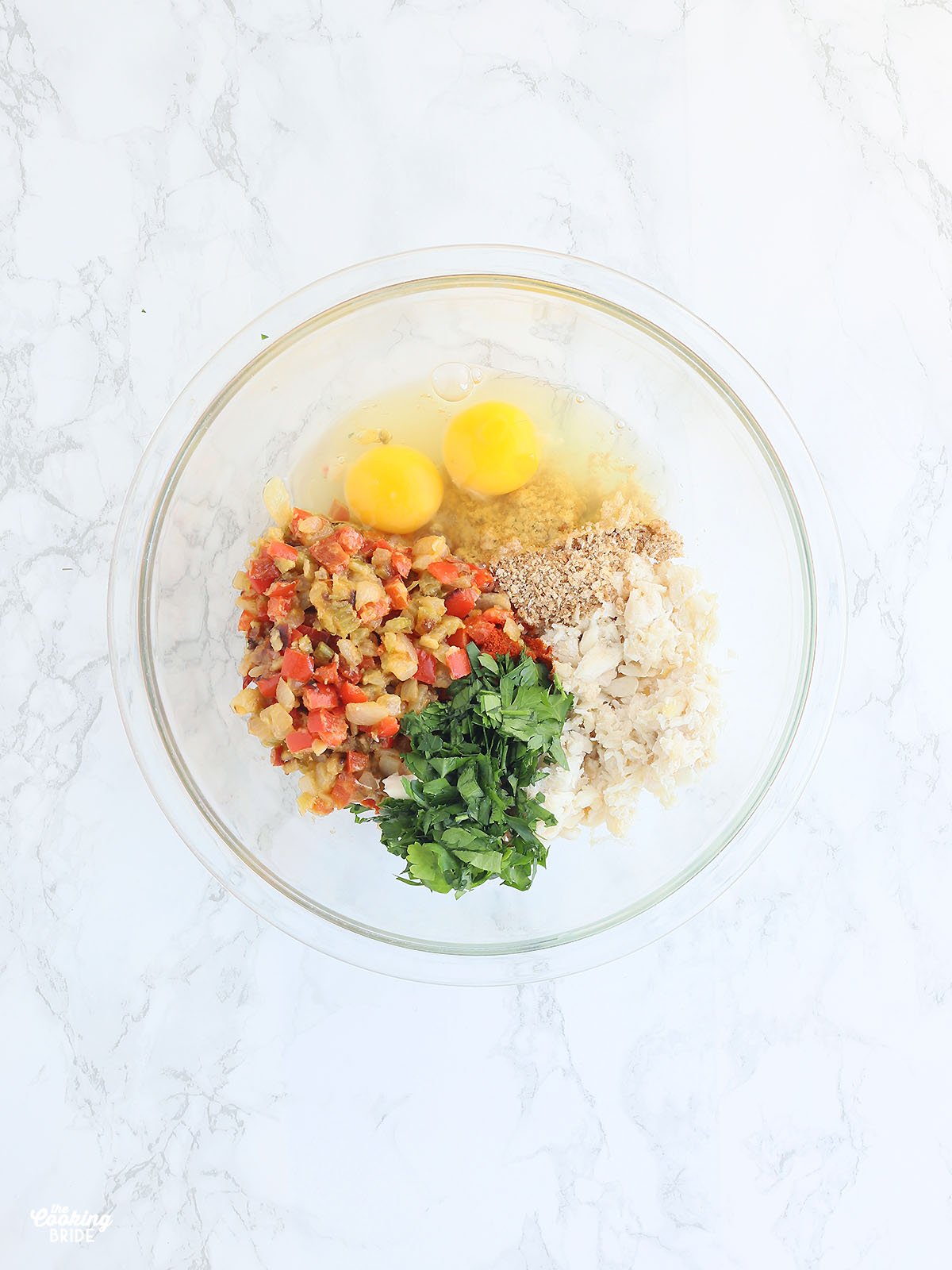 Stir everything up to combine, then add additional salt and pepper to your preference. Add the cooled vegetables and stir again. Form the crabmeat mixture into patties that are roughly 2 ½ inches wide and ½-inch thick. I like to scoop them out with and ice cream scoop, then flatten them down the with bottom of the spoon. Place them on a baking sheet lined with parchment paper or aluminum foil coated with cooking spray.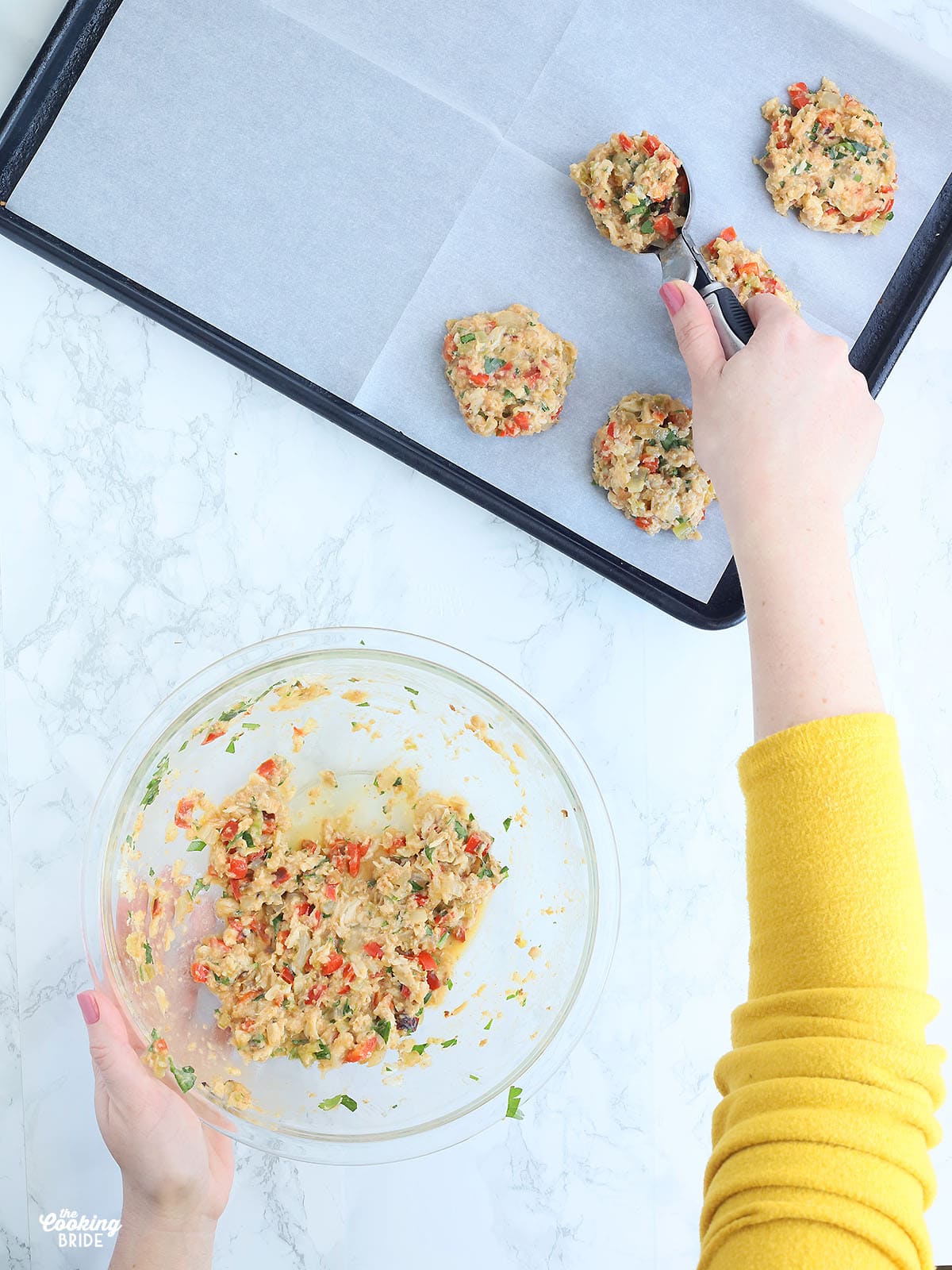 Chill, then Bake
Since we're not frying these off, we need to give the patties time to firm up before they hit the oven. Once you've formed the patties, place the baking sheet in the refrigerator and let the patties chill for 30 minutes. While you wait, go ahead and preheat the oven to 400 degrees. Bake the crab cakes or 25 – 30 minutes until golden brown.
Storage, Reheating and Freezing
Storage: Allow the baked crab cakes to cool completely, then place them in an airtight container within two hours. I find it's helpful to stack the crab cakes with a layer of paper towels or waxed paper between them to absorb any residual moisture.
Freezing Unbaked: Freeze unbaked crab cakes by arranging them on a baking sheet lined with waxed paper and placing them on a level surface in the freezer. Freeze overnight, then transfer the patties to an airtight container or plastic bag. Do not thaw before baking. Follow the cooking instructions, but you will need to adjust your time by an extra 10-15 minutes to compensate for the thawing. Consume within three months.
Freezing Baked: Baked crab cake can also be frozen. If storing in an airtight container, layer waxed paper between them as I mentioned above. If storing in a freezer bag, follow the method outlined for freezing unbaked crab cakes. Bake from frozen, following the cooking instructions, adding an extra 10-15 minutes additional cooking time.
Baked Crab Cakes Pair Well With: