Last updated on October 9th, 2019
Sweet potato casserole with pecans is taken to the next level with coconut, bourbon, raisins, and a crunchy brown sugar topping.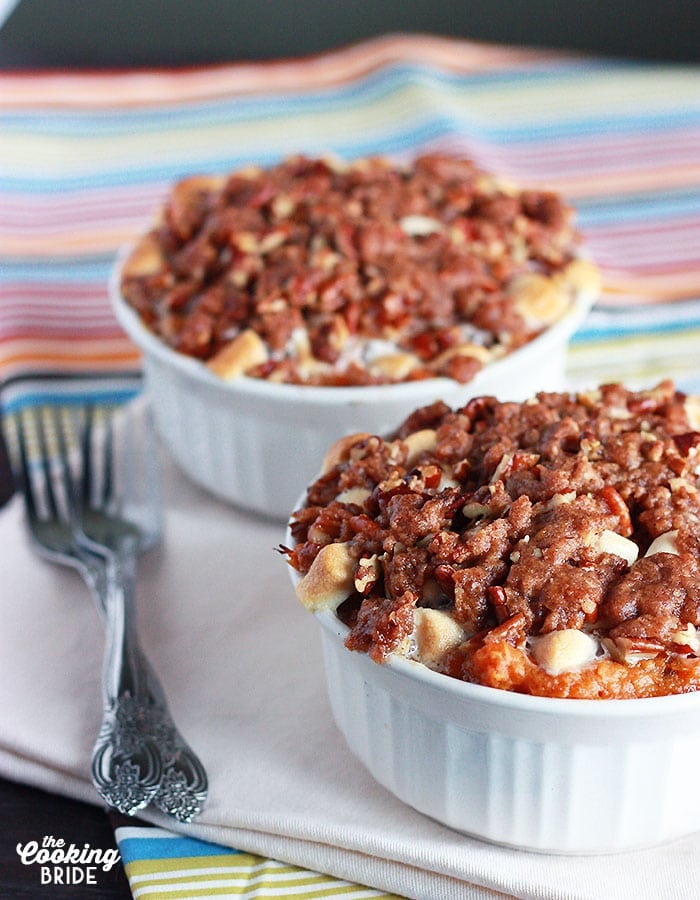 I probably need to stop posting so many recipes with bourbon in them or ya'll are going to start thinking I'm a boozer. I'm not, by the way.  But how could I read the ingredients in this recipe and then resist making it?  I can't.
Traditional sweet potato casserole will forever have a soft spot in my heart.  It has had a place on our holiday dinner table for as long as I can remember.  For the longest time, that was the only way you could get me to eat a sweet potato.  It's comfort food.
This is sweet potato casserole in that is has mashed sweet potatoes and melted marshmallows.  But add coconut, raisins, bourbon, and a sweet, crunchy pecan crumble topping and it's sweet potato casserole on steroids.  It also smells phenomenal while it's cooking in the oven.
How to Prepare the Sweet Potatoes
If you're making this for a crown, start with eight medium sweet potatoes. You can cook them quickly and easily in the microwave. Be sure to cut a few slits in the potatoes to allow steam to vent. Then microwave on high for seven minutes. Turn them over, and microwave for an additional seven minutes. You should be able to easily slide a fork in and out of the sweet potato with no problem. This is called "fork tender."
When the sweet potatoes are cool enough to handle, remove them from their skins into a large mixing bowl and then mash them. Add some half-and-half, brown sugar, bourbon and two lightly beaten large eggs. The alcohol in the bourbon does cook off while it's baking in the oven, so it shouldn't be a problem serving this to children.  However, if it makes you uncomfortable, you can always opt to omit it from the recipe.
You will also want to add some honey, vanilla, ground cinnamon and a dash of salt. Then add molasses, cardamom, coconut and raisins. Mix this all together really well. Spread mixture into the bottom of a greased 13-in. x 9-in. x 2-in. baking dish. Spread some mini marshmallows over the top.
Now for the Praline Topping
This is what sends a seemingly normal sweet potato casserole over the edge. Combine some flour, brown sugar and cinnamon in a small bowl. Whisk in melted butter and stir until crumbly. Add in chopped pecans. Sprinkle the topping over marshmallows. Bake in a 350 degree oven for 35-45 minutes until the casserole is heated through and the topping is golden brown.
You could serve this as a side to your turkey and dressing.  But it's also sweet enough to serve as a dessert option.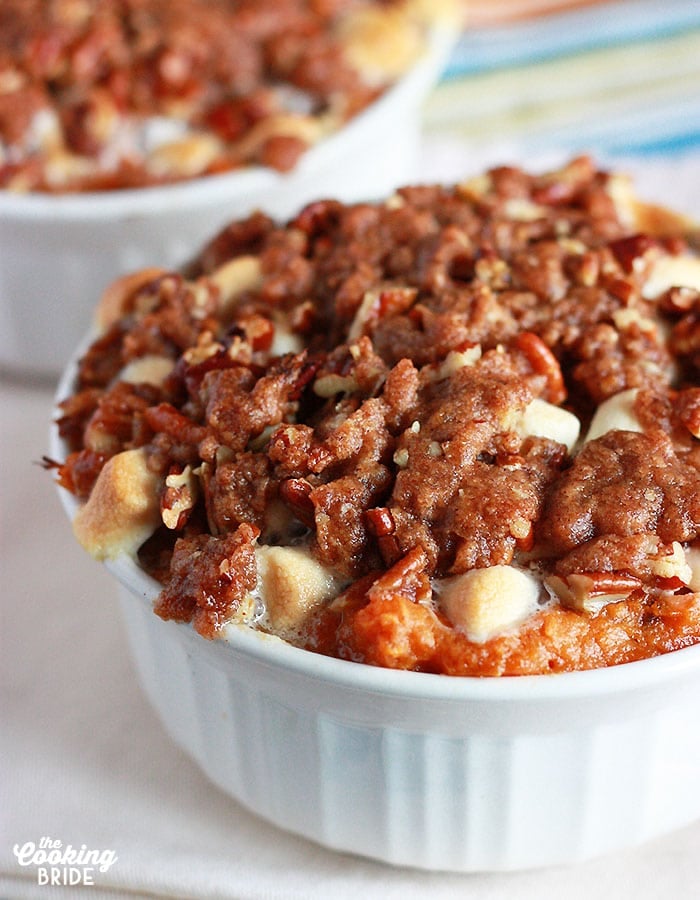 You Might Also Like:
Did you make this recipe? Don't forget to leave a 5-star rating and a review!
Coconut Bourbon Sweet Potato Casserole with Pecans
Sweet potato casserole with pecans is taken to the next level with coconut, bourbon, raisins, and a crunchy brown sugar topping.

Ingredients
Casserole:
8

cups

mashed sweet potatoes

3/4

cup

half-and-half cream

1/2

cup

packed brown sugar

1/2

cup

bourbon

2

eggs

lightly beaten

1/4

cup

honey

3

teaspoons

vanilla extract

1-1/4

teaspoons

ground cinnamon

1/4

teaspoon

salt

1

tablespoon

molasses

1/2

teaspoon

ground cardamom

1

cup

flaked coconut

3/4

cup

golden raisins

1-1/2

cups

miniature marshmallows
Topping:
1/2

cup

all-purpose flour

1/2

cup

packed brown sugar

1

teaspoon

ground cinnamon

1/3

cup

butter

melted

1

cup

chopped pecans
Instructions
Preheat oven to 350 degrees.

Combine the first nine ingredients in a large bowl. Stir in the molasses, cardamom, coconut and raisins.

Spread mixture into the bottom of a greased 13-in. x 9-in. x 2-in. baking dish. Spread marshmallows over the top.

For the topping, combine the flour, brown sugar and cinnamon in a small bowl. Whisk in melted butter and stir until crumbly. Add in pecans. Spread topping over marshmallows.

Bake, uncovered for 35-40 minutes or until heated through and topping is golden brown. *
Nutrition
Serving:
1
cup
|
Calories:
520
kcal
|
Carbohydrates:
65
g
|
Protein:
8
g
|
Fat:
22
g
|
Cholesterol:
113
mg
|
Sodium:
227
mg
|
Potassium:
561
mg
|
Fiber:
6
g
|
Sugar:
23
g
|
Vitamin A:
13500
IU
|
Vitamin C:
4
mg
|
Calcium:
72
mg
|
Iron:
1.6
mg