Last updated on September 10th, 2023
By far the best classic lasagna recipe you'll ever have — packed full of rich, meaty, slowly simmered tomato sauce and melty mozzarella cheese.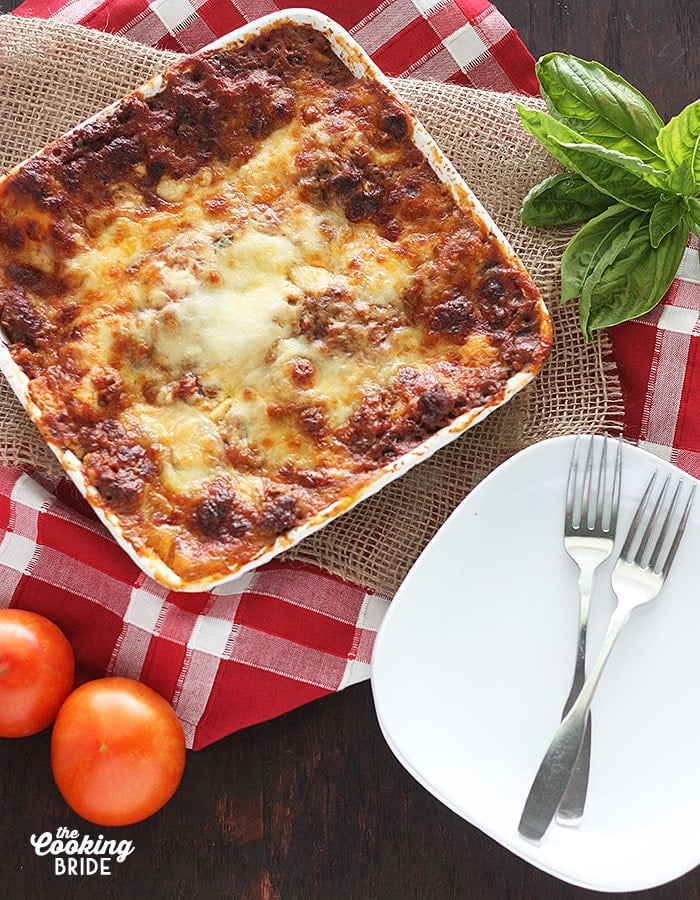 I love lasagna.  A good classic lasagna recipe is meaty, dripping with rich tomato sauce, and oozing with gooey cheese.  It's a meal where you can really stretch your dollar because I have yet to come across a lasagna recipe that my husband and I can't get at least three or four meals out of.  It's filling and comforting all at the same time.
I have spent the last few years in search of a really good lasagna recipe.  Not a mediocre lasagna recipe.  Not a forgettable lasagna recipe.  Not one that makes you shrug your shoulders and say, "Eh."  I wanted a totally awesome lasagna recipe that will make my children want to come home for regular visits from college.  Finally, after years of trial and error, I have perfected my recipe!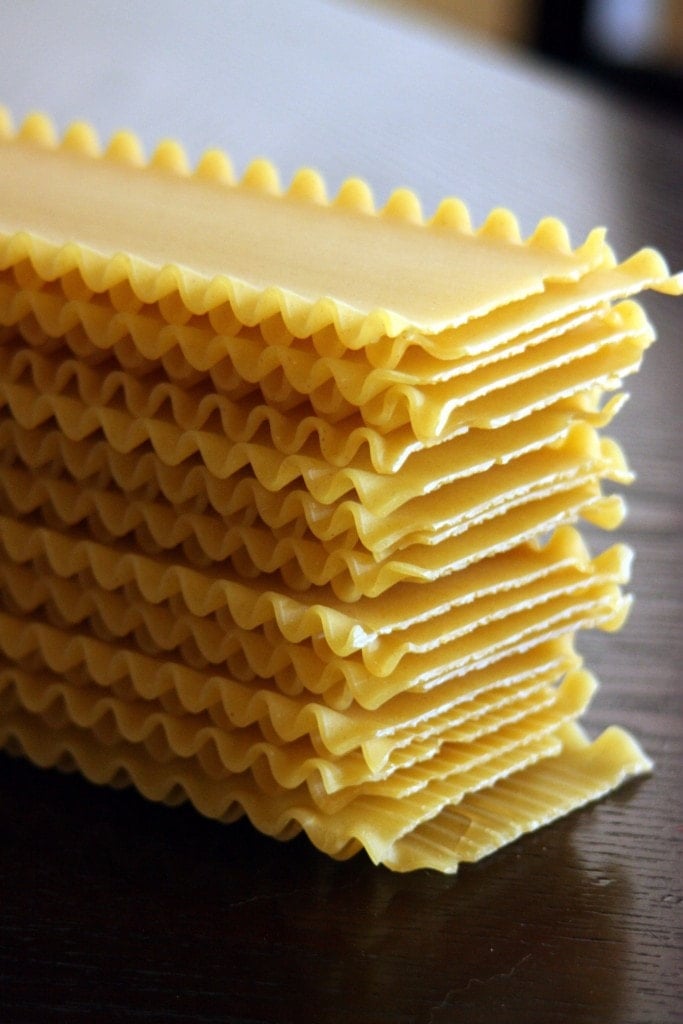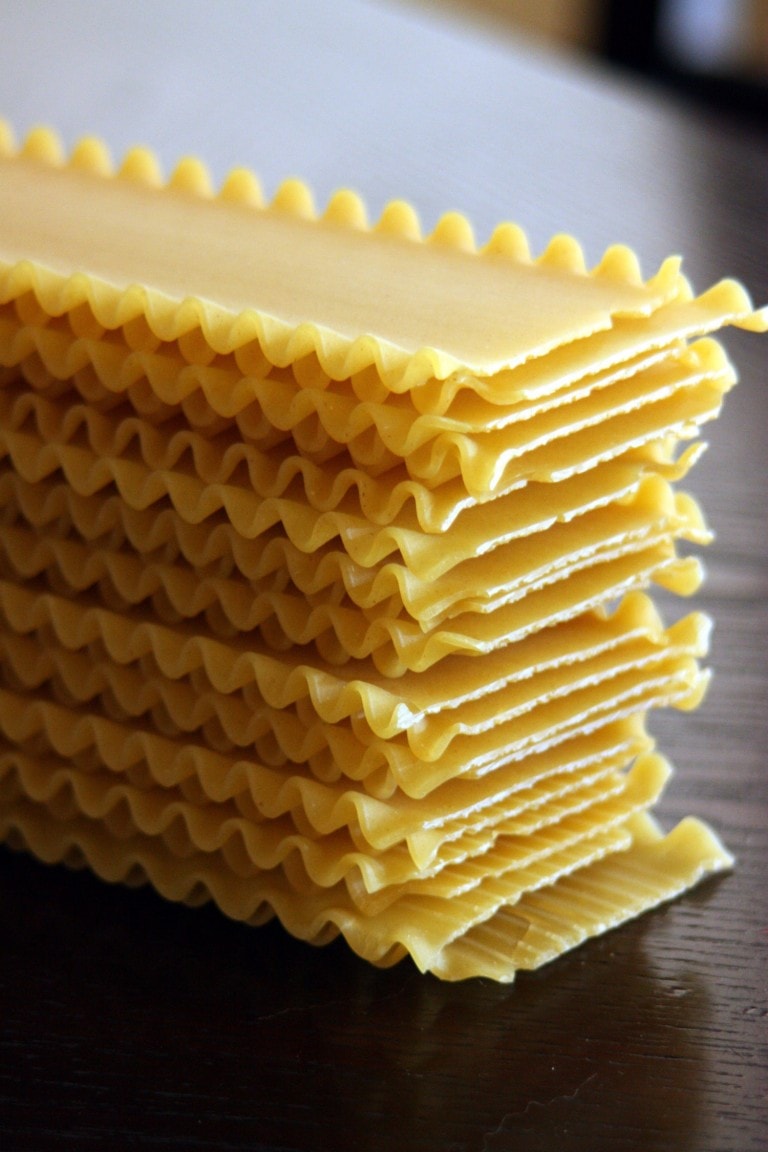 Just so you know, this is not something you are going to be able to throw together in a few minutes and pop it in the oven.  I started making this at 2:30 Sunday afternoon and we sat down to eat around 6:30.  It is a labor of love, but it is so worth it!
I planned this for a Sunday afternoon comfort meal.  However, my carnivore husband decided he wanted steaks for dinner.  I agreed, but went ahead with the lasagna anyway because I planned on freezing the remainder for dinners in the upcoming week.  I managed to recruit him as my sous chef and as he was stirring the pot of meat sauce, he quickly changed his mind.  He also went back for seconds.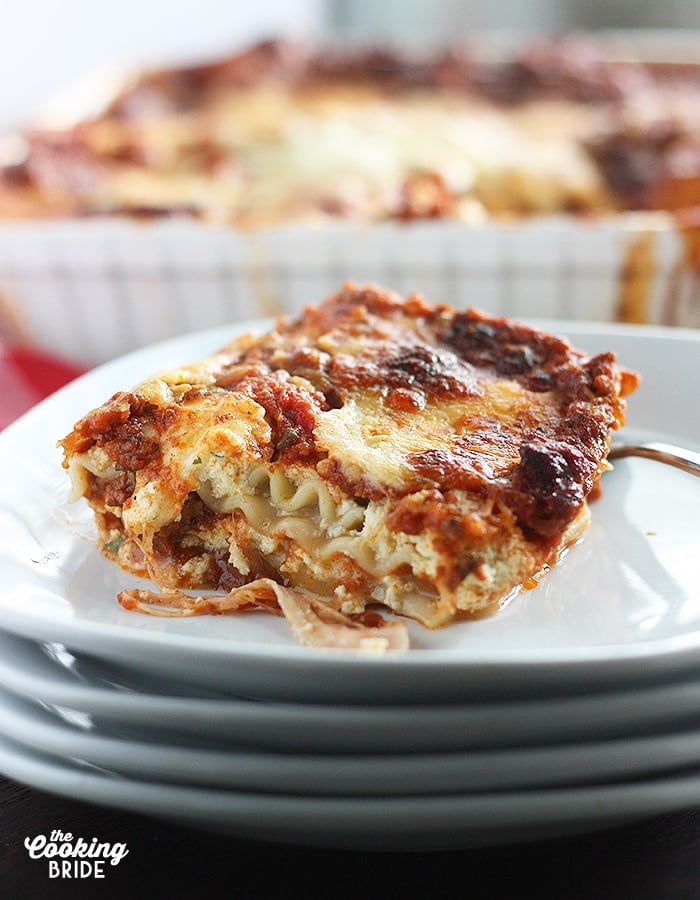 More Pasta Recipes:
Hearty Meat Lover's Lasagna
By far the best lasagna you'll ever have -- packed full of rich, meaty, slowly simmered tomato sauce and melty mozzarella cheese.
Ingredients
1

pound

sweet Italian sausage

1

pound

lean ground sirloin

1

tablespoon

extra virgin olive oil

1

medium yellow onion

chopped

8

cloves

garlic

crushed

1

package

8 oz of sliced mushrooms

1

28 oz can crushed tomatoes

3

6 oz cans tomato paste

2

15 oz cans canned tomato sauce

1/2

cup

balsamic vinegar

2

tablespoons

white sugar

1

tablespoon

dried basil leaves

2

teaspoons

dried oregano

2

teaspoons

dried thyme

2

bay leaves

1

teaspoon

fennel seeds

2

teaspoons

Italian seasoning

2

teaspoons

salt

divided

1

tablespoon

ground black pepper

6

tablespoons

chopped fresh Italian flat leaf parsley

divided

12

lasagna noodles

32

ounces

ricotta cheese

part-skim or regular

2

eggs

3

pounds

mozzarella cheese

sliced (be sure to use the fresh, soft, "buffalo" type)

1

cup

grated Parmesan cheese

1

cup

grated Romano cheese
Instructions
In a Dutch oven or large skillet with lid, cook sausage, ground sirloin, onion, mushrooms, and garlic, in olive oil over medium heat until well browned.

Stir in crushed tomatoes, tomato paste, tomato sauce, and balsamic vinegar.

Season with sugar, basil, oregano, thyme, bay leaves, fennel seeds, Italian seasoning, 1 ½ teaspoons salt, pepper, and 2 tablespoons parsley.

Simmer on low, covered, for at least 1 1/2 - 2 hours, stirring occasionally.

Preheat oven to 375 degrees F (190 degrees C).

In a mixing bowl, combine ricotta cheese with eggs, remaining parsley, and 1/2 teaspoon salt.

To assemble, spread enough meat sauce to cover the bottom of the baking dishes.

Arrange 3 raw lasagna noodles lengthwise over meat sauce.

Spread noodles with half of the ricotta cheese mixture.

Place a third of the mozzarella cheese slices on top of the ricotta in pans.

Spoon about 1 1/2 cups meat sauce over mozzarella, and sprinkle each pan with 1/4 cup Parmesan cheese and 1/4 cup Romano cheese.

Repeat layers (noodles, ricotta, mozzarella, meat), and top with remaining mozzarella, Parmesan, and Romano cheese.

Cover pans with foil: to prevent sticking, spray the underneath side of foil with cooking spray.

Bake in preheated oven for 25 minutes. Remove foil, and bake an additional 25-30 minutes or until cheese on top is nice and golden.

Cool for 15 minutes before serving.
Makes one 9x13 pans or two 8 x 8 pans
Notes
If freezing, follow recipe through Step 13. Complete Steps 14 & 15 prior to baking and serving.