Last updated on May 15th, 2023
Cool off with a delicious bacon and tomato wedge salad topped with creamy buttermilk blue cheese dressing, crispy bacon, and tomatoes.
The Husband and I so rarely get to enjoy a fine dining restaurant. When we do, I rarely order a salad. My thinking is I shouldn't waste the experience on something I could easily make at home. However, the first time I ate at Walker's Drive-In in Jackson, I made an exception. Blame the heat (it was July) or the late-stage pregnancy hormones (Big Brother would be arriving in 32 looong days), but I ordered their BLT Wedge Salad in addition to an entrée, an appetizer, and dessert (hey, I was eating for two).
The Husband's eyes bogged when the waiter set this huge half iceberg lettuce wedge in front of me, dripping with white creamy dressing and topped with a generous sprinkling of Applewood smoked bacon and bright red tomatoes. He loves bacon/tomato anything and for a brief moment I think he regretted skipping over the salad section and going straight for the steaks. I can tell you, there wasn't a happier pregnant woman in the entire state of Mississippi.
I knew eventually I would have to take a stab at recreating that wedge salad recipe at home. The buttermilk bleu cheese dressing is what makes this special and I can tell you this dressing is yummy!
Make the Buttermilk Blue Cheese Dressing
Yes, the dressing contains a raw egg. According to WebMD, about one in 20,000 eggs contains salmonella, the bacteria that causes food poisoning. If you have concerns, I suggest either using a pasteurized egg, which has been heated a point to kill off the bacteria. The carton should be labeled as pasteurized. You could also use a liquid egg substitute such as Egg Beaters.
This dressing also contains it also contains three cloves of raw garlic. That may not seem like a lot, the taste of raw garlic is about ten times stronger than the taste of cooked garlic. You may want to adjust the recipe depending on your preference. I would suggest, however, that you steer clear of this dressing on a first date.
In a blender or food processor, combine one large raw egg with three cloves of minced garlic. Turn the machine on low. While it is running add one cup of vegetable oil in a slow, thin stream. Turn the machine off and add ¼ cup of buttermilk, ½ teaspoon of salt, ½ teaspoon ground black pepper and ¼ teaspoon cayenne pepper. Blend the dressing for a few seconds more to combine everything.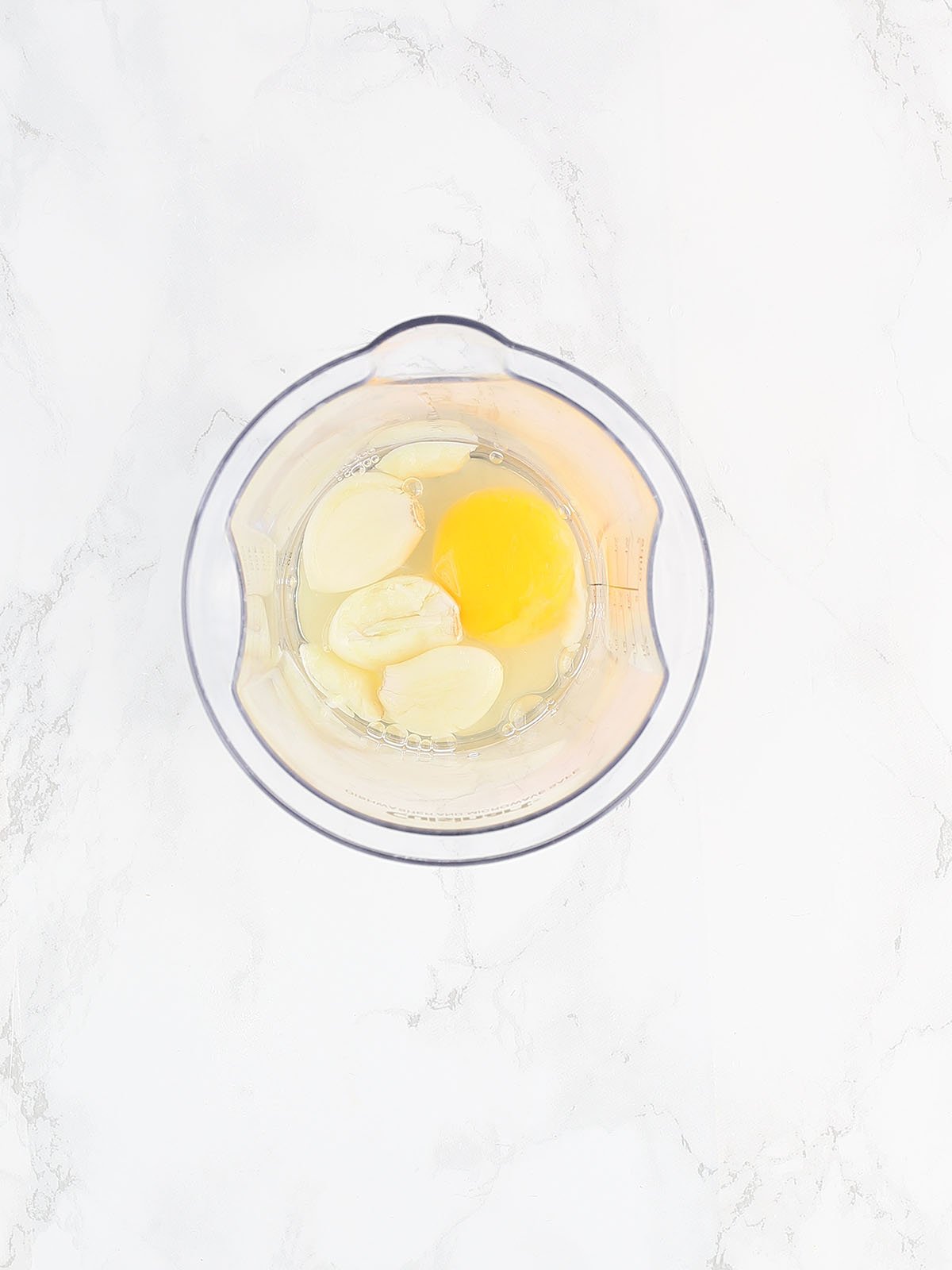 Pour dressing into a medium mixing bowl and stir in eight ounces of crumbled blue cheese. Store the dressing in an airtight container in the refrigerator until you are ready to assemble the salad.
Assemble the Wedge Salad
Wash one head of iceberg lettuce under cold water and remove any damaged outer leaves. Pat dry with a paper towel. Using a sharp knife, cut one head of iceberg lettuce in half, then quarter it. If the head of lettuce is pretty large, you may want to cut it into eighths. Carefully remove the core from each wedge.
Place one wedge on a serving plate. Drizzle the blue cheese dressing over the top. Sprinkle with halved cherry tomatoes and 1-2 tablespoons of chopped cooked bacon.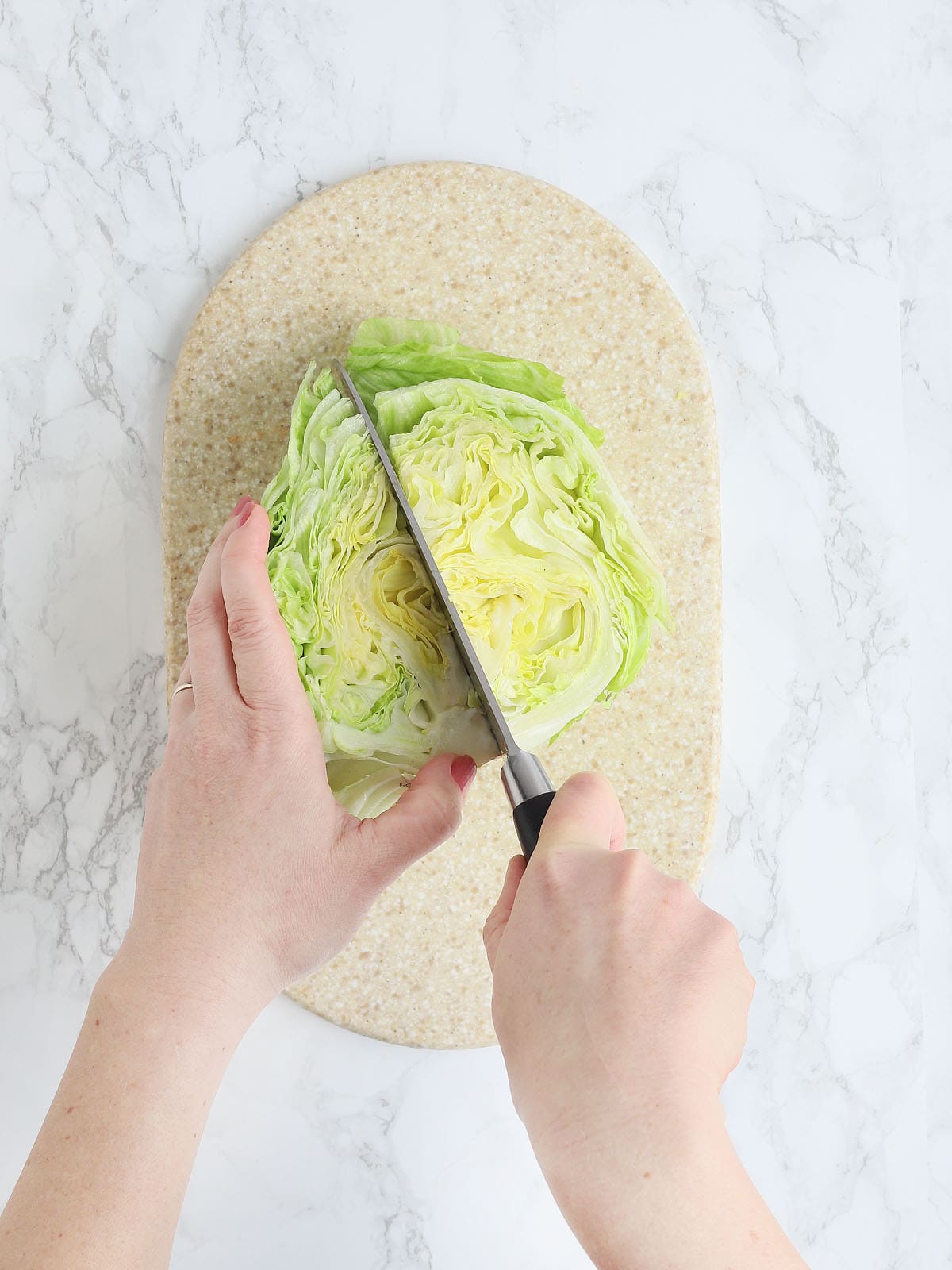 Storage
If stored properly, the buttermilk blue cheese dressing will keep for up to a week. Lettuce doesn't last as long once it has been cut. If you find yourself with a few leftover lettuce wedges, store them in a plastic freezer bag, remove as much air as possible, seal and store in the fridge. They should keep for a day or two before they start to turn brown.
Once dressed, the salad won't keep for long. That's because the acid in the buttermilk starts breaking down the composition of the lettuce leaves and causes them to release water. Consume the wedge salads within two hours after dressing and discard any leftovers.
What to Serve with Bacon, Lettuce and Tomato Wedge Salads