Last updated on May 25th, 2023
Easy mint chocolate trifle recipe layers fudgy homemade chocolate cake with peppermint flavored whipped cream and mint candies. It's a super simple and satisfying dessert.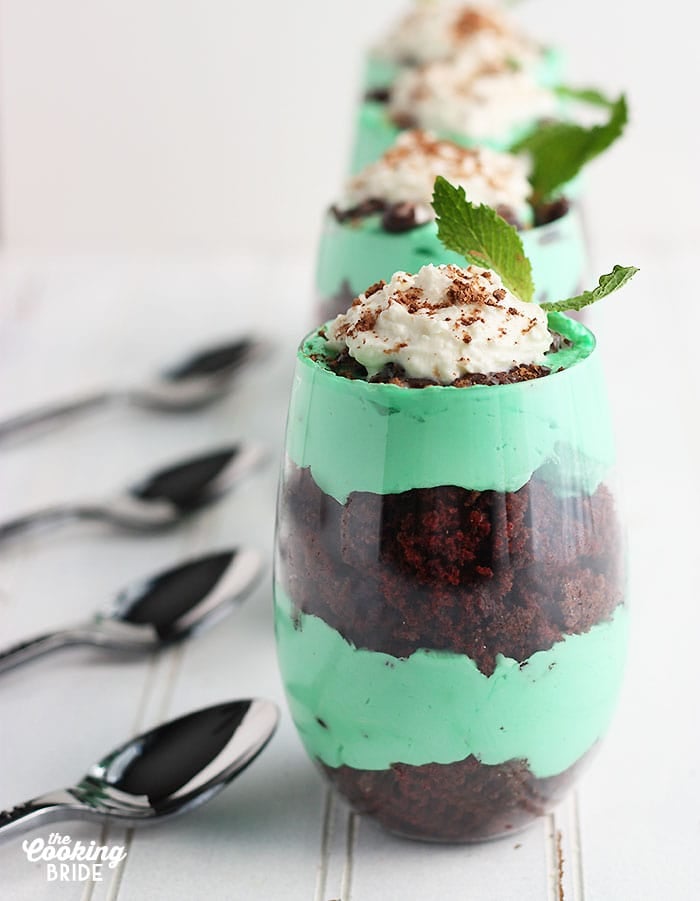 This post may contain affiliate links. Click here to learn more about how affiliate links are used on this site.
This mint chocolate trifle recipe was inspired by my all time favorite ice cream flavor — Baskin Robbins mint chocolate chip!
It Starts with Chocolate Cake
Any boxed chocolate cake or brownie mix will work for this recipe. I like to make my cake the day before and let cool completely before assembling the trifle.
Tips for Making Homemade Whipped Cream
Before you reach for the whipped topping in the freezer section, I urge to to try making your own. If you own a mixer, you can do it!
To start, everything needs to be super cold.
This includes both your heavy whipping cream (found in the same aisle in the grocery store as milk and dairy products) and your bowl. A metal mixing bowl and beaters is best. About 30 minutes before I plan to make my whipped cream, I put my bowl and beaters in the refrigerator.
Start slow.
It's kind of like a race, you don't want to start out at your top speed straight out of the gate. You could end up with a mess! Start the mixer at a slow speed until the heavy whipping cream begins to thicken.
Then add your sugar
Once you notice the cream starting to thicken, add your sugar and vanilla extract, if using. I like to add a little green food coloring at this point too. You can omit the food coloring if you want, but I like this recipe like I like my favorite ice cream — green! Turn the mixer on again and beat until soft peaks form.
What are soft peaks?
When you turn off the mixer and lift the beaters out of the whipped cream, the point that forms should fall to the side.
Don't over beat your whipped cream
If you continue to beat your whipped cream after soft peaks have formed, it will continue to get stiff and eventually turn into butter. It's totally edible, but probably not something you want to spread over a dessert.
Click here to read my more detailed post on How to Make Whipped Cream.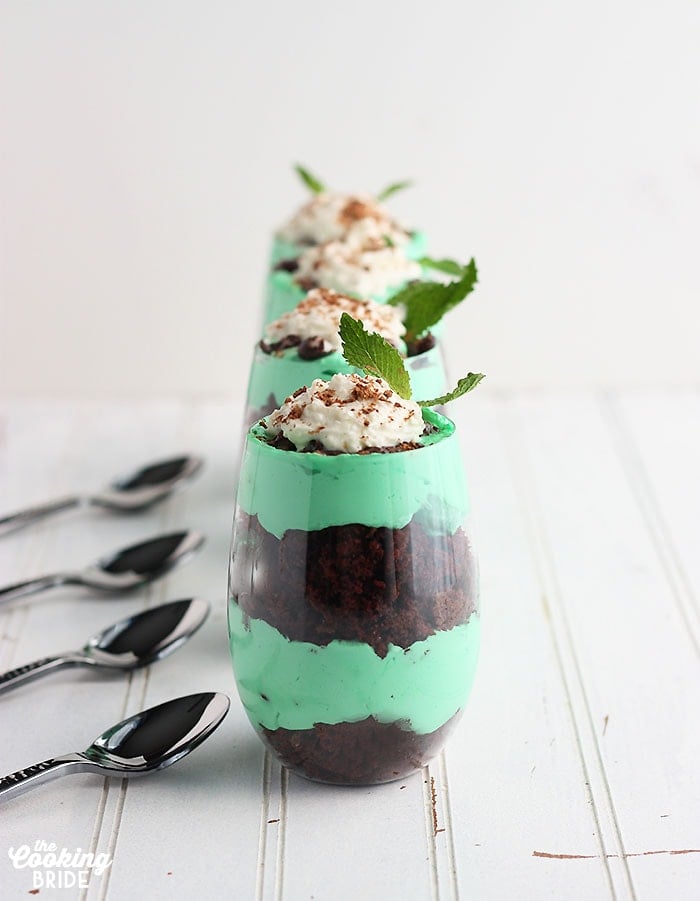 Assembling Your Trifle
Begin by crumbling up your cooled cake. You can use individual cups like I did or assemble in a trifle bowl. If you use a trifle bowl, you will end up creating more layers.
Next, you want an inch of whipped cream topping. I find that for glasses like the ones photographed in this recipe, it can be difficult to get your hands inside the container to create the whipped cream layer. I like to spoon the whipped cream into a Ziploc bag, push everything towards a corner, then snip the tip off. It's a homemade piping bag! Piping the whipped cream gets it into all those nooks and crannies. You can always use the back of a spoon to smooth the whipped cream out once you've piped it in.
Repeat with another layer of cake. End with a final layer of whipped cream. I sprinkled the top with a layer of chopped Junior Mints candy, but you could also use Andes Mints, peppermint patties, even mint Oreo cookies. I make a point to freeze my candy for a few minutes before chopping. Not to the point where they are frozen solid, but enough to where they are easily manageable and not melting all over the place as I'm chopping.
You can serve this chocolate trifle recipe as-is at this point, or top with plain whipped cream, a dusting of cocoa powder and a sprig of mint leaf.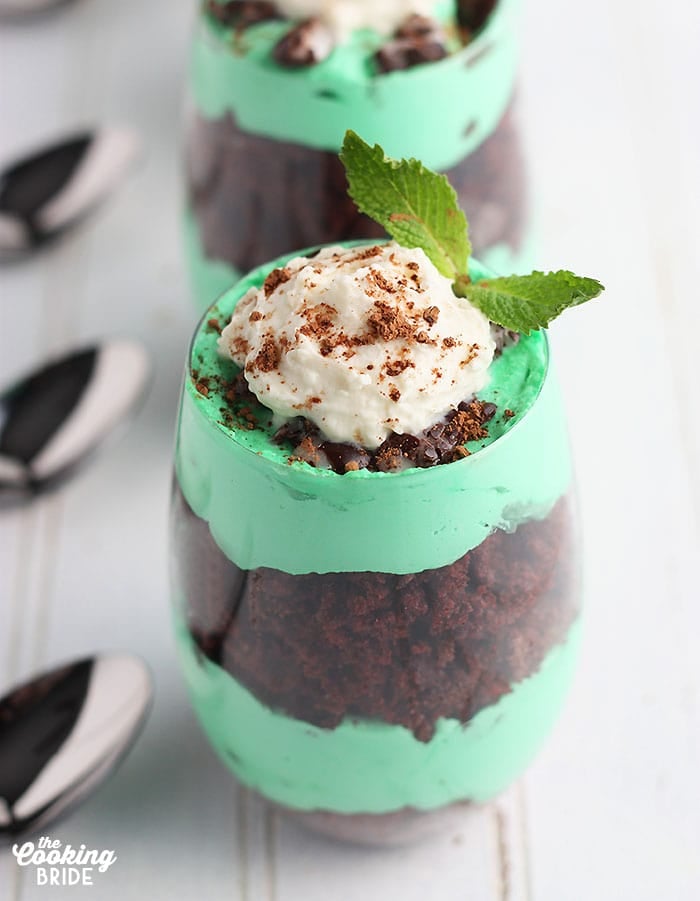 You Might Also Like:
Mint Chocolate Trifle
Mint chocolate trifle recipe layers fudgy homemade chocolate cake with peppermint flavored whipped cream and mint candies. It's a super simple and satisfying dessert.
Ingredients
1

layer chocolate cake

cooled*

2

cups

heavy whipping cream

1/2

cup

confectioners' sugar

1/2

teaspoon

green food coloring

1/2

teaspoon

peppermint extract

3/4

cup

mint flavored candy (such as Andes or Junior Mints),

chopped and divided
Instructions
Crumble the chocolate cake. Spread about a 1 – 1 ½ inch layer onto the bottom of a trifle bowl or individual cups.

With an electric mixer, slowly beat the cream until it begins to thicken.

Add the confectioners' sugar, food coloring and peppermint extract. Increase the speed of the mixer to medium high and beat until soft peaks form.

Gently fold in 1/2 cup of the mint candy.

Spread half of the whipped cream mixture over cake layer. Place another layer of cake top of whipped cream. Repeat, ending with a layer of whipped cream.

Sprinkle remaining candy pieces over the top. Garnish each serving with a layer of plain whipped cream.

Refrigerate leftovers.
Notes
One Bowl Chocolate Cake Recipe can be found here: https://cookingbride.com/desserts/one-bowl-chocolate-cake/