Last updated on June 5th, 2023
Cornbread dressing with chicken is a traditional dish served at holiday and family gatherings across the South. Crumbled homemade cornbread, sautéed vegetables, hard boiled eggs, shredded chicken are baked in a casserole dish until golden brown.
This post may contain affiliate links. Click here to learn more about how affiliate links are used on this site.

Which type of dressing do you prefer? Every Thanksgiving, there is a great divide in my house. It is the issue over stuffing – or dressing – whatever you prefer to call it. I grew up eating stuffing of the cubed bread variety. I love the taste of sage, the little bite of crispiness on the top and the warm gooeyness underneath. My husband refers to my brand of stuffing as "soggy bread dressing."
He swears by his mom's recipe for cornbread dressing, passed down by his grandmother. It has a permanent place in the buffet lineup every Thanksgiving, Christmas, and any other family get-together in between.
Prep Ahead
Making this casserole from start to finish can take a few hours. That's why I like to break the process up into stages. I find it's easier to plan ahead and work over the course of a few days rather than trying to get everything done at once. Once you've prepped, the dressing comes together pretty quickly,
Make the Cornbread
This recipe calls for 6-8 cups of crumbled cornbread. One batch of my homemade skillet cornbread makes the perfect amount. To save time, the cornbread can be made a few days in advance, wrapped in plastic wrap and stored in the fridge until you are ready to use it. The cornbread can also be frozen. Often if I have a few pieces leftover after a meal, I'll toss it in a freezer bag and save it for a later use.
Boil the Chicken
You will also need one cup of cooked and shredded chicken. I like to use chicken thighs with the skin removed. We also need two cups of chicken broth. I like to "kill two birds with one stone" by boiling my raw chicken thighs in four cups of water for 20 minutes. If you have any vegetables that are past their prime in the vegetable drawer, toss those into the water too for more flavor.
After 20 minutes, remove the chicken thighs and set them aside to cool. Strain any vegetables or aromatics you may have used to season the broth and discard. Once the chicken has cooled enough to handle, remove it from the bone and shred. Store the chicken and the broth separately in airtight containers in the refrigerator. The broth and the chicken can be made four days in advance.
Boil the Eggs
Peeling eggs can be a pain, so be sure to read my post on how to make easy peel hard boiled eggs. After you boil two eggs, let them cool completely. Leave them in their shells – they will last longer — then store them in the refrigerator. Hardboiled eggs will last up to a week in the refrigerator.
Chop Your Veggies
Save even more time by chopping two cups of celery and two cups of onions 2-3 days in advance. These will also need to be stored in an airtight container of freezer bag in the fridge. You can store them together, as they will be going into the pan at the same time.
Assemble the Cornbread Dressing with Chicken
Go ahead and preheat your oven to 450 degrees. While the oven is heating, melt ½ cup (1 stick) of unsalted butter. Add the diced celery and onion and sauté until the vegetables are tender, about 15 minutes. Remove the vegetables from the heat and allow them to cool.
If you haven't crumbled your cornbread yet, go ahead and do that now. I find clean hands are the best tool for this. Once you've broken the cornbread up into medium-sized chunks, add 1/2 cup of breadcrumbs (or two slices of torn day-old bread). Pour in the chicken broth. Use a spoon, potato masher or even your hands to break up the cornbread pieces even more. When you are done, the cornbread should be soupy and kind of squishy.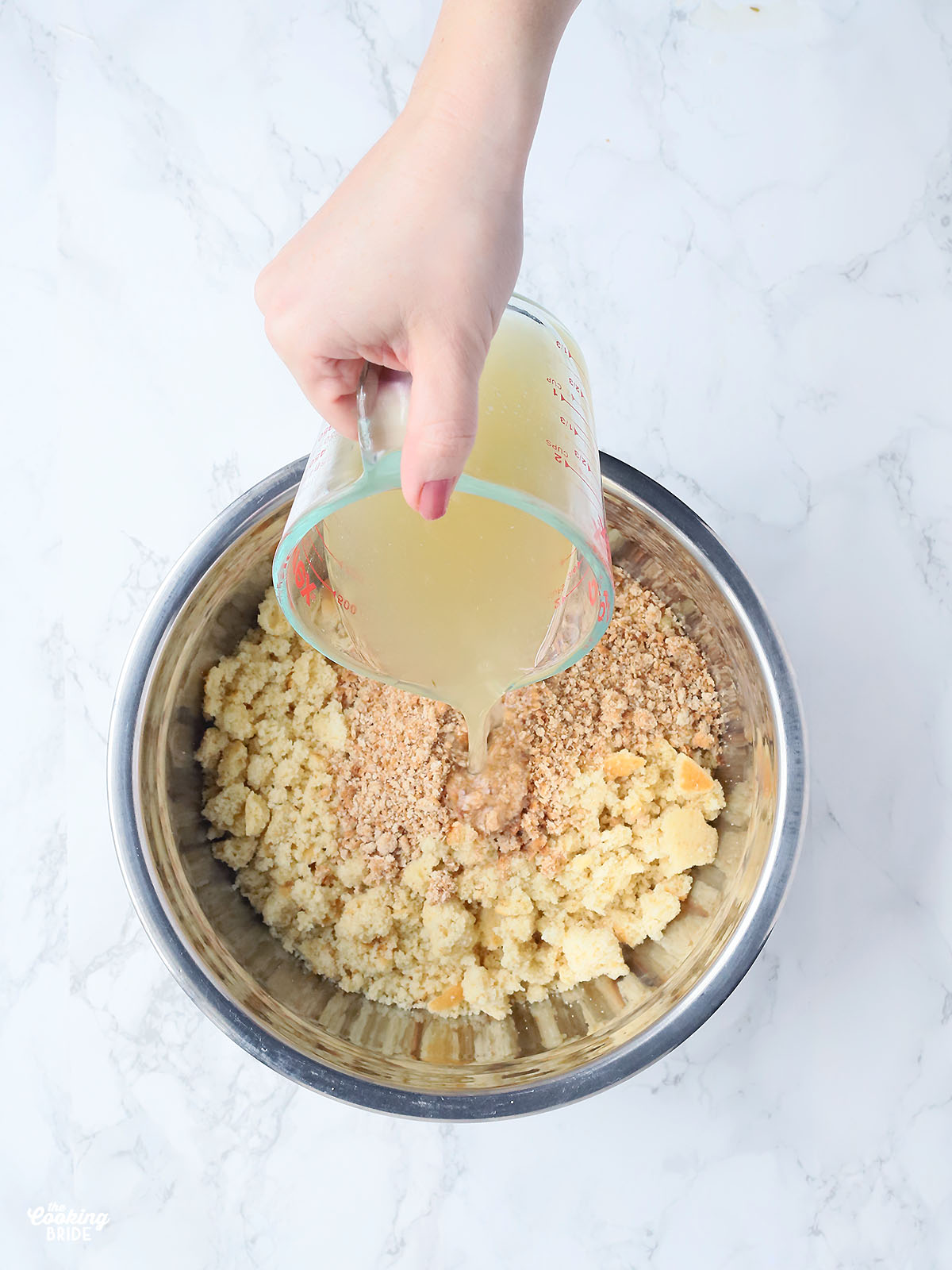 Peel and chop the hardboiled eggs. Add them to the cornbread mixture, along with two raw eggs, the sauteed vegetables and the shredded chicken. Season with salt and pepper and stir everything up until it is well combined.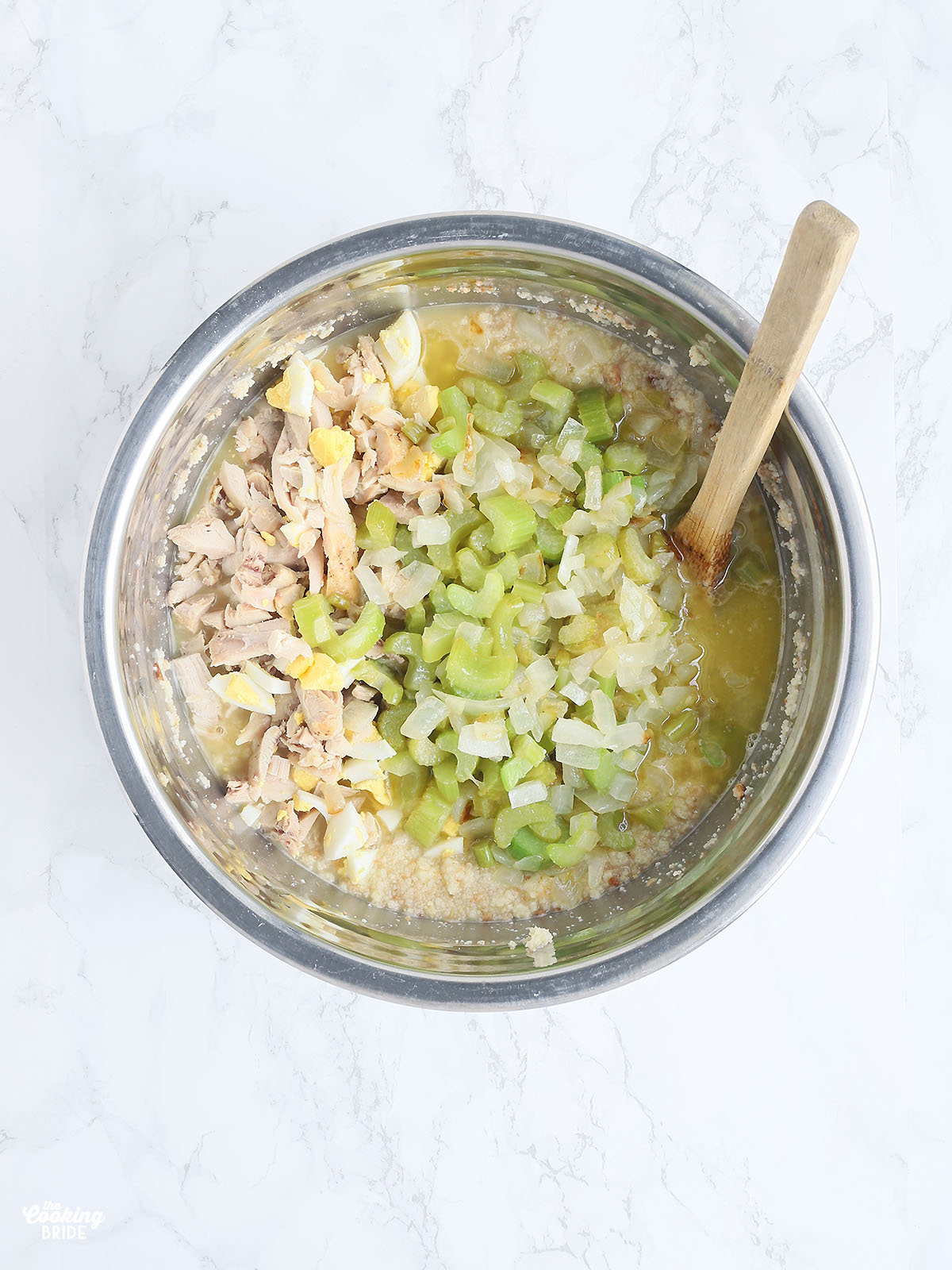 Coat one 9 x 13 x 2-inch casserole dish (or two 8 x 8-inch dishes) with non-stick cooking spray. Pour the cornbread mixture into the casserole dish and spread it around until it's in and even layer. Adjust your oven rack so that it is in the middle of the oven. Bake the cornbread dressing for one hour until it is set and the top is golden brown. The dressing is going to be pretty hot right when you first pull it out of the oven, so I suggest letting it sit for about 15 minutes before serving. This also gives any residual chicken broth additional time to get soaked into the bread.
Storage, Reheating and Freezing
Storage: Cornbread dressing can be assembled up to two days in advance and stored unbaked in the refrigerator. Cover the top with foil or plastic wrap to prevent any of the chicken broth from evaporating. Baked cornbread dressing should be placed in a covered dish or airtight container and can be stored in the fridge for up to four days.
Reheating: Cornbread dressing can be reheated in the microwave for 1-2 minutes until heated through. Alternately, preheat the oven to 350 degrees and bake in an oven safe dish for 10-15 minutes.
Freezing: Cornbread dressing with chicken can be frozen either baked or unbaked. I recommend storing it in a disposable freezer pan so you're not tying up your good casserole dishes. Write the cooking or reheating instructions on the lid so you don't have to hunt the recipe. Allow the dressing to thaw overnight in the refrigerator. Consume within three months.
Looking for more dressing ideas?
Serve Southern Cornbread Dressing with Chicken Alongside