Last updated on May 25th, 2023
Cast iron skillet cornbread is a staple on every Southern table. This traditional recipe is easy to follow and always produces great results.
This post may contain affiliate links. Click here to learn more about how affiliate links are used on this site.
Basic skillet cornbread is a great recipe for anyone interested in learning how to bake. It requires only a few simple ingredients and is relatively easy to prepare. It's also a "must have" in any Southern kitchen.
A few tips for making perfect cornbread:
Overmixing the batter can result in dry cornbread. Thoroughly combine all your dry ingredients together in one bowl. Combine all your wet ingredients together in a separate bowl. Whisk them together by hand with a whisk of wooden spoon (leave your electric mixer in the cabinet, it will overmix your ingredients) just until the batter is mostly lump free.
Making cornbread in a dark colored pan gives you the crackly crust most people desire. That's why you see most people baking theirs in a cast iron skillet. The Husband actually bought me my first cast iron skillet for the sole purpose of making cornbread. That's what I always bake mine in. If you don't have a cast iron skillet, an 8 x 8 casserole dish is fine, you just won't have that brown crust. Believe me when I tell you, there is something unbeatable about cornbread baked in a skillet.
Preheat the skillet before dumping in your batter. This also contributes to a golden brown crust.
Use exact measurements. With cooking, you can get away with "eyeballing" measurements. Not the case with baking. There is a scientific formula to a recipe used to baking and too much or too little of an ingredient can product drastically different results.
Make sure your ingredients are fresh. Expired baking powder will lose its ability to make breads rise. Stale cornmeal can have the same effect and cause your cornbread to taste musty. I usually store my cornmeal in the freezer so it will last longer.
The Secret to making cornbread that's not dry
It's no secret that I didn't start cooking Southern food until I met The Husband. My parents are from north of the Mason-Dixon line and I just wasn't raised on it. I ate cornbread here and there before I met him and I wasn't a fan because it was SO DRY!
One evening I was whipping up a batch of cornbread for dinner because I knew he liked it. My original recipe called for two cups of white, self-rising cornmeal. I discovered I was short on cornmeal so I substituted half of the cornmeal with all-purpose flour. What a difference it made in the texture! Instead of the dry, crumbly stuff, this cornbread was moist and fluffy. Even The Husband agreed half cornmeal/half flour produced a must tastier product. I've been making it this way ever since.
Preheat the skillet
As I mentioned above, preheating the skillet encourages a nice crackly crust on the outside and soft texture on the inside. Preheat the oven to 350°F. Spray a 10-inch cast iron skillet with cooking spray (you can also use a bit of bacon grease for added flavor!). Use a paper towel to wipe out any excess grease, then sprinkle a little cornmeal on the bottom. Place the skillet in the preheated oven and let it heat for five minutes.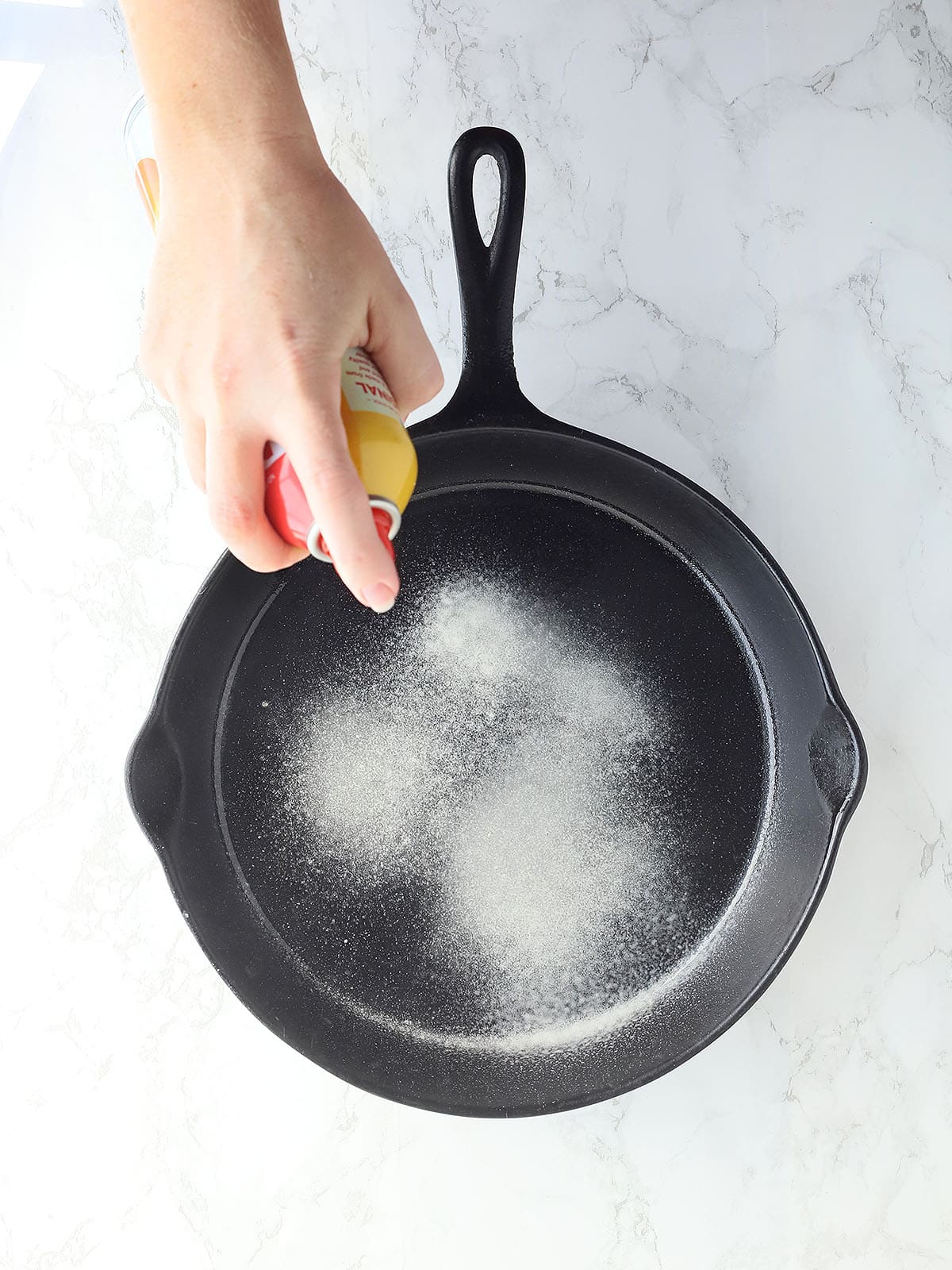 While the skillet is heating, whisk together one cup of self-rising white cornmeal, one cup of all-purpose flour and two teaspoons of baking powder. Add 1 1/2 cups of milk and two lightly beaten large eggs. Whisk the batter again until it is lump free.
Your skillet should be good and hot by now. Remove the skillet from the oven. Pour the batter into the skillet, then return it to the oven and bake for 25 minutes or until the top is golden and a toothpick inserted near the center comes out clean. Once you have mastered this basic recipe, feel free to start experiment with add-ins for a more unique flavor, such as sausage, jalapenos, honey, and a variety of herbs and spices.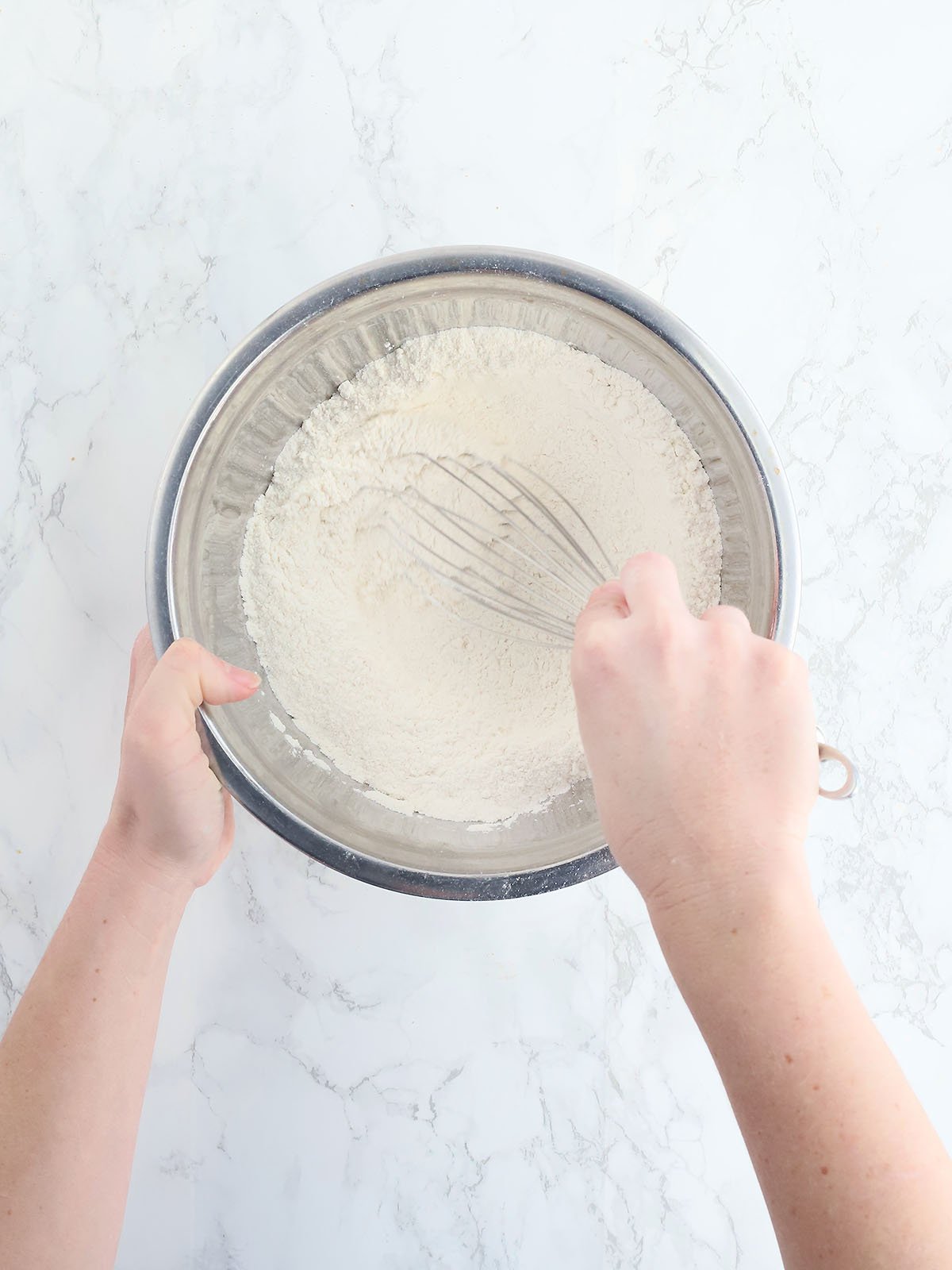 Storage, Freezing and Reheating
Storage. Do not store the cornbread in the skillet. The moisture from the bread will eventfully cause the skillet to rust. Instead, once the cornbread has cooled, place it in a plastic freezer bag or wrap in plastic wrap. Cornbread can be stored at room temperature for a couple days. Any long than that and it needs to be placed in the refrigerator to prevent mold. Consume within a week.
Freezing. Baked cornbread freezes very well. I recommend wrapping the bread in a layer of plastic wrap, then wrapping it in foil to prevent freezer burn. Thaw completely before reheating. Eat within three months.
Reheating. For best results, preheat the oven to 350 degrees. Bake the cornbread for 5-10 minutes until heated through.
Related Recipes: