Last updated on September 3rd, 2023
Fried yellow squash puppies are an excellent way to use a bounty of yellow summer squash. Yellow squash is grated, then combined with cornmeal, green onions, egg and milk, then fried to a golden brown.
This post may contain affiliate links. Click here to learn more about how affiliate links are used on this site.
If you grow a summer garden, yellow squash is one of those vegetables that you always seem to end up with an overabundance of. If you're like me, I hate to see all that bounty go to waste. What do you do?
My mother-in-law likes to slice her squash, blanche it, then freeze it in quart-sized freezer bags. She'll use it later for recipes like Yellow Squash Casserole. I like to use it in Garden Vegetable Sausage Tortellini Soup, a quick and tasty weeknight meat. However, everything is better fried, right? If you agree, add fried yello squash puppies to your recipe repertoire.
Prepping the squash
Using a box grater, shred one medium yellow crooked neck squash into large shreds. If you have a mandolin, you could also use that if you prefer. Squash inherently contain a lot of water, which could affect the texture of our batter. Once you've finished shredding the squash, lay it out on a layer of paper towels to absorb the excess moisture. Use a second paper towel to blot the top of the shredded squash.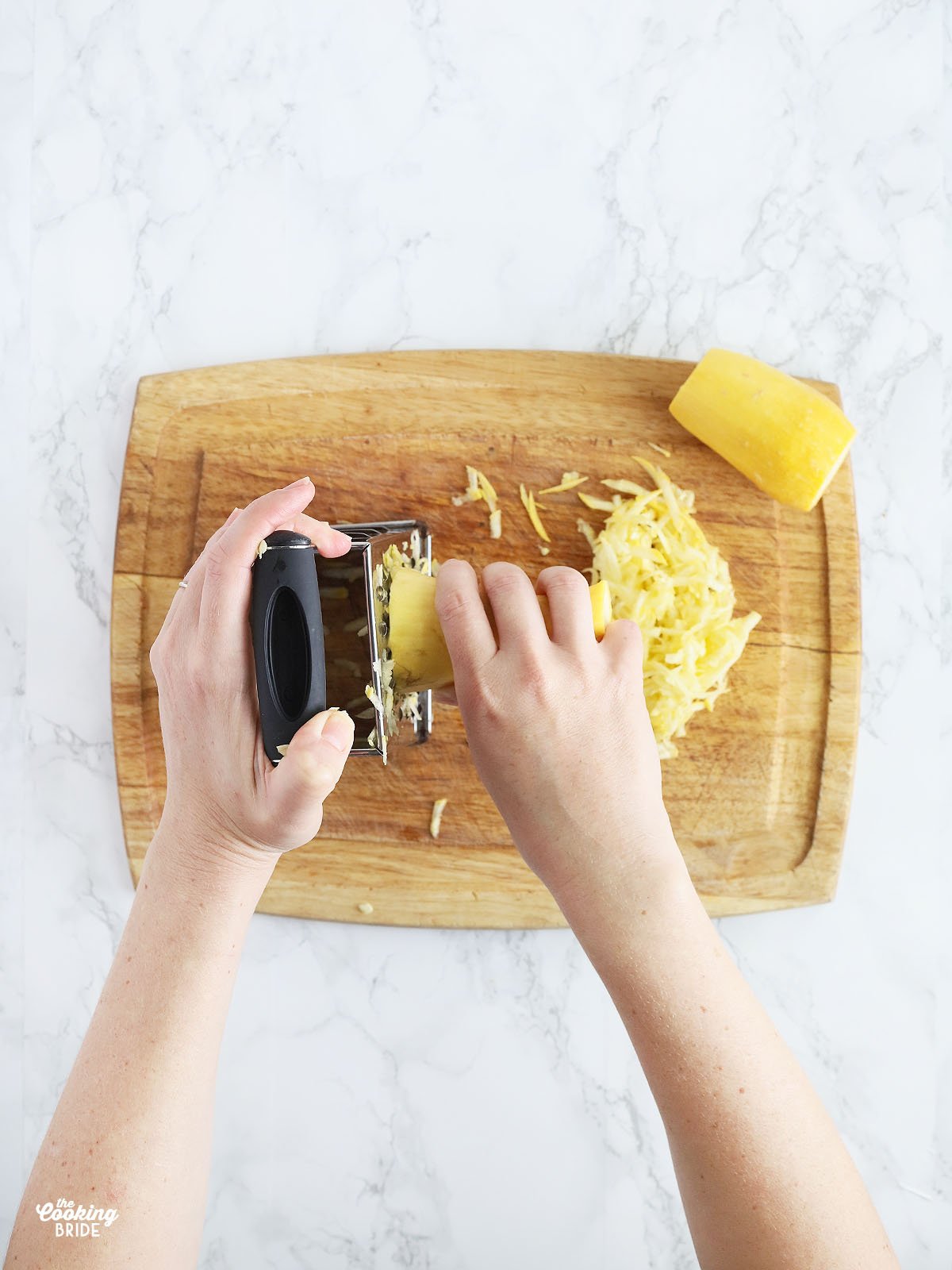 Mix Together the Batter
Leave the squash to dry on the paper towels while you mix together the batter ingredients. Combine two cups cornmeal, two sliced green onions, one large egg and ¾ cup of milk in a medium mixing bowl. Stir in the shredded squash and let the batter set in the refrigerator for at least 2 hours.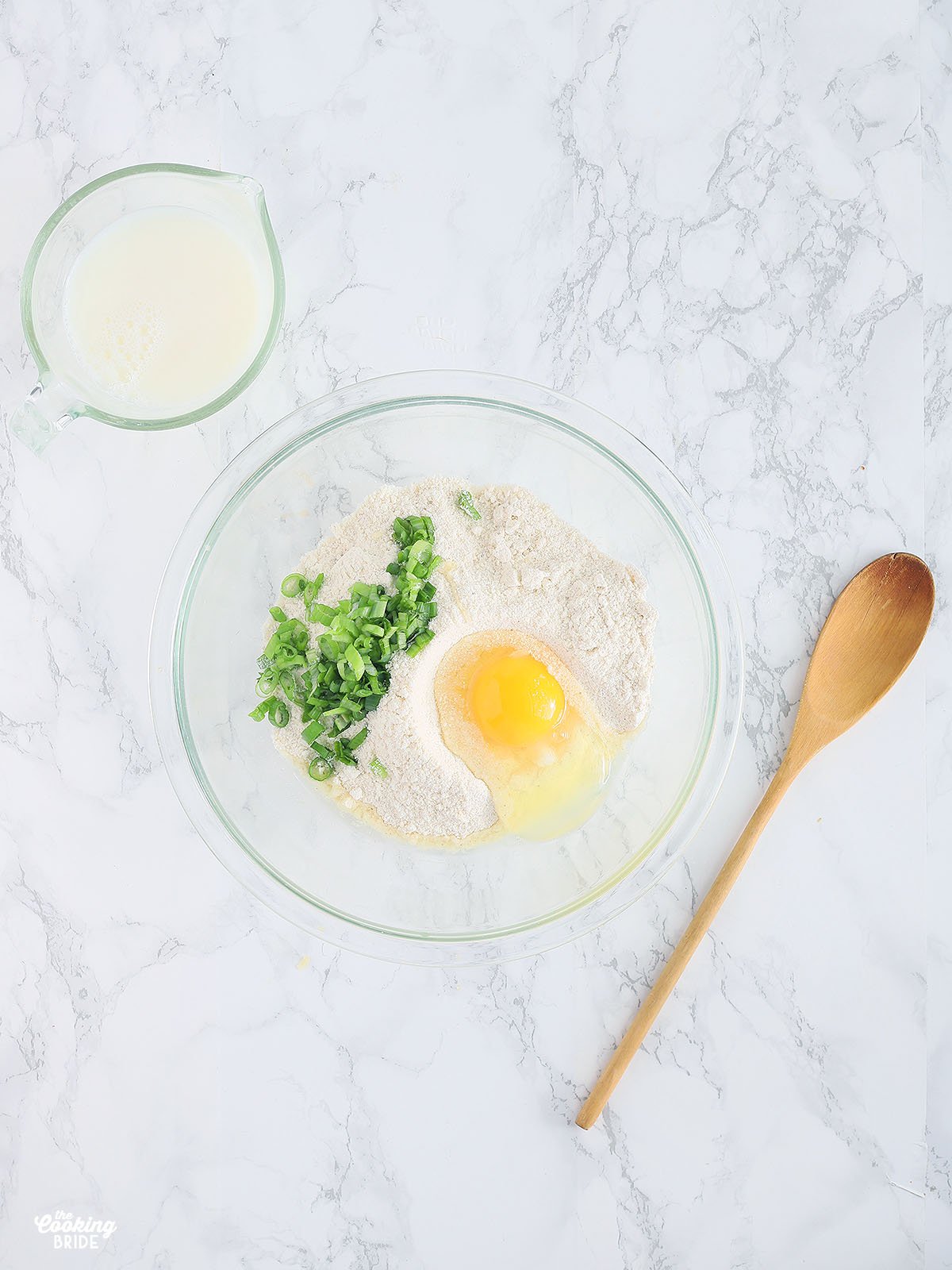 Frying the Squash Puppies
Heat 1/2 cup of oil in a large skillet over medium high heat. I prefer using a cast iron skillet for frying. Once the oil begins to ripple in the pan, reduce the heat to medium. Carefully spoon heaping tablespoonfuls of batter into the hot oil. Fry just a few squash puppies at a time and don't overcrowd the pan.
Fried yellow squash puppies cook up quickly, so keep an eye on them! Fry them for about 1 – 1 1/2 minutes, spooning some of the hot oil onto the uncooked side. The turn the squash puppies over and fry the other side for another 1 – 1 ½ minutes until they are puffed and golden brown on all sides. No more than three minutes per side. Strain the squash puppies from the oil and drain on a layer of paper towels.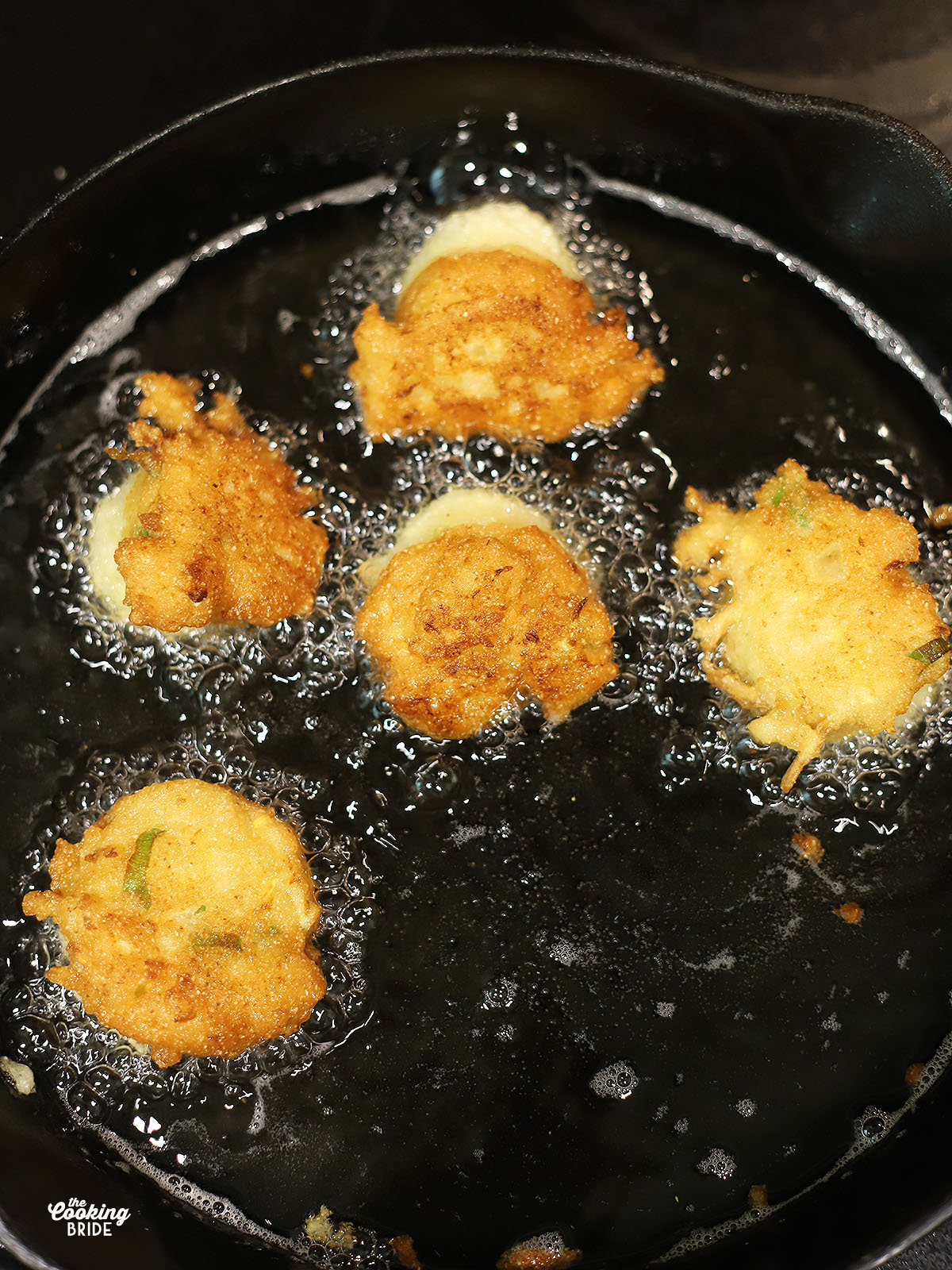 Fried food is always better with a dipping sauce. Fried squash puppies are no exception. I like to whip up a batch of homemade remoulade sauce or comeback sauce to serve alongside.
Storage, Reheating and Freezing
Storage: Place cooled squash puppies into an airtight container. Store in the refrigerator for up to four days.
Reheating: Preheat the oven to 350 degrees. Place fried squash puppies on a single layer on a baking sheet. Heat for 10 minutes until squash puppies are heated through and toasted.
Freezing: I don't recommend freezing leftover batter. However, cooked fried squash puppies can be frozen for up the three months. Place them in an airtight container. Or, place them in the freezer on a baking sheet. Once they are frozen solid, place the squash puppies in a freezer bag. When you are ready to serve, remove as many as you want. No need to thaw – just follow the reheating instructions above.
Serve Fried Squash Puppies Alongside: