Last updated on August 23rd, 2022
Southern green beans are a delicious side dish enjoyed all over the South. Fresh green beans are simmered in broth with country ham, potatoes and spices until tender.
This post is sponsored by Clifty Farm. The opinions contained within are my own.
Blue plate lunch buffets are where it's at when it comes to some down-home Southern cooking. You locals out there know exactly what I'm talking about. The offerings are almost always the same – fried chicken, fried catfish, turnip or collard greens, mac and cheese, mashed potatoes and green beans.
Not just any green beans, mind you. Southern-style green beans. Simmered until fork tender with some type of salty, smoked pork. These are not the healthy, lightly steamed and sprinkled with sea salt variety of green beans. No, these are so much better.
Smoked Pork Adds Flavor
Southern cooks have been using smoked pork to add flavor to their favorite dishes for centuries. A leftover smoked ham or ham bone, ham hocks or bacon all work well. But instead, I chose to incorporate my favorite brand of country ham from Clifty Farm Country Meats.
The Husband enjoys frying up a slice of Clifty Farm country ham and drizzling it with red eye gravy on a lazy Saturday morning. Recently, I started incorporating their products into other recipes, like my ham and corn casserole with cream cheese. I was so pleased with the results of the corn casserole, I knew I had to give their country ham a try in my green beans.
Clifty Farm has been smoking country ham for over 70 years. They've honed their craft and that is evident in the flavor of their meat. Every time I open a pack, I have to slice off a little corner to nibble on for myself before I add the rest to my recipe. It's that delicious. Clifty Farm is based right here in the South, but their products can be found in major grocery store chains all over the country.
Always Choose Fresh Green Beans
The cornerstone of green beans and potatoes is fresh green beans. Do not use frozen or canned green beans for this recipe. The goal is to allow the fresh beans and potatoes to absorb the rich flavors of the smoky pork and broth as it simmers.
Canned green beans are already cooked. Simmering them for 30 minutes as the recipe instructs will turn the canned beans into an overcooked mess. Similarly, frozen green beans can become too soft or rubbery.
If you wait and add canned or frozen green beans towards the end, they won't have time to absorb any of the flavors of the broth. Don't cut corners to save time. Fresh green beans take a little more time to prep, but the results are worth it.
What to Look for When Purchasing Fresh Green Beans
You'll need at least two pounds of fresh green beans for this dish. My store sells the beans loose in a giant bin, so I can sift through them and choose the best ones. Opt for beans that are bright green in color with little to no bruising, discoloration or blemishes. They should still be crisp and snap when you break them. If the bean is pale, brown or limp, it's not fresh.
If you're not going to be cooking the green beans immediately, store them in a plastic bag in your vegetable crisper. Do not seal the bag; leave an opening to allow air to flow in and out and prevent condensation. I also like to stick a paper towel in with the beans to absorb any moisture. Moisture will cause the green beans to go bad more quickly.
If you've scored some freshly picked green beans straight from the farm or a garden – lucky you! Freshly picked beans will last up to seven days in the refrigerator. I don't find that to be true with beans I've purchased at the grocery store. You have no way of knowing how long ago those beans were picked. If I'm using store bought green beans, I will make a point to use them within 24-48 hours.
How do you clean and snap green beans?
I prefer to wait and wash my green beans right before I'm ready to cook them. Simply place the beans in a colander and run them under cool water. Let them sit in the colander for several minutes to allow any excess water to drain.
You'll need to remove both ends from the beans. Back in the "olden" days, people used to "snap" these off by hand. That takes too long, in my opinion. Instead, I grab a handful of beans, line all the edges up and chop them off with a sharp knife. Cut longer beans into thirds, shorter beans in half.
Also, you used to have to remove a tough string down the center of the bean. Unless you are using an heirloom variety of green beans, this is no longer necessary. Fresh beans from the grocery store no longer have this string.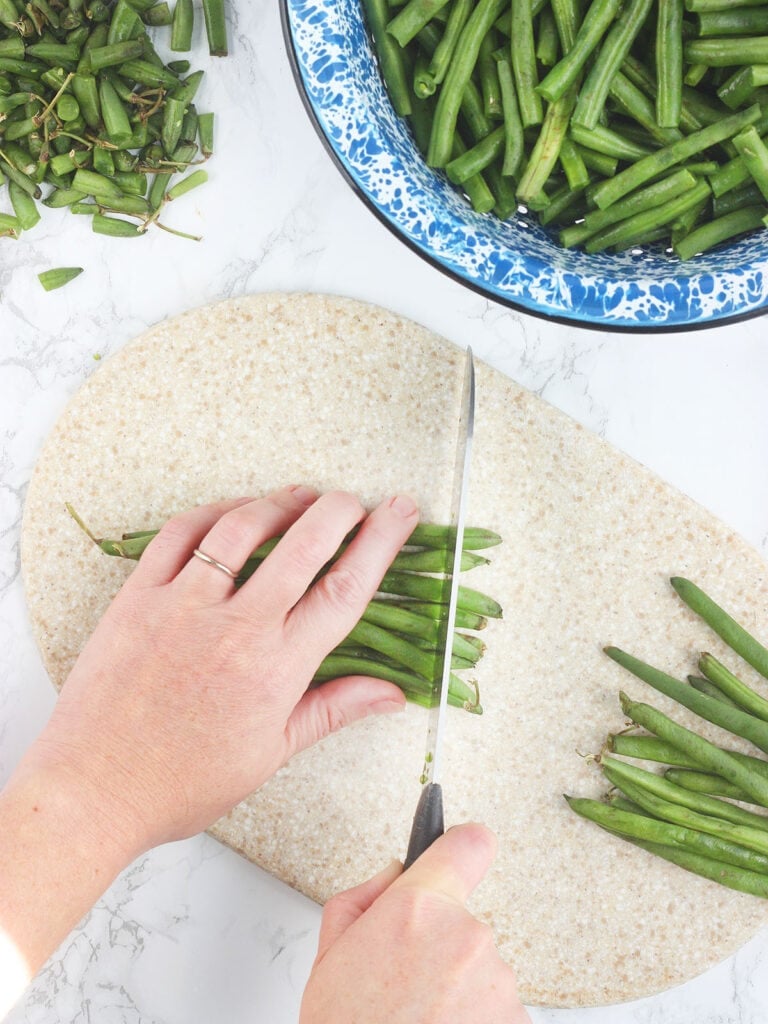 Best type of potatoes to use
Because I'm a carb lover, I added tender potatoes to the mix. Waxy potatoes with thin skins are the best choice. They keep their shape better during cooking and you don't have to peel them! I chose red potatoes, also called new potatoes, for the added pop of color. Other options include gold, yellow, Yukon gold or fingerling potatoes. As with the green beans, wash the potatoes right before cooking and cut them into quarters or eighths.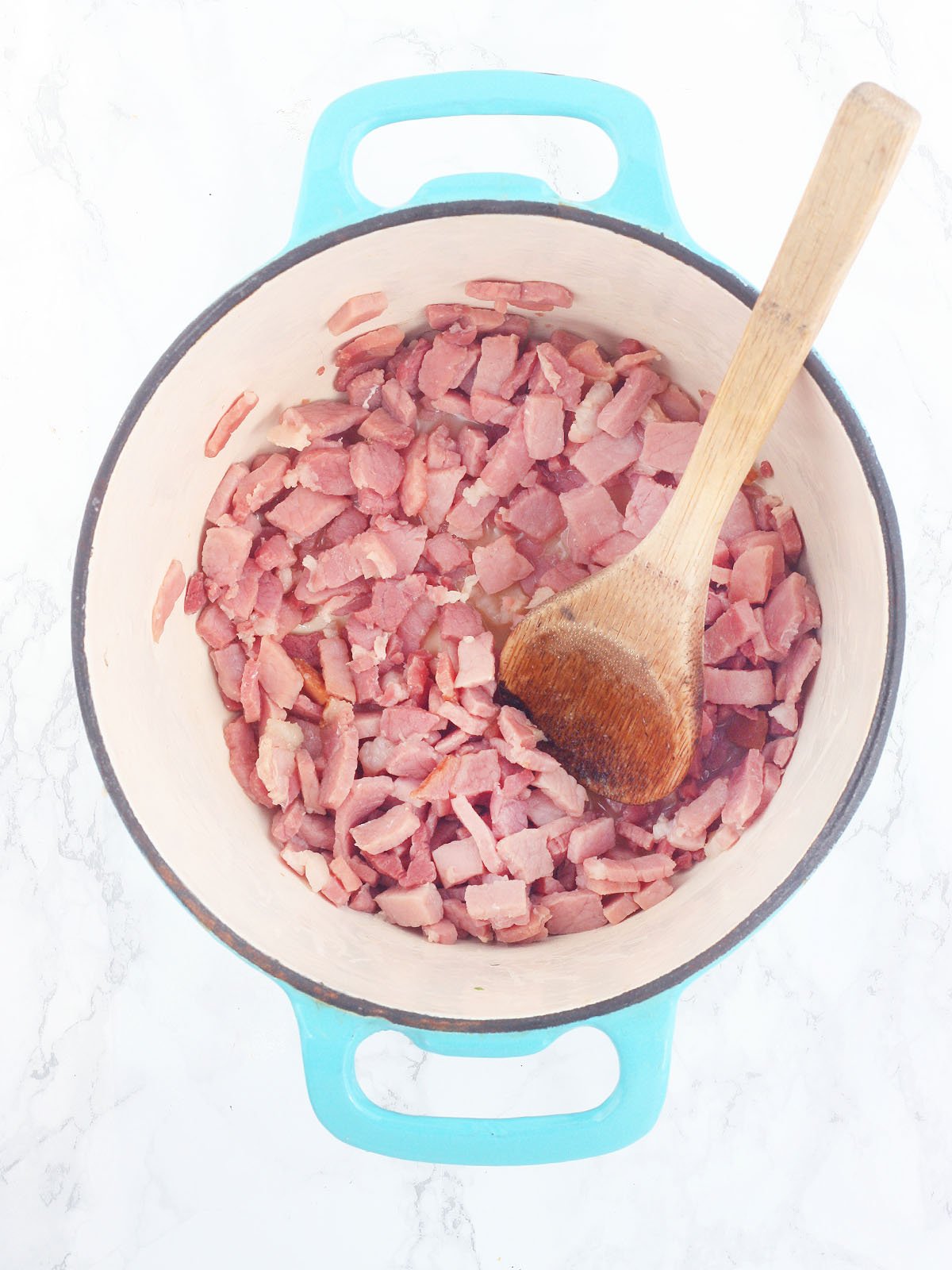 How to Make Southern Green Beans and Potatoes
If you haven't done so already, wash and trim the green beans. Do the same with the potatoes. Set them aside.
Heat a large stock pot over medium high heat. Dice the country ham into bite-sized pieces. Once the pot is hot, add the country ham and sauté for about 2-3 minutes until the ham is light pink and starting to brown on the edges.
Add one finely chopped medium onion. Sauté until the onion is translucent, about 8-10 minutes. Add two cloves of minced garlic and sauté for about 30 seconds.
Add the green beans and potatoes. Pour in two cups of chicken broth over the top. Add one teaspoon of Cajun seasoning, ½ teaspoon of ground black pepper and ¼ teaspoon of red pepper flakes. If you like a little more heat, feel free to add more red pepper flakes. Just keep in mind, the potatoes will absorb a lot of the spice, so add the red pepper flakes sparingly. Add salt to your preference.
Bring the pot to a boil, then cover it with a lid, reduce the heat to medium-low and cook for 30 minutes. The green beans and potatoes should be fork tender when they're done. Remove the pot from the heat and allow the beans and potatoes to sit for at least 15 minutes. The vegetables will continue to absorb the flavors of the ham and the broth as they sit. Season with additional salt and pepper if necessary.
Instant Pot Green Beans
I love, love, love my Instant Pot and the freedom it gives me to cook something delicious without taking up a lot of my time. Start by turning on the SAUTE function on your Instant pot. Once the pot is hot, add the diced country ham and cook until the ham turns light pink and starts to brown around the edges.
Add the onion and sauté for about 8-10 minutes until it is translucent. Add the garlic and sauté for an additional 30 seconds.
Turn off the SAUTE function. Add the green beans and potatoes to the pot. Pour in the chicken broth, Cajun seasoning, ground black pepper and red pepper flakes. Stir everything to combine.
Seal the lid on the Instant Pot. Set the function to MANUAL and the time for six minutes. Once the time is up, allow the pressure to release naturally or do a quick release. Allow the green beans to sit for 15 minutes before serving.
Slow Cooker Green Beans
This recipe adapts very well for a slow cooker. Forgo browning the ham beforehand. Simply add everything to the crock of a 6-quart slow cooker. Give everything a good stir until combined. Then cook on high for three hours or on low for six. Season with additional salt and pepper if necessary.
How to Store Southern Green Beans and Potatoes
This dish can be made ahead of time. Store the cooked green beans with their broth in a covered container in the refrigerator. They can be reheated over medium heat in a saucepan on the stove or in the microwave.
Leftover green beans need to be eaten within four days. This recipe does not freeze well. Freezing and thawing will change the texture of the vegetables, causing them to become mushy.
Serve Southern Green Beans with:
More Clifty Farm Recipe Ideas: