Last updated on August 20th, 2020
Love pink lemonade? Want to know how to make homemade pink lemonade from scratch? It's easier than you think and oh so refreshing.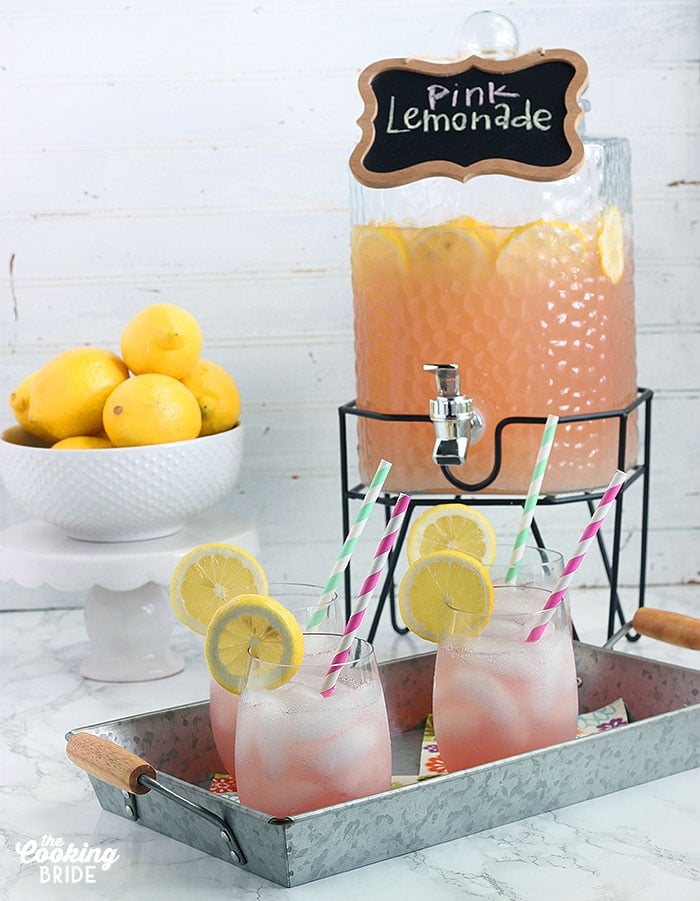 This post may contain affiliate links. Click here to learn more about how affiliate links are used on this site.
My good friend A is pregnant with TWIN girls!  On Sunday, several of her friends and family hosted a baby shower in her honor. I was asked to bring lemonade.  What more could be more fitting for sweet baby girls than pink lemonade?
We are actually big pink lemonade drinkers in our house.  I first became addicted to pink lemonade the summer I was pregnant with Little Tot.  I remember from the moment I became pregnant, no matter how much water I drank I was always in a state of parched. Pink lemonade was the only thing that seemed to satiate my constant thirst.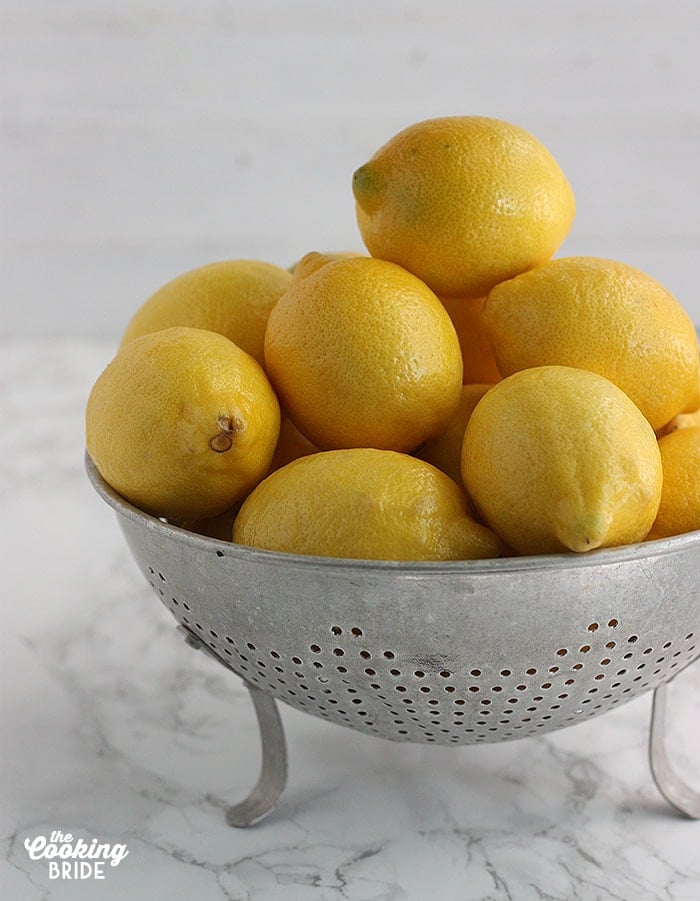 I would love to be all Suzy Homemaker and pretend that the only lemonade we drink in our house is freshly squeezed.  That would be a big ol' lie.  We drink almost a jug a day.  There is no way I'm standing over a juicer every night to juice two pounds of lemons.  Every other day, it's powdered drink mix for us.
But for a special occasion — like two little pink bundles of joy — I can spring for freshly squeezed.  It's actually pretty easy to make and you can adjust the measurements to make it as sweet or as tart as you like.
How to Make Homemade Pink Lemonade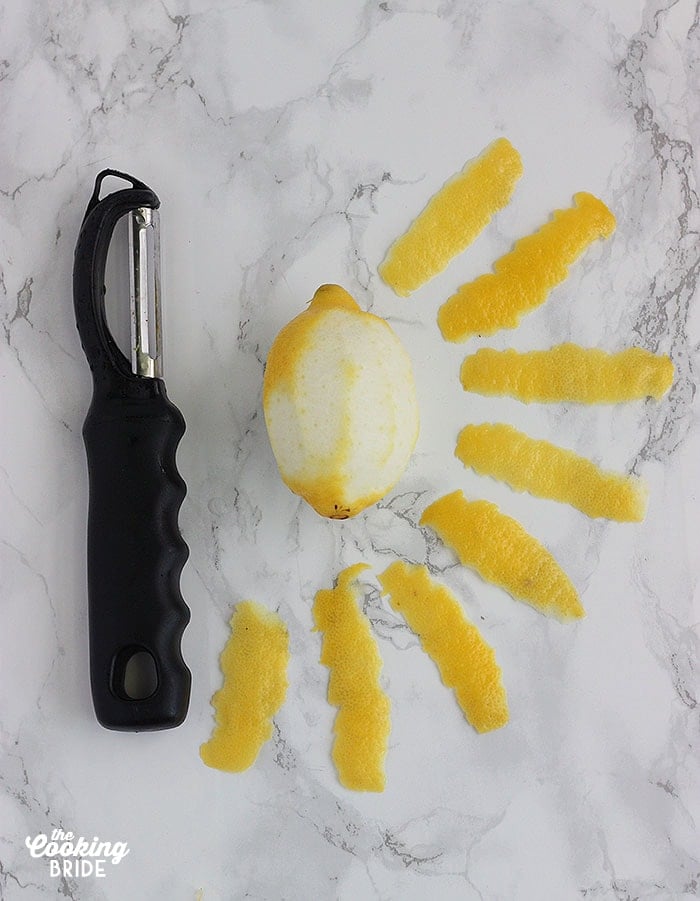 Before juicing your lemons, take a vegetable peeler and slice eight long, thin peel segments from one lemon.  Combine the segments in a medium sauce pan with 1 1/2 – 1 1/4 cups of sugar and equal parts water. Add more or less sugar depending on your sweetness preference. We're going to make a simple syrup to sweeten the lemonade. Bring the water to a simmer over low to medium-low heat until the sugar is completely dissolved. Remove the saucepan from the heat and allow to cool.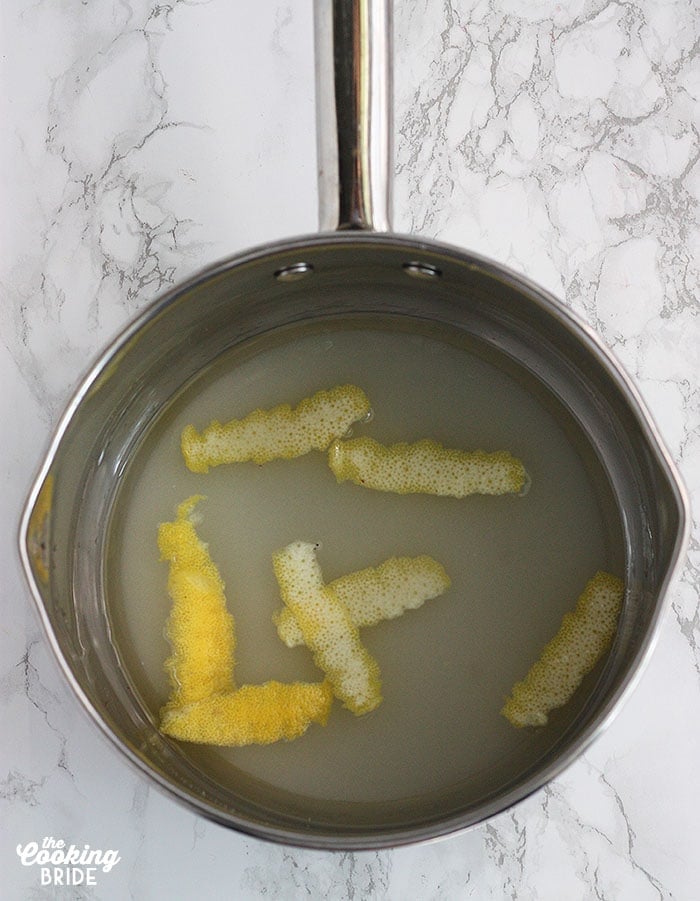 While the simple syrup you just made is cooling, begin juicing your lemons. First, if you don't have a juicer, I highly recommend purchasing one or borrowing one from a friend.  Two pounds of lemons nets approximately 1 cup of lemon juice. For this recipe, you'll need four cups of freshly squeezed lemon juice. Trust me, you do not want to squeeze eight pounds of lemons by hand! You don't have to spend a ton of money on a juicer. I own an older version of this juicer. It costs less than $30 and I was able to juice all eight pounds of lemons in about 30 minutes.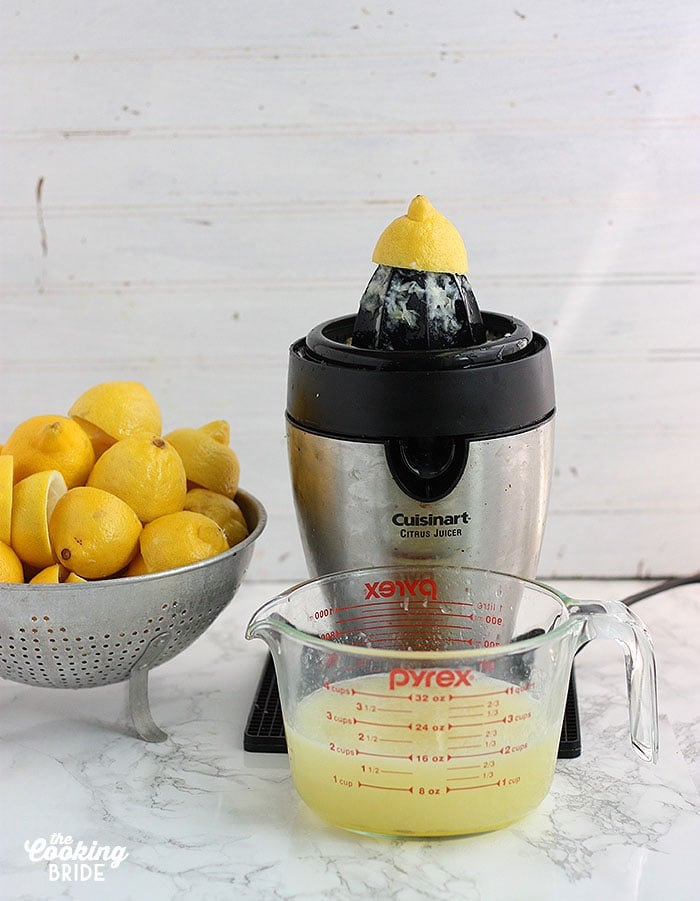 Once you have four cups of lemon juice, combine it in a large pitcher with the cooled simple syrup, nine cups of cold water and 1/2 – 3/4 cup of cranberry juice. You can adjust how "pink" you want your pink lemonade to be by adding more cranberry juice. Just keep in mind, if you add more, you may have to adjust the sweetener. The lemonade you see in the picture was made using 1/2 cup. Add 1/4 teaspoon of salt to the mix if you want. I find it mellows the pucker power of the lemons.
This recipe makes approximately 1 gallon of lemonade, or 16-eight ounce cups.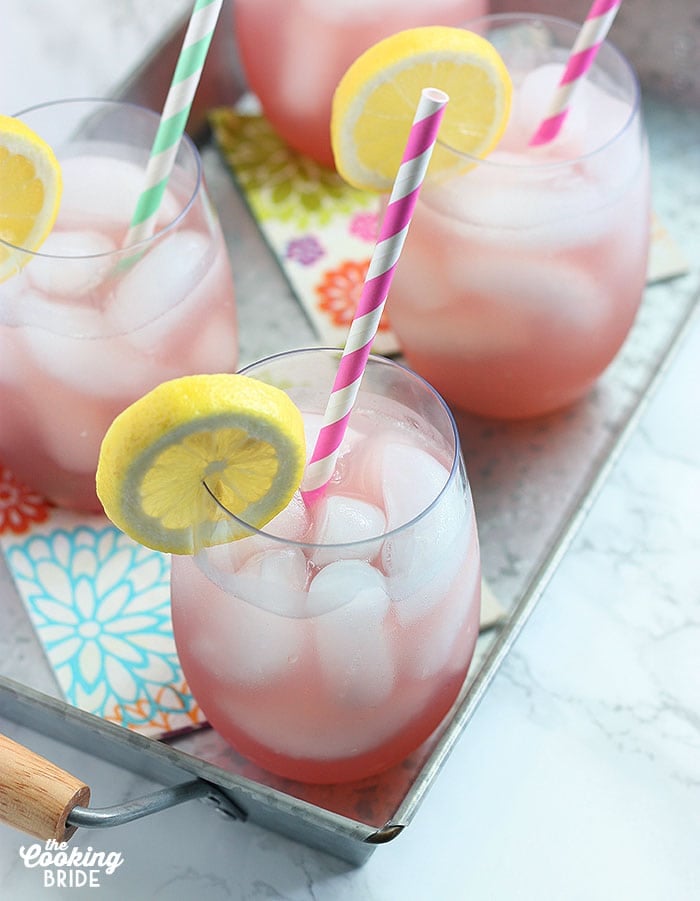 You Might Also Like:
Homemade Pink Lemonade
Love pink lemonade? Want to know how to make homemade pink lemonade from scratch? It's easier than you think and oh so refreshing.
Ingredients
1 1/4 - 1 1/2

cups

sugar

8

lemon peel segments

11

cups

water

divided

4

cups

freshly squeezed lemon juice

about 8 pounds of lemons

1/4 - 1/2

cup

cranberry juice

1/4

teaspoon

salt
Instructions
In a small saucepan, combine lemon peel segments, sugar and equal parts water. Adjust the amount of sugar depending on your sweetness preference.

Bring to a simmer over medium heat. Simmer until sugar is dissolved, then remove from heat. Allow to cool completely.

In a large pitcher, combine 9 cups of water, lemon juice, cranberry juice, and salt. Adjust the hue of the lemonade by adding more or less cranberry juice.

Remove the lemon peel segments from the simple syrup. Add to lemonade. Stir to combine.

Pour lemonade through a fine mesh sieve to remove any pulp, if desired.

Serve chilled.