Last updated on March 30th, 2023
Cheesy Broccoli Casserole is not only tasty, but easy to prepare. Chopped broccoli and white rice are baked in a creamy cheese sauce.
This post may contain affiliate links. Click here to learn more about how affiliate links are used on this site.

When it comes to holiday meals with my in-laws, there are certain dishes that have become as much a part of the tradition as the holiday itself – cornbread dressing with chicken, blueberry Jell-O salad, asparagus casserole and broccoli casserole. While we serve it as a side dish, you could easily add a cup or two of cooked and shredded chicken and make it a meal.
Ingredients and tools you'll need to make Cheesy Broccoli Casserole
With less than 10 ingredients, this casserole is easy on your budget and easy to prepare. You'll need:
2 (12 ounce) packages frozen chopped broccoli or 3 cups chopped fresh broccoli
1 cup uncooked long grain white rice
4 tablespoons unsalted butter
½ cup diced onion
1 (10.5) ounce can cream of mushroom soup
½ cup evaporated milk
8 ounces Velveeta cheese, cut into cubes
Salt and pepper, to taste
2 cups shredded cheddar cheese
Cooking spray
Casserole dish – I used a 9 x 13 x 2-inch casserole dish. You could also divide this casserole into two 8 x 8 dishes or a 2.5 quart large oval baker.
Cook the broccoli and rice
If using frozen, cook the broccoli according to the package directions. If using fresh broccoli, I recommend chopping it into smaller pieces first. Then place the chopped vegetables in a large microwave safe bowl, add 2-3 tablespoons of water and cover the bowl. Microwave for 2-4 minutes until the broccoli is tender.
You are also going to cook the rice according to package directions. I used long grain white rice because I prefer the texture, but you could also use minute rice if that's what you prefer.
Sauté the onion
Melt the butter in a large skillet or pot over medium heat. I actually prefer doing this in a stockpot so I have room to stir everything together later. Once the butter is melted, add the onion and sauté until it's tender, about 5-7 minutes.
Make the cheese sauce
While the onion is cooking, combine the cream of mushroom soup, evaporated milk, and Velveeta cheese in a large saucepan. Cubing the Velveeta into smaller pieces helps the cheese to melt faster. Heat the mixture over low heat until the Velveeta is melted and the sauce is smooth.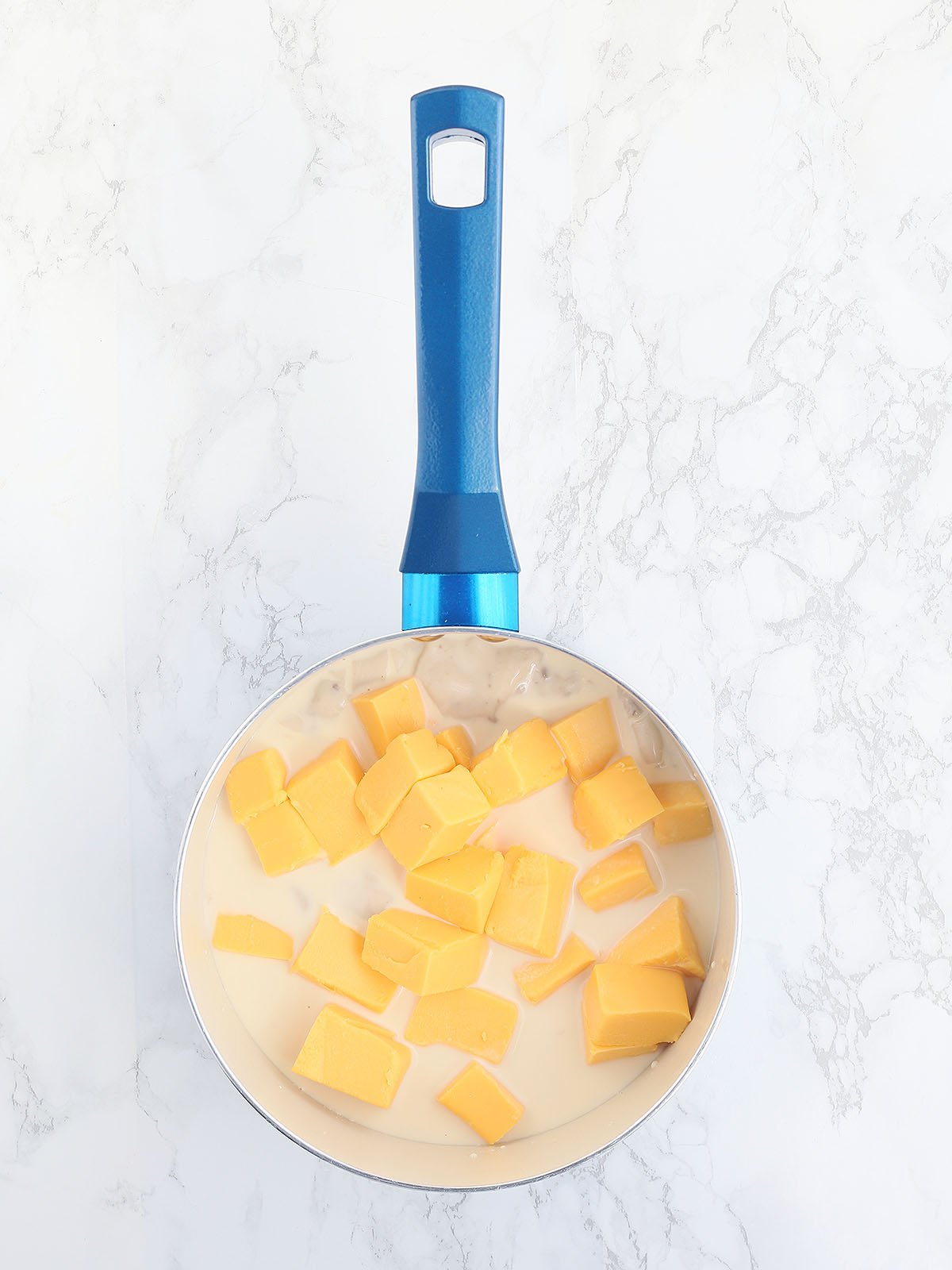 Assemble the casserole
Once the onion is tender, add the cooked broccoli, rice and cheese mixture. Stir until everything is evenly mixed together. Season the mixture with salt and pepper to your preference. Spread the mixture onto the bottom of a greased casserole dish. Then top with the shredded cheddar cheese. Bake in a 350 degree oven for 30-35 minutes until the casserole is bubbling and the cheese is melted.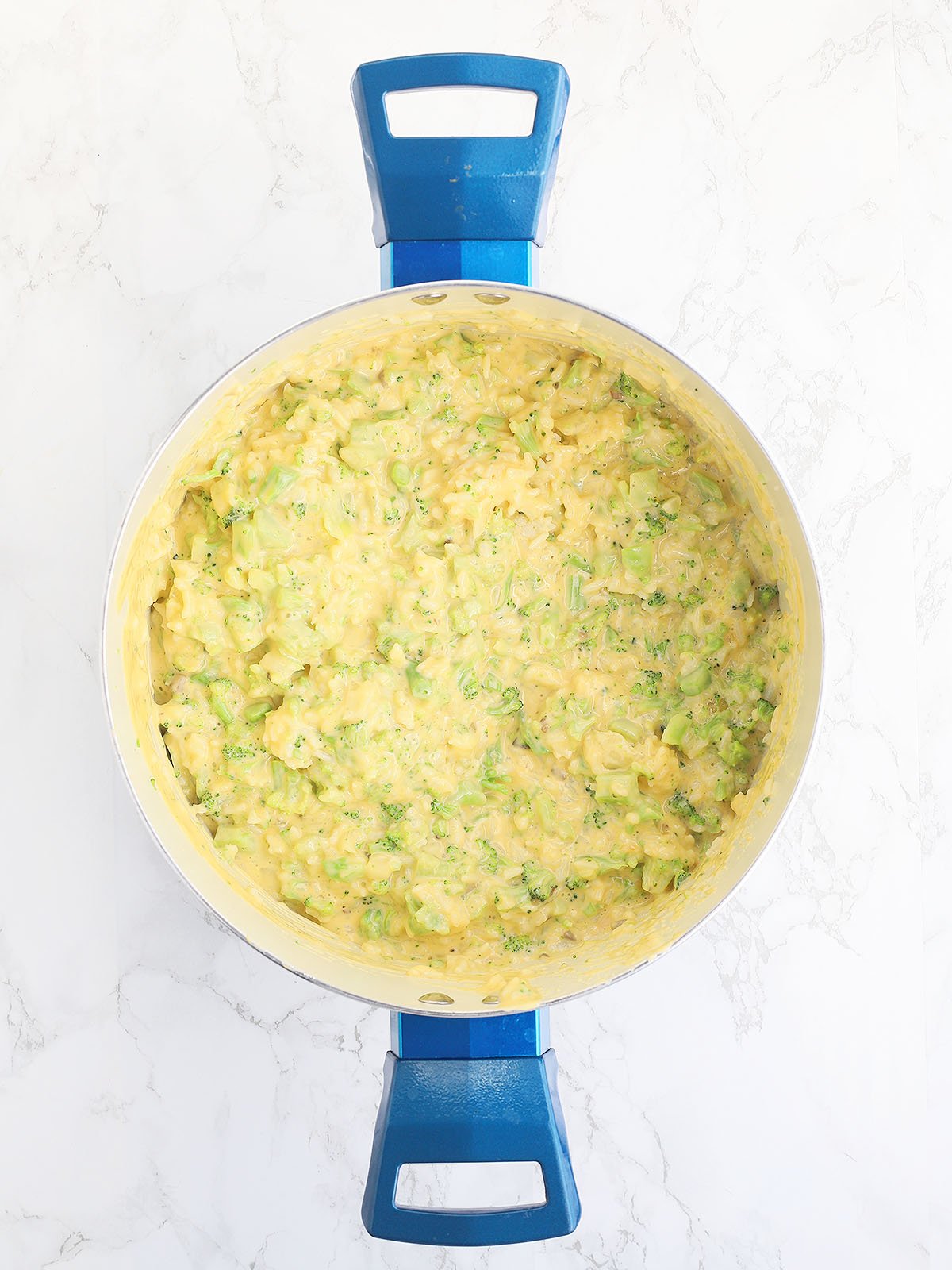 Make ahead, storage, freezing and reheating
Make ahead. Cheesy broccoli casserole can be made up to 24 hours in advance. The casserole will need to be covered and stored in the refrigerator. Allow the casserole to come to room temperature before baking or bake for an additional 5-10 minutes.
Storage. Leftover broccoli casserole needs to be covered or stored in an airtight container within two hours of baking. Consume within four days.
Freezing. Broccoli casserole can be frozen either baked or unbaked. Cover the storage container with a lid, foil or plastic wrap. Store on a level surface. Allow the casserole to thaw overnight in the refrigerator. Allow the casserole to come to room temperature before cooking or cook for an additional 5-10 minutes.
Reheating. Individual servings of broccoli casserole can be reheated for 1-2 minutes in the microwave. If reheating a larger portion, preheat the oven to 250 degrees and bake, covered, for 45 minutes to one hour until heated through.
You Might Also Like