Last updated on May 24th, 2023
Oyster dressing is a long-standing holiday tradition in New Orleans. Tender oysters are baked with fresh vegetables, spicy andouille and crusty French bread, then topped with a butter cracker crust.
This post may contain affiliate links. Click here to learn more about how affiliate links are used on this site.
Oyster dressing. Maybe not traditional, but that doesn't mean it isn't delicious. Even if you think you don't like oysters, I still urge you not to turn your nose up. The oysters are barely noticeable and the dressing does not taste fishy at all.
Oyster Dressing is a longstanding Louisiana Tradition
During my research, I found articles describing oyster dressing recipes dating back 100+ years, handed down from generation to generation. Oyster dressing may have originated in the New England states. But as the oyster industry began to flourish in the Gulf of Mexico, people emigrated down south to work in the trade and brought their recipes with them.
Stuffing and Dressing, What's the Difference?
I hear these two terms used interchangeably all the time. But the truth is, stuffing and dressing are terms used to describe two different methods of cooking. Stuffing refers to cooking a mixture of seasoned bread inside the cavity of a bird.
Which leads us to dressing. Dressing is the exact same thing, only it's cooked in a casserole dish. Not as much risk of developing food poisoning. And I like that crunchy, toasty top you get from baking it in the oven.
Best bread to use
The fact that this dish may have originated in New England would explain why New Orleans-style oyster dressing is made with bread instead the traditional Southern Cornbread Dressing.
I don't like my dressing to have the texture of mashed potatoes. Choose a rustic-type bread with a thick crust that will hold its shape. Most oyster dressing recipes call for French bread, which is what I used. Other options include sourdough, a baguette or Italian bread. I typically stay away from using sandwich bread. In my experience, it doesn't hold up as well and get mushy.
The secret is to dry the bread first. You could let the bread go stale, but then your dressing might have a stale flavor. I prefer to cube the bread, layer it all on a baking pan and toast it in a 350-degree F oven for about 10 minutes. You want it toasted, but not to the point where it started to change color and turn brown. Allow the bread to cool before adding it to the dressing.
how to make oyster dressing
While the bread is toasting, go ahead and melt one stick of butter in a stock pot over medium high heat. Once it's melted, add one cup of chopped onions, ½ cup of chopped celery and ½ cup of green bells pepper to the pot. You'll find this trio of onion, celery and bell peppers used a lot in Louisiana cooking. It's referred to as the trinity.
Cook the vegetables until they are tender, about seven minutes. I like to light season the veggies with salt and pepper while they are cooking. Next, add two cloves of minced garlic and sauté for an additional 30 seconds.
Add the oysters
The next step is to add one pint of raw, fresh oysters. Before you do, strain off any juice into a small bowl and set it aside for later. If some of the oysters are fairly large, give them a quick chop with a sharp knife. You'll notice the raw oysters have a milky, slightly see through look to them. Add the oysters and cook until they are gray and an opaque, meaning you can't see through them anymore, and the edges are start to curl.
Add one cup of diced smoked or andouille sausage and ½ of a cup of chopped fresh parsley. You only need to cook this until it's heated through, about 2-3 minutes more. Remove the pot from the heat.
Stir in the bread
Add the cubed bread to the pot. There will probably be quite a bit of liquid in the pot already from the vegetables and oysters. Stir the bread around to coat with the liquid. You want the bread to be moist, but still keep its shape. You don't want it to be soggy. If there isn't enough liquid in the pot, pour in some of the reserved juice from the oysters. If that still isn't enough, add some chicken broth, just a little at a time.
Bake the dressing
Spread the dressing into a greased 8 x 8 casserole dish or 11-inch cast iron skillet. Crush half a sleeve of saltines (about 15 crackers) and spread them around the top of the dressing. Finally, melt the remaining four tablespoons of butter. Drizzle the butter over the top of the crackers.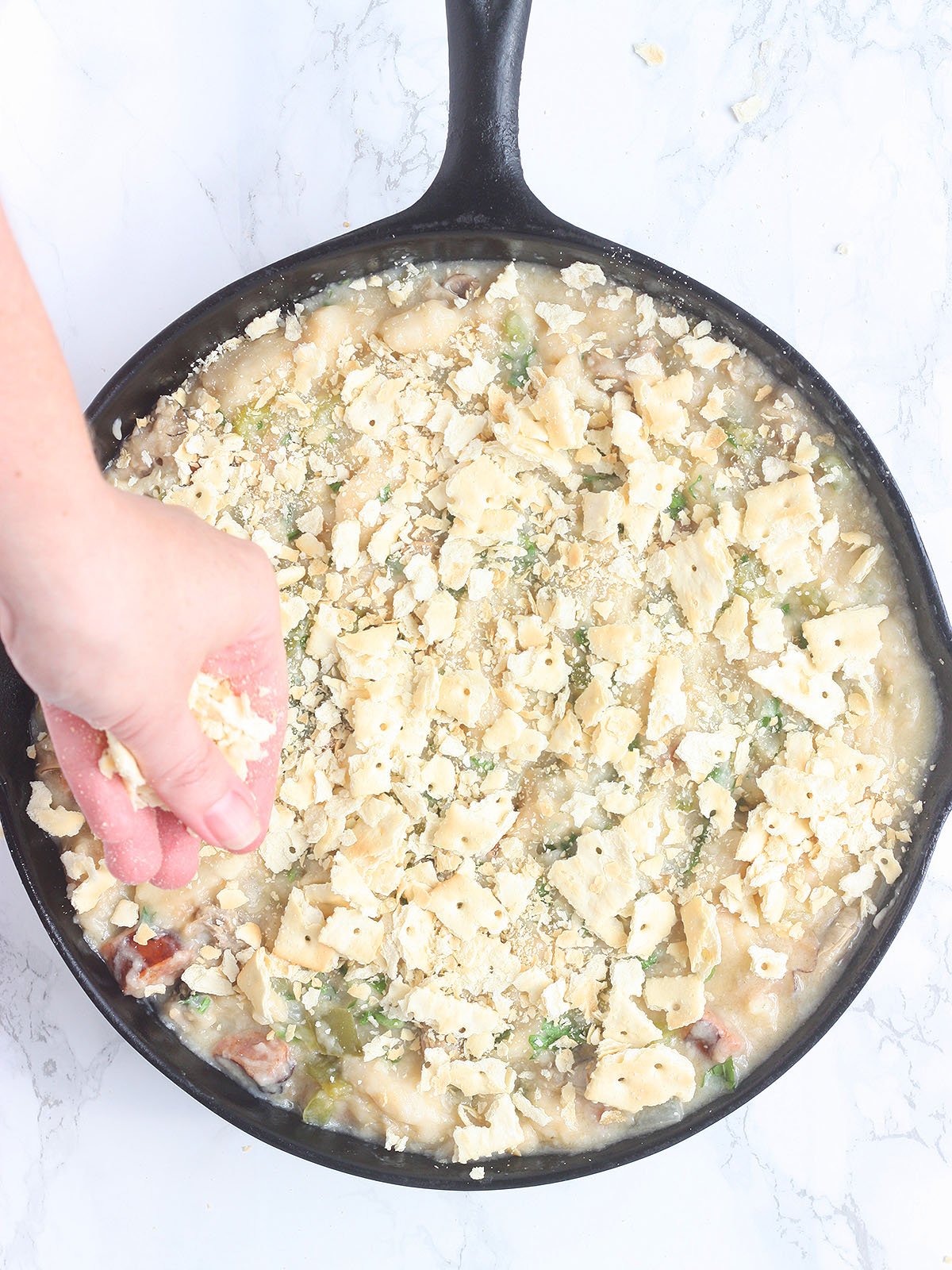 Bake in a 350 degree oven for 30 minutes until the top of the dressing is toasted and the crackers start to turn golden brown. The dressing will be very hot when it comes out of the oven, so allow it to cool for 15 minutes before serving.
how long will oyster dressing last?
Cooked oyster dressing needs to be refrigerated within two hours. Place it in a covered dish. Oyster dressing should be eaten within four days.
can you freeze oyster dressing?
Cooked oyster dressing can be frozen for up to four months. Thaw ahead of time in the refrigerator and bake in the oven at 350 degrees until heated through. However, keep in mind, the act of freezing and thawing could slightly affect the texture and flavor of the oysters.
can you make oyster dressing ahead of time?
If you need to make the dressing ahead of time, I recommend completely cooking it, covering it and storing it in the refrigerator and then reheating it in the oven. I have done this and have never noticed an adverse change in the flavor.
You Might Also Like: