Last updated on May 15th, 2023
These yummy, finger-licking oven baked chicken wings get their sticky sweet flavor from a mix of honey, balsamic vinegar, and soy sauce.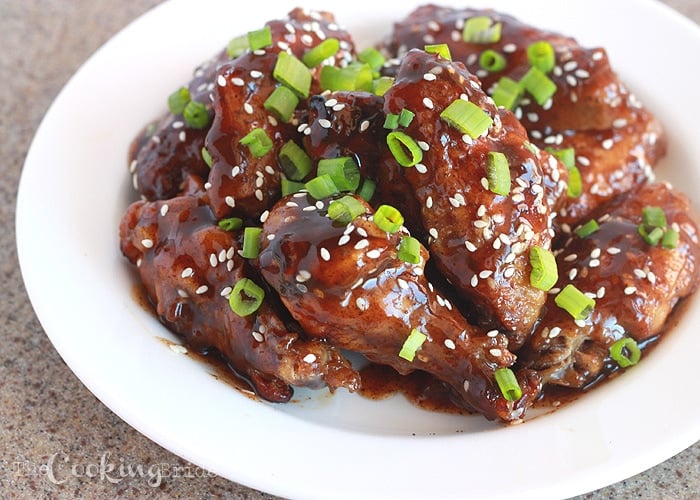 Chicken wings always seems to be a popular go-to item for football games. The Carnivore Husband LOVES chicken wings. The hotter the better. I could take them or leave them and you had better believe there will be no blazin' habanero so-hot-you-can't-taste-anything-for-a-week sauce on them.
These little guys on the other hand. These have been a fave in my house for several years. Sticky, slightly sweet, and finger lickin' good.
How to Make Honey Balsamic Oven Baked Chicken Wings
I'm terrible about waiting until the last minute to read a recipe, then discovering that my chicken should have been marinating two hours ago. Don't make that mistake. Write yourself a note, set a time, whatever you gotta do. But these birdies need two hours to soak up all the sweet and sticky goodness in the marinade.
The marinade itself is easy enough to throw together — balsamic vinegar, honey and brown sugar are paired with salty soy sauce, fresh rosemary and garlic. I like to combine my marinade ingredients in a large plastic bag, squish things around to dissolve the sugar, then add the chicken wings. Make sure the bag is good a sealed, then shake things up to get the wings completely coated. Let the wings sit in the fridge for two hours.
When it comes time to bake, preheat the oven to 400 degrees. Line a cookie sheet with foil. You don't want to skip this step. The marinade is very sticky and will bake right on to your pan. Save yourself some extra work and elbow grease later. Line your pan with foil. Spray with with a layer of cooking spray for added measure.
Arrange the chicken wings in a single layer on your greased, foil lined baking sheet. Don't throw away that marinade — we'll get back to that later. Bake the chicken wings for about 30 minutes until the skin gets caramelized and crispy.
While the chicken is baking, pour that leftover marinade into a small saucepan. Bring it to a boil an allow it to simmer for about 15 minutes to kill off any bacteria. Slowly whisk in the cornstarch, a teaspoon at a time until the sauce thickens.
Once you take the chicken out of the oven, slather all that yummy sauce over the top. Garnish with sliced green onions and a sprinkling of sesame seeds if desired.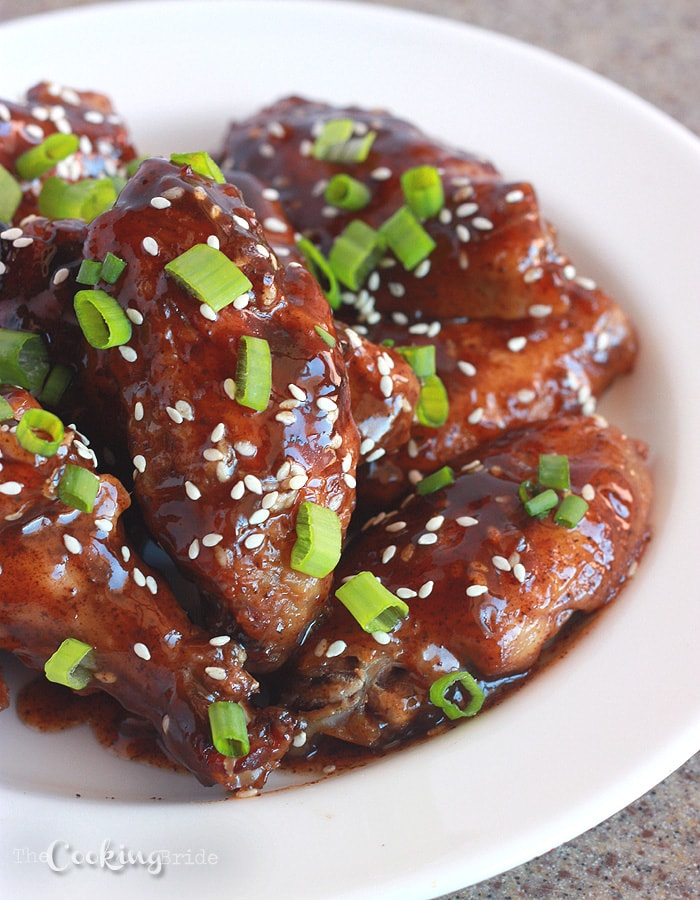 You Might Also Like:
Honey Balsamic Chicken Wings
These yummy, finger-licking oven baked chicken wings get their sticky sweet flavor from a mix of honey, balsamic vinegar, and soy sauce.
Ingredients
1/2

cup

balsamic vinegar

1/2

cup

honey

1/2

cup

brown sugar

1/4

cup

soy sauce

2

sprigs of rosemary

5

garlic cloves

halved

10 to 12

chicken drummettes and wing sections

1

tablespoon

cornstarch

2

tablespoons

sesame seeds

optional

1

green onion

sliced, optional
Instructions
Combine the vinegar, honey, brown sugar, soy sauce in a large bowl. Whisk until honey has dissolved.

Pour mixture into a large resealable plastic bag. Add rosemary sprigs and garlic cloves.

Add the chicken and seal the bag with as little air as possible in the bag. Marinate in the refrigerator for two hours.

Preheat the oven to 450 degrees F.

Place the chicken drumsticks on a greased foil-lined baking sheet. Reserve marinade.

Bake until the skin is caramelized and slightly crispy, about 30 to 35 minutes.

In the meantime, place the marinade in a small saucepan. Bring to a boil. Reduce heat to medium low and simmer for 15 minutes. This will help thicken the sauce and kill any bacteria that can cause food poisoning.

Add cornstarch, 1 teaspoon as a time, until sauce reaches desired thickness. The sauce will continue to thicken once removed from the heat.

Remove chicken from the oven. Brush on sauce. Sprinkle with sesame seeds.