Last updated on March 30th, 2023
This velvety red wine mushroom sauce for steak tastes just like an expensive steak house dinner you can enjoy at home.
My husband and I are lucky that our parents are very good about regularly taking our boys for a weekend and letting us have some time to ourselves. I know we should take full advantage of the alone time and go out for a date night. But the thing about a date night … you have to get dressed up and put on makeup, drive somewhere, spend a whole bunch of money on a meal and a bottle of wine. I'm tired, y'all. I just want to stay home and savor the peace of a quiet house.
Don't get me wrong. We do give ourselves date nights. They are just spent at home. I prepare a good meal. The husband picks up a good bottle of wine. We listen to good music (as loud or as quiet as we want – there are no little people around to complain about our choice in tunes). I'm proud to say I can cook up a steak as well as any fancy steak house. And when I want to make things a little fancy, I whip up this velvety smooth red wine mushroom sauce for steak.
Ingredients and tools you'll need
To make this sauce, you'll need just eight ingredients, plus salt and pepper to your preference. Sauce ingredients include:
Unsalted butter – I prefer unsalted so that I can control the seasoning. But if salted is all you have on hand, it's fine to swap them out.
Diced onions
Mushrooms – I went with white button mushrooms. Baby bella, cremini or shiitake mushrooms would make a good substitute.
Minced garlic
All-purpose flour – to help the sauce thicken.
Beef broth
Full-bodied red wine – stay away from any sweet wine or a wine you can see through when you pour it into a glass. I used a cabernet sauvignon since that's what we have on hand most of the time. It's also probably the easiest wine to find. Other varietals to look for include Syrah and Zinfandel (red not white).
Dried thyme – you can use fresh. Is using fresh, double the amount of thyme the recipe calls for.
How to Make Red Wine Mushroom Sauce for Steak
Melt ½ cup of butter in a large skillet. Add ½ cup of diced onions and eight ounces of mushrooms and sauté for about 10-15 minutes until the vegetables are tender. Stir in one tablespoon of minced garlic and continue to sauté for 30 seconds.
Add one tablespoon of all-purpose and stir until the vegetables are coated. Cook for two minutes to get rid of the raw flour taste. Then add one cup of beef broth, ½ a cup of wine and one teaspoon of dried thyme (two teaspoons if you are using fresh). Bring the sauce to a boil, then simmer over medium low heat until the sauce is reduced, about 10-15 minutes. Season the sauce with salt and pepper to your preference. Spoon the warm sauce over cooked steaks.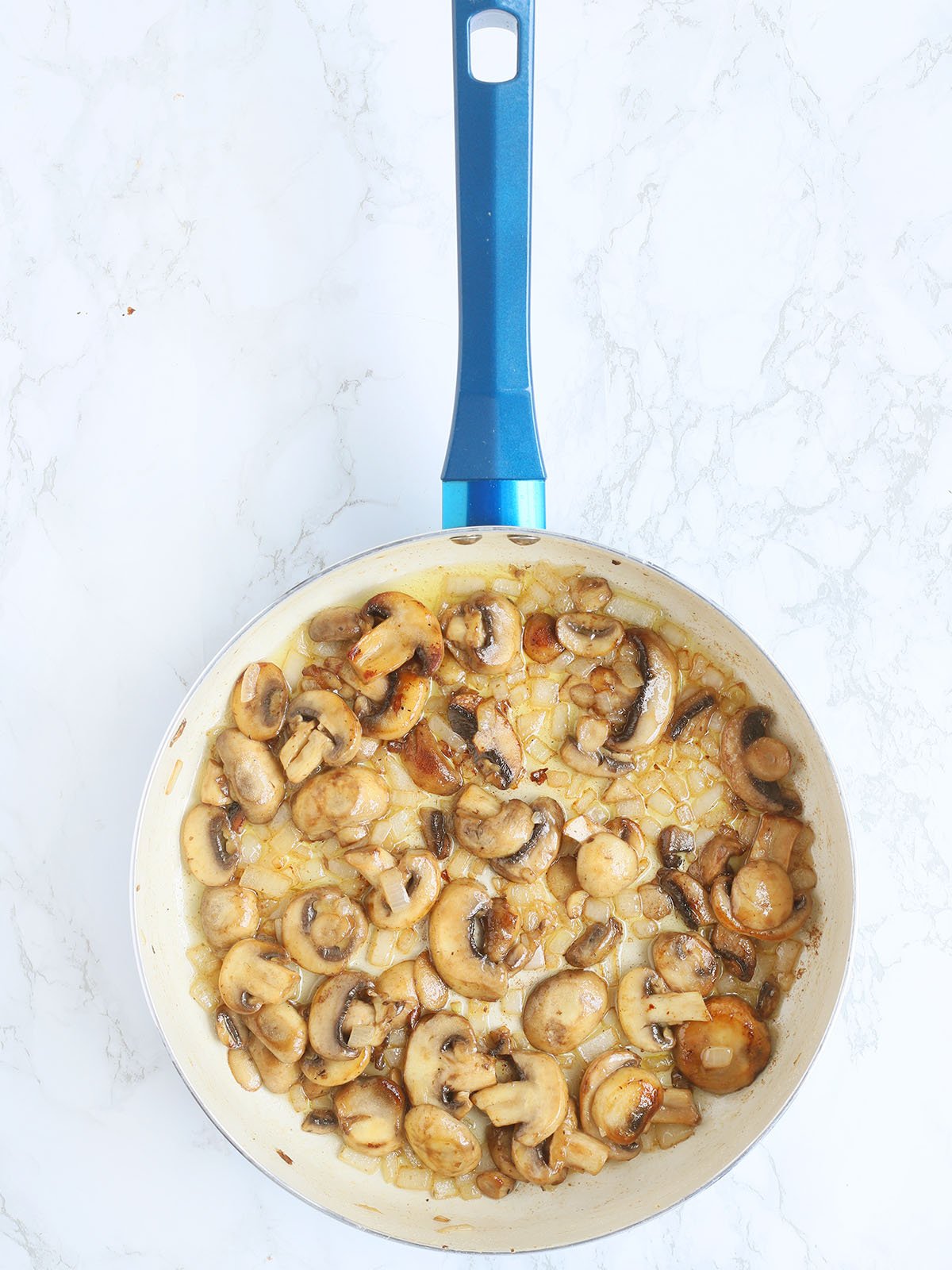 Storage, Freezing and Reheating
Storage. Mushroom sauce should be transferred into an airtight container and stored in the refrigerator within two hours. Consume within four days.
Freezing. Transfer the cooled mushroom sauce to a freezer bag. Remove as much excess air as possible and seal. Lay flat until frozen. Thaw before using. Consume within three months.
Reheating. Reheat thawed mushroom sauce in a saucepan over medium low heat until heated through, about 10 minutes.
What to Serve with Your Steaks