Last updated on May 23rd, 2023
Warm up on a cold day with a bowl of creamy old fashioned potato soup. Tender potatoes and bacon are simmered in chicken broth and cream.
Have you ever experienced one of those days where the weather is so bitterly cold and gloomy, it's just about impossible to force yourself to do anything other than nap under a thick blanket. On days like that, I crave something warm and creamy, like a big ol' bowl of old-fashioned potato soup.
Which potatoes hold up better in soup?
When it comes to potatoes, not all are created equal. You want to select a potato that will hold up during the cooking process. Stay away from thin-skinned varieties here, such as red potatoes or new potatoes. Instead, choose a potato with more starch, like a Russet or standard baking potato.
Ingredients and tools needed to make Old Fashioned Potato Soup
One of the things I love about this potato soup recipe are the layers of flavor – salty chewy bacon, tender potatoes, velvety cream and tangy sour cream create an explosion of flavor in every bite. To make old fashioned potato soup, you will need:
5 slices bacon, diced
1 cup diced celery
1 cup chopped onion
1 teaspoon minced garlic
2 tablespoons flour
6 cups uncooked baking potatoes, peeled and cubed
3 cups chicken broth
1 tablespoon dried thyme
4 cups heavy cream
1 16-ounce container sour cream
Salt and pepper to taste
¼ cup chopped fresh parsley, optional
Cook the bacon and vegetables
Cook the bacon in a large stock pot over medium heat for about 5-7 minutes until crisp. Remove the bacon from the pot and drain on paper towels but reserve the bacon grease. Set aside ¼ cup of the bacon to use for garnish on top of the soup before serving. Add the celery and onion and cook for another 5-7 minutes until the vegetables are tender. Then add the minced garlic and sauté for another 30 seconds.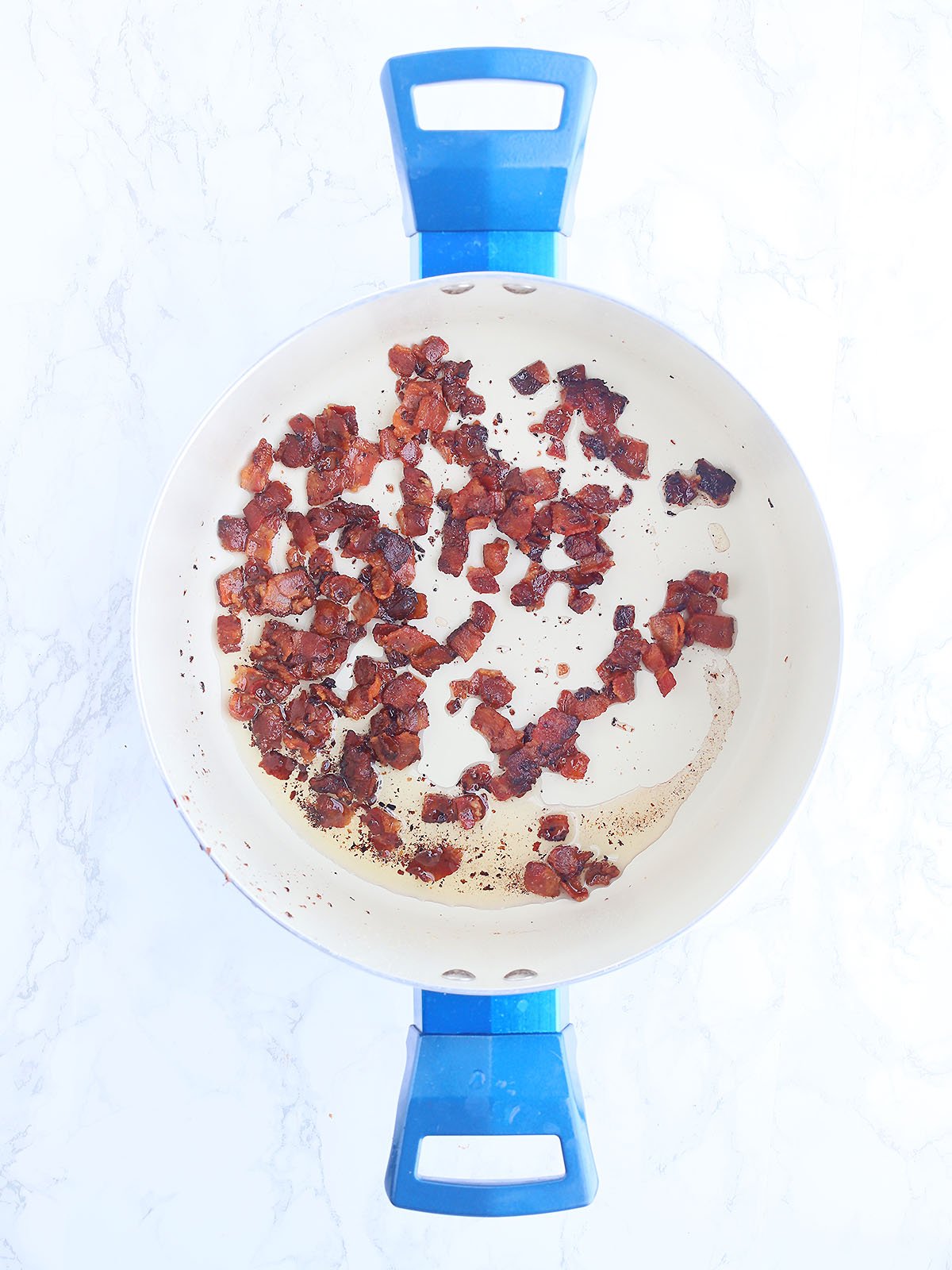 Add flour and potatoes
Sprinkle in the flour and stir the vegetables to coat. The flour will help the soup thicken up as it simmers. Cook for two minutes just to remove the raw taste from the flour. Then add the potatoes, chicken broth and thyme. Bring the soup to a boil, then reduce the heat to medium low, cover the pot and simmer for about 20 minutes until the potatoes are tender.
Make it creamy
Return the cooked bacon to the pot. Then stir in heavy cream and sour cream. Stir the soup until the heavy cream and sour cream are heated through. Season the potato soup with salt and pepper to taste. Before serving, be sure to garnish each bowl with the reserved bacon and chopped fresh parsley if desired.
Storage, freezing and reheating
Storage. Allow the soup to cool completely. Then transfer the soup to airtight containers. The soup should be stored in the refrigerator within two hours. Consume within four days.
Freezing. I don't recommend freezing this soup. Freezing will give the potatoes a grainy texture and cause the cream to separate.
Reheating. Pour the potato soup into a large saucepan. Cover and heat on medium low for 15-20 minutes until heated through.
More soup recipes