Last updated on June 6th, 2023
If you're a fan of a traditional whiskey old fashioned cocktail, you will love this bourbon old fashioned flavored with fresh vanilla bean.
This post may contain affiliate links. Click here to learn more about how affiliate links are used on this site.
The Husband is a lover of all things cocktail. On the weekends, it's nothing to find him in the kitchen adding a dash of this and a dash of that to a cocktail shaker and holding out a glass for me to try his latest creation.
A traditional old fashioned cocktail is made with whiskey. However, I am a lover of all things bourbon. Since we're more likely to have a bottle of bourbon in the house, we typically make our old fashioned with bourbon. It's not that much of a stretch. After all, bourbon is whiskey. But not all whiskey is bourbon.
The origins of the old fashioned cocktail
The old fashioned is one of the oldest cocktail recipes in modern recorded history. Of course, anytime you have a history that dates back centuries, the origins tend to get a little cloudy. The Pendennis Club, founded in 1881 in Louisville, Kentucky, lays claim to creating the original old fashioned. In 2015, the city of Louisville named the old fashioned its official cocktail.
What type of bourbon should I use in an old fashioned cocktail?
Since bourbon is the centerpiece of the drink, I highly recommend staying away from the lower end brands and spending a little extra money on a higher quality bottle. That doesn't mean you have to clean out your wallet for a bottle of Pappy Van Winkle. There are several decent brands that may still fall within your budget. I used Woodford Reserve for this post. Other brands I recommend include Four Roses, Bulleit, Elijah Craig, Knob Creek, or Maker's Mark.
Make the vanilla simple syrup
I was inspired to create this recipe after seeing something similar that called for vanilla bean sugar. Basically, you scraped the seeds from a whole vanilla bean, then place the seeds and the bean in a jar of sugar and let it sit for 2-3 weeks. Yeah, who has time for that?
There are two methods for making an old fashioned. The first way is to muddle a sugar cube in the bottom of a rocks glass with a few dashes of bitters and a slice of orange peel. The second is to use a simple syrup. This method allowed me to easily impart the flavors of vanilla and orange directly into the drink.
To make the syrup, I added 1/3 cup of white granulated sugar, two slices of orange peel, and one whole vanilla bean to a small saucepan. I used a small paring knife to slice along the skin of the orange. You'll want to include a little bit of the pith, the white skin that lies just under the orange peel, on the back of the segment. Add 1/3 cup of water to the pan, bring the water to a simmer, and stir just until the sugar is dissolved. Remove the vanilla simply syrup from the heat and allow it to cool completely. To make sure I'm getting lots of flavor from the vanilla and the orange, I leave the bean and the peel in the simple syrup while it cools. Just be sure to remove and discard it before you start making cocktails.
This simple syrup recipe will give you enough to make at least two cocktails. You can double or even triple the recipe, just store it in an airtight container in the refrigerator. The syrup will keep for several months.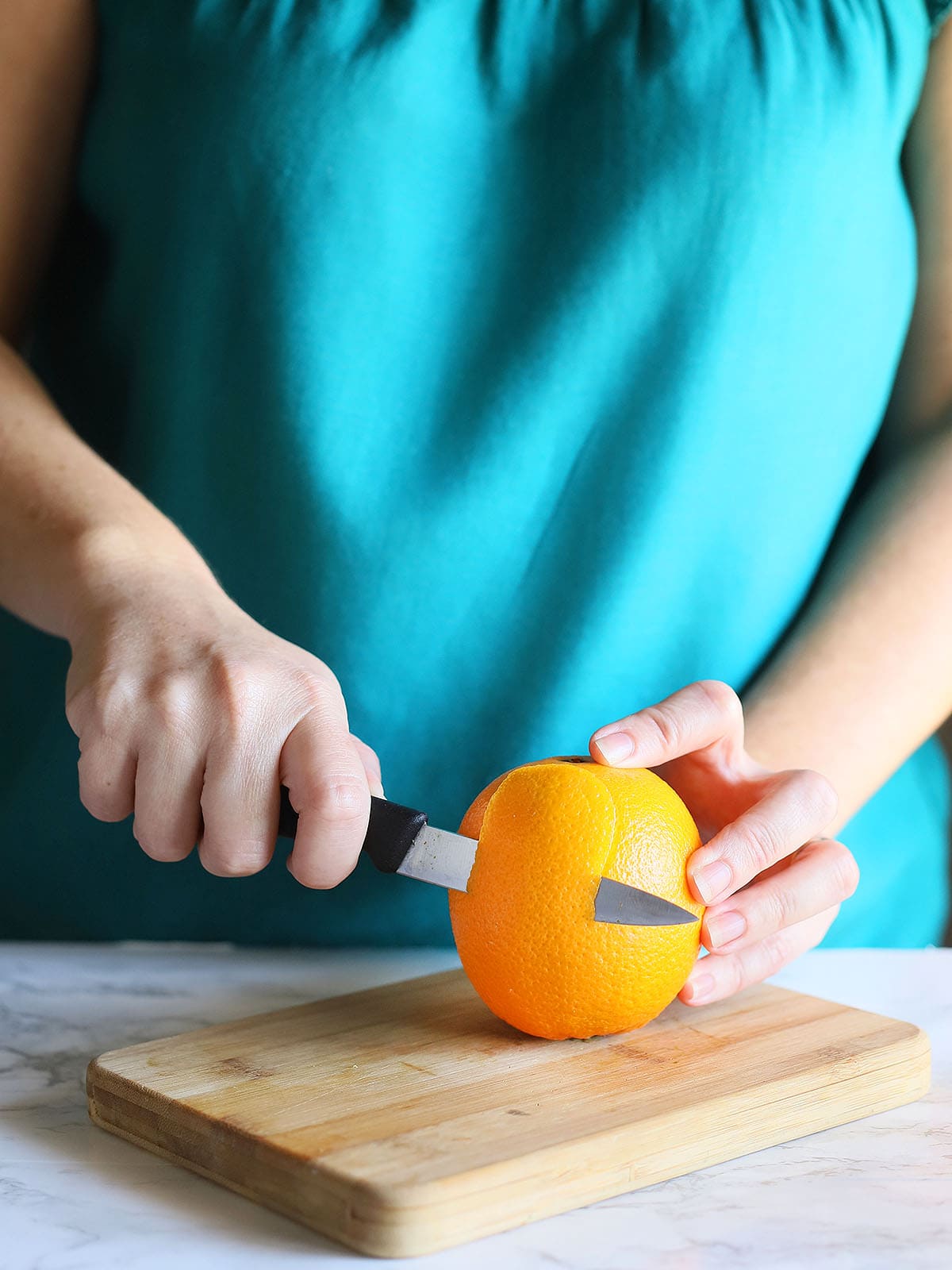 Assemble the cocktail
An old fashioned is served in, what else? An old fashioned glass. Also known as a rocks glass or lowball glass, it's just a short tumbler used for serving spirits. Honestly, a wide juice glass will work too. We're going to start by adding one ounce of the vanilla simple syrup to the glass. Add three dashes of bitters, then add some ice. You can find molds for the nifty round ice cubes you see in the photos here.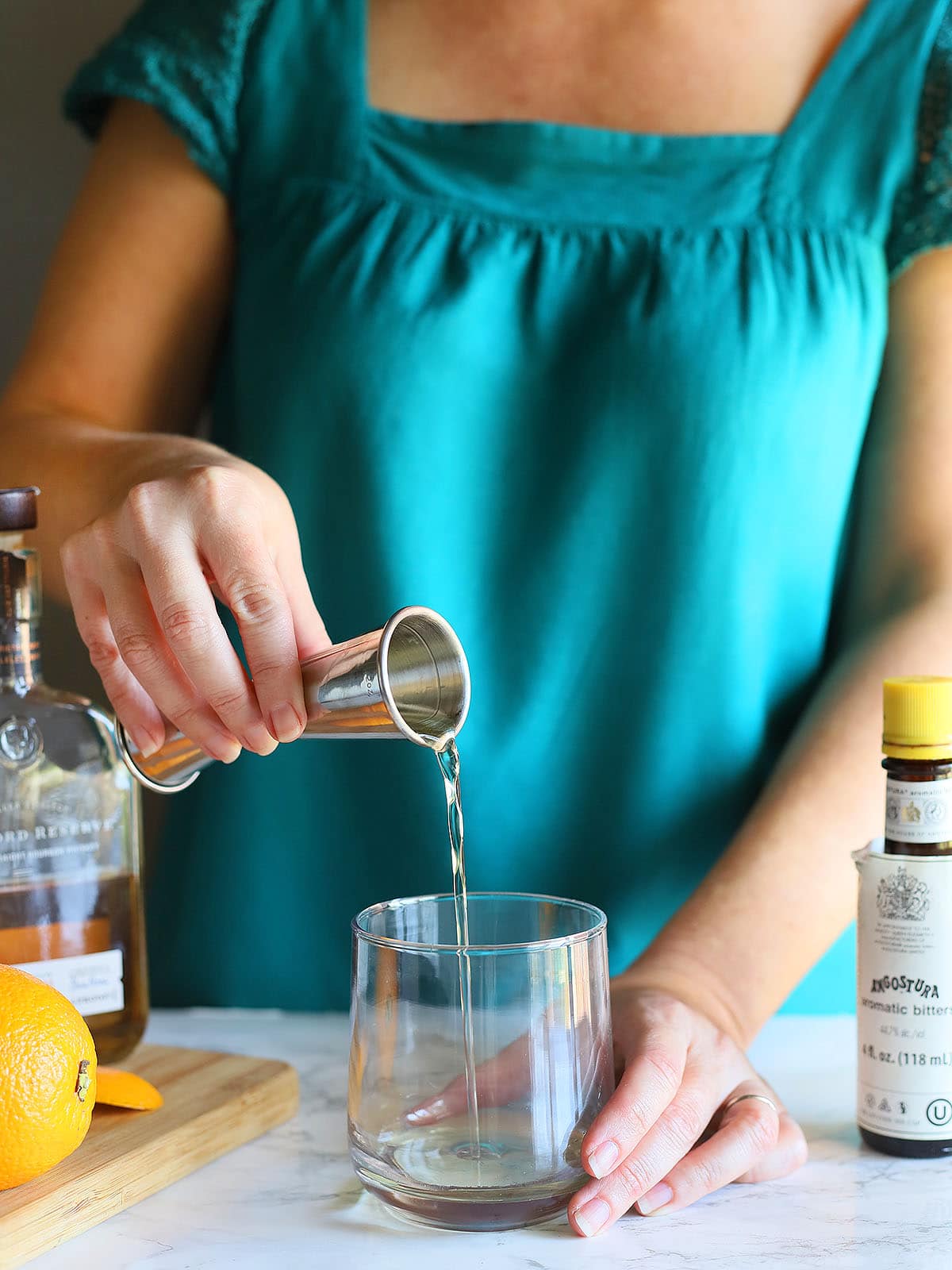 After you've added the ice, add three ounces of bourbon. Stir the drink, then garnish with another orange peel segment. Cheers!
You Might Also Like