Last updated on March 29th, 2023
This easy chicken Parmesan recipe is simple enough for a weeknight meal! Chicken cutlets are dredged in egg, breadcrumbs, and Parmesan cheese, then fried until crispy and golden brown.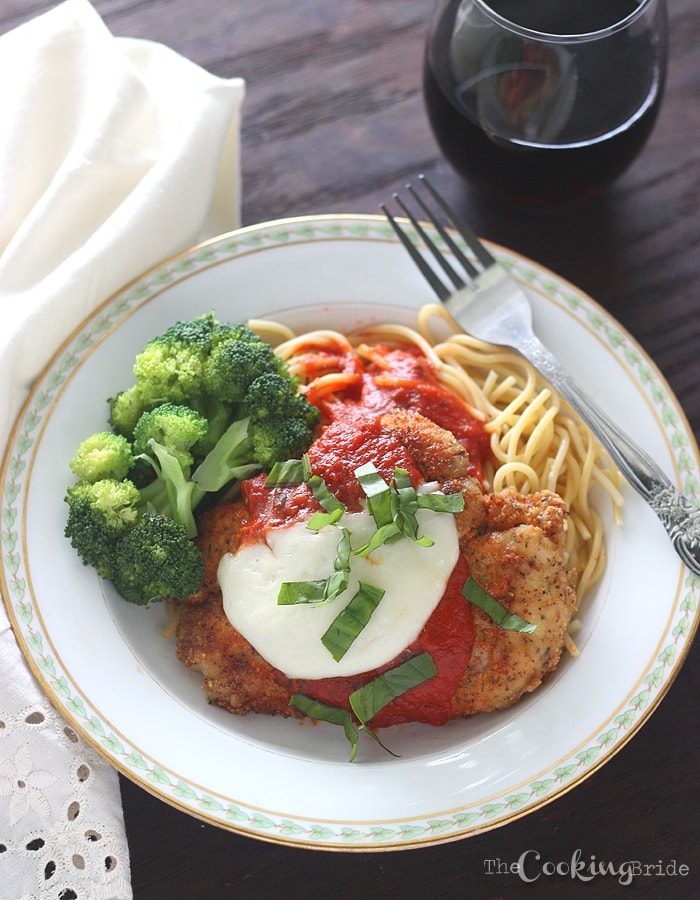 Now that you know how to make your own seasoned bread crumbs, let's put those fellas to good use.
Chicken Parmesan is an excellent recipe for a beginner cook to master and keep in their repertoire.  Not only does it taste good, but once you get the technique down pat it is a really easy recipe to throw together.  You can serve it as a weeknight meal or for guests at a dinner party.
Since chicken breast can be on the bland side, I like to soak them in salt water for a few hours beforehand.  See my post on brining here.
The recipe below instructs you to butterfly, then cut your chicken breasts in half.  That means you are going to cut your chicken breasts in half width wise.  Start by laying your chicken breast down on a clean cutting board.  With your knife parallel to the board, begin cutting along the side of the chicken breast until you almost reach the other side.  At this point, you should be able to open the chicken breast up like a newspaper.  Then just cut along the fold until you have two pieces.
I'm realizing now I should have taken a picture of this step.
I like to do this then flatten the breasts with a meat mallet.  A thinner cut helps to ensure your chicken breast will cook all the way through.
If you missed my last post on making your own Italian-style breadcrumbs, it can be found here.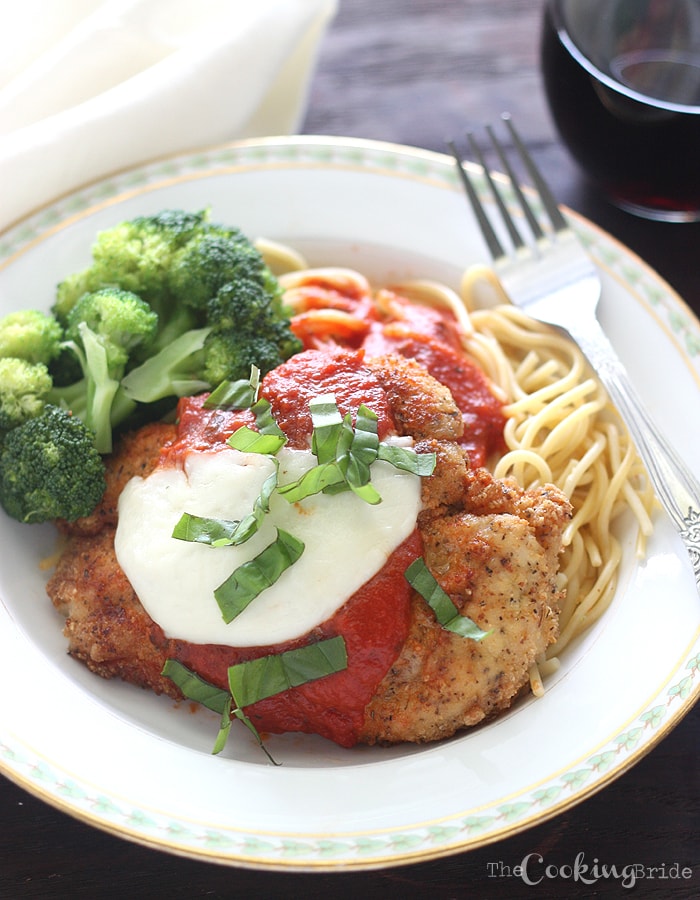 More easy chicken recipes:
Easy Chicken Parmesan
This easy chicken Parmesan recipe is simple enough for a weeknight meal! Chicken cutlets are dredged in egg, breadcrumbs, and Parmesan cheese, then fried until crispy and golden brown.
Ingredients
2

medium chicken breasts

2

large eggs

1

cup

Italian-Style seasoned breadcrumbs

1/4

cup

grated Parmesan cheese*

Oil for frying

4

slices

Mozzarella cheese

1 ½

cups

marinara or spaghetti sauce

1

pound

spaghetti

cooked al dente
Instructions
Using a sharp paring knife, butterfly the chicken breasts then cut in half so that you have four approximately ½ inch thick chicken breast pieces.

Lay chicken breasts flat on a cutting board. Cover them with a layer of waxed paper or plastic wrap. Pound them with a meat mallet or rolling pin until they are approximately ¼-inch thick.

Crack eggs into a dish large enough that you can dip the chicken breasts freely. Lightly beat eggs to break the yoke and combine them with the whites.

Combine the breadcrumbs and Parmesan cheese in another dish. Season breadcrumbs with salt and pepper to taste.

Heat oil in a large skillet over medium high heat.

Using tongs or clean hands dip the chicken into the egg mixture. The dredge in the bread crumbs, tossing until chicken breast pieces are thoroughly coated.

Working in batches, add chicken breast pieces to the hot oil. Fry until golden brown on one side, about 7-10 minutes. Flip and fry for an additional 5-7 minutes.

In the meantime, preheat the oven to 350 degrees.

Once chicken is finished, lay all four pieces in a large 9 x 12 x 2 casserole dish. Pour spaghetti sauce over the chicken. Top each piece with a slice of mozzarella.

Bake in the oven until cheese is melted, 5-7 minutes.

Plate equal amounts of cooked spaghetti on a plate. Top with additional spaghetti sauce if desired. Place one chicken breast on top of the spaghetti.
Notes
*If you are using my recipe for Italian Style breadcrumbs, you can omit the Parmesan cheese. My recipe already has the cheese included.
I like to use two 8 x 8 x 2 inch casserole dish for my eggs and breadcrumbs. If using your hands to coat your chicken pieces, make sure you wash your hands immediately afterwards to prevent cross contamination. I prefer to fry my chicken pieces in a cast iron skillet.