Last updated on May 15th, 2023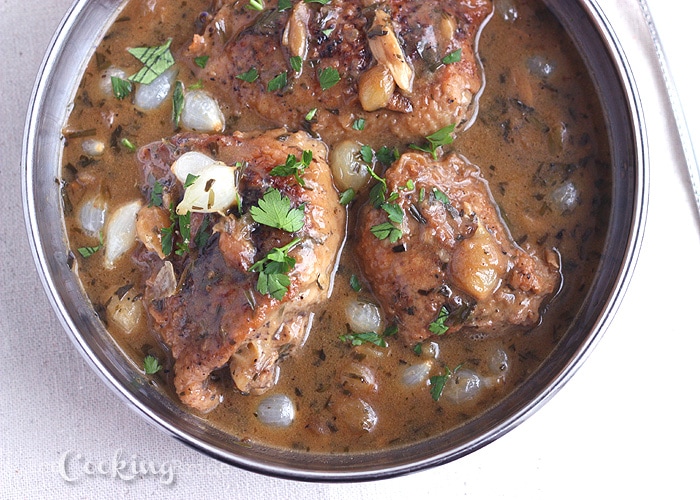 My husband has been on a SERIOUS barbecue chicken kick lately.  I swear, I think the last eight times I've made chicken he wanted it barbecued. so that's what we had.  Until last Sunday, when I said, " Honey, PUH-LEASE!  I'm sick of barbecued chicken."
He very reluctantly agreed to let me try something new.  I mean come on, I've been making this man's dinner for over four years.  You think he would trust me by now.
After making this recipe, I realized I really should cook with tarragon more often. It has a sweet, coconut-y (is that even a word), tobacco-y (again, word?) quality that intrigues me. The sauce is what makes this dish. Heck, I would go do far as to call it a gravy. You'll want to spoon it over your chicken and then save it to spoon over something else.  Even The Husband agreed it was a good choice – maybe even better than barbecued chicken.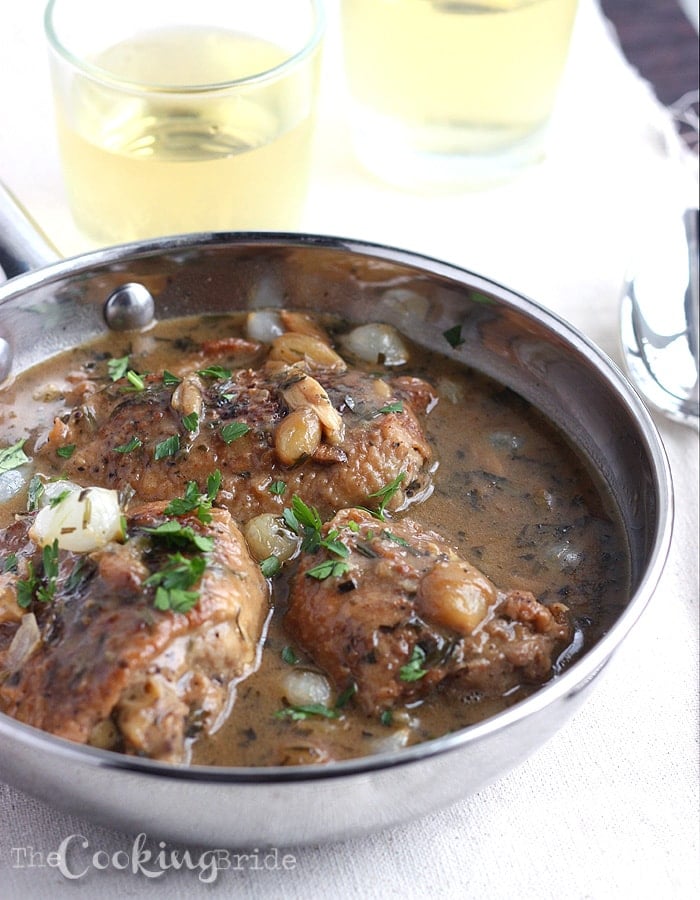 Chicken with Tarragon and White Wine
Inspired by Giada De Laurentiis
Ingredients
For the chicken:
1/4

cup

vegetable oil

1

4 1/2-pound chicken, cut into 8 pieces

Kosher salt and freshly ground black pepper

Flour for dusting
For the sauce:
1 1/2

cups

about 10 ounces frozen pearl onions

4

cloves

garlic

halved

Kosher salt and freshly ground black pepper

1

cup

white wine

2

cups

low-sodium chicken broth

1/2

cup

chopped fresh tarragon leaves

plus 2 tablespoons

2

tablespoons

all-purpose flour

2

tablespoons

unsalted butter
Instructions
For the chicken:
In a Dutch oven or large saucepan, heat the oil over high heat.

Season the chicken with salt and pepper, to taste, and dust with flour.

Cook the chicken, turning occasionally, until brown on all sides, about 8 minutes.

Remove the chicken and set aside.
For the sauce:
Heat the same pan used for the chicken over medium-high heat. Add the onions and garlic and season with salt and pepper, to taste. Cook, stirring frequently, until softened, about 5 minutes.

Increase the heat to high. Add the wine and scrape up the brown bits that cling to the bottom of the pan with a wooden spoon.

Return the chicken pieces to the pan. Add 3 cups of chicken broth and 1/2 cup of tarragon and bring the mixture to a boil. Reduce the heat to a simmer, cover the pan and cook, turning the chicken pieces over every 10 minutes, until cooked through, about 40 minutes total. Transfer the chicken to a platter and loosely tent with foil while finishing the sauce.

In a small bowl, mix together the remaining 1/3 cup chicken broth and flour. Whisk the flour mixture into the sauce until smooth. Bring the sauce to a simmer and cook, uncovered, until thickened, about 8 to 10 minutes.

Stir in the butter and season with salt and pepper, to taste.

Serve the sauce over the chicken and garnish with the remaining 2 tablespoons of tarragon.