Last updated on April 2nd, 2023
Crab stuffed shrimp are a tasty appetizer that can be made ahead of time. Jump butterflied shrimp are stuffed with a mix of crab and veggies.
These little crab stuffed shrimp look so elegant perched on a platter and served as an hors d'oeuvre. Everything can be made ahead of time and popped into the oven minutes before showtime. People will think you slaved in the kitchen. I won't tell them otherwise.
How to Make the Crab Filling
Melt two tablespoons of unsalted butter in a large skillet over medium high heat. Add 1/4 cup diced red bell pepper, 1/4 cup minced celery, 1/4 cup diced onion to the skillet. Sauté until the vegetables are tender, about 3-5 minutes. Add two cloves of minced garlic and sauté for another 30 seconds.
Once the vegetables and garlic are tender, add two tablespoons of all-purpose flour to the skillet and stir to coat the vegetables. Continue to cook for 2-3 minutes to remove the raw flour taste. Remove the skillet from the heat.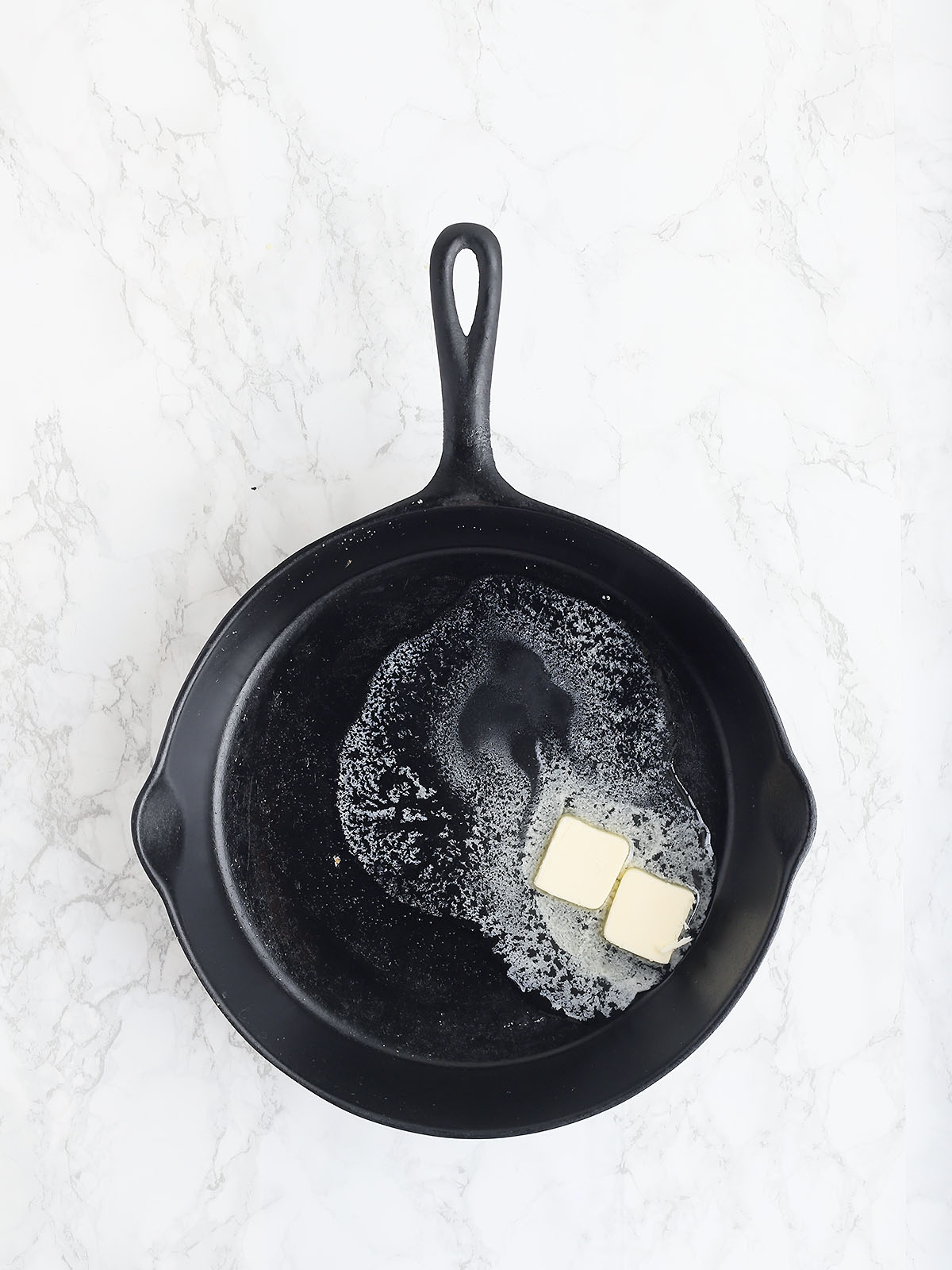 Add one (8 oz.) can of lump crab meat that has been picked of shells and cartilage, one lightly beaten large egg, one tablespoon of mayonnaise, and one teaspoon of Worcestershire sauce. Then add 1/4 cup of breadcrumbs. If your crab meat is a little watery, you may need to add a little more breadcrumbs so the mixture holds together.
Next, add 1/4 teaspoon of paprika, two tablespoons of chopped fresh parsley and 1/8 teaspoon of cayenne pepper. If you like a little more heat, feel free to add additional cayenne. Finally, season the crab meat mixture with salt and pepper to your preference.
The crab filling can be made three days in advance. Store in a covered container in the refrigerator until ready to use.
Stuff the Shrimp
I've found the larger the shrimp, the easier it is to get them to stand up. I'm using one pound of raw jumbo shrimp that has been peeled and deveined. I chose to leave the tail on because they look prettier that way. But it is a pain to have to find somewhere to dispose of the tail later, so I leave it up to you if you want to remove the tails.
Since your shrimp has already been butterflied to remove the vein, it should stand up pretty easily. However, if the suckers won't cooperate, simple take a sharp knife and cut the slit down the back of the shrimp a little deeper, just be sure not to cut all the way through.
Carefully stand the shrimp on a greased cookie sheet so that the tail is up. Gently spoon one tablespoon of the crab topping into the curve of the shrimp. Lightly press the tail into the stuffing. Continue with the remaining shrimp and crabmeat.
The stuffed shrimp can be prepared up to 24 hours in advance. Loosely cover the cookie sheet with plastic wrap to keep the shrimp from drying out, then place on a level surface in the fridge. When you are ready to bake them, preheat the oven to 350 degrees and bake them for 10-15 minutes until the shrimp are opaque. Serve warm.
Storage, Freezing and Reheating
Storage. Baked crab stuffed shrimp should be placed in an airtight container and placed in the refrigerator within two hours of serving. Consume within four days.
Freezing. Baked or unbaked crab stuffed shrimp can be frozen for up to three months. Whether they are cooked or uncooked, I still recommend freezing them upright on a cookie sheet until frozen, then carefully transferring the shrimp to a freezer container or freezer bag.
Reheating. There is no need to thaw crab stuffed shrimp before reheating. Simply place them on a greased cookie sheet and bake according to cooking instructions included in the recipe. Depending on your oven, you may need to add a few additional minutes to the cook time to ensure the shrimp are cooked through.
You Might Also Like: