Last updated on May 23rd, 2023
Homemade Chex mix is everyone's favorite snack. This Southern version is seasoned with lots of butter, garlic powder, and bacon grease.
You may be surprised to learn that The Husband possesses a little known secret talent. During the holidays, he becomes the official family homemade Chex mix maker.
He's not a cook, per se. But the few recipes he does make, he does them well. Every year around this time, he asks me to locate his grandmother's recipe. I retrieve it, carefully preserved in a plastic sleeve, from the back of my recipe notebook, and he sends me to the store with a list of ingredients. I must not deviate from the list. I must not substitute the harder-to-locate red-skinned Spanish nuts for easy-to-find regular peanuts. I cannot replace pretzel sticks with pretzel knots. If I do, I have failed the master.
You Must Start with Bacon Grease
Before anyone asks, no, there is no substitute for the seven tablespoons of bacon grease. So says The Husband. You must use bacon grease. Do not fail the master.
I am a Southern cook, so I always have a Mason jar of bacon grease in my fridge (I am not kidding). But if you don't happen to have an entire jar of bacon grease on hand, one pack of bacon should yield you the proper amount. You can always eat the leftover bacon as a snack while you're cooking.
How to Make Homemade Chex Mix
Preheat the oven to 250 degrees F. In a large roasting pan, add the bacon grease, two sticks of unsalted butter and five tablespoons of Worcestershire sauce. We prefer to use a roasting pan vs. a cookie sheet because of the high sides. You'll be doing a lot of stirring and the high sides keeps the homemade Chex mix from spilling out during the process. Sometimes I use a disposable roasting pan for this occasion so I can just throw the pan away when we are done.
Place the roasting pan in the oven just long enough for the butter to melt. This usually takes about seven minutes. Pull the pan out and sprinkle in three tablespoons of garlic salt. Stir until the garlic salt is completely dissolved.
Next, add your cereal. You'll need to measure out four cups of Rice Chex, five cups of Corn Chex and Cheerios, two cups of Wheat Chex, two cups of pretzel sticks and two cups of Spanish nuts. The Husband typically measures everything out into a large mixing bowl then stirs it all together so everything is evenly mixed.
Add 1/3 of the cereal mixture to the melted butter and bacon grease. Stir until the cereal mixture is completely coated. Repeat with the remaining cereal, adding 1/3 at a time and stirring between each addition. Homemade Chex mix needs to roast for 2 hours, but you'll want to stir every 15 minutes.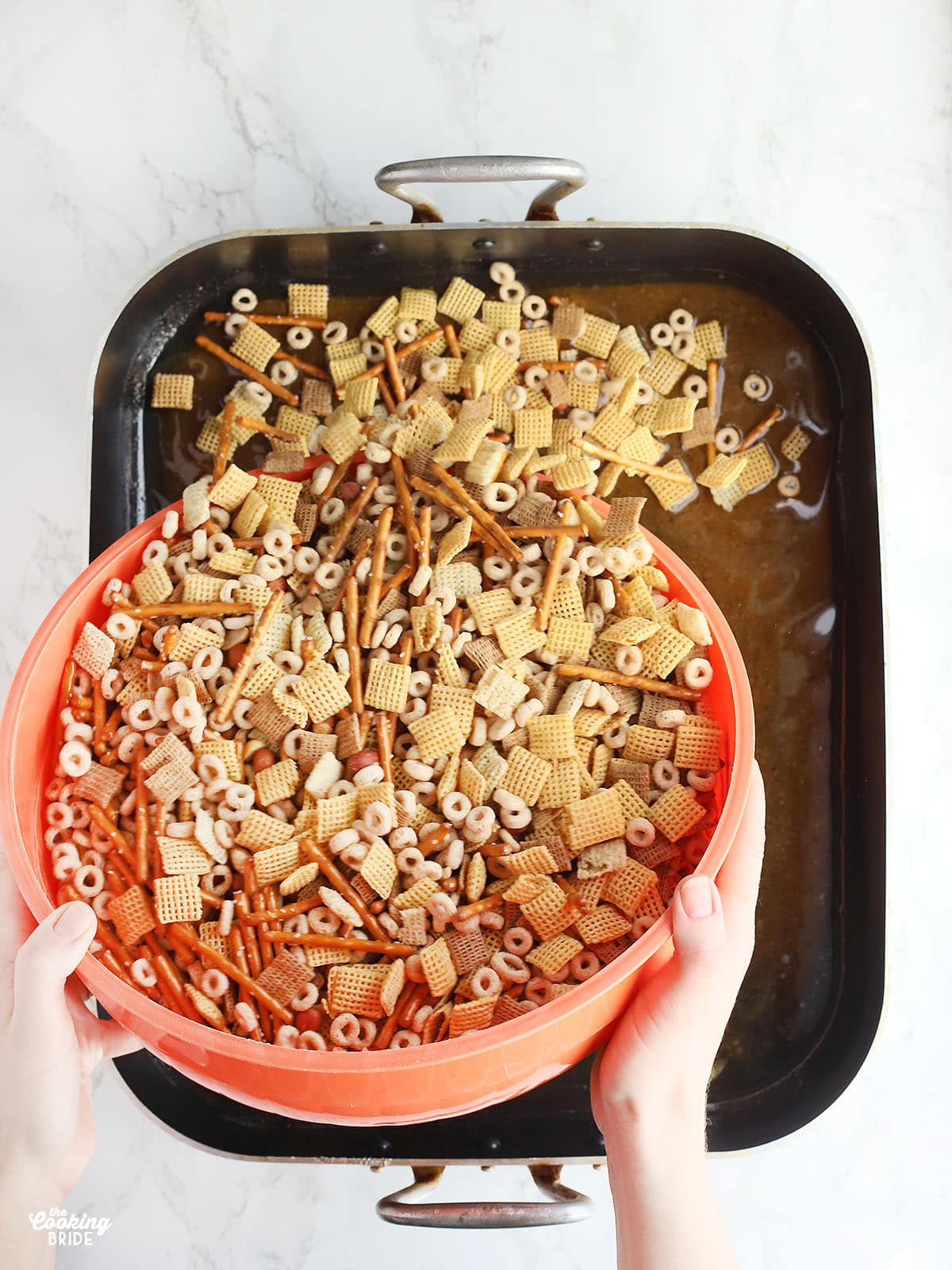 How to Store Homemade Chex Mix
While homemade Chex mix is positively awesome to snack on when it's warm right out of the oven, you'll want to let it cool completely before storing it in an airtight container. As long as the container is stored in a cool, dry place, the Chex mix should last for a few weeks. Though at out house, it never lasts more than a few days.
Beware, we also like to refer to this as Crack Mix. Once you start eating, it's darn near impossible to stop.
You Might Also Like: