Last updated on March 30th, 2023
Homemade banana bread is one of the first recipes every home cook should master. This simple recipe is easy to learn and big on flavor.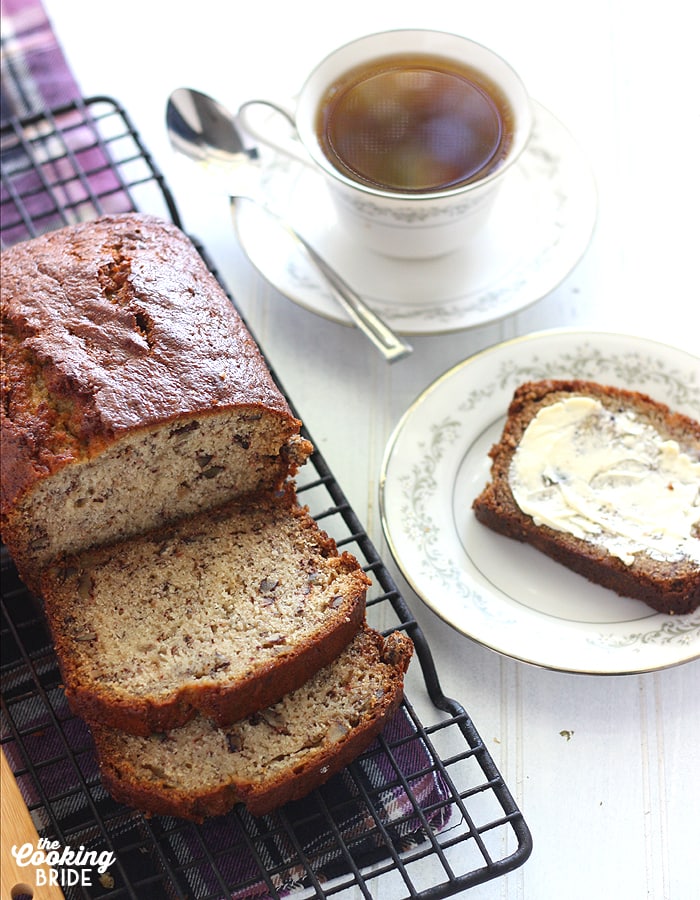 I realize that there is absolutely nothing earth shattering or trend setting about banana bread. Home cooks have been baking up this simple quick bread for comfort food or as a quick way to use up over ripe bananas for decades. This recipe is the one my mother always used and for all I know, it could have come straight from the pages of her worn and tattered Betty Crocker cookbook. But that's not the point here.
I decided to share this recipe because Friday afternoon I came across two forgotten bananas in my freezer. Yes, I used to freeze overripe bananas instead of throwing them away. They usually thaw within an hour and are while freezing does change the texture (you wouldn't want to peel one and eat it – mush city), they are perfect for things like banana bread.
I don't freeze bananas so much anymore because my three-year-old LOVES bananas. Just ask him. He will probably tell you, "I LOOOVE bananas!" So they rarely make it to overripe anymore. There was no telling how long these particular bananas had been in my freezer. I started to throw them out, but then realized my kid – who LOVES bananas – had never tried banana bread.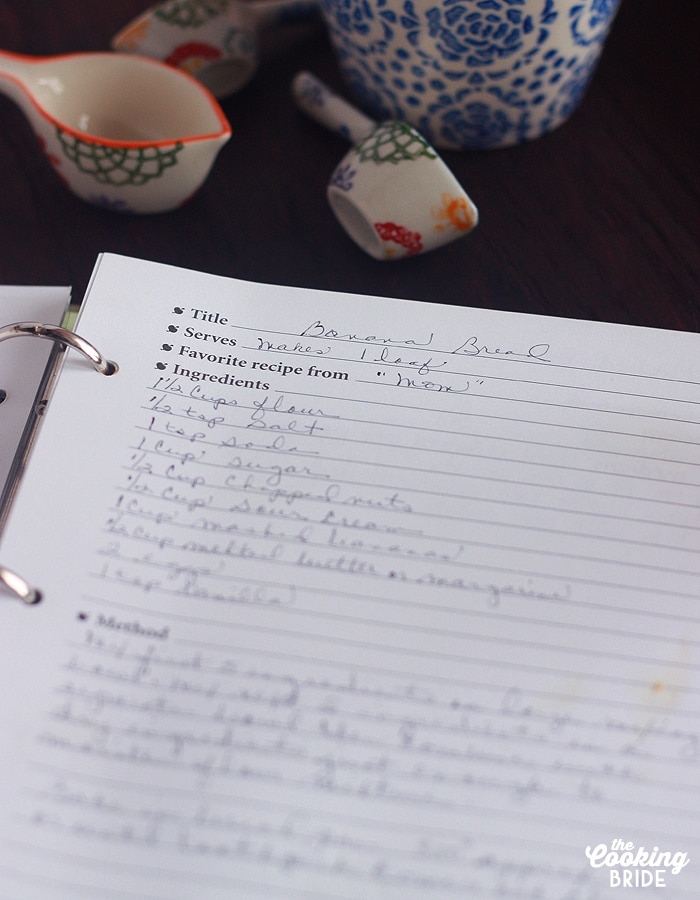 The Husband has to work at least one Saturday a month. I usually try to come up with some sort of mother-son activity Little Tot and I can do together on those days. A lot of times it involves baking. He has really come to enjoy helping me in the kitchen. I pull his little step stool up to the kitchen counter, tie on his very manly camouflage apron, and he immediately starts grabbing at the mixing spoons and measuring cups.
Twenty years from now, I hope he views this as us making memories. But for right now, he just likes to stick his fingers in the mixing bowl. My mother has a fit. But my Dad let me lick the mixing bowl as a kid and I turned out just fine. I think . . .
Don't worry, if I have ever cooked food for you personally, I don't let Little Tot help me for that exact reason.
If you are new to baking, banana bread is an excellent recipe to start with. I think it was even one of the first recipes my mother taught me how to bake. I do remember her telling me that you should mix your ingredients just until the dry ingredients are moist. Not a second more or you could end up with tough banana bread. This is a simple, super easy recipe and it smells wonderful while it bakes. For several hours after I pulled it out of the oven, my house still smelled warm and inviting.
I like mine served with a smattering of soft butter, or warm with a scoop of vanilla ice cream. Little Tot prefers strawberry jelly. To each his own.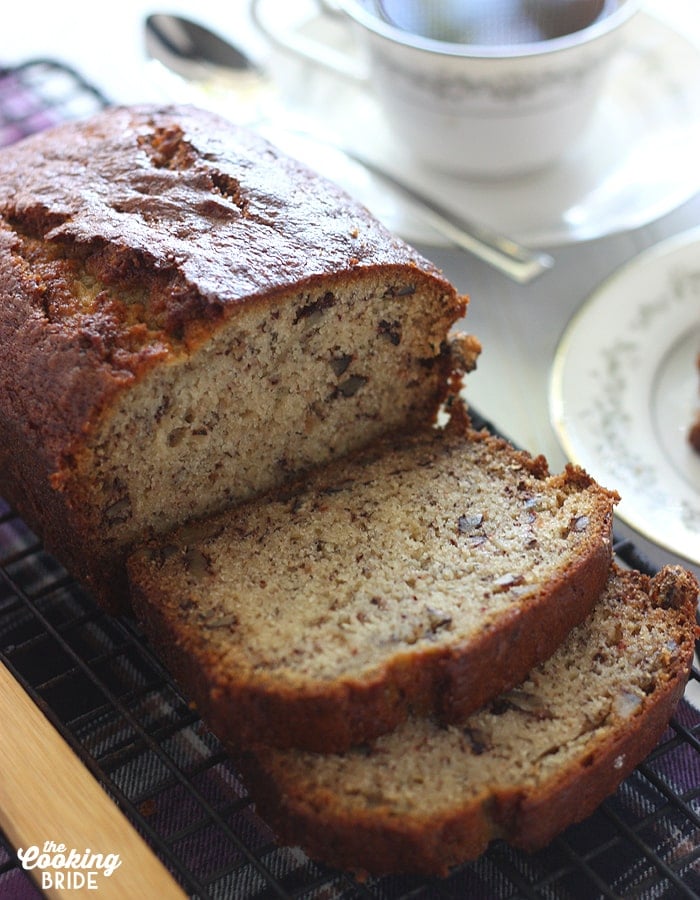 Banana Bread
Ingredients
1 1/2

cups

all-purpose flour

1/2

teaspoon

salt

1

teaspoon

baking soda

1

cup

sugar

1/2

chopped pecans

optional

1/2

cup

sour cream

1

cup

mashed bananas

about 2 ripe

1/2

cup

melted butter

2

large eggs

1

teaspoon

vanilla
Instructions
Preheat oven to 350 degrees.

Combine first five ingredients in a medium mixing bowl. Set aside.

Combine remaining ingredients in a separate mixing bowl.

Gradually add the dry ingredients to the wet ingredients, mixing just until the dry ingredients are moist.

Pour mixture into a greased loaf pan. Bake for 1 hour or until a toothpick inserted near the center comes out clean.

Allow bread to cool five minutes in the pan. Remove and allow to cool completely on a cooling rack.

Store leftover bread in plastic wrap in the refrigerator. Bread will keep for approximately 1 week.