Last updated on April 2nd, 2023
Spicy marinated shrimp served with a cool and creamy sauce over fried grit cakes will liven up any menu. It's perfect for an appetizer or an entrée.
Shrimp and grits is a very popular dish in the South, especially along the coastal areas where fresh shrimp are so plentiful. Creamy corn grits are topped with succulent shrimp and a thin, but flavorful gravy. It's one of my favorite dishes; however, recently I decided to take the shrimp and grits concept and turn it into a finger food. The result? Tender shrimp served over fried grit cakes. They are fun to eat and oh, so delicious.
Prepare the Sauce
In a small mixing bowl, combine 1/2 cup of mayonnaise, one finely chopped green onion, one teaspoon of chopped, seeded jalapeno pepper and one teaspoon of hot sauce. Whisk the sauce ingredients together. Chill until ready to serve. The sauce can be made a couple of days in advance.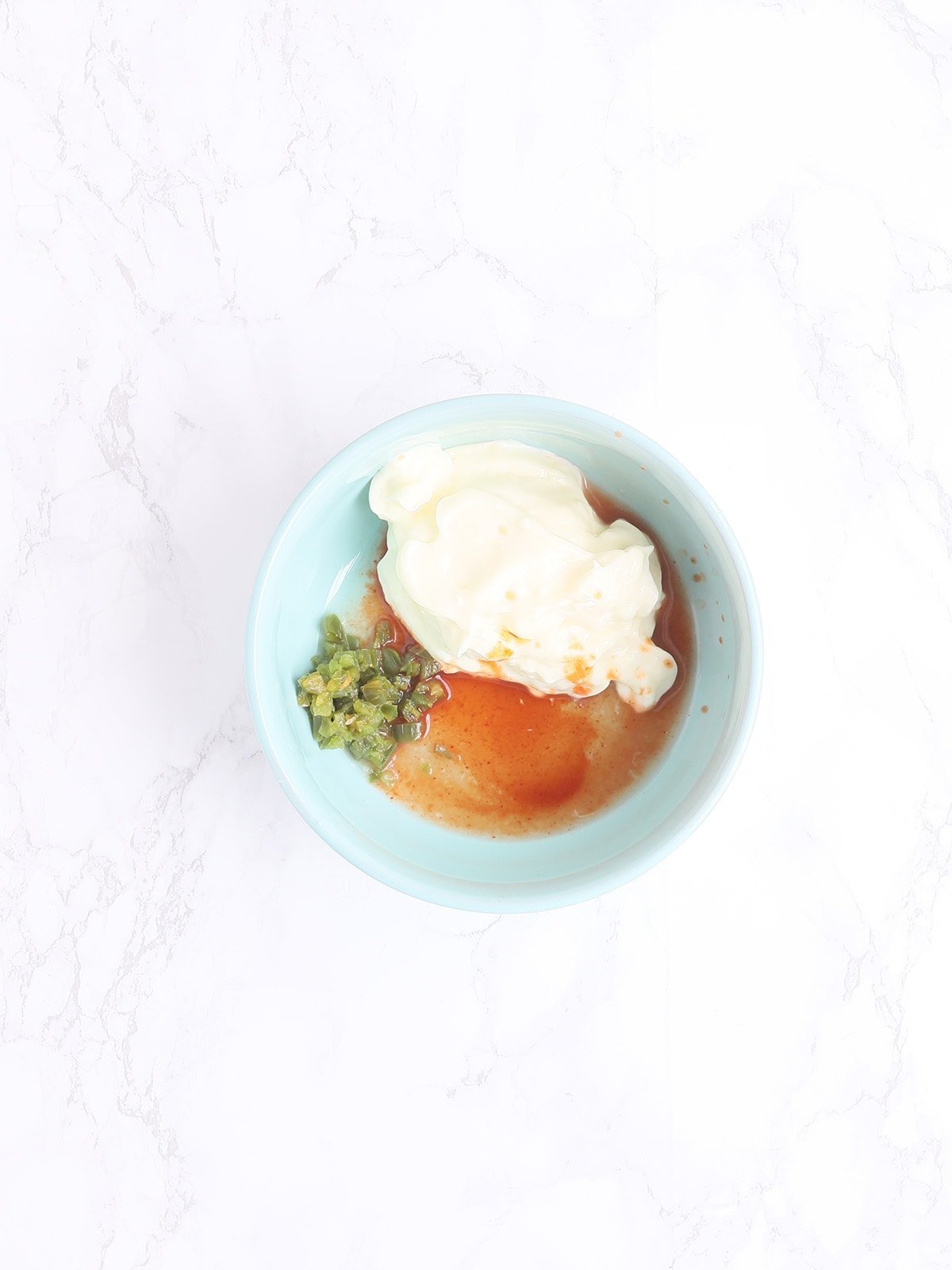 Prepare the Grit Cakes
This step needs to be completed the day before. You don't want the grit cakes to fall apart during the frying stage, so you need to give them plenty of time to firm up in the refrigerator.
Start by bringing four cups of water to a boil in a large saucepan. Stir in one cup of stone ground corn grits and one teaspoon of salt. Reduce the heat to medium low. Boil the grits for 30 minutes, stirring frequently.
Remove the grits from the heat and stir in one cup of shredded sharp cheddar cheese and one lightly beaten egg. Line a 9 x 11 x 2-inch baking dish with foil and lightly spray it with cooking spray. Pour the grits into the foil lined pan. Use a spatula to gently spread them out in a even layer, if needed. Allow the grits to cool completely at room temperature. Then cover the dish with plastic wrap and refrigerate the grits for 8 hours.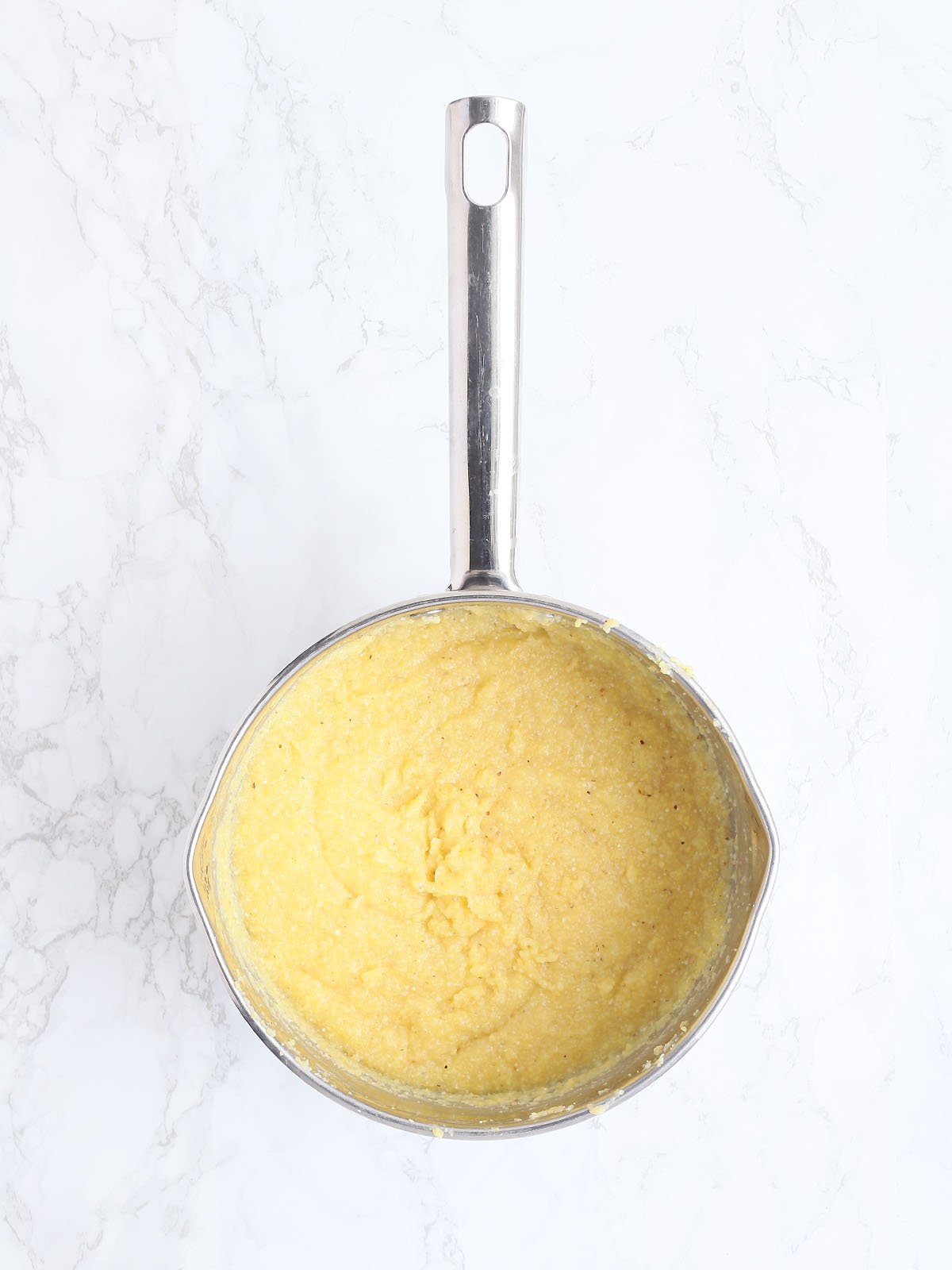 Before cutting the grits, gently lift them out of the pan by the foil lining. Lay them on a flat surface. Cut them into squares or use a round cookie cutter to cut them into disks. Just keep in mind, you'll yield fewer grit cakes by cutting them into rounds. Try to keep the grit cakes under 2 ½ inches wide to ensure they hold together during frying.
Pour one cup of all-purpose flour into a shallow dish. Carefully coat the grit cakes with the flour. Place them on a cookie sheet and return them to the refrigerator for 15 minutes.
In the meantime, heat the oil in a large skillet over medium high heat. Once the oil is hot, return the heat to medium or medium low. Fry the grit cakes in batches, 2 – 2 1/2 minutes per side, until golden brown. Drain the grit cakes on a layer of paper towels.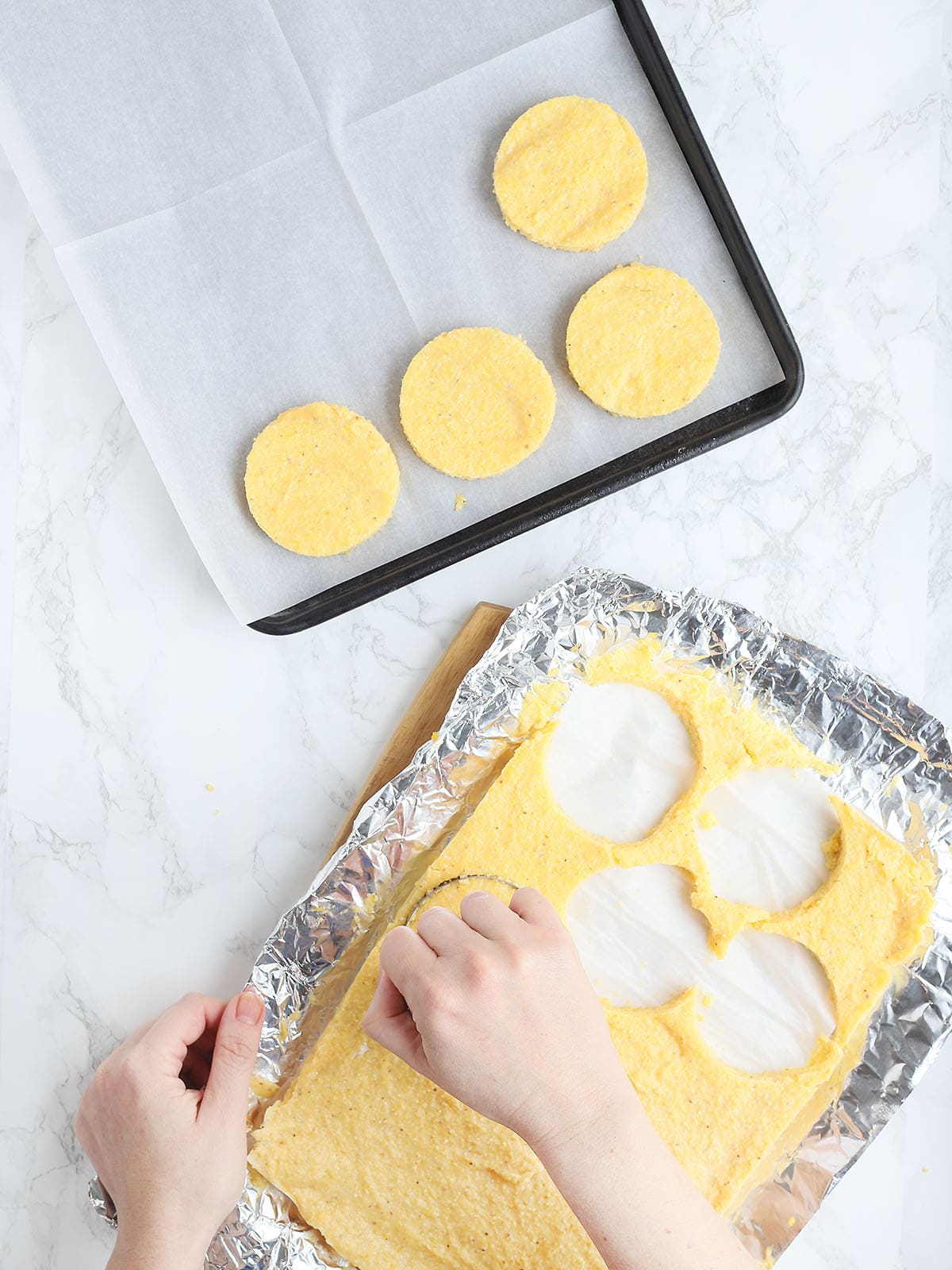 Prepare the Shrimp
First, we need to marinate our shrimp. In a medium mixing bowl or plastic freezer bag, combine ¼ cup of olive oil, three minced garlic cloves, two teaspoons of lime juice, and one teaspoon of minced jalapeno pepper that has been seeded. This just means that when you cut into the jalapeno, you remove the seeds and the white membrane that hold the seeds in place. Additionally, add ¼ teaspoon of cayenne pepper.
Once the marinade ingredients have been mixed, add 1/2 pound of medium, uncooked shrimp that has been peeled and deveined. It's up to you if you want to leave the tails on. I left them on for the pictures because it looks nice. When I'm not preparing shrimp for photos, I pull the tails off because I don't like fooling with having to dispose of them.
Coat the shrimp with the marinade. Allow the shrimp to marinate in the refrigerator for up to two hours. Just before serving, preheat the oven to 350 degrees. Place the shrimp an oven safe dish. Cook them for 10-15 minutes until the shrimp are pink and opaque.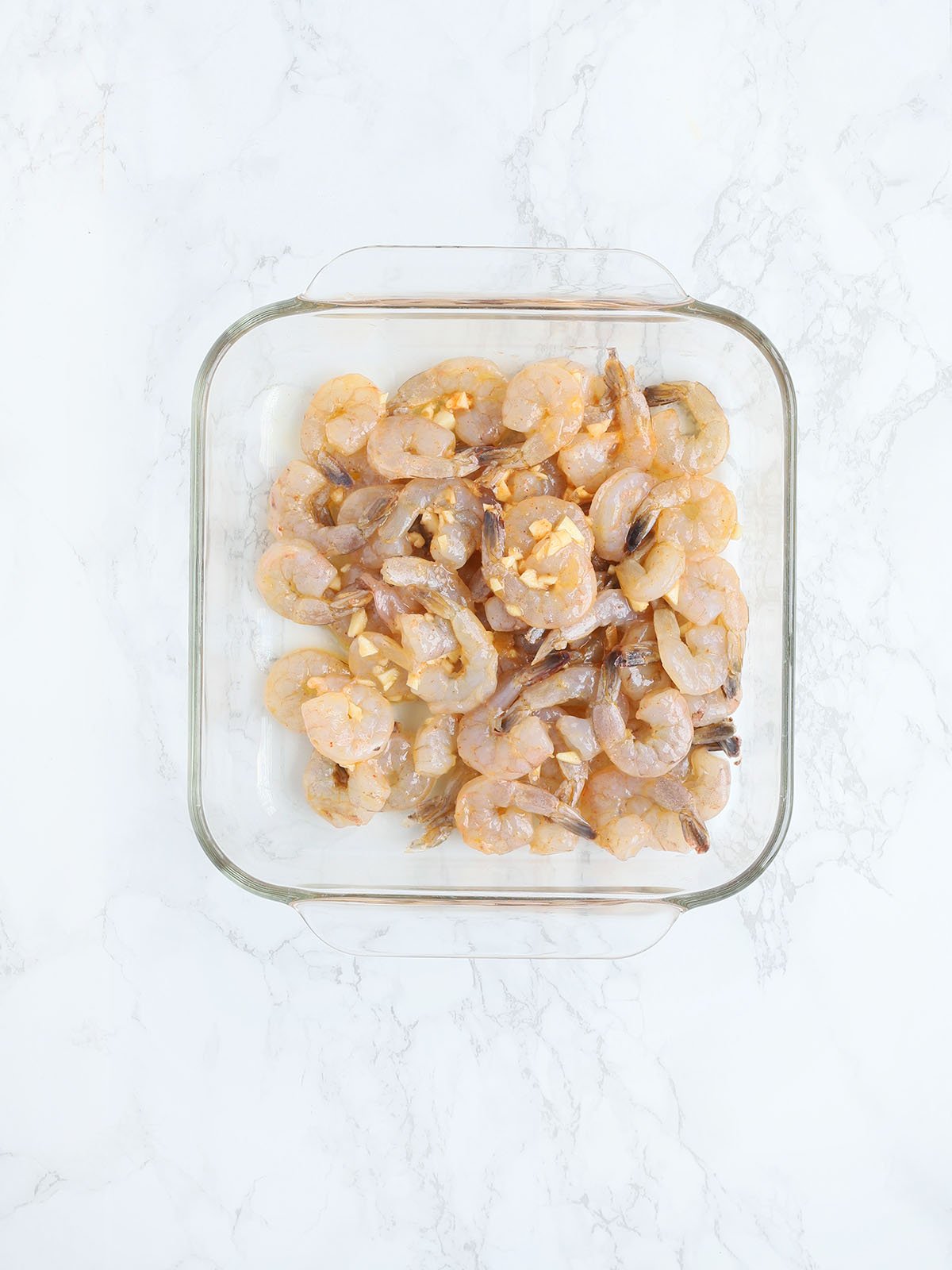 To plate, place one grit cake on a plate. Place a dollop of sauce in the center of the cake. Place one shrimp in the center of the sauce. Serve warm and garnish with sliced green onions if desired.
Storage, Freezing and Reheating
For best results, Shrimp and Fried Grit cakes should be served immediately and consumed within two hours. Shrimp tends to become rubbery once reheated; therefore, I do not recommend saving leftovers to reheat for later.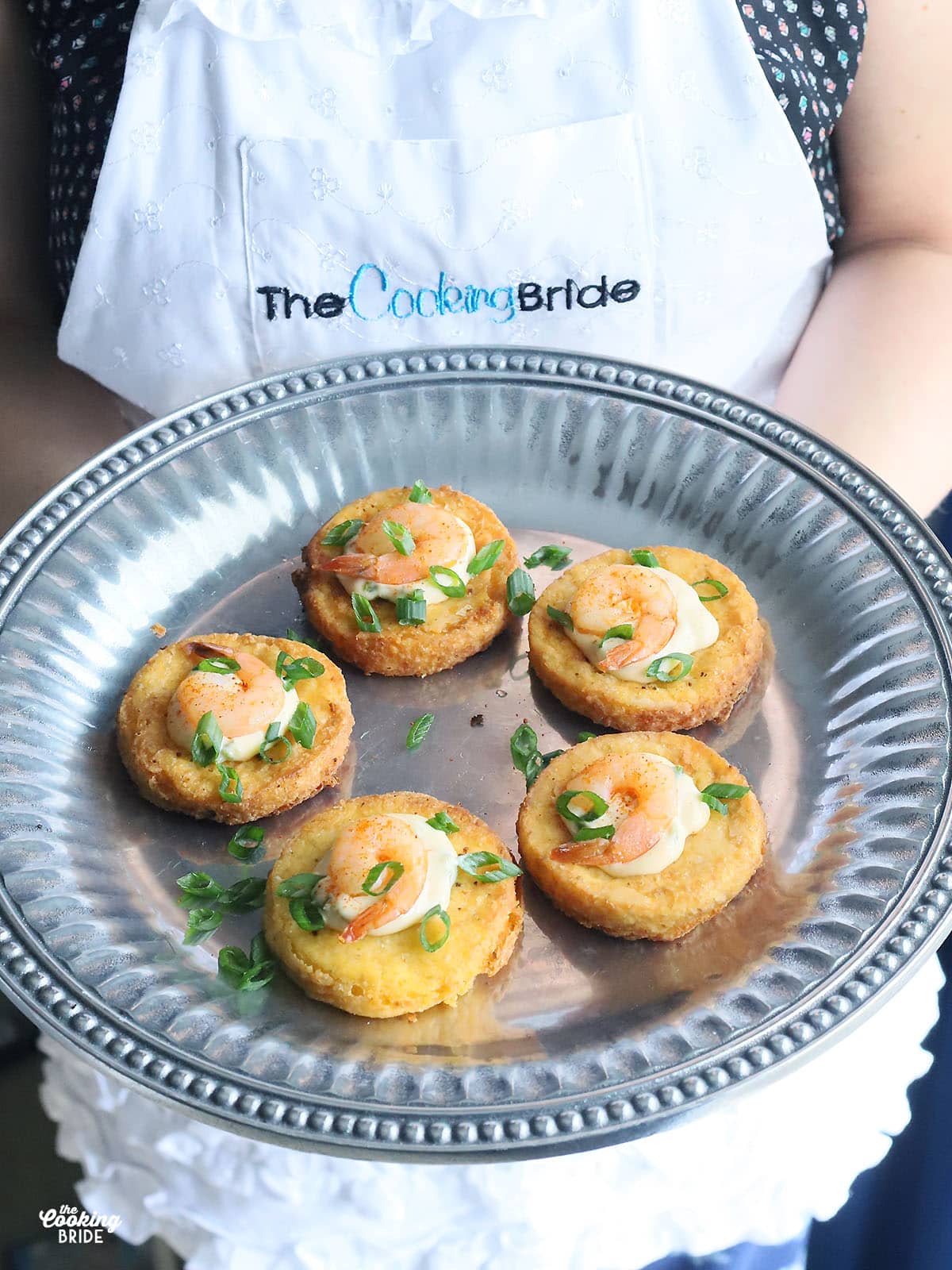 You Might Also Like: