Last updated on May 23rd, 2023
A beloved Southern treat, these spicy little cheese straws are simple to make and even more addictive to eat.
This post may contain affiliate links. Click here to learn more about how affiliate links are used on this site.
Cheese straws have been a beloved Southern treat for longer than I can remember. If you've never had one, they have the texture of a shortbread cookie but the flavor of a Cheese It, with a dash of cayenne pepper thrown in. Growing up, people always gave them out as gifts during the holidays. But I see no reason why their enjoyment should only be limited to a couple months out of the year. They are super easy to make and even more addictive to eat.
Make the Dough
These cheese straws only require five ingredients – unsalted butter, cheddar cheese, flour, salt and cayenne pepper. See, didn't I tell you these were easy? However, before you even get started, I highly recommend letting your butter and cheese come to room temperature. Both of these ingredients cream together much easier when they are soft.
To start, cream together 1 ½ cups of softened unsalted butter and 16 ounces of shredded cheddar cheese. I used sharp cheddar, mild or medium will work too. I used the paddle attachment on my Kitchenaid stand mixer.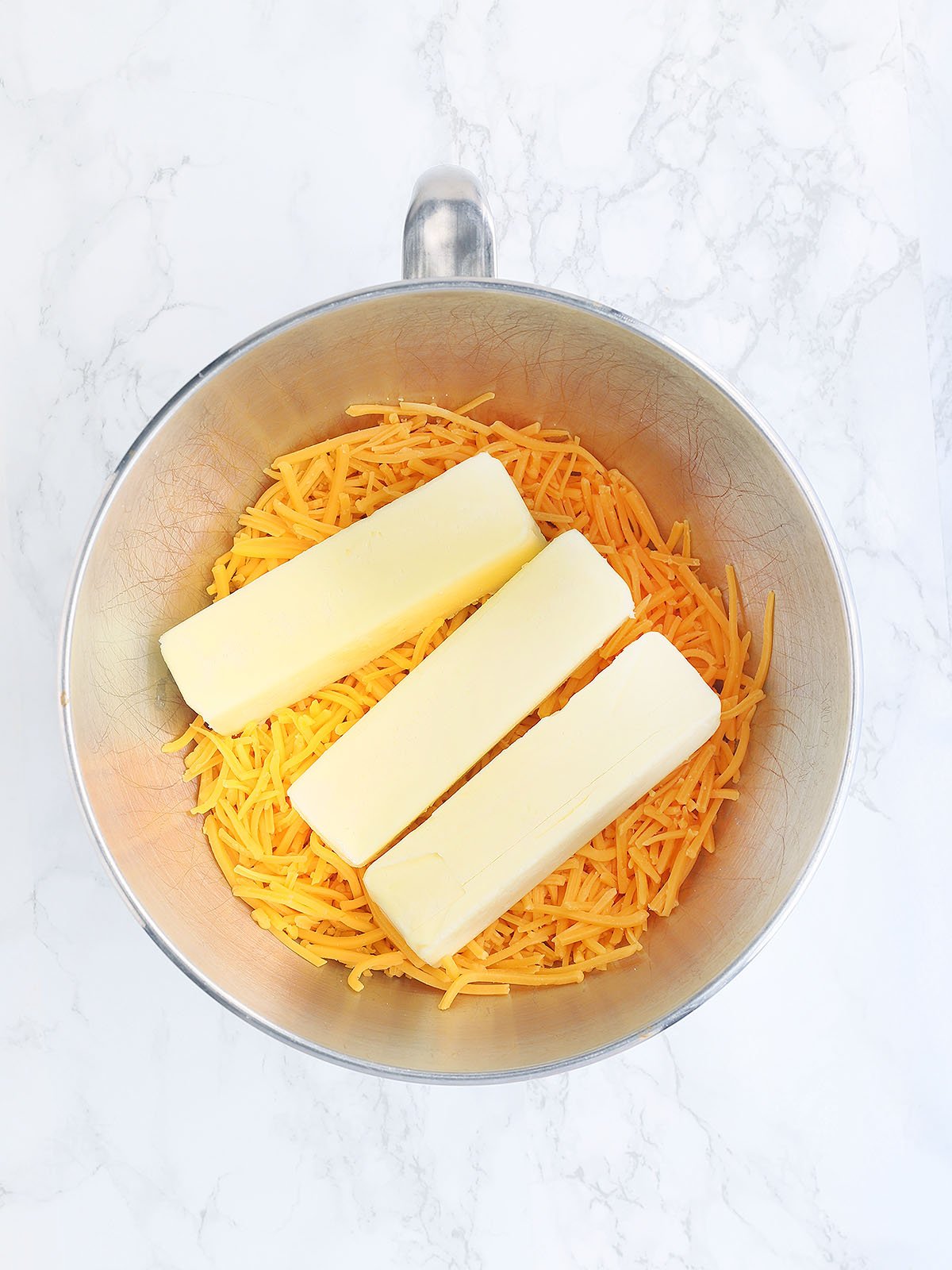 Once these are combined, add four cups of all-purpose flour, two teaspoons of salt and one teaspoon of cayenne pepper. I found one teaspoon of cayenne gave them a bit of a bite but did overpower the dough. If you like a little more heat, feel free to add more pepper.
Mix the dough on low until the flour is incorporated, then increase the speed to medium. It might seem at first that the dough isn't wet enough to stick together. Just keep mixing. Eventually it will come together.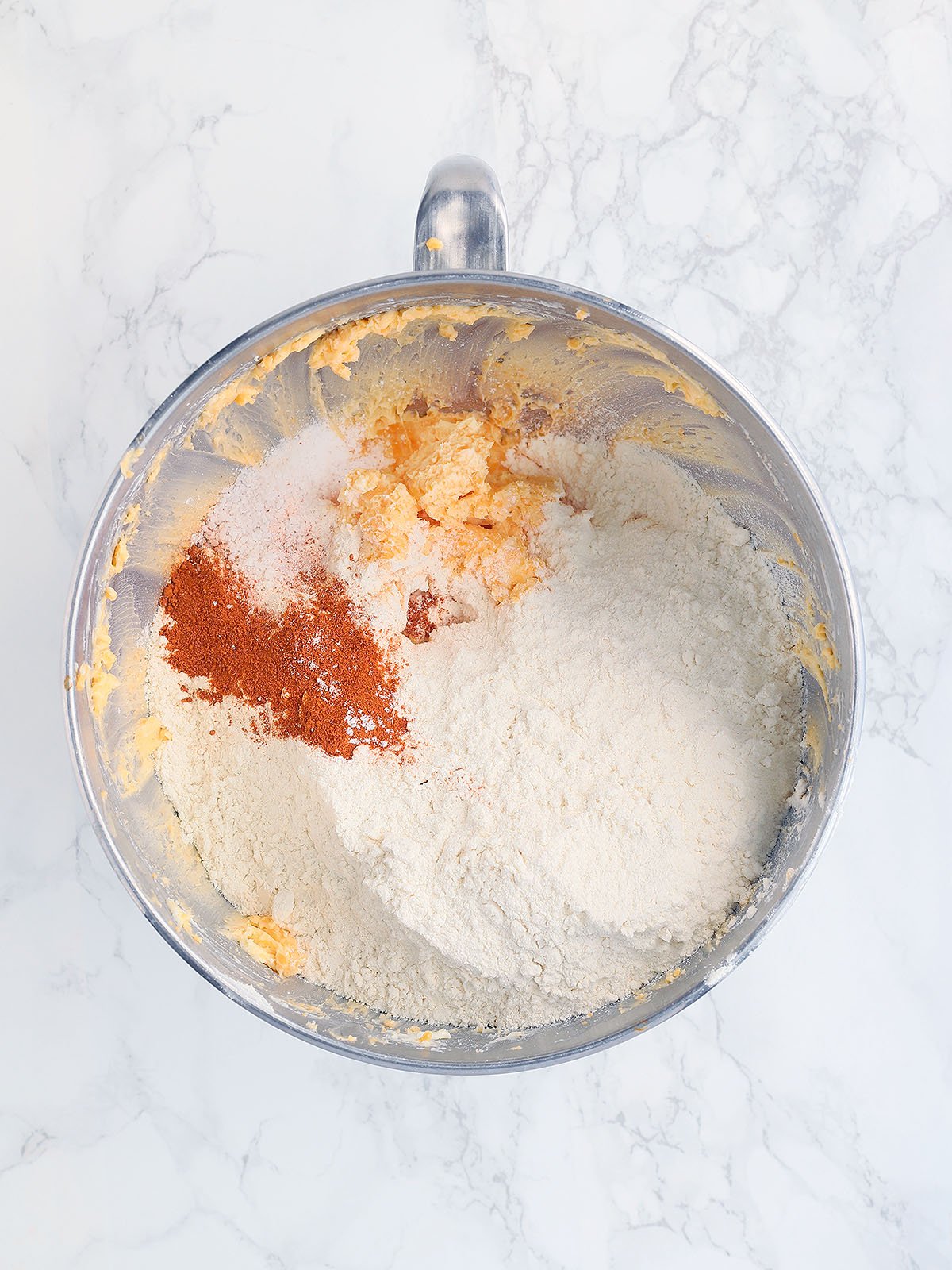 Form the Cheese Straws
I tried three different methods of forming my cheese straws. First, I rolled the dough out and cut the straws into strips. Next, I tried piping the straws using a pastry bag and at a star-shaped tip. Third, I used a cookie press with the zig zag disc.
While cutting the cheese straws into strips was the easiest method, it lacked the crunchy texture you get from the ridges formed by piping or using a cookie press. Piping turned out to be impossible. The dough is just too dense to squeeze through the little tip, even when I warmed the dough in my hands first to make it more pliable. I cookie press was the way to go, though it still took some muscle. I do recommend warming the dough by rolling it in clean hands first to make it softer. Each one of my cheese straws was between 2 ½ and 3 inches long.
Bake the cheese Straws
I recommend lining a baking sheet with either aluminum foil or parchment paper or easy clean up. I tried it with both and got similar results. No need to grease the paper or the foil. Since there is no leavening agent in these, they do not spread. I kept about ¼-inch distance between each straw.
Bake the straws in a preheated 375°F oven for 12 minutes until the straws start to turn lightly brown in some places. Allow the straws to cool on the baking sheet for about five minutes, then using a spatula, transfer them to a cooling rack to continue cooling. They cool very fast – within another five minutes they were perfect for snacking.
Storage and Freezing
Storage. The cheese straw dough can be made ahead of time. Wrap the dough in plastic wrap or seal it in a plastic freezer bag. Store the dough in the refrigerator and use it within four days. Once completely cook, baked cheese straws can be stored in an airtight container at room temperature for up to one week.
Freezing. I don't recommend freezing baked cheese straws. Because of their delicate texture, they break apart easily and could turn into crumbs from being jostled around in the freezer. Cheese straw dough, on the other hand, can be frozen. Wrap the dough in a layer of plastic wrap followed by a layer of aluminum foil. Freeze for up to three months. Allow the dough to thaw completely in the refrigerator before baking.
You Might Also Like