Last updated on March 14th, 2022
Spiced peach jello salad — made with peaches, cinnamon, and cloves — tastes like a juicy peach pie in jello form.
You don't think less of me for posting a recipe about Jello salad, do you? Growing up, we always had a Jello salad on the table during the holidays. But I feel like Jello salad has gone the route of green bean casserole, cranberry sauce in a can, and fruit cake. It's one of those traditional dishes that we make every year but that nobody wants to admit they actually like. It has become the butt of many a holiday joke. I don't care. I love this recipe.
How to Make Spiced Peach Jello Salad
Spiced peach jello salad is easy to make with a few simple ingredients. You will want to make it ahead of time, however, so that the jello has plenty of time to set up. I would give the salad at least four hours. Overnight is preferable.
First, drain a 15-ounce can of sliced peaches in light syrup. Drain the peaches, but don't discard the syrup. You'll use it later. Chop the peaches and set aside.
Next, add enough water to the reserved peach syrup to make 3/4 cup. Pour the syrup into a medium saucepan and add 1/4 cup of white vinegar, 1/2 cup white sugar, 12 whole cloves and 1/4 teaspoon of ground cinnamon. Bring everything to a boil, then reduce the heat and simmer for 10 minutes.
Strain the liquid. Reserve the peach syrup, pick out and discard the cloves (they aren't too yummy if you bite into one of those). Add enough boiling water to the strained syrup to make one cup. Add the peach gelatin to the syrup and stir until the gelatin is completely dissolved. Then add 3/4 cup of cold water and the chopped canned peaches.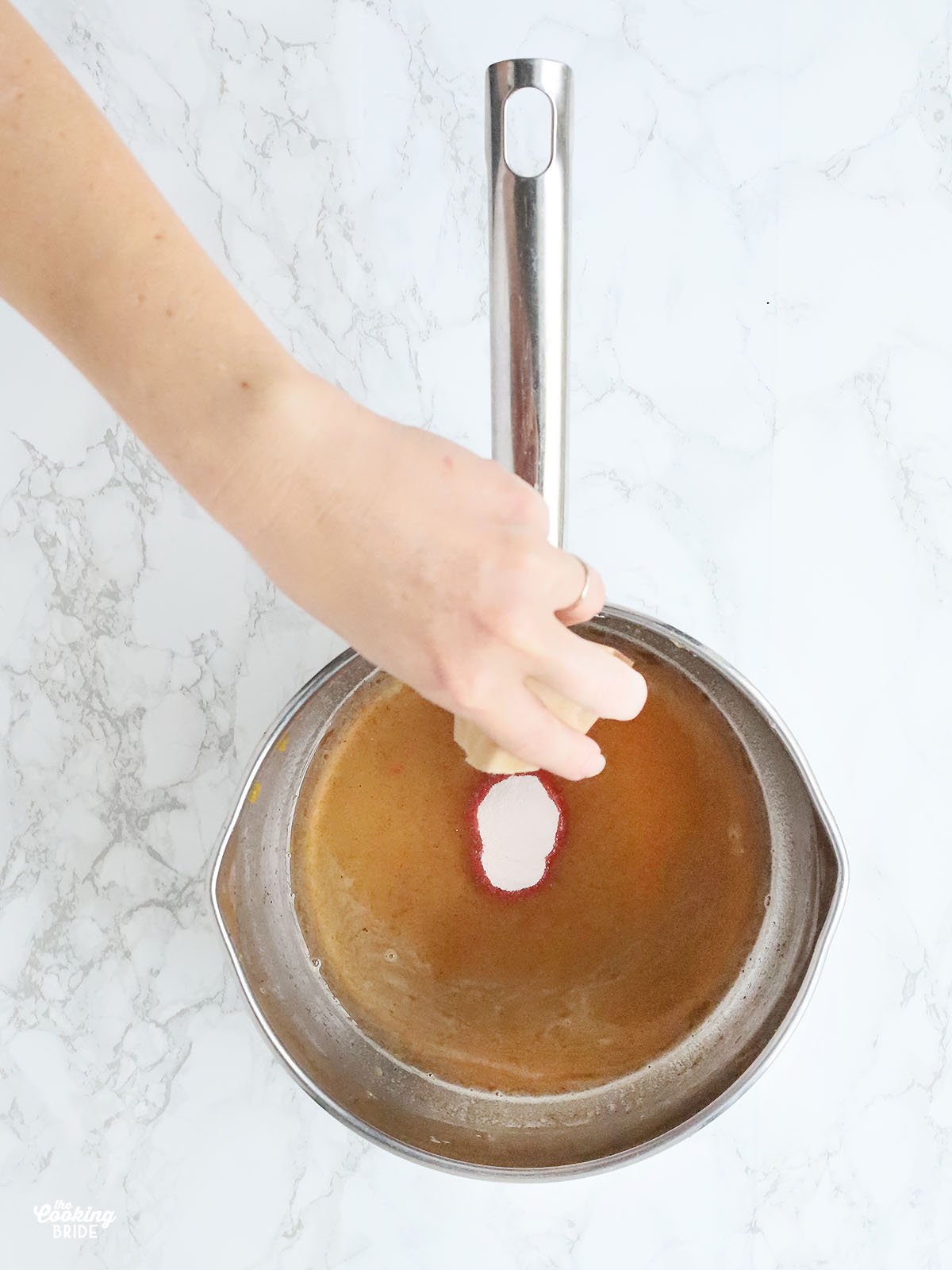 Pour the gelatin mixture and reserved peaches into a mold or individual serving dishes. Allow the jello salad to cool before placing it in the refrigerator to chill for a minimum or four hours, up to eight hours. Serve chilled with whipped cream on top.
What if my jello salad doesn't set?
More than likely the hot syrup wasn't hot enough to dissolve the gelatin. Simply pour the entire jello salad back into a saucepan and bring everything to a boil. Allow the mixture to boil for about a minute, then remove it from the heat and pour it back into the mold. Allow the jello salad to cool slightly before returning it to the refrigerator. You will need to give it another 4 hours to set.
Storage
Once the gelatin has set, cover the surface with plastic wrap to keep the top from drying out. Keep the jello salad stored in the refrigerator and consume within seven days. This recipe can not be frozen.
You Might Also Like: