Easy to make scotch egg recipe is the perfect brunch! Soft boiled eggs are wrapped in sausage, dredged in Panko breadcrumbs, the fried until golden brown. Served over creamy, buttered herb corn grits.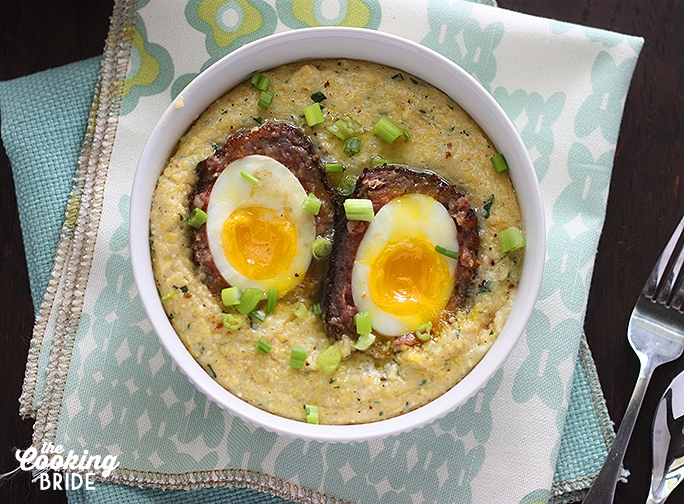 This is not a sponsored post and is no way affiliated with Delta Grind Grits.
One of our favorite restaurants in Jackson is Saltine Oyster Bar in the Fondren neighborhood. Saltine is the first place I ever tried a Scotch Egg, which in this case, is a soft boiled egg wrapped in sausage, rolled in breadcrumbs, then fried. Occasionally, I will have a meal so outstanding that I remember when and where I first tried it. Such is the case with the Scotch Egg, although the story that goes along with this one makes is hard to forget.
The Husband and I were kid-free one weekend. After working all day on Friday and then getting the kids off to their grandparent's houses, we decided to have a low-key Friday night at home, then get up Saturday morning and have brunch at Saltine. A hot breakfast a mimosas sounds SO GOOD, doesn't it?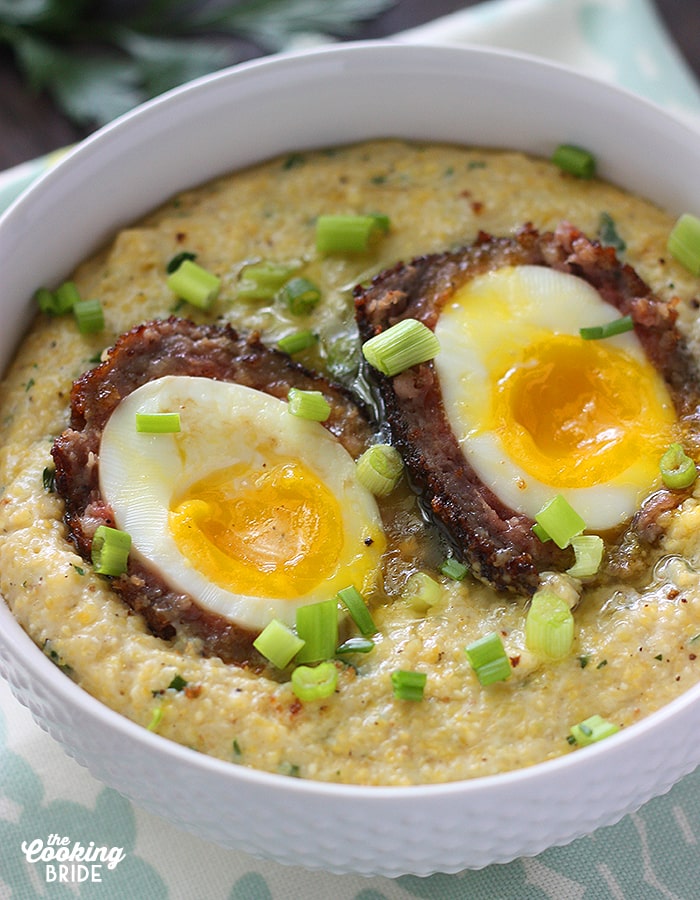 We were seated at a freestanding pug height table in the bar area. As we both looked over the menu, our waiter walks up to the table, stands directly across from me, looks me in the eye and says, "Good morning. I love you."
I was a little take aback. It's not everyday I have complete strangers walk up to me and profess their love. I figured he was joking, so I played along and said, "Well, I love you too!" He took our drink orders and walked away.
That's when The Husband turned to me with raised eyebrows and asked, "What was that all about?"
"I have no idea."
"Do you know him?"
"No, I have never seen that guy before."
"He was just hitting on you."
"No he wasn't! He was just joking."
"That guy was totally hitting on my wife right in front of me." Please keep in mind, The Husband was laughing during this conversation. He's not some insecure, possessive, jerk.
A little while later the waiter comes back with our mimosas. Then he looks at me and says, "I'm going to bring you a Scotch Egg. You need to try a Scotch Egg."
Then he points at The Husband and says, "You should try the cheese grits."
We agreed. Soon he came back and he set this down in front of me.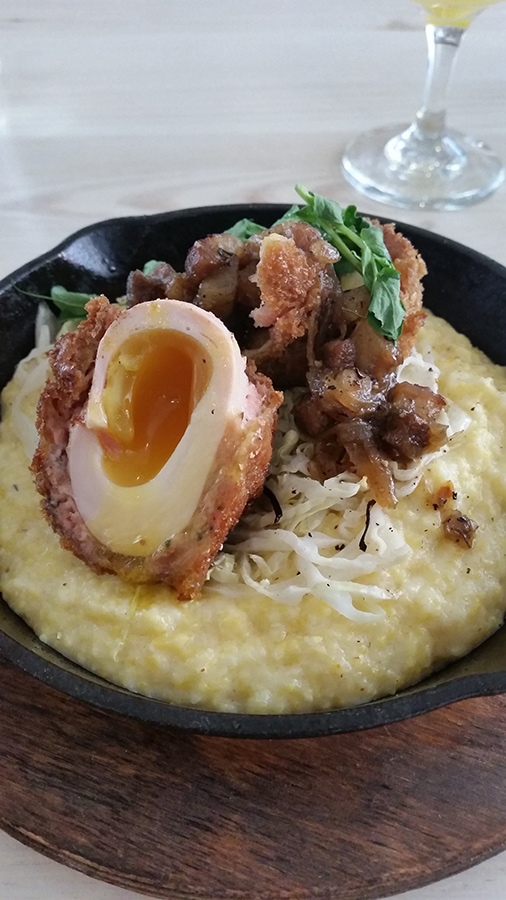 Then he sets a bowl of cheese grits down in front of The Husband. Don't get me wrong, the cheese grits were amazing. But as I cut into my Scotch Egg and the creamy yolk started oozing out, I could tell The Husband was wishing he'd gotten a Scotch Egg too.
"If he wasn't hitting on you," he ribbed, "then why didn't he offer me one of those? Sure fella, have some cheese grits."
We've been back to Saltine since, but I don't know what happened to my admirer. Regardless, it gave us a funny story that we talk about every time I make these.
But getting to these eggs. Before I made them, I thought they would be difficult. Nope, turns out they are super easy.
First, boil your eggs. I opted for soft-boiled because I love that oozing center. Simply boil your eggs for seven minutes, then immediately immerse in cold water.
Then I roll out my breakfast sausage to about ¼-inch thickness on a piece of waxed paper. Carefully peel your eggs. Then place them, one at a time, on top of the sausage pancake you just made and gently roll them up until they are complete cocooned in the sausage. Trim off any excess, pinch together any seams, them even them out by rolling them between your palms. All that's left is to roll them in bread crumbs and fry them up. It doesn't take long to cook the Scotch Eggs at all. The center stays soft and runny, just like I like it.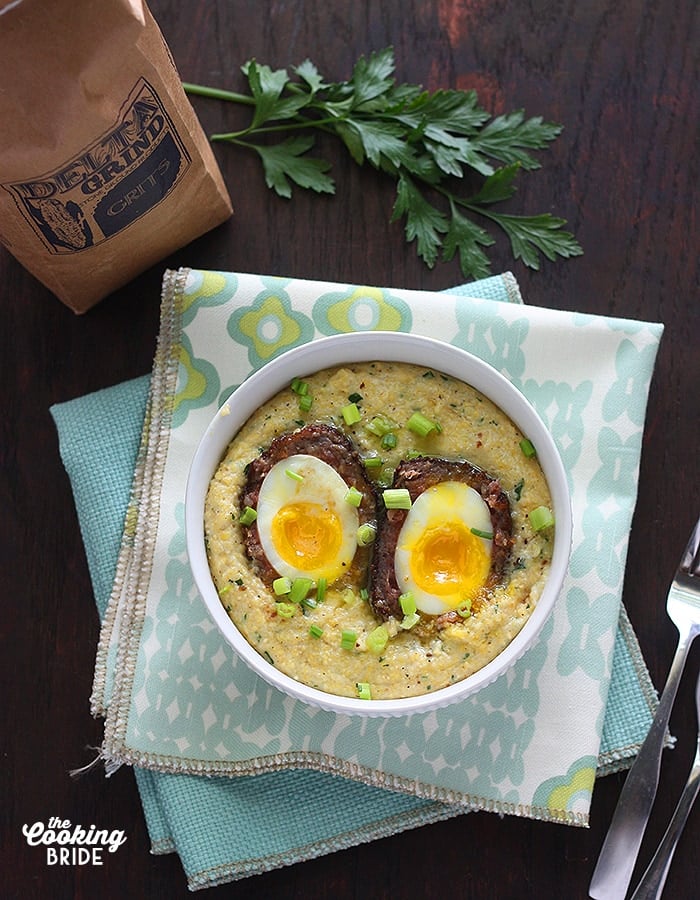 Saltine serves their Scotch Eggs over grits, so I decided to do the same. I prepared buttered herb Delta Grind grits. Delta Grind is a local purveyor of stone ground yellow corn grits that I purchase at my local farmer's market. These are not the mushy quick-cooking grits you find at the grocery store. It's like comparing minute rice to risotto. These stone ground grits take a little longer to prepare, but it's completely worth it because they are creamy and so flavorful without a lot of seasoning.
A word of caution – Scotch Eggs are really FILLING! If you don't have a big appetite, you might want to share. Now who you share it with, I'll leave that up to you.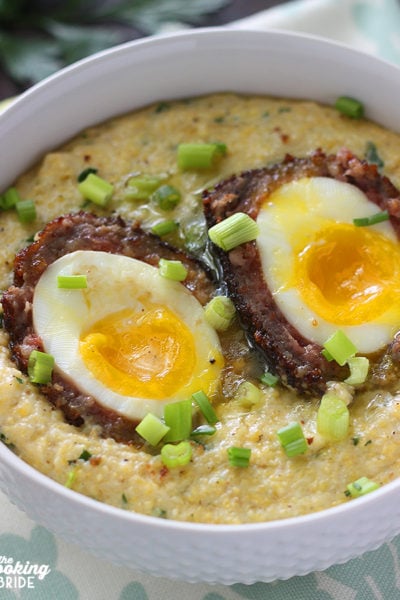 Scotch Eggs with Buttered Herb Grits
Easy to make scotch egg recipe is the perfect brunch! Soft boiled eggs are wrapped in sausage, dredged in Panko breadcrumbs, the fried until golden brown. Served over creamy, buttered herb corn grits.
Ingredients
For the Scotch Eggs:
6

large eggs

2

12 oounces each packages of breakfast sausage, any flavor

1

cup

panko bread crumbs

Oil for frying
For the Buttered Herb Grits:
1

cup

chicken stock

2

cups

water

1

cup

heavy cream

2

teaspoons

salt

½

teaspoon

pepper

1

cup

yellow stone ground grits

2

tablespoons

chopped fresh parsley

1

tablespoon

fresh thyme

3

tablespoons

unsalted butter

2

– 3 green onions

sliced
Instructions
For the Scotch Eggs:
Bring a large pot of water to a boil. Reduce heat to medium. Gently place eggs in the water and boil for 7 minutes. Immediately immerse with cold water. Once the eggs have cooled, gently peel the shells.

Roll the sausage out onto waxed paper until it is about ¼ inch thick. Place one peeled egg along the edge of the sausage "pancake." Gently lift the waxed paper and roll up the sausage around the egg. Trip any excess of the ends and seal any seams. Carefully roll the egg between your palms to even it out. The egg should be completely encased in the sausage.

Roll the eggs in the breadcrumbs. At this point, set aside and start working on the grits.
For the grits:
Combine all the liquid ingredients, salt and pepper in a medium saucepan. Bring to a boil.

Stir in the grits. Cover and reduce heat to a simmer. Cook for 30 minutes, stirring occasionally.

In the meantime, heat the oil in a large skillet over medium high heat. Once the oil is hot, fry the Scotch Eggs, two at a time, on all sides until the outside is brown and crispy and the sausage is cooked through, about 5-7 minutes. Repeat with the remaining eggs. Drain on paper towels.

Remove the grits from the heat. Stir in herbs and butter. Heat though until butter is melted.

Ladle grits into a bowl. Top with a Scotch Egg. Sprinkle with sliced green onions.