Last updated on June 28th, 2023
Asian pork kebabs are glazed in hoisin sauce, chili garlic sauce, honey, and rice vinegar then skewered and grilled for a unique flavor.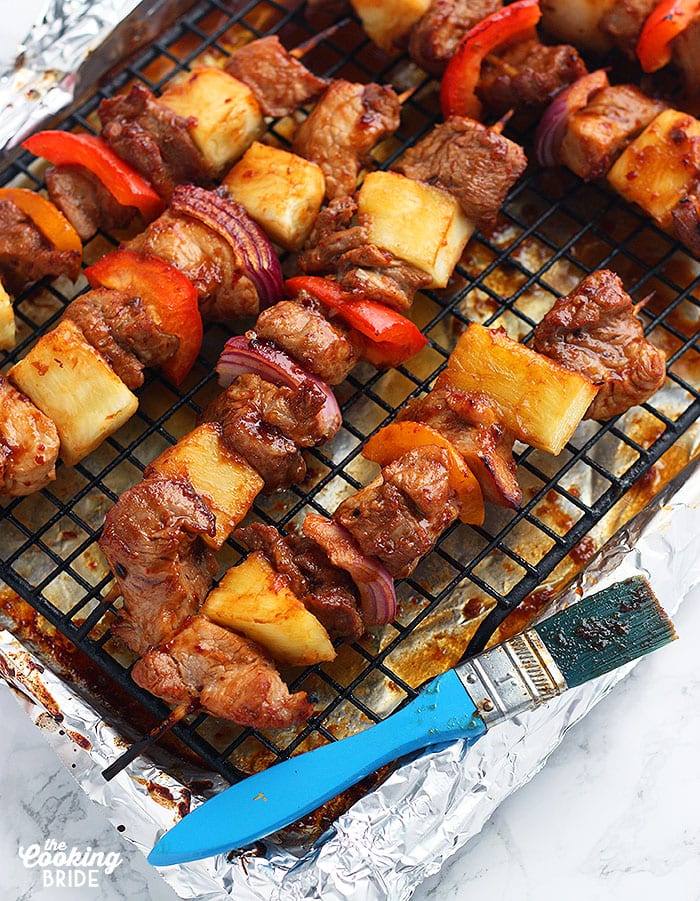 This post may contain affiliate links. Click here to learn more about how affiliate links are used on this site.
I don't know what it is about cubes of sliced meat and vegetables cooked on a skewer that makes it taste better! Sometimes I like to deviate from the "plain old" of normal weeknight meals and mix it up with a fun shish kebab. The marinade for this recipe is loaded with Asian flavors with a spicy kick.
Where did the shish kebab originate?
Shish kebabs are more than just a backyard barbecue favorite. Like so many dishes of yore, the kebab came about out of necessity. It originated in the late 1300's by Turkish soliders who used their swords to grill meat the battlefield. Thank goodness someone eventually invented the skewer.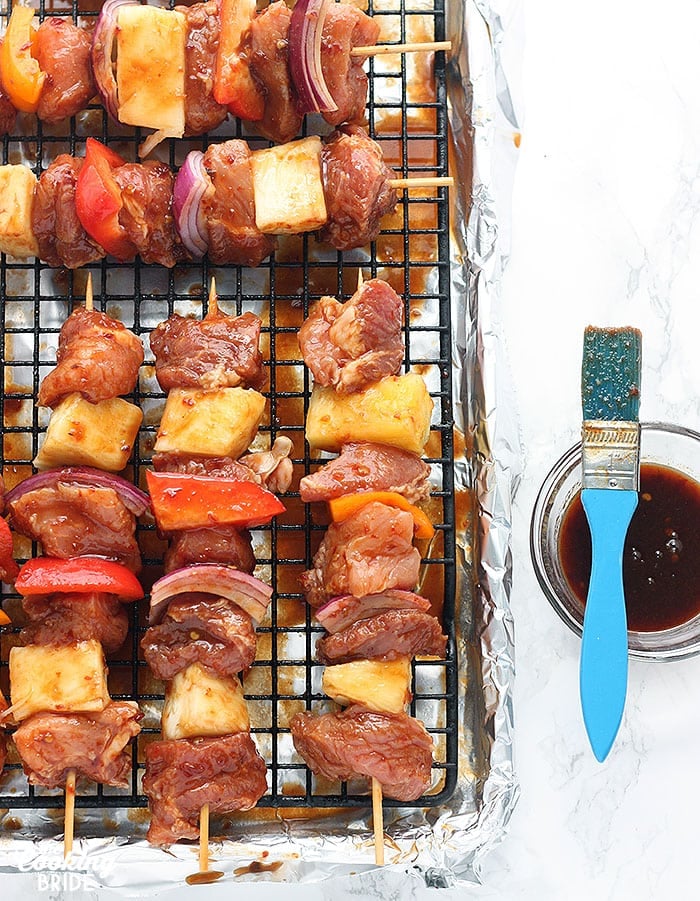 How to Make Asian Pork Kebabs
It starts with a simple marinade. If you don't cook a lot of Asian food, you may not have these in your cabinet already. However, everything should be easily accessible in the Asian or International foods aisle of your local grocery store.
Hoisin sauce – a thick dark brown sauce made from soybeans, vinegar, sugar, garlic, and various spices. It has a distinct sweet and salty flavor.
Chili Garlic Sauce – a blend of red chili pepper, garlic, salt, sugar and vinegar ground to a fine paste. Consider it a not-so-distance cousin to Sriracha.
Rice vinegar – also known as rice wine vinegar. It's made by fermenting the sugars in rice. It has a milder flavor than plain distilled white vinegar.
Sesame oil – a vegetable oil derived from sesame seeds. I love adding a drizzle to my dishes to add a slight nutty flavor.
I prefer to make this when pork loin goes on sale. It's much more budget friendly than the more expensive pork tenderloin. Simply trim any excess fat from the roast with a good, sharp boning knife. Then cut the meat into 1 – 1 ½ inch cubes.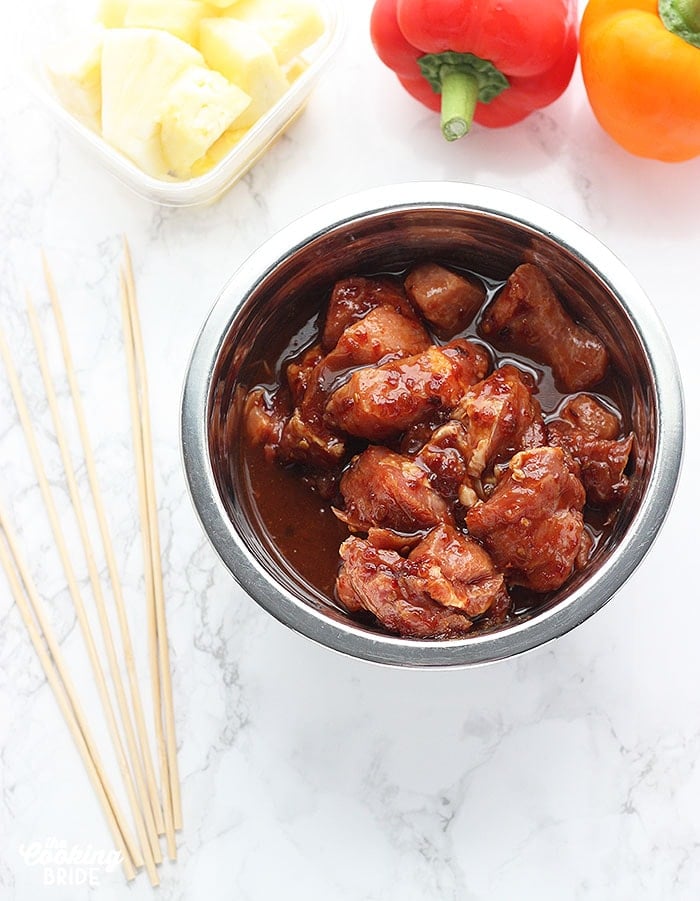 Whisk all your marinade ingredients together in medium mixing bowl. If you have littles, you may want to cut back or completely omit the chili garlic sauce – it can be pretty spicy. Trust me, I made the mistake of making the recipe as written and serving it to my kids. While The Husband and I thought it was fine, I got a lot of complaints from the rugrats that it was too spicy.
Dump your cubed pork into the marinade and stir to coat. I recommend leaving it to marinate for a couple of hours, but you can marinate it for up to eight hours.
I chose to use sweet red and orange bell peppers and purple onions for color. But really you can use any variety of your favorite veggies you want.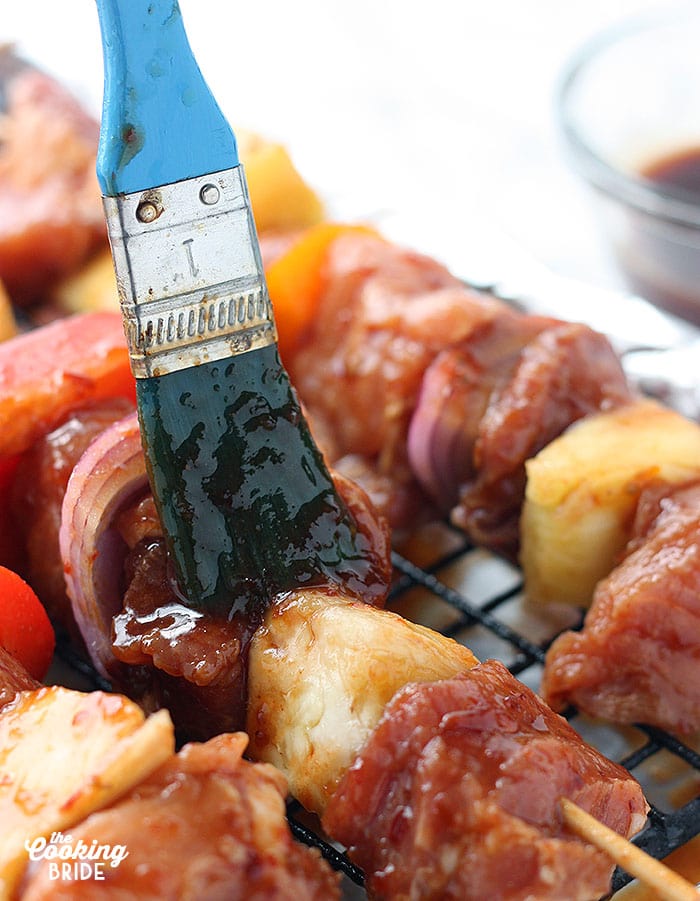 Don't skip the pineapple! Some people like to turn their nose up at pineapple in savory dishes. But trust me, the sweet, juicy pineapple chunks work so well when combined with the spicy, salty pork. I like to use the fresh, precut chunks sold in the produce section because it's much bigger than the stuff in the can. Remember, you have to be able to drive a skewer through each piece!
Asian pork kebabs are perfect for the grill, but they also cook up well in the oven! A few minutes under the broiler and dinner is served. I like to serve these with salted, steamed edamame (check the frozen veggies section at the grocery store), rice, or a heap of garlic sesame noodles.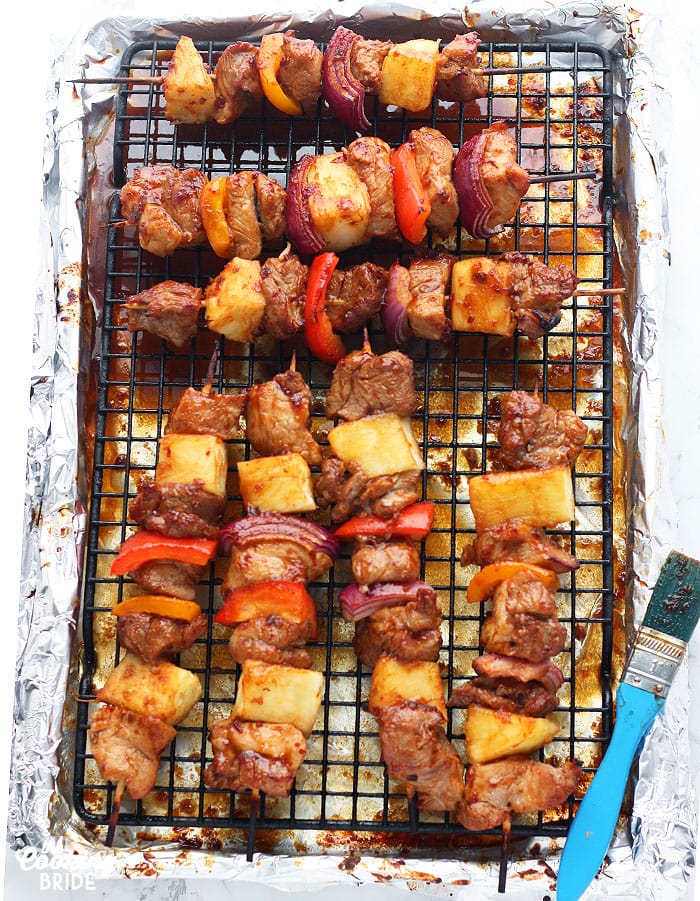 Asian Pork Kebabs
Asian pork kebabs are glazed in hoisin sauce, chili garlic sauce, honey, and rice vinegar then skewered and grilled for a unique flavor.
Ingredients
1

(8 oz.) jar hoisin sauce

¼ – ½

cup

chili garlic sauce

add more or less depending on your heat tolerance

¼

cup

of honey

¼

cup

rice wine vinegar

2

tablespoons

sesame oil

2

pounds

pork loin

trimmed and cut into 1 ½ inch cubes

10

ounces

fresh pineapple chunks

1

red bell pepper

cut into 1 ½ inch pieces

1

yellow or orange bell pepper

cut into 1 ½ inch pieces

1

small purple onion cut into 1 ½ inch wedges
Instructions
Whisk together the hoisin sauce, chili garlic sauce, honey, rice vinegar and sesame oil in a medium bowl. Set ¼ cup of the marinade aside for basting.

Add the pork loin to the marinade. Stir to coat. Marinate in the refrigerator for at least two hours or up to eight hours.

If using wood skewers, be sure to soak them in water 30 minutes before cooking.

Preheat a grill to medium-high or preheat your broiler.

Thread meat, vegetables, and pineapple onto skewers. Discard any remaining marinade in the bowl.

Grill or boil for seven minutes. Turn the kebabs over and baste with the reserved marinade. Grill or broil for an additional seven minutes.
Nutrition
Serving:
1
cup
|
Calories:
207
kcal
|
Carbohydrates:
3.2
g
|
Protein:
29
g
|
Fat:
8.3
g
|
Saturated Fat:
2
g
|
Polyunsaturated Fat:
1.1
g
|
Monounsaturated Fat:
4.5
g
|
Cholesterol:
78
mg
|
Sodium:
320
mg
|
Potassium:
533
mg
|
Fiber:
0.7
g
|
Sugar:
1.3
g
|
Calcium:
17
mg
|
Iron:
1.5
mg