Last updated on January 27th, 2022
Red eye gravy is a simple Southern gravy made from pan drippings and black coffee. Serve alongside a slice of country ham and homemade buttermilk biscuits.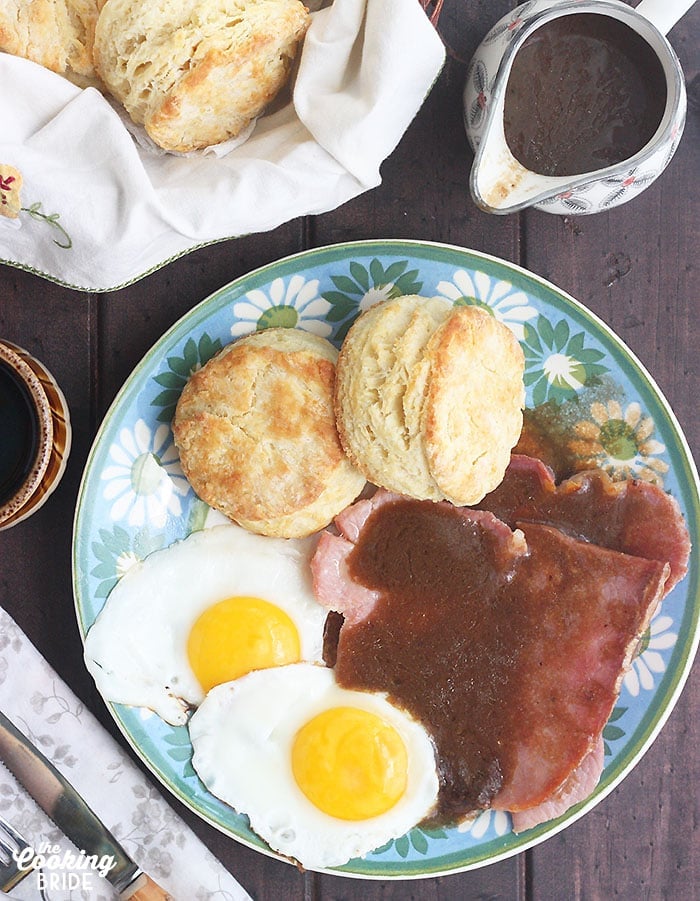 This post is sponsored by Clifty Farm. The opinions contained within are my own.
This post may contain affiliate links. Click here to learn more about how affiliate links are used on this site.
The basis for a lot of Southern cuisine is very simple dishes that can feed a family for the least amount of money. For example, a traditional Southern breakfast usually includes some sort gravy. Gravy not only helped to stretch a meal, but it also hid the fact that some of the elements may be less than fresh.
You're probably familiar with white sausage "sawmill" gravy, which is a cream gravy made from sausage or bacon drippings, flour and milk. However, you may be less familiar with red eye gravy.
What is red eye gravy?
Red eye gravy is a simple sauce made from pan drippings and black coffee. Also a Southern staple, it's a thin gravy typically served alongside country ham. You might also hear it called poor man's gravy, bottom sop, red ham gravy, bird-eye gravy, or ham gravy. There are several theories as to how the name "red eye gravy" got its name. One, as the gravy cools the fat begins to separate and rise to the top, forming a skin on the surface that resembles a red eye.
The second theory involves President Andrew Jackson. Before he became the 7th president of the United States, Andrew Jackson served as a general in the U.S. Army. During his time as a general, Jackson asked his cook – who was supposedly an alcoholic – to make him a gravy as red as his bloodshot eyes.
I prefer the third theory, which was relayed to me by The Husband's grandmother. She was raised on a farm in South Mississippi. According to her, red eye gravy earned its nickname because farmers had to rise before the sun came up in order to start their day on time. The addition of the coffee to their morning gravy gave them the boost they needed to start their day with a full stomach and a clear head.
What is country ham?
Country ham is very different from traditional "city" ham that you're used to purchasing from the deli or serving on a holiday table. City ham is wet cured, which means it has been soaked in a mixture of salt, water and spices, then smoked.
Country ham is dry-cured. Instead of brining in water, it's coated with a dry mixture salt and seasonings, smoked, then aged for several months or sometimes years. Country ham is usually sold and consumed in thick slices or as a half portion.
About Clifty Farm Country Ham
Clifty Farm, based in Paris, Tennessee, is a fourth-generation producer of hickory smoked country ham. The Murphey family cured their …first ham over 70 years ago and have been selling ham in retail and restaurants ever since. Their products can be found in retail stores throughout the country. I purchase mine at my local Kroger.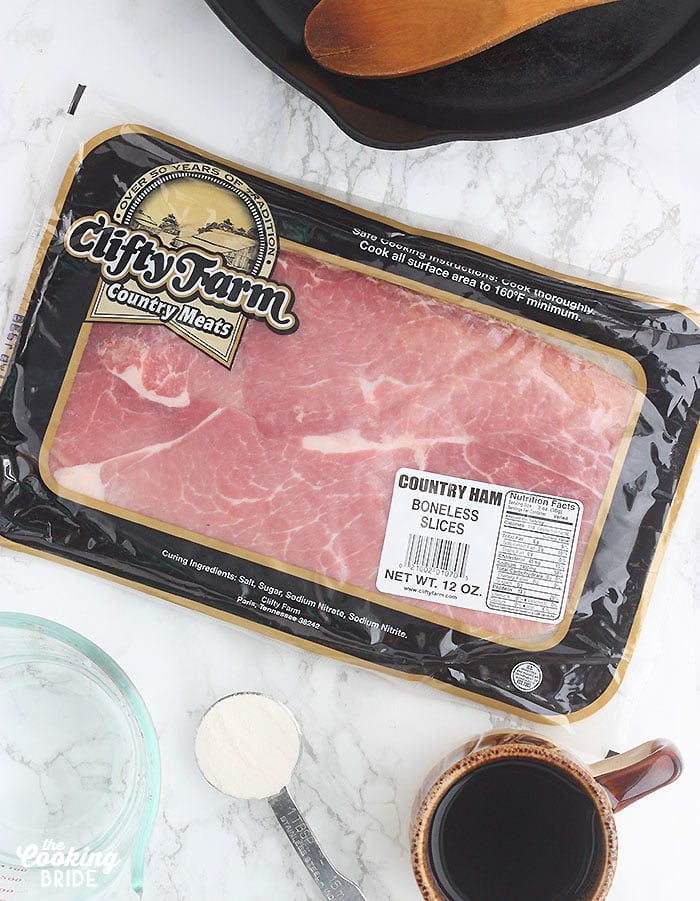 What makes Clifty Farm Products different?
In order to be considered a true country ham, the meat has to be aged for at least 70 days. Clifty Farm ages their ham for 90 days – a full 20 days longer – to ensure a truly delicious and authentic country ham flavor.
Speaking of flavor, I noticed right away that Clifty Farm country ham tasted different than other country ham I've eaten in the past. It had the salty flavor characteristic of country ham, but it's not so salty that was over bearing. It had a smooth, slightly smoky flavor that was perfect just eaten on its own.
How to cook country ham
Country ham can be pan fried or baked in the oven. Since we're going to use pan drippings to season our red eye gravy, we're going to pan fry it on the stove.
Too salty? Give it a soak.
I personally did not find Clifty Farm country ham too salty for my taste. However, soaking the ham slices in a little water beforehand will remove some of the saltiness. Simply lay the ham slices in a flat dish, cover them with cool tap water and let them soak for 30 minutes. Pat them dry with a paper towel before frying.
Prevent the ham from curling
One common problem with cooking ham slices in a skillet is that the edges tend to curl up. That's due to the ring of fat along the edges. As it heats, the fat shrinks up and causes the edges to curl. This is easily remedied by taking a pair of kitchen shear and cutting small notches, about 1/2-inch or so, along the edge.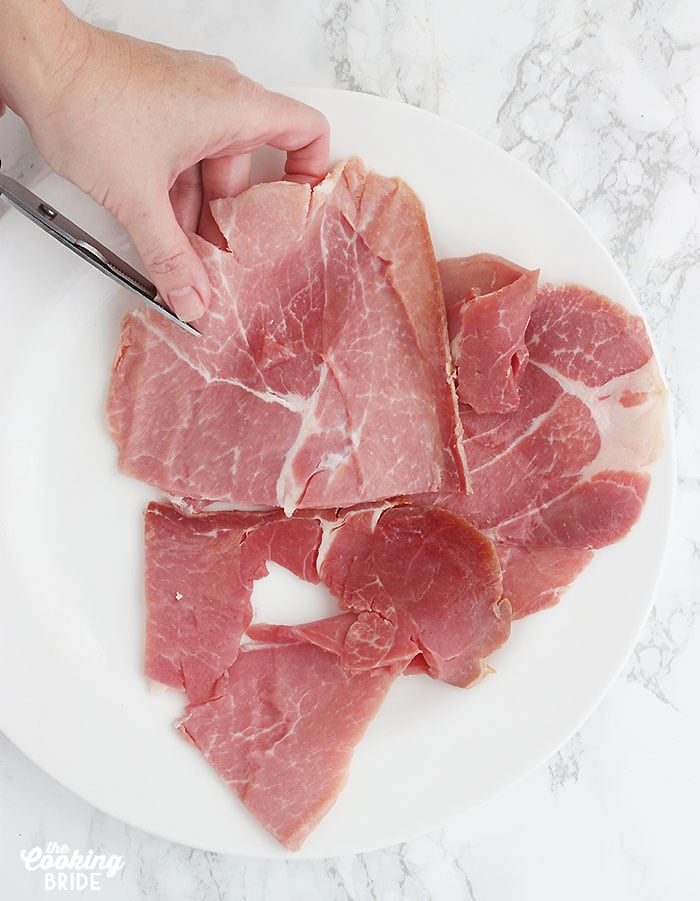 How to pan fry country ham in a skillet
I like to use a large cast iron skillet for frying. Even though I keep my pans well-seasoned, I still like to melt a little nob of butter, about one tablespoon, to the pan before I get started. Heat the skillet over medium heat.
If the ham slices are too large, trim them down so they can lay flat on the bottom of the skillet. You may need to work in batches. You want the meat to sizzle as soon as it touches the hot skillet. If it doesn't, remove the ham from the skillet and wait a few more minutes.
Country ham does not take long to fry, about two minutes on each side. Once cooked, the ham will turn pale pink and start to brown a little on the edges. It's important not to overcook the ham or else it can become tough.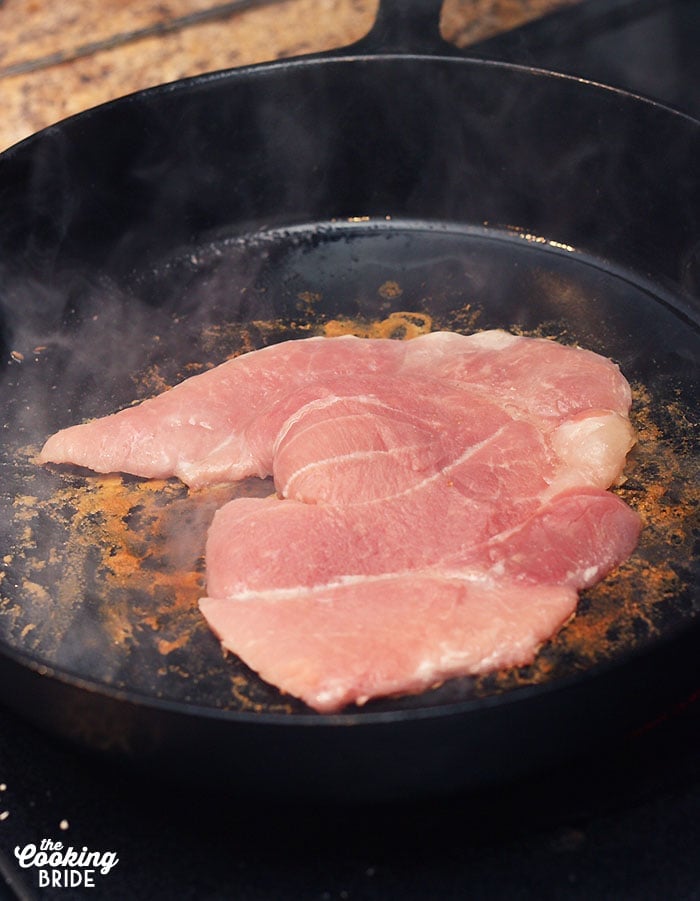 How to Make Red Eye Gravy
Once you've fried all the ham slices, remove them from the skillet and set them aside. Do not drain the grease! If you don't have at least two tablespoons of grease left in the pan, add a little bacon grease or cooking oil to the pan.
Add the coffee
Next add ¾ cup of black coffee. The liquid will probably bubble up a bit, that's fine! Use a wooden spoon or spatula to scrape up any drippings from the ham that got stuck to the bottom of the pan.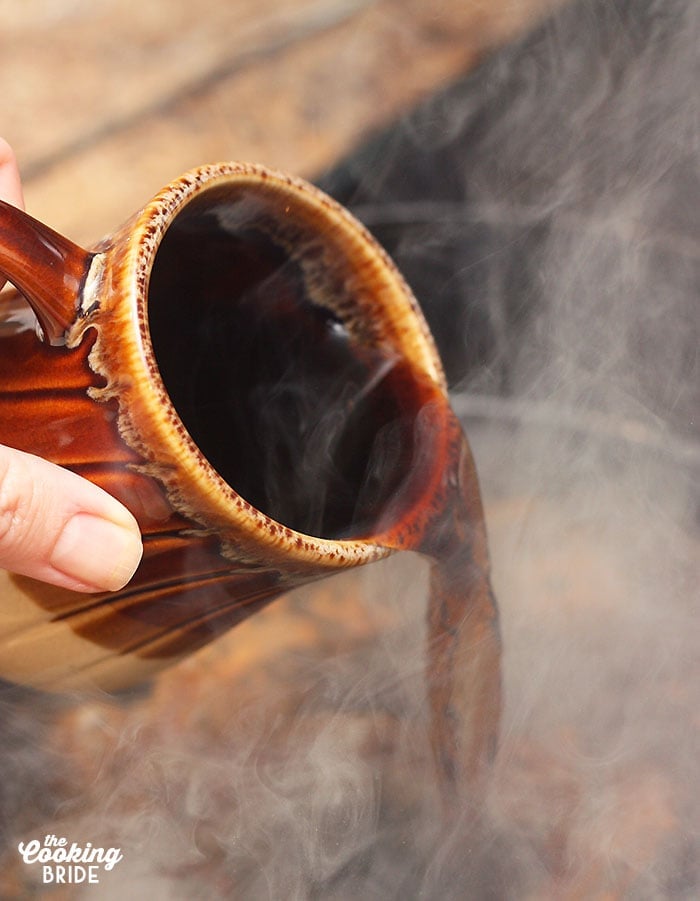 Unless you just swear by a certain brand of coffee, generic store brand is just fine here. Save your expensive stuff for the coffee pot. I do want to add one additional side note, make sure you're using unflavored coffee. On the weekends, I like to treat myself to a cup of Snickerdoodle flavored coffee from a local purveyor. The Husband, without thinking, reach for a cup of Snickerdoodle coffee to add to his reg eye gravy and … let's just say it had an interesting flavor.
Next, pour in ¾ cup of water. Allow the gravy to simmer in the skillet for about five minutes. This gives the gravy a chance to reduce and thicken. Taste the gravy and season with salt and pepper to your preference. Keep in mind that because of the salt in the country ham, you may not need to add any salt at all.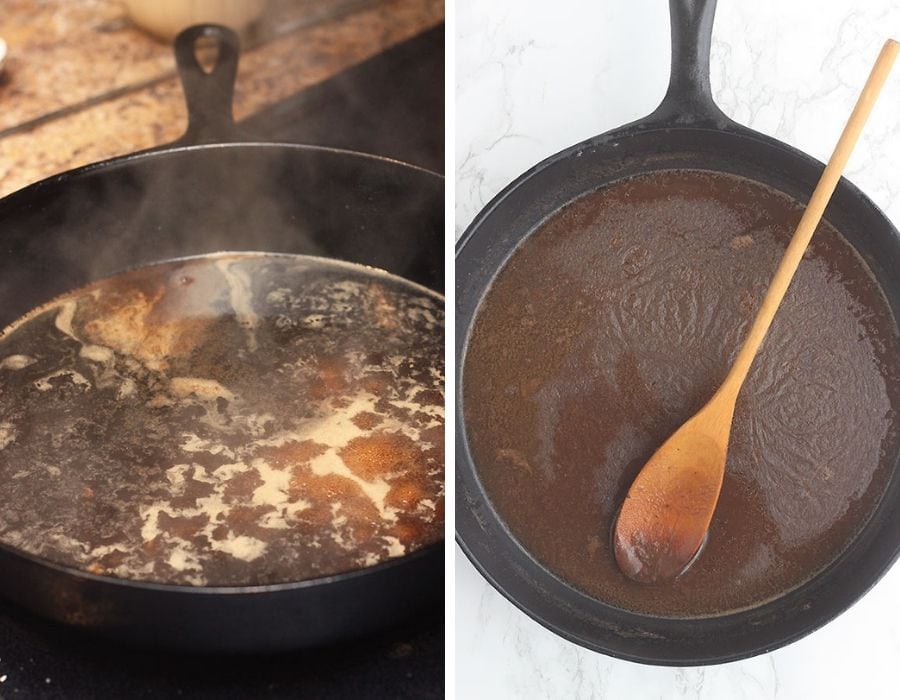 How to Serve Country Ham and Red Eye Gravy
Pile several slices of country ham onto a plate and drown it in the red eye gravy. In my opinion, country ham is best served with a few fried eggs and homemade buttermilk biscuits on the side.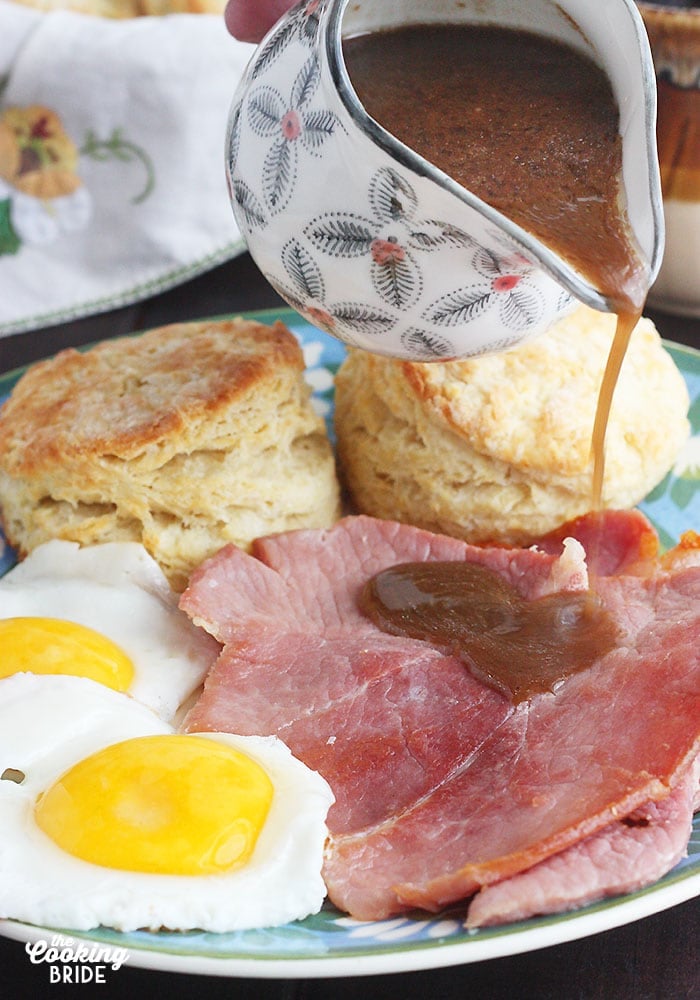 More Clifty Farm Recipe Ideas:
You Might Also Enjoy:
Country Ham with Red Eye Gravy
Red eye gravy is a simple Southern gravy made from pan drippings and black coffee. Serve alongside a slice of country ham and homemade buttermilk biscuits.
Ingredients
Cooking oil or cooking spray

3/4

cup

black coffee

3/4

cup

water

Salt and ground black pepper
Instructions
Heat one tablespoon of cooking oil in a large skillet over medium heat.

If needed, cut the ham down into smaller pieces so that it will fit into the skillet. Do not trim off the fat around the edge. Using a knife or kitchen shears, cut small slits around the edge of the ham to prevent the ham from curling.

Pan fry the ham slices in the hot oil about two minutes per side until the ham turns light pink and is slightly browned. Remove the ham from the skillet and set aside. Do not strain the grease.

Strain all but two tablespoons of the remaining grease from the pan. If you don't have enough grease to make up two tablespoons, add a little cooking oil or bacon grease to the skillet.

Pour in the black coffee. While the coffee bubbles and steams, scrape up any bits that have stuck to the bottom of the pan.

Add the water. Bring the mixture to a boil and allow it to reduce down for about five minutes.

Season the gravy with salt and black pepper to taste.
Nutrition
Serving:
4
ounces
|
Calories:
48
kcal
|
Protein:
2.4
g
|
Fat:
5.2
g
|
Saturated Fat:
1.9
g
|
Monounsaturated Fat:
2.5
g
|
Cholesterol:
4
mg
|
Sodium:
44
mg
|
Potassium:
68
mg
|
Calcium:
4
mg