Last updated on May 24th, 2023
Homemade pepper jelly, a mixture of sweetness and heat, is easy to make and perfect served as an appetizer for entertaining or as a glaze for roasted meats.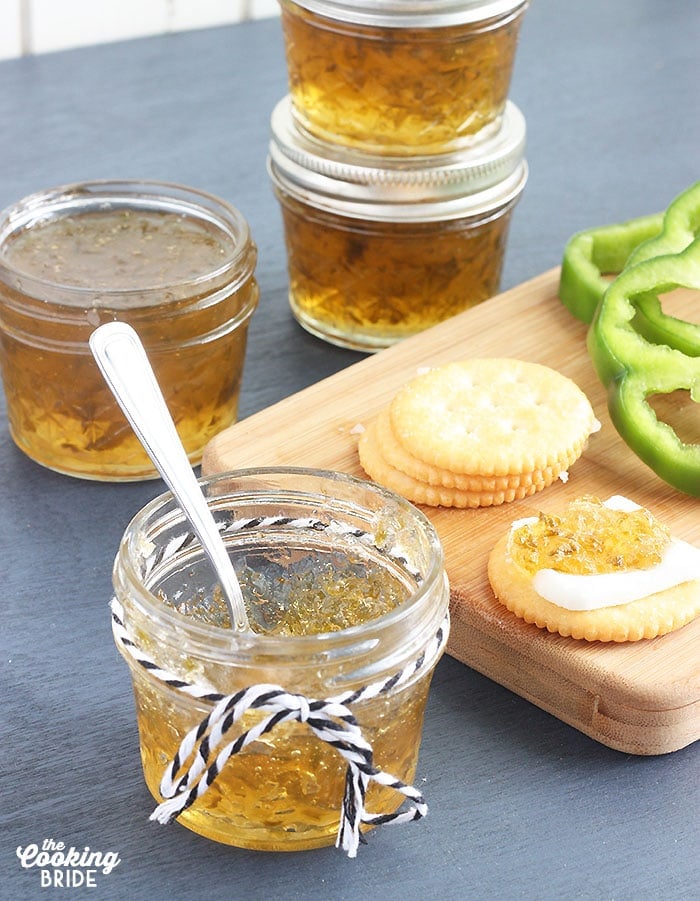 This post may contain affiliate links. Click here to learn more about how affiliate links are used on this site.
If you've never tried pepper jelly, it's one of those things that might leave you scratching your head in confusion. It's not a savory jelly. It's sweet. But once you try it for the first time, you'll understand. It's amazing.
What is Certo?
Most jam and jelly recipes call for the addition of pectin, a naturally occurring soluble fiber that acts as a thickener. Most modern homemade jam recipes call for powdered pectin. However, when commercial pectin first came on the market in the early 1900's, it was sold as a liquid.
If you're working from an older recipe, it will probably call for a "bottle of Certo" or a "bottle of liquid pectin." Liquid pectin today is sold in pouches. Two pouches equals one bottle of liquid pectin.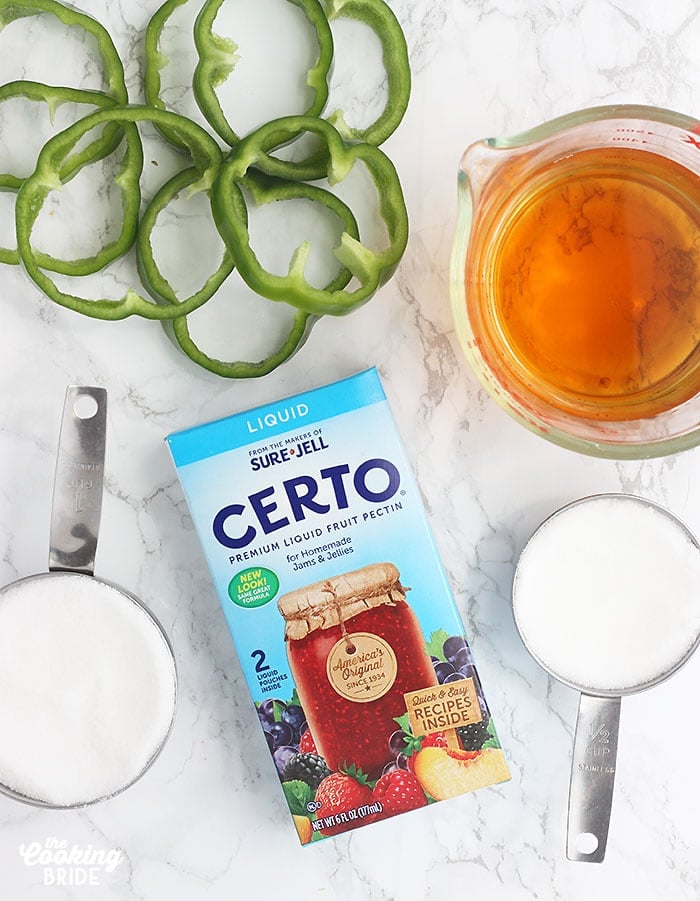 The second difference between liquid and powdered pectin is when you add it to the recipe. Powdered pectin is always added at the beginning of the cooking process. Liquid pectin is added at the end.
Is there an advantage to using one over the other? Not that I have found. But I would stick to what the recipe calls for. Most likely a recipe that calls for liquid pectin has been written specifically for that. Trying to substitute powdered pectin may not produce the same results.
How to Make Pepper Jelly
I plant green bell peppers in our summer garden every year because I use them more in my cooking. I freeze most of our harvest, but I like to reserve one or two for a batch of pepper jelly. You don't have to stick to green – feel free to use any color bell pepper you like!
Depending on size, you'll need about 1-2 whole bell peppers. Dice them up until you have enough to make one cup. Place the diced peppers into a blender or food processor, then add 1 ½ cups of cider vinegar and one tablespoon of hot sauce. Pulse for a few minutes.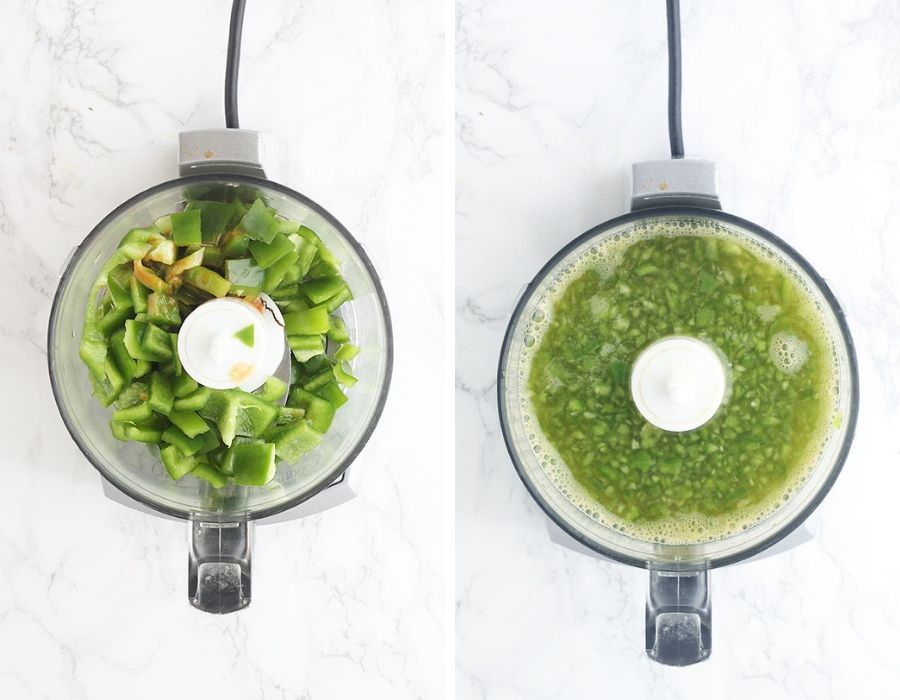 I like to leave some chunks of pepper in my jelly because I think it looks pretty. But you can puree the peppers until they are completely smooth. If you would like a hotter jelly, give it a quick taste at this point and add more hot sauce as needed to suite your taste.
Add the pepper mixture to a medium saucepan. Whisk in three cups of white granulated sugar and bring to a boil. Once the mixture reaches a hard rolling boil, meaning the liquid doesn't stop boiling when you stir it, remove it from the heat. Allow the jelly to sit for 10 minutes.
If any foam has formed on the top of the jelly, skim that off with a spoon and discard. The foam won't harm you, but it can cloud the jelly and prevent that crystal clear texture that's so desirable. Add the liquid Certo, place the pot back on the burner and boil for one more minute.
How to Store Pepper Jelly
If you're planning to store the pepper jelly in jars, immediately fill the jars, leaving a ½-inch gap (headspace) between the surface of the jelly and to top of the jar. Let the jelly set for at least 24 hours to thicken.
Pepper jelly can be stored in a lidded container in the refrigerator for up to three months. It can also be frozen for up to a year.
Pepper jelly can also be preserved for long-term storage using the water bath canning method. If you want to learn more about water bath canning, check out my post here where I go into great detail about how it's done. You'll want to process the jars of pepper jelly for 10 minutes.
What do you eat pepper Jelly with?
This is the question I get asked most often – what do you use pepper jelly for? Here in the South, pepper jelly is most often served as an appetizer, poured over a block of cream cheese and served with crackers.
Heat the pepper jelly up for a few seconds in the microwave and use it as a glaze for chicken, pork chops or ham.
Warm pepper jelly also makes a great glaze for meatballs!
Skip the mayo and try pepper jelly on your turkey or ham sandwich.
Take your bagels and cream cheese to the next level.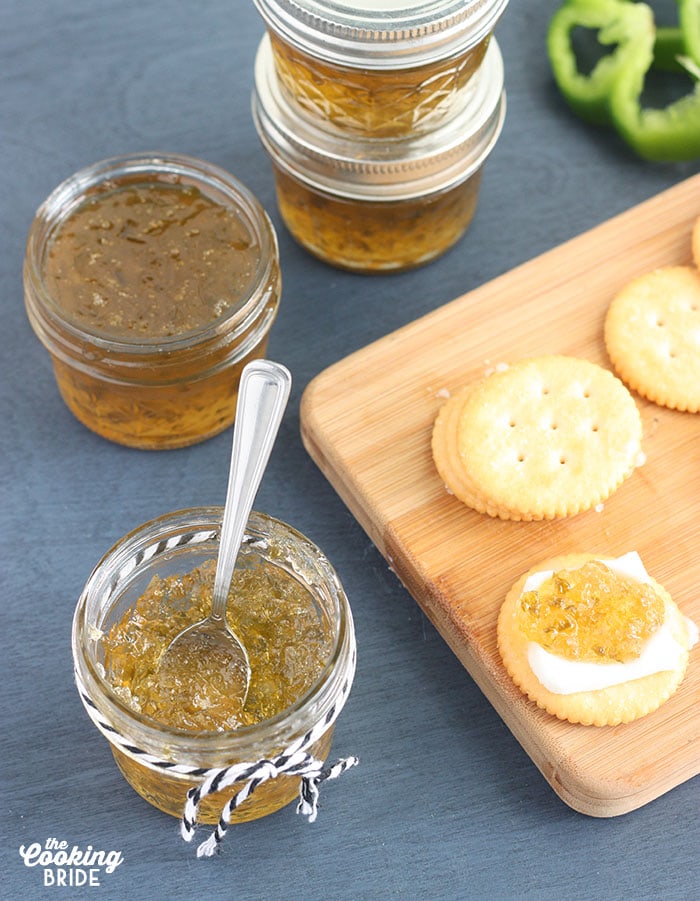 Try homemade pepper jelly on these recipes:
You Might Also Enjoy:
Pepper Jelly
Homemade pepper jelly, a mixture of sweetness and heat, is easy to make and perfect served as an appetizer for entertaining or as a glaze for roasted meats.
Ingredients
1

cup

minced bell peppers

(1-2 whole peppers, seeded)

1

tablespoon

hot sauce

1 ½

cups

apple cider vinegar

3

cups

white granulated sugar

2

ounces

(3 ounces each) liquid pectin

such as Certo
Instructions
Place peppers, hot sauce and cider vinegar in a blender or food processor. Blend until peppers are liquified.

Pour pepper mixture into a medium saucepan. Whisk in the sugar. Heat the mixture over medium high heat until it reaches a hard-rolling boil, meaning it does not stop boiling after it is stirred. Keep boiling for one minute.

Remove the pan from the heat and allow it to set for 10 minutes. Skim off any foam.

Stir in the liquid pectin. Bring the mixture back to a boil for one minute.

Pour the jelly into clean, sterilized jars. Jelly will continue to thicken for 24 hours.
Nutrition
Serving:
1
tablespoon
|
Calories:
50
kcal
|
Carbohydrates:
13
g
|
Sodium:
55
mg
|
Sugar:
13
g
|
Vitamin C:
5.8
mg