Last updated on April 2nd, 2023
Molasses glazed cast iron salmon, glazed with molasses, bacon and balsamic vinegar, is a delicious meal you can whip up in under 30 minutes.
This post may contain affiliate links. Click here to learn more about how affiliate links are used on this site.

Several years ago, I was given the opportunity to interview Mississippi chef Regina Charbonneau at her home in Natchez, Miss. for a local magazine. Before leaving, Regina gave me a copy of her (at the time) latest cookbook, Regina's Table at Twin Oaks. Pan Seared Salmon with Bacon-Molasses Vinaigrette was the first recipe I tried from the book. Since then, I've made my own tweaks here and there to accommodate what my family likes. Molasses is not something I typically use for savory dishes, but I love the malty sweetness it lends to the glaze, which pairs perfectly with the pan seared salmon.
Make the Molasses Glaze:
Cook two slices of bacon in a medium cast-iron skillet over medium high heat until its crisp. Using a slotted spoon, remove the bacon from the pan to drain on paper towels. Reserve the bacon grease. Once the bacon is cooled, finely chop it and set aside.
In a small saucepan whisk, together two tablespoons of balsamic vinegar, two tablespoons of molasses, one teaspoon of minced garlic, 1/8 teaspoon of ground black pepper and one teaspoon of dried mustard. Simmer the glaze over medium low heat, stirring frequently, until the glaze begins to thicken. This should take about two minutes. Remove the pan from the heat and stir in the minced bacon. Season with salt to taste.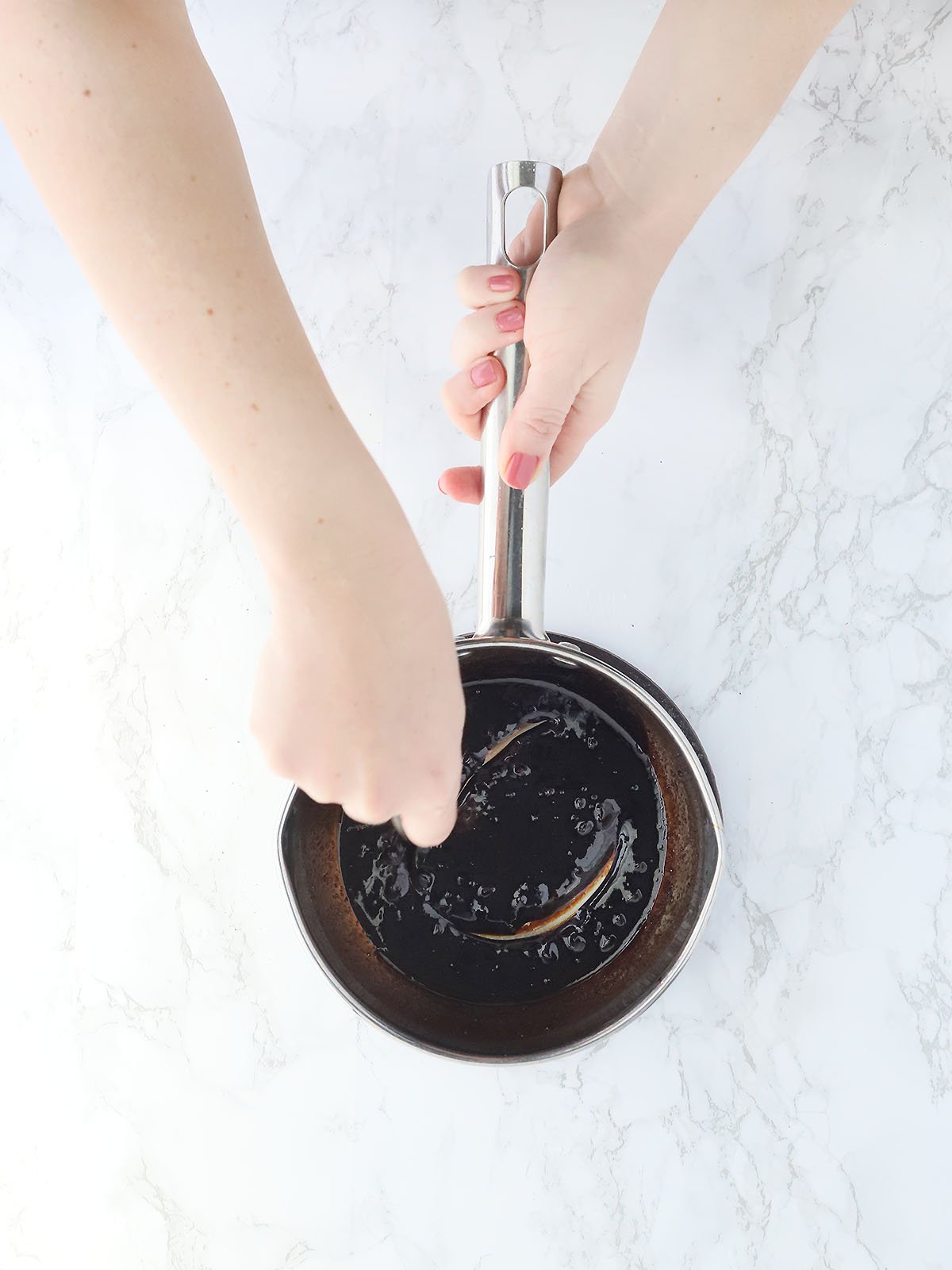 Sear the Salmon
Brush both sides of four (4-6 ounces each) salmon filets with olive oil. Season with salt and pepper. Heat the reserved bacon grease in the same cast iron skillet you used earlier over medium heat. Place the filets skin side up in the pan. Sear the filets for about three minutes.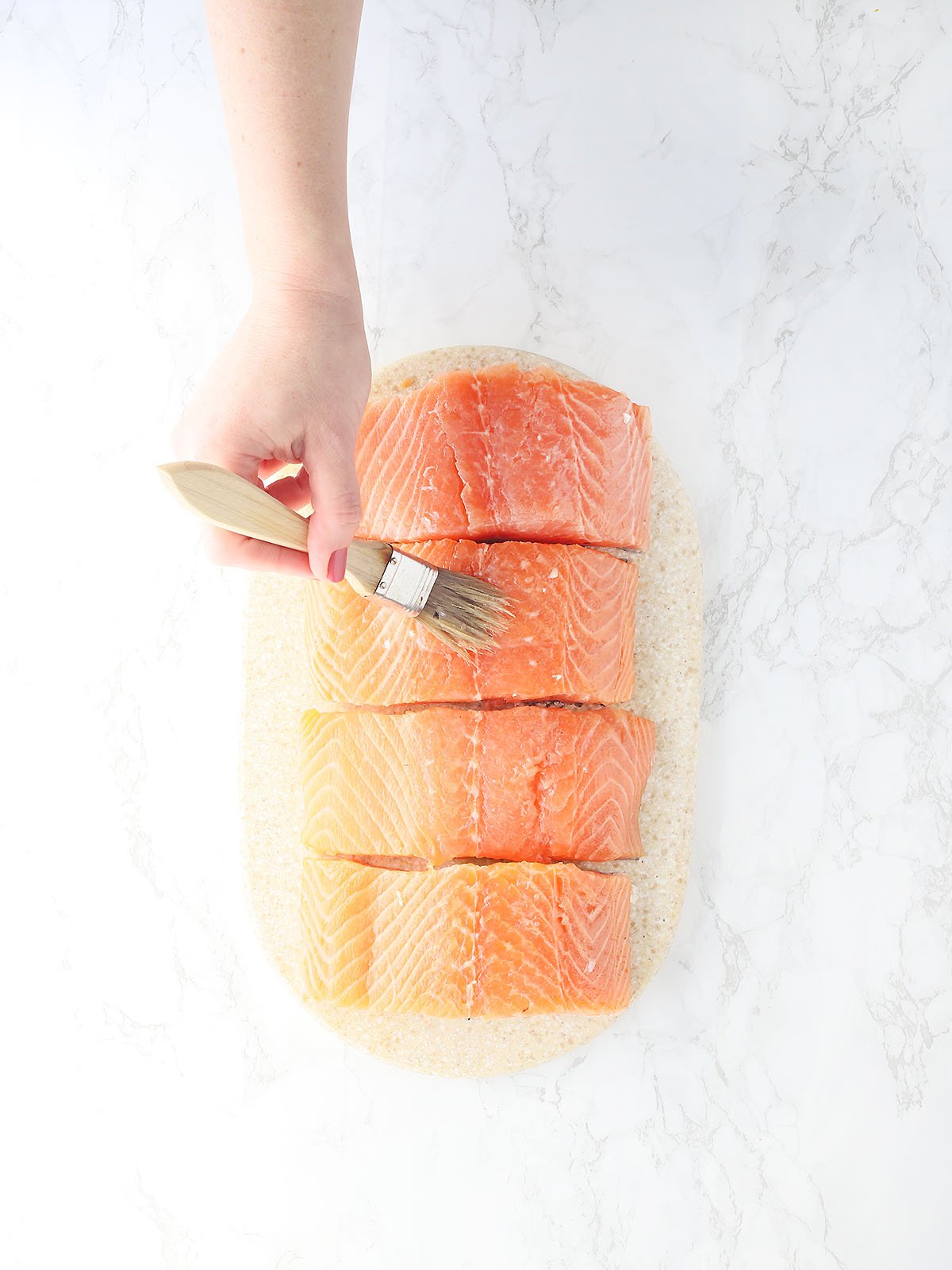 Carefully flip the filets so that the skin side is down. Brush the molasses glaze over the salmon. Continue to sear for about three minutes more or until the salmon reaches your desired doneness. How long you continue to cook the salmon will depend on the thickness of your filet.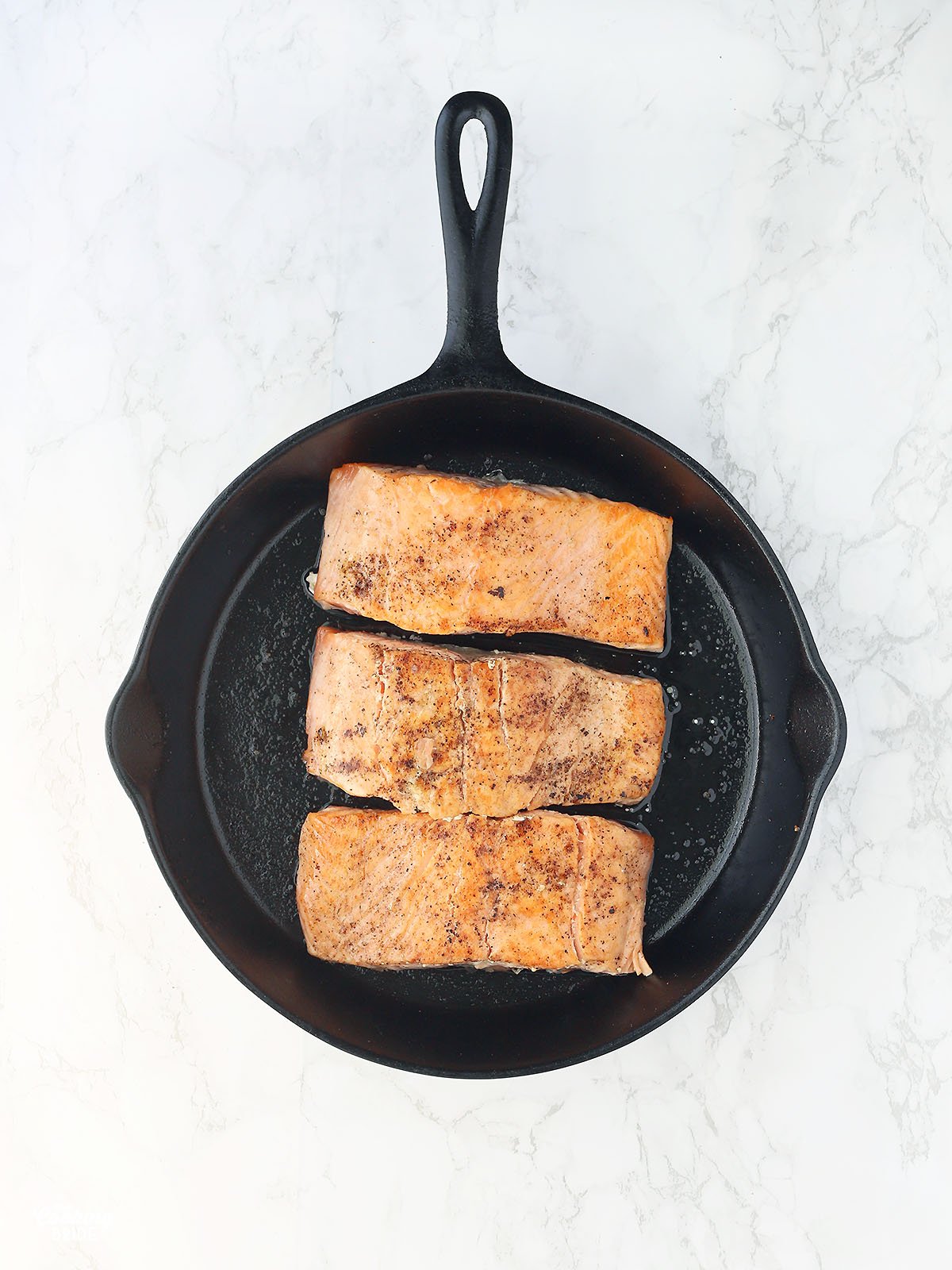 How to Tell if the Salmon is Done
There is a misconception that since salmon is fish, it should be cooked all the way through, i.e. well done. This is simply not true. A well-done salmon filet actually ends up being pretty dry.
Salmon is like steak, there are varying degrees of doneness. As long as the salmon is fresh and has been handled and stored properly, consuming a salmon filet that has been cooked to medium-rare or medium is fine. When cooking salmon, I leave the center just slightly undercooked, but not raw. The thickest part of the filet should still have some give if I press down on it with my (clean!) index finger. The outer edges will just start to flake and the center will just have started to turn from red to pink.
Storage, Reheating and Freezing
Storage: Leftover salmon filets should be stored in an airtight container in the refrigerator within two hours or cooking. It will keep for up to four days.
Reheating: Salmon can be reheated in the microwave or for 5-10 minutes in a 350-degree oven. Reheated previously cooked salmon can cause the filet to become overcooked and a little dry. If you don't mind eating the salmon cold, I suggest cutting it up and using it as a topping for salad greens.
Freezing: Cooked salmon can be frozen and will keep up to a month in the freezer. Seal the salmon in an airtight freezer or vacuum seal bag. That in the refrigerator overnight before reheating.
What to Serve with Molasses Glazed Cast Iron Salmon