Last updated on September 3rd, 2023
Tomato gravy is a breakfast essential in the South. Fresh or canned tomatoes are simmered with a roux and served over flaky buttermilk biscuits.
Tomato gravy. If you're not from the South, you might assume it's something your put over pasta for dinner. While you certainly can eat it for dinner, it's actually made for pouring over fresh baked biscuits and eaten for breakfast. Confused? Don't be. Just roll with it.
The Origins of Tomato Gravy
Like many other Southern breakfast staples, such as red eye gravy or sausage gravy, tomato gravy was born out of necessity, as a way of filling bellies with limited resources. People kept their families fed by growing their own food. Summers down here are hot, and the sunshine is plentiful – perfect for growing tomatoes. I can personally attest just from my own small four raised beds, that come July, I have more tomatoes than the four of us can possibly eat. I start pulling out pots and pans and mason jars. I make batches of spaghetti sauce for the freezer and spend weekends canning diced tomatoes. Tomato gravy was another way to make use of what you had and making sure nothing went to waste.
Ingredients and tools you will need
This recipe doesn't require a lot of ingredients. In fact, you might just have everything you need already in your kitchen. To make tomato gravy, you'll need:
4 tablespoons bacon grease or vegetable oil
4 tablespoons all-purpose flour
1 (28 ounce) can diced tomatoes, or 4 cups fresh tomatoes peeled, seeded and chopped
1/4 teaspoon garlic powder
1/2 cup chicken stock or water
Salt and pepper to taste
Make a Roux
You will hear the term roux referenced a lot in Cajun and Creole cooking. It's basically a thickener made by browning flour in some sort of fat. Most recipes call for bacon grease. I actually keep a jar of bacon grease in my fridge just for this purpose. You could use cooking oil, but I'm just gonna say it … your gravy won't taste as good.
Heat the bacon grease in a large skillet over medium heat. Sprinkle in the flour. Whisk the flour and grease until smooth. Continue to cook, stirring frequently, for 6-8 minutes until the flour turns brown and resembles the color of peanut butter.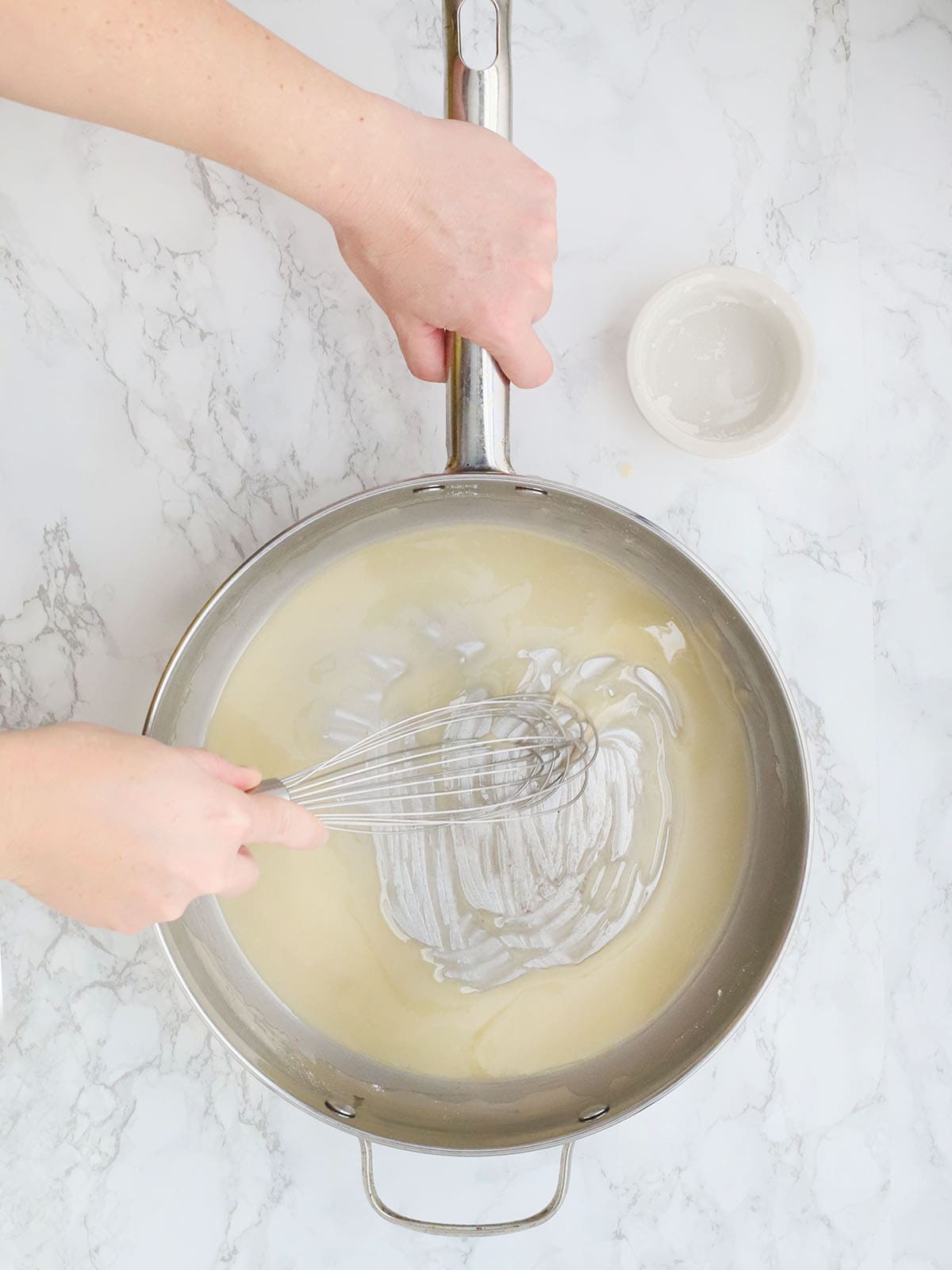 Add the tomatoes and broth
Stir in the can of diced tomatoes. Or the four cups of fresh tomatoes. I add ¼ teaspoon of garlic powder to my gravy. Most recipes don't call for this, but I like the flavor it adds.
Back in the "olden days," people would thin out the gravy with plain old water. I always have jars of homemade chicken stock in my pantry, so I prefer to use that, again for the flavor. Slowly add ½ cup of chicken stock to the gravy, stirring constantly to prevent lumps.
Simmer the gravy over medium heat until it begins to thicken, about five minutes. Season it with salt and pepper to your preference. Serve the gravy hot over fresh biscuits.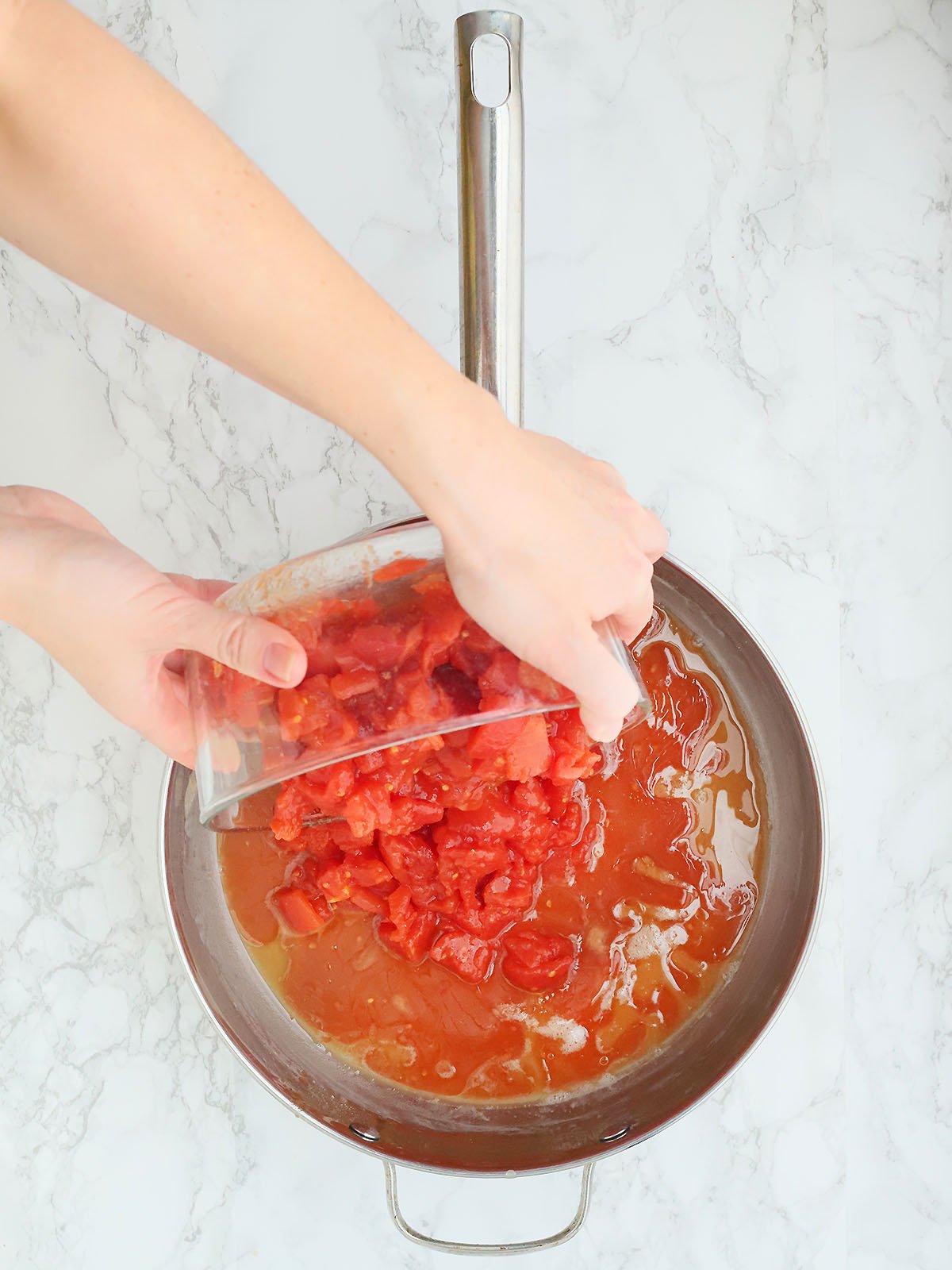 Storage, Freezing and Reheating
Storage. Cooled leftover tomato gravy should be stored in an airtight container in the refrigerator within two hours. Consume withing one week.
Freezing. I prefer to store my gravy in plastic freezer bags. Once you've spooned the cooled gravy into the bag, carefully fold the top of the bag over the contents to get rid of as much air as possible. Seal the bag, then lay it flat in the freezer. Once the gravy is frozen solid, it can be stood upright or stacked to save space.
Reheating. Gravy should be thawed before reheating. Pour the contents into a saucepan and heat over medium low heat. As the gravy begins to thicken, stir frequently. If the gravy is too thick, add a little water or chicken broth, one tablespoon as a time, until it reaches your desired consistency. If the gravy is too thin or has separated, make another roux in a separate saucepan by heating 1-2 tablespoons of oil or bacon grease and the same amount of flour. Whisk together for a few minutes. Add the gravy to the roux, a little at a time, stirring constantly until the gravy begins to emulsify and thicken up.
You Might Also Enjoy: