Last updated on September 3rd, 2023
Rosemary and Gin Grapefruit cocktail is sure become your new favorite adult beverage. Rosemary simple syrup and floral gin pair beautifully with tart Ruby Red grapefruit juice.
This post may contain affiliate links. Click here to learn more about how affiliate links are used on this site.

I've only recently become a grapefruit lover. Growing up, the taste of the beautiful bright pink citrus fruit was just too sour for me. However, pair that tartness with the woodsey sweetness of rosemary simple syrup and the floral undertones of a good gin … I'm in love. Over the years, this has become one of my all-time favorite cocktails. But beware, they go down way too easy.
Make the rosemary simple syrup
Simple syrup is nothing more than equal parts sugar and water simmered until the sugar is dissolved. In this case, we're simmering fresh rosemary in the sugar water mixture to give it that herbal flavor. To make the rosemary simple syrup, you will need:
1 cup white granulated sugar
1-2 sprigs fresh rosemary
Combine all the ingredients in a medium saucepan. Bring to a boil over medium high heat, then reduce the heat to low and simmer for 1-2 minutes until the sugar is dissolved. Remove the syrup from the heat and allow it to cool completely … BUT, leave the rosemary sprigs in the pan while the syrup cools to give it more time to absorb the flavor of the herbs. Once the syrup has cooled, remove the rosemary sprigs and throw them away. The syrup can be made ahead of time. Simply transfer it to an airtight container with a lid and refrigerate. The simple syrup should keep for a month.
Ingredients and tools you'll need
Can you believe this cocktail only contains THREE ingredients? To make a rosemary and gin grapefruit cocktail, you'll need:
2 ounces gin – If you are a gin drinker, by all means use your favorite brand. If gin is not your usual weapon of choice, here are a few pointers. Stay away from bottom shelf brands. You want the juniper flavors in the gin to complement the drink, not overpower it. But don't feel like you have to fork out a lot of dough either. Look for something within the $20-$30 range. For this post I used Bombay Sapphire. Other good brands include Beefeater, Sipsmith, or Tanqueray.
3 ounces ruby red grapefruit juice
1 ounce rosemary simple syrup
Tools:
How to make a Rosemary and Gin Grapefruit Cocktail
To assemble to cocktail, fill a shaker with ice. Add two ounces of gin, three ounces of Ruby Red grapefruit juice and one ounce of cooled rosemary simple syrup in a shaker with ice. If you want the drink to be a little sweeter, you can add more syrup. Shake vigorously until the ingredients are combined. Then strain everything into a glass filled with ice cubes. I garnished mine with fresh grapefruit wedges and rosemary sprigs.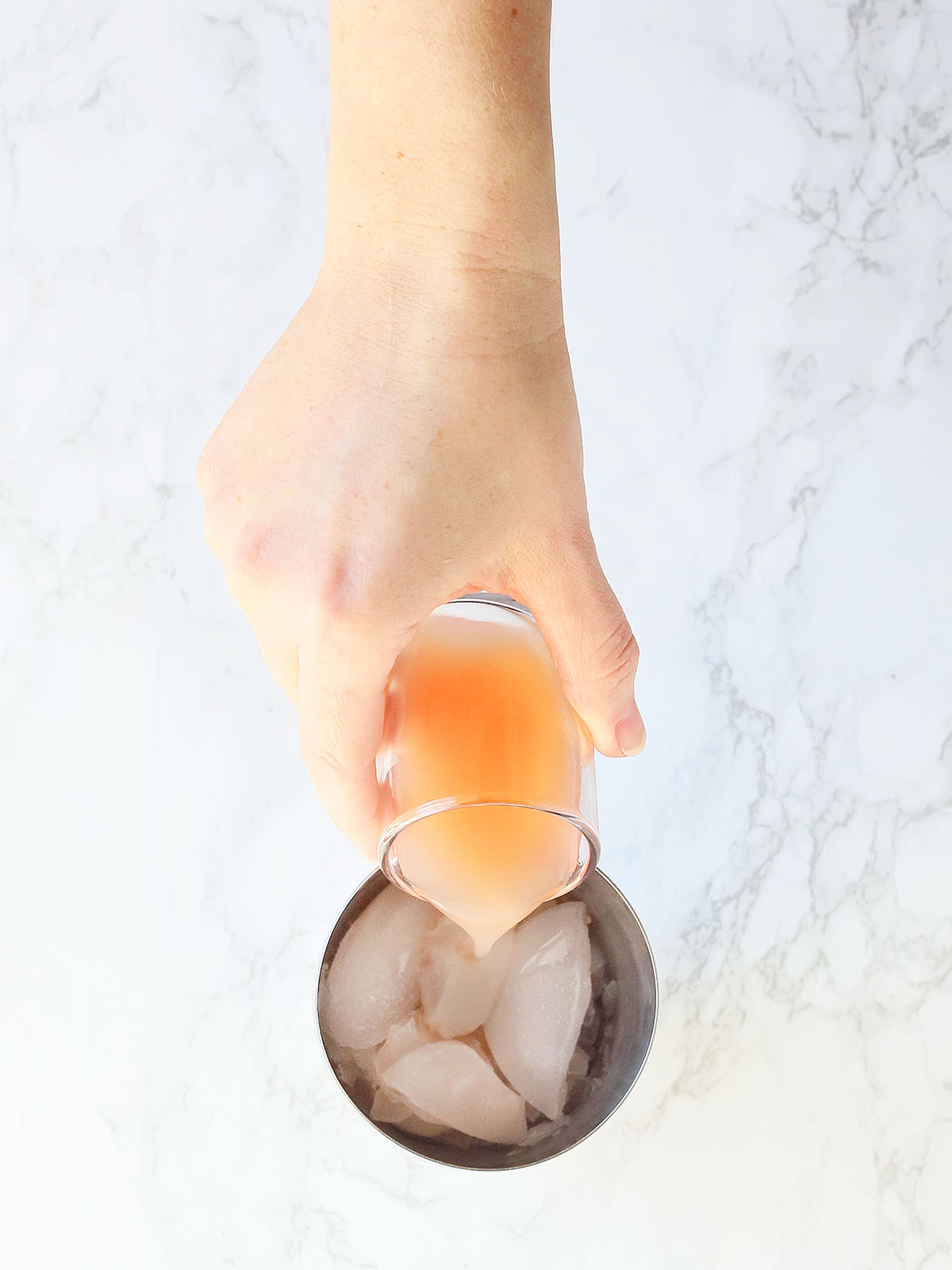 You Might Also Like: