Last updated on May 24th, 2023
Flaked tuna, sweet peas, celery, and elbow macaroni are combined with mayo and a dash of cayenne pepper in this creamy tuna macaroni salad recipe.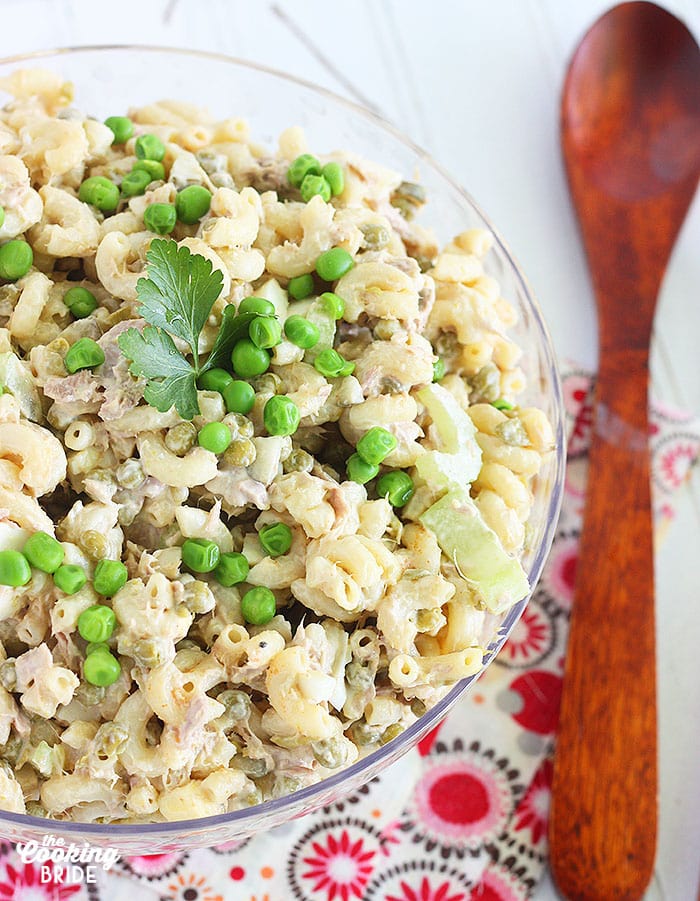 What are some of your favorite summer memories from when you were a kid? Since both of my parents worked, they had to find a way to entertain me once school let out. From about second or third grade until middle school, the city swimming pool was the perfect solution. During those summer months, I wouldn't even bother getting dressed in the morning. I would just put my swimsuit on and wait until 2 p.m. when the gates opened.
There was a waterslide in the shallow end for the younger kids. Fifty-cents would buy you a brightly-colored popsicle, a bag of chips, or a dill pickle. As my friends and I got older, we positioned our lawn chairs out by the deep end so we could watch the older boys behind our sunglasses and hope someone noticed us. We all had aspirations of becoming lifeguards when we got into high school and by the end of the summer we were all tan as deer.
I think it's impossible to get through an entire summer without coming in contact with a macaroni salad. There is nothing particularly unique about this salad. I imagine it originated as a quick, easy, and cheap meal my mother could just throw together. I ate this a lot as a kid during the summer and it falls into one of my comfort food categories. A big bowl of this stuff, a glass of cold sweet tea, and suddenly I'm a nine-year old kid in a bathing suit and flip flops with a sunburned nose.
How to Make Creamy Tuna Macaroni Salad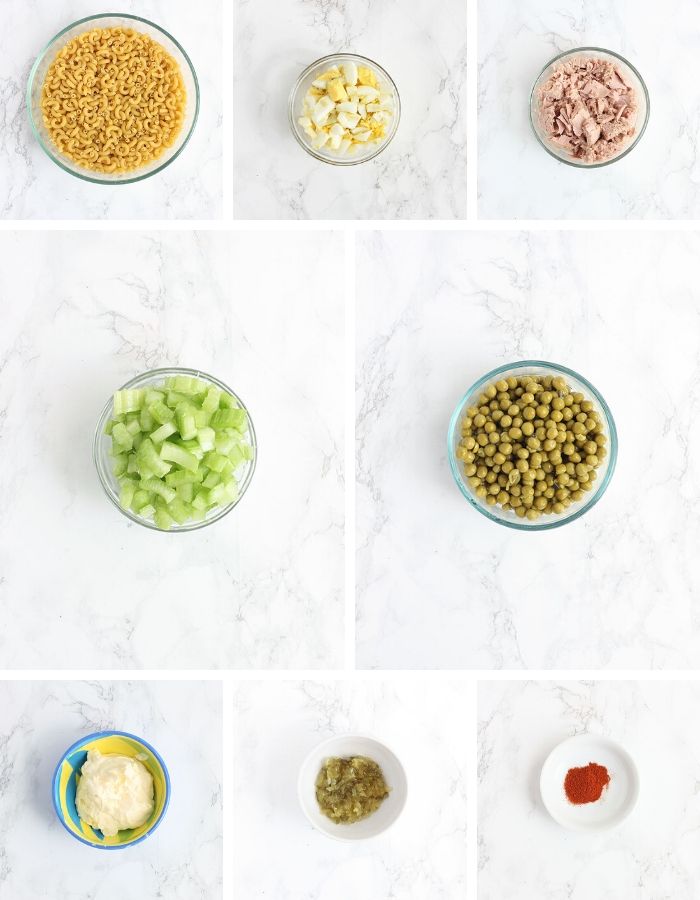 This recipe could not be simpler to make. First, go ahead and hard boil two large eggs. You can even do this a day or two ahead of time. Check out my tips for easy peel hard boiled eggs.
Next, cook one 16-ounce package of elbow macaroni according to the package directions. While the pasta is cooking, drain two 10-ounce cans of tuna in water and add it to a large mixing bowl. Peel and dice your cooled hard-boiled eggs and add them to the bowl also. Finally, dice two ribs of celery and drain one 15-ounce can of sweet peas. Go ahead and add them to the mixing bowl also.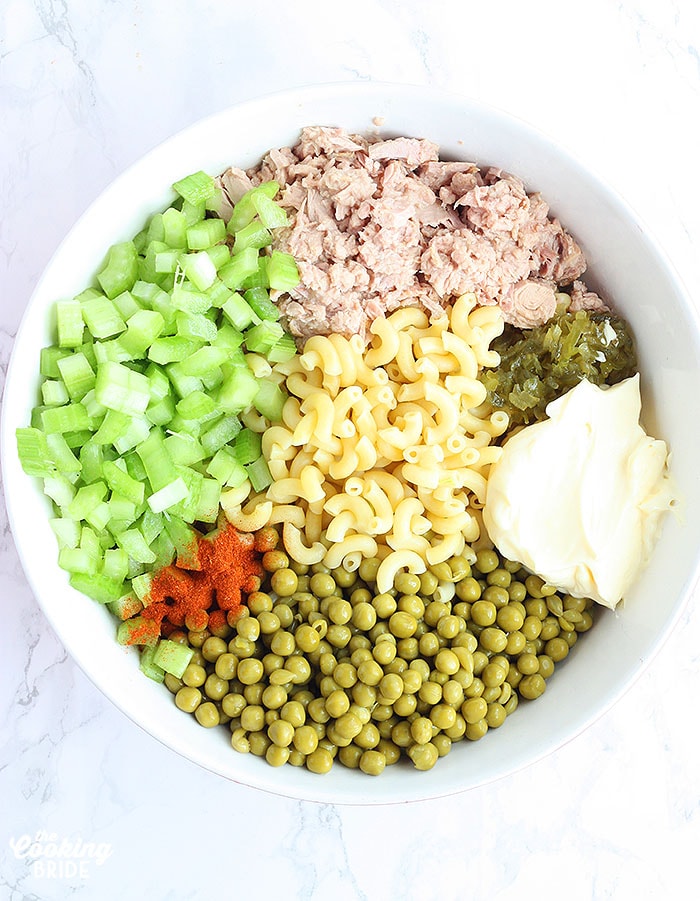 Once the pasta is done cooking, drain it and let it cool slightly. Pour it into your mixing bowl with the rest of the ingredients. Finally, add ½ cup of mayonnaise, two tablespoons of dill pickle relish and 1/8 teaspoon of cayenne pepper. Give everything a good stir to get it thoroughly combined. I like to let the salad chill for 4-6 hours before serving. The pasta will soak up some of the mayo, so you may need to add just a little more right before serving so the salad won't be dry.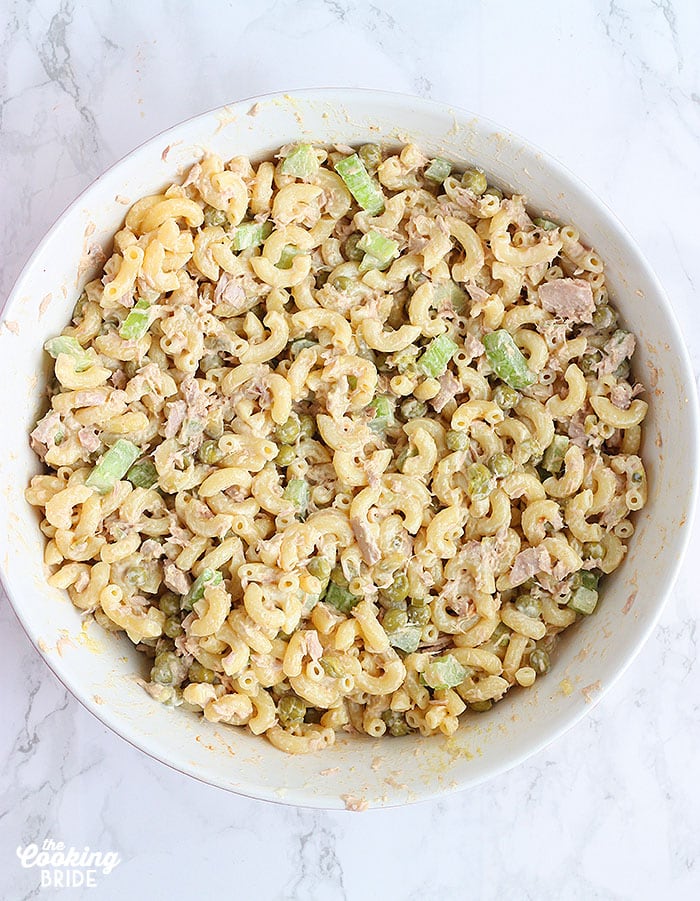 What I love most about this salad is that you can make a day in advance and it tastes even better. I love the crunchy contrast of the celery and the soft chewy pasta, the bite from the dill pickle relish and the hint of heat from the cayenne. See, easy right?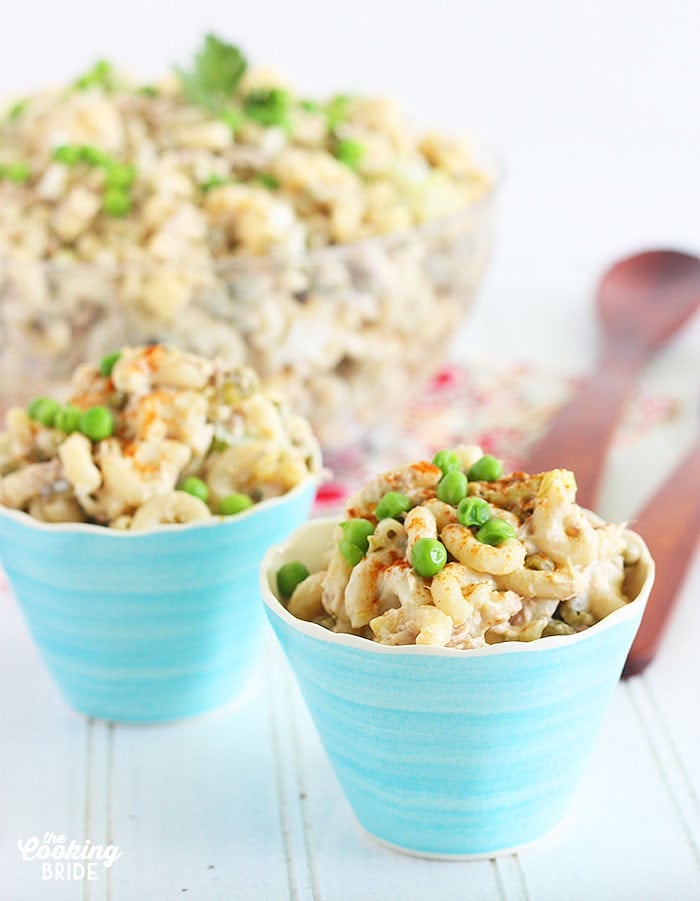 More Pasta Salad Recipes You Might Enjoy:
Creamy Tuna Macaroni Salad
Flaked tuna, sweet peas, celery, and elbow macaroni are combined with mayo and a dash of cayenne pepper in this creamy tuna macaroni salad recipe.
Ingredients
1

(8 oz.) bag elbow macaroni

2

large

hard boiled eggs

chopped

2

(5 oz. ) cans chunk light tuna in water, drained

2

celery ribs

diced

1

(15 oz.) can sweet peas, drained

1/3

– ½ cup mayonnaise

2

tablespoons

dill pickle relish

1/8

– ¼ teaspoon cayenne pepper

Salt and pepper to taste
Instructions
Cook macaroni according to package directions. Drain and allow to cool.

In a large bowl, combine macaroni, eggs, celery, peas, and mayonnaise. Stir until well-combined.

Add cayenne pepper and additional salt to taste.

Refrigerate for 4-6 hours before serving.
Nutrition
Serving:
1
serving
|
Calories:
433
kcal
|
Carbohydrates:
30
g
|
Protein:
14
g
|
Fat:
28
g
|
Saturated Fat:
4.6
g
|
Polyunsaturated Fat:
16
g
|
Monounsaturated Fat:
6.3
g
|
Trans Fat:
0.1
g
|
Cholesterol:
30
mg
|
Sodium:
378
mg
|
Potassium:
237
mg
|
Fiber:
2.1
g
|
Sugar:
3.2
g