Last updated on March 30th, 2020
Making meringue doesn't have to be intimidating. Follow these simple tips and tricks for fool-proof meringue every time.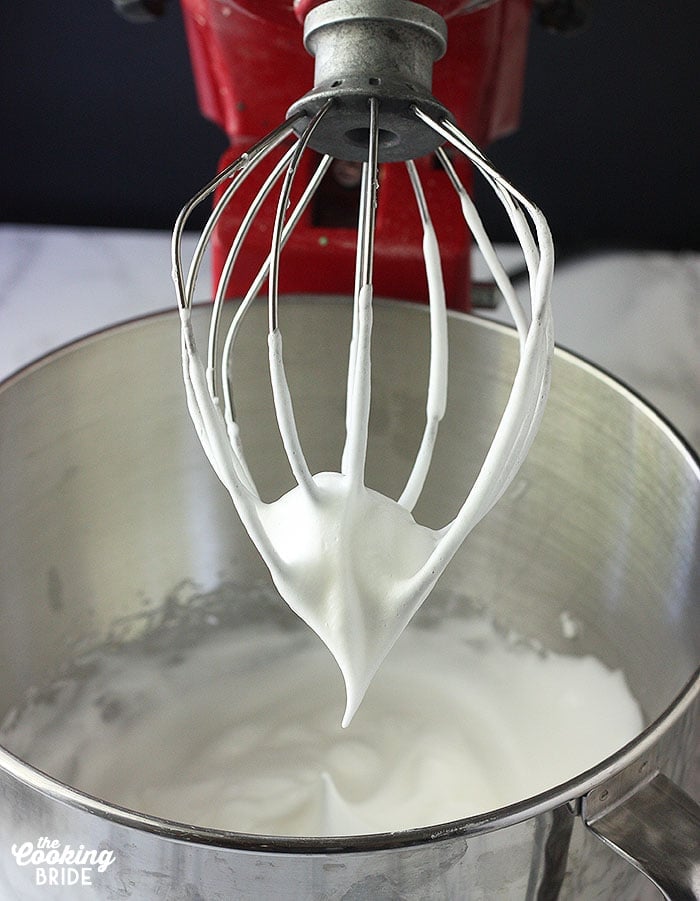 I remember as a kid eating at the Crystal Grill in Greenwood, Mississippi with my parents. The restaurant itself is a legend because it has been in operation for almost a century. But it's also known for its Mile High Meringue pies. They reminded me of fancy Easter bonnets on display in a glass case near the door. Each pie was piled with several inches of fluffy, cloud-like white meringue.
Meringue is like a crown. It can transform an average pie into an impressive dessert. But if you've never attempted making meringue before, it might seem a bit intimidating. Trust me, it's easy as pie!
What is Meringue?
In its basic form, meringue is nothing more than sugar and egg whites. When beaten with a whisk or electric mixer, it incorporates air into the mixture. The air gets trapped, causing the egg whites to get stiff and puff up.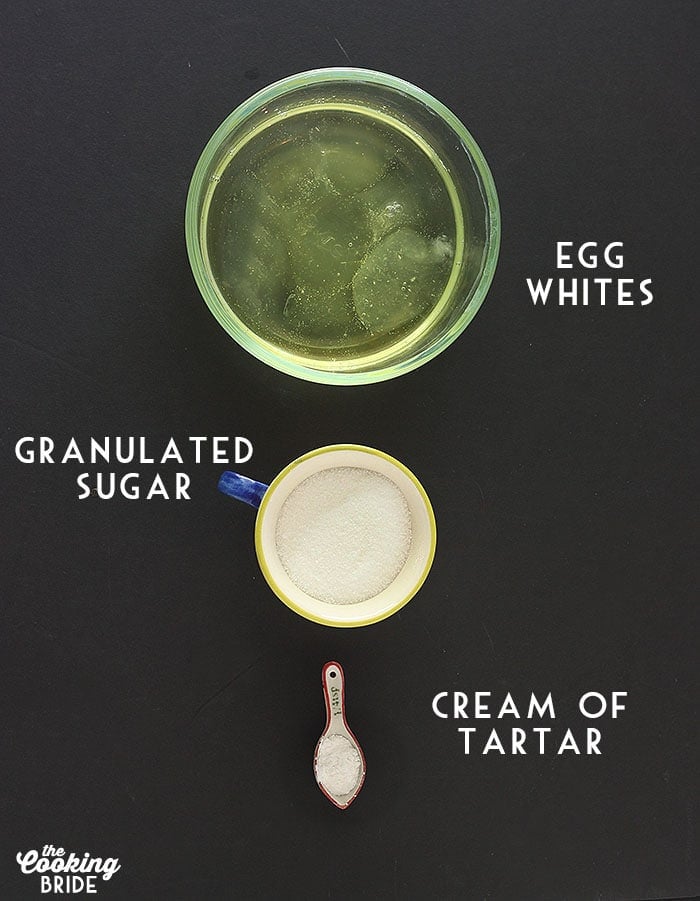 Three Types of Meringue
French – This is the most common type of meringue. Once egg whites have reached soft peaks, sugar is added and then whipped into stiff peaks. I will be discussing French meringue in this post.
Italian – this meringue starts with a sugar syrup that has been heated to soft-ball stage (236°F to 240°F). The sugar syrup is then incorporated into beaten egg whites after they have reached soft peaks, then the whites are beaten to stiff peaks. This type of meringue is most commonly used in buttercream frostings and mousse.
Swiss – If you've ever had a baked meringue, you likely had a Swiss meringue. It is made by stirring sugar and egg whites together over a pot of simmering water before whipping them.
Tips for Making the Perfect Meringue
Don't use fresh eggs. This is one case where fresh is not best. Older eggs whip up higher and fluffier. To test if your eggs are meringue worthy, fill a glass with tap water. Carefully drop the egg into the glass. If the egg sinks to the bottom and lays on its side – it's too fresh. If it stands up on one end, it's perfect! If it floats to the top, that egg is old and needs to be thrown out.
Carefully separate your egg whites from your yolks. When you crack open an egg, you'll notice the yellow center, called the yolk, surrounded by clear snotty looking stuff, which is the white. When making meringue, you only want the egg white. If your yolk breaks and seeps even a tiny bit into your white, you'll need to scrap it and start over. Even just a little bit of yolk can prevent your egg whites from getting foamy.
If you are concerned about separating your eggs, these little egg separators are very handy. I suggest using two bowls. Place your egg separator over one bowl and crack your egg into it. If separation was a success, move it into the second bowl and repeat the process. This way, if you accidentally break the yolk on your very last egg, you've only wasted one egg and not the entire bunch.
Let your egg whites come to room temperature. Eggs separate easier while cold. But whites whip up better if they are allowed to come to room temperature. Set them sit out on the counter for about 30 minutes before whipping.
Use a clean metal or glass bowl and whisk. Plastic bowls can contain trace amounts of fat from a previous use. This can also impede the egg whites ability to whip up light and fluffy. Make sure your bowl and whisk are completely clean and dry.
The Secret Ingredient: Cream of Tartar
Cream of tartar is to meringue like Aqua Net was to big hair in the 80's. It is an acidic salt that acts as a stabilizer for the meringue. It helps the eggs whites hold more air and reach their full volume.
How to Make Meringue
First, place room temperature egg whites and cream of tartar into a metal or glass bowl. If you have killer biceps, you can certainly whisk your whites by hand. I prefer to use a mixer.
Start beating the eggs whites on medium speed until they become foamy. Bubbles will have begun to form and it will look a little like dish soap.
Turn the mixer off and add 1 tablespoon of sugar. Sugar does more than give the meringue flavor. It also serves as a stabilizer to keep the meringue from collapsing. Turn the mixer back on medium and beat until the sugar is dissolved. Repeat this process with the remaining sugar.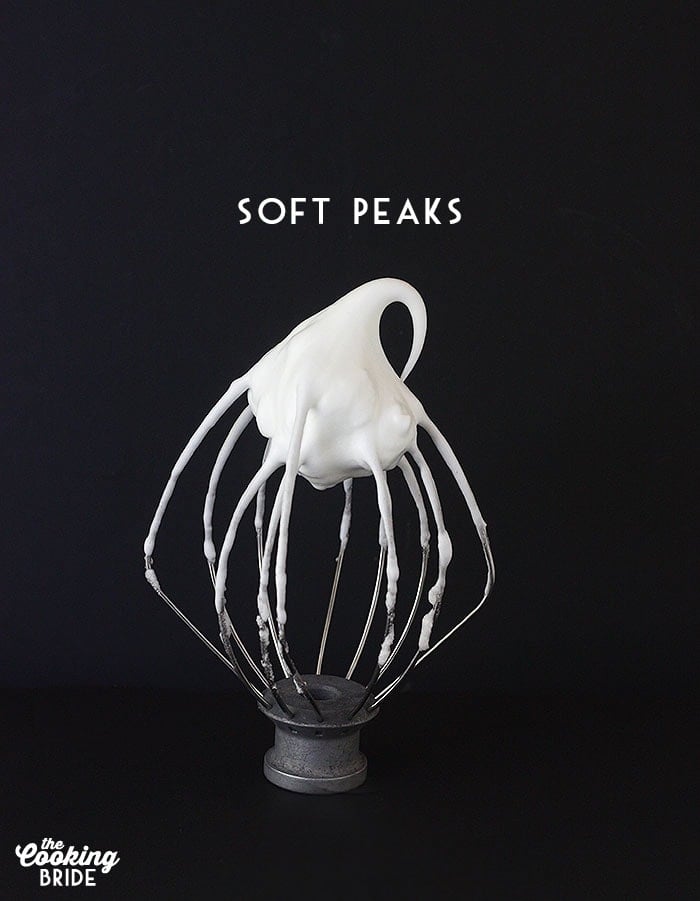 At this point, your meringue should start to look billowy and like, well, meringue. If you pull the mixer out of the bowl, a point will form. This is called a peak. If the peak falls over on itself, this is called soft peaks. Keep mixing.
When the mixer is taken out of the bowl and the point stands straight up, this is called stiff peaks. Perfect!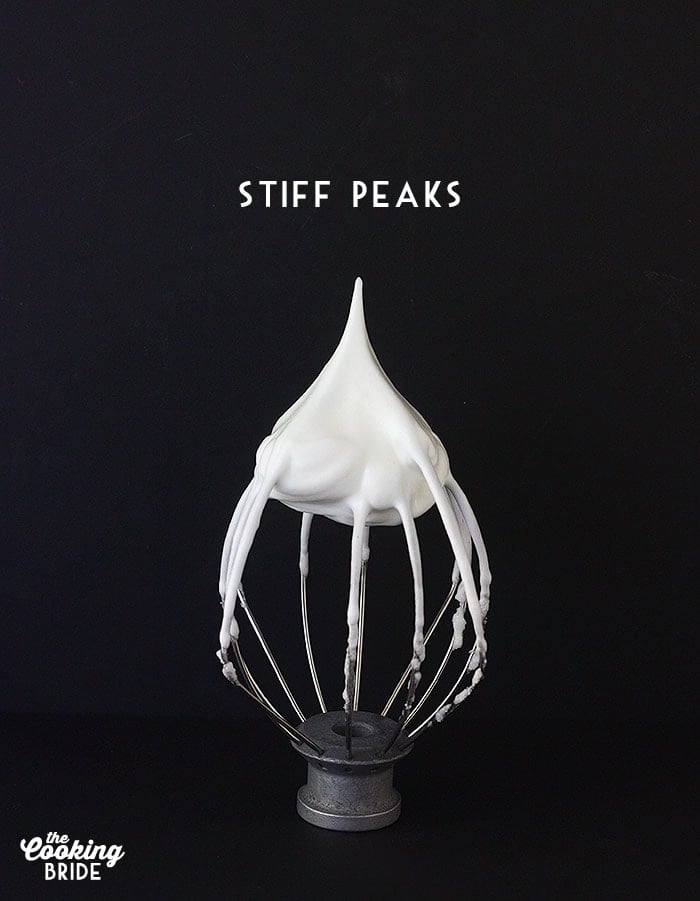 When making a meringue pie, you want to spread the meringue over the top while the pie is still warm. The heat from the pie begins to cook the bottom of the meringue immediately. You can get fancy and pipe the meringue using a pastry tip. I usually just spread it with a spatula, making sure to spread it all the way to the edge of the crust to seal the meringue and prevent it from pulling away from the edge. To get the spiky look you see, I took the edge of the beater and gently dipped it into the meringue all over the pie to create peaks all over.
Return the pie to the oven and bake until the meringue starts to brown, about 10-15 minutes. Remove the pie from the oven and allow it to cool at room temperature.
How to Prevent Weeping
After your pie cools, you may notice little droplets forming all over the meringue. This is called weeping. If this happens, don't panic. It's perfectly fine to eat the pie. However, here are a few tips to try to prevent this from happening.
Don't make meringue on a humid day. Unfortunately, I live in Mississippi.  The only time it's not humid is maybe for a few weeks in January.
Make sure your sugar is well incorporated. Rub a little of the meringue in between you thumb and forefinger. If it feels gritty, keep mixing. If it's smooth, you're good to go. You can try using superfine sugar, which is sugar with smaller granules, to help with this. If you own a spice or coffee grinder, you can process your granulated sugar using one of these tools beforehand.
Don't overbake your meringue. It can cause the meringue to shrink and squeeze out droplets of water.
If you'd like to try your hand at making meringue pie, I suggest trying my recipe for chocolate meringue pie or lemon icebox pie.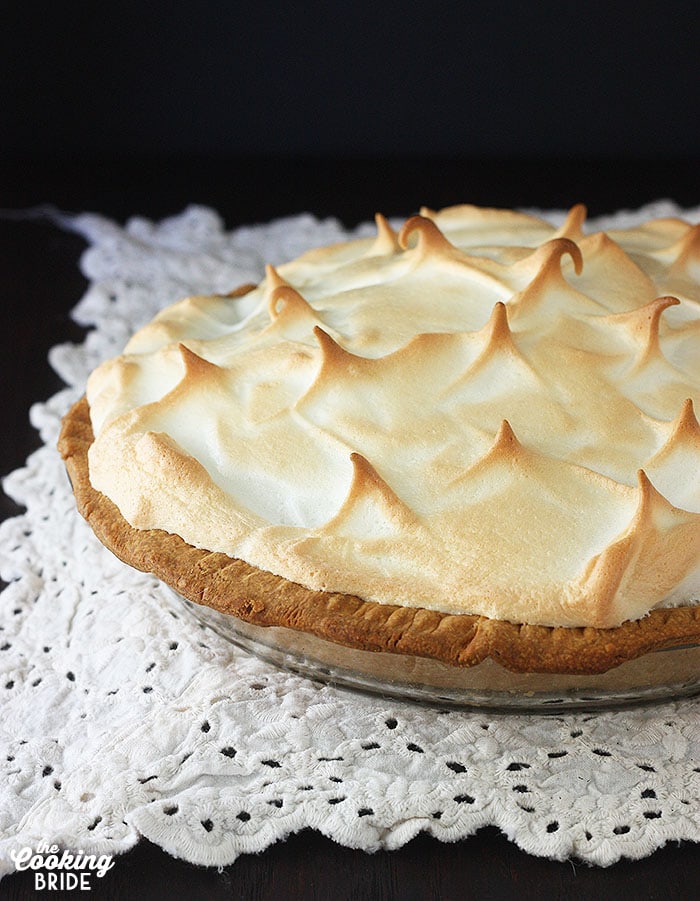 You Might Also Like:
How to Make Meringue
Making meringue doesn't have to be intimidating. Follow these simple tips and tricks for fool-proof meringue every time.
Ingredients
4

egg whites

1/4

teaspoon

cream of tartar

1/4

cup

white sugar
Instructions
Allow egg whites to come to room temperature for 30 minutes.

Combine egg whites and cream of tartar in a clean, dry metal or glass bowl. Beat at medium speed until egg whites form bubbles and look frothy.

Add the sugar, one tablespoon at a time. Beat on medium speed between each addition until the sugar is well incorporated. At this point, when you pull your mixer out of the meringue, the point that forms will fall over on top of itself. This is soft peaks.

Keep beating the eggs whites until they become more dense and shiny. You know your meringue is ready when you pull the mixer out and the point stands up straight. This is stiff peaks.

Spread or pipe the meringue over the top of your pie as soon as it comes out of the oven. Spread meringue all the way to the edge where the crust and the pie meet to seal the meringue.

Return the pie back to the oven. Bake until the meringue begins to brown, about 10-15 minutes.

Allow the pie to cool at room temperature.