Last updated on May 25th, 2023
Every home cook should know how to make simple syrup at home. With only two ingredients, the process is "simple" and the uses are endless.
I was astonished recently while perusing the cocktail aisle of my grocery store. There sitting between the Agnostura bitters and the grenadine was a small bottle of simple syrup. The price tag boasted the little bottle was only $4.
I know $4 doesn't seem like much money in the grand scheme of things. However, I rank simple syrup up there with chicken stock and breadcrumbs. It's so easy to make yourself, why would you ever spend any amount of money on it? It's one of those cooking life skills every home cook needs to know. I'm here to teach you.
What Is Simple Syrup?
Simple syrup is nothing more than equal parts sugar and water heated until the sugar is dissolved. The benefit of using simple syrup over regular sugar is the syrup's ability to sweeten more evenly. Have you ever tried to sweeten a glass of cold iced tea with granulated sugar? Even after stirring for an eternity, the sugar granules inevitable still sink to the bottom. Eventually, the sugar will dissolve. But it takes forever. The first half of the glass is bitter and the last half is sugary sweet.
Simple syrup is ideal for sweetening things like cold beverages and cocktails because the sugar is already dissolved in the liquid. No endless stirring required.
How to Make Simple Syrup
As I mentioned, simple syrup is made from equal amounts of sugar and water. For this lesson, I'm using one cup of sugar and one cup of water. However, you could make more or less depending on what you need to simple syrup for.
Pour the water into a medium saucepan and bring it to a boil over medium high heat. Add the sugar and stir until the sugar is completely dissolved. Remove the pan from the heat and let it cool completely before transferring it to an airtight container.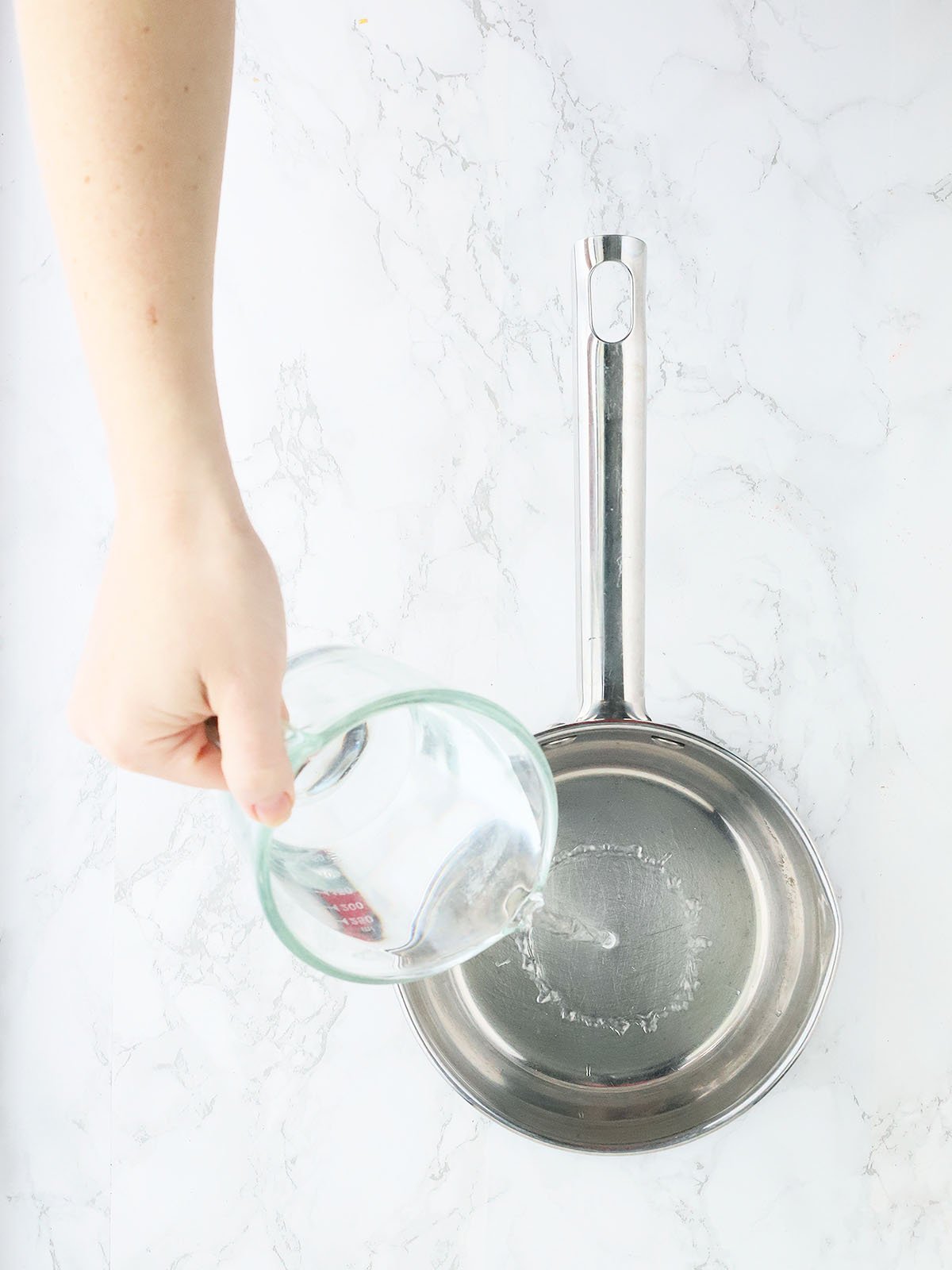 Add some flavor
Once you've mastered a basic syrup, start experimenting with different flavors by adding herbs, like the rosemary, basil or thyme. You can even add spices such as a cinnamon stick, whole cloves, or a vanilla bean.
Storage.
Simple syrup should be stored in an airtight container in the refrigerator. If stored properly, simple syrup will last in the refrigerator for up to one month.
Use Simple Syrup In …