Last updated on September 14th, 2023
Once you try these easy Sloppy Joes from scratch, you'll never go back to store bought sauce again. Packed with flavor, ground beef is sautéed with diced bell peppers, celery, and onions and seasoned with a yummy homemade sauce.
This post may contain affiliate links. Click here to learn more about how affiliate links are used on this site.

After 11 years of marriage, The Husband recently revealed to me that one of his favorite meals growing up was Sloppy Joes. I must admit, I did not share his childhood fondness for Sloppy Joes. I think it was the sauce that caused my aversion. And maybe it was because the sauce I grew up eating came straight from a can.
I learned to get over my aversion because Sloppy Joes are cheap, quick to throw together on a busy weeknight, and everyone else in my family enjoys them. However, I knew there had to be something out there better than what I grew up eating. Hence, making Sloppy Joes from scratch. Yes, making your own sauce involves more than opening a can. But not much. Even with a few added steps required to make this truly homemade, it's still on the table in under 30 minutes.
Brown the Ground Beef and Veggies
Yes, y'all. I put vegetables in my Sloppy Joes. Trust me, as long as you cook the veggies until they are completely tender, no one will object. My oldest son is SUPER picky about his food. He would make it known in no uncertain terms if the diced vegetables turned him off. He wolfs these down like nobody's business and has never said word one about the vegetables hidden in the ground beef.
In a large skillet over medium heat, brown one and a half pounds of ground beef until it's no longer pink, about 8 minutes. Using a slotted spoon, remove the ground beef to a paper towel lined plate to drain. Set that aside. Reserve at least two tablespoons of the grease from the burger in the skillet and discard the rest.
Add ½ cup of diced onions, ¼ cup of diced celery, and one small diced green bell pepper to the skillet. Sautee the vegetables for an additional 8-10 minutes until they are tender. Return the ground beef to the skillet and stir to combine everything together.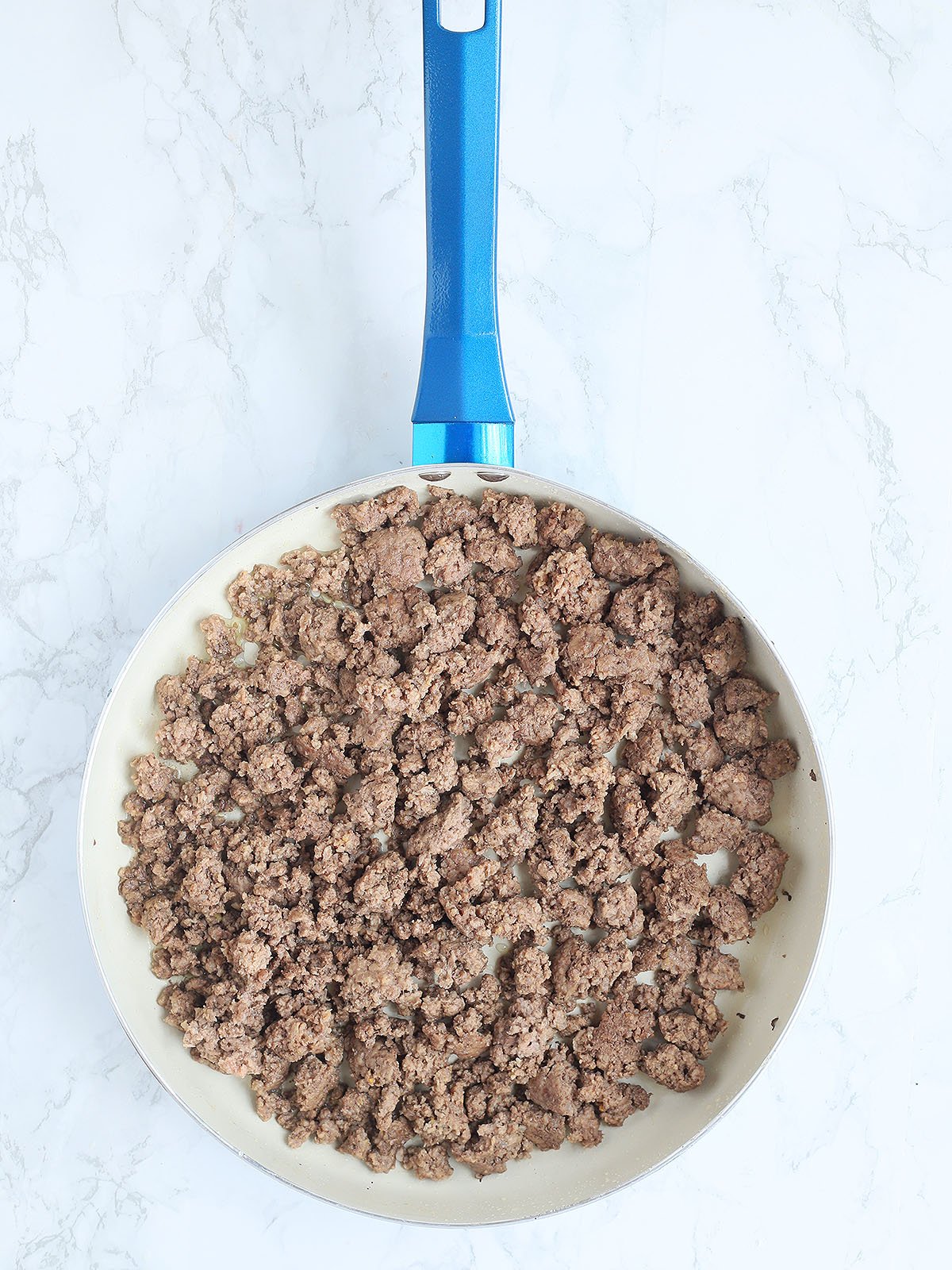 Make the Sloppy Joe Sauce
You can certainly mix the sauce ingredients in a separate bowl and add them to the skillet altogether. But I'm usually to busy for that, so I just dump everything right into the skillet. To the ground beef, add one cup of ketchup, one tablespoon of Worcestershire sauce and one teaspoon of yellow mustard. Give everything another good stir to make sure the sauce ingredients are good and mixed up and the ground beef is completely coated. Season the Sloppy Joes with salt and pepper to your preference, then serve warm on hamburger buns.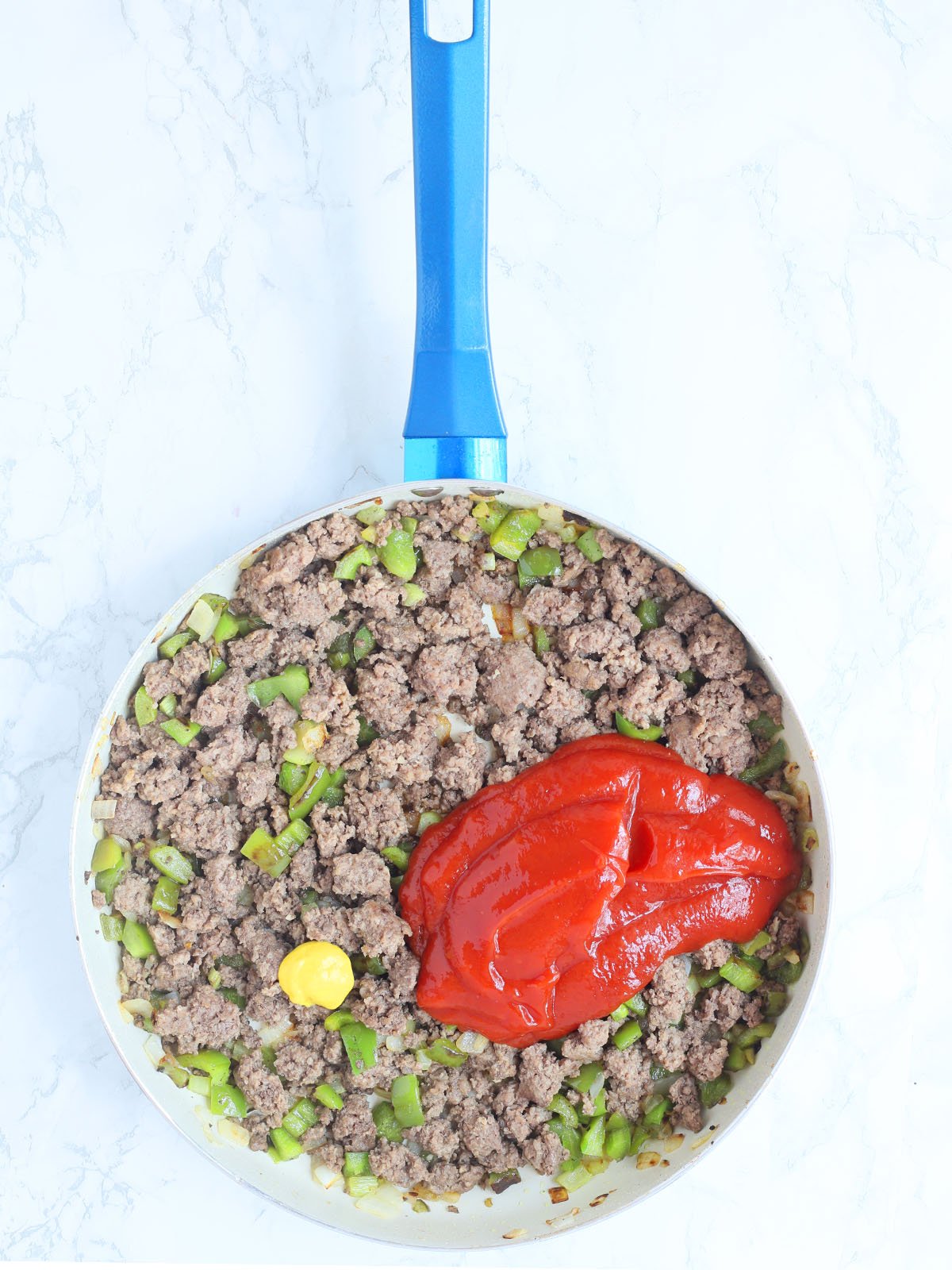 Storage, Freezing and Reheating
Storage. Leftover Sloppy Joe filling should be stored in an airtight container with a lid within two hours. Consume within four days.
Freezing. Another great thing about this recipe – it freezes beautifully!! I frequently double or triple the recipe and load the extra meat into a vacuum sealed bag for a later date. If you don't have a vacuum sealer, use a freezer bag with most of the air squeezed out or an airtight container. Consume the Sloppy Joe filling withing three months.
Reheating. Allow the Sloppy Joe mixture to thaw overnight in the fridge. You can reheat the meat for 2-5 minutes in the microwave, stirring halfway through, or reheat over medium low heat in a saucepan for 10-15 minutes until the mixture is heated through.
What to Serve with Sloppy Joes from Scratch