Last updated on May 24th, 2023
Healthy chicken thighs recipe is roasted in the oven with aromatic garlic and fennel then covered in a rich tomato herb sauce.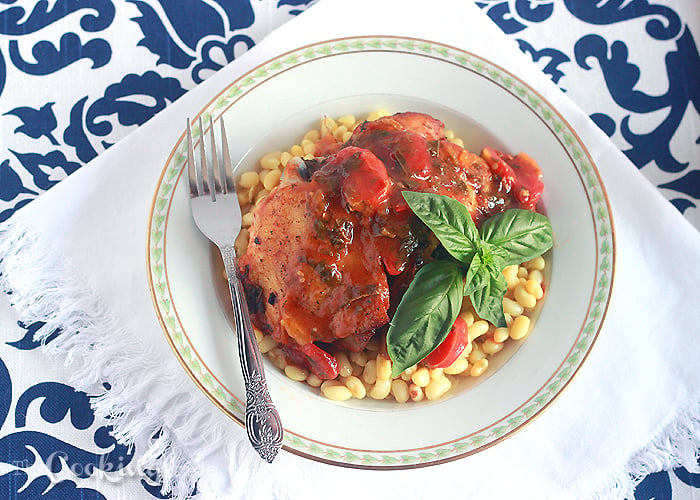 My dilemma: I had three heirloom tomatoes leftover from this post that were quickly ripening in my cupboard. Heirloom tomatoes are too precious to just let them go to waste. I needed a way to use them up quickly.
Enter this recipe. With just a few modifications, I turned my heirloom tomatoes into a pretty tasty sauce for a healthy chicken thighs recipe. Of course, you don't have to use heirlooms to make this dish. Regular garden variety or canned tomatoes would work just as well.
Can I just say, I am loving the heck out of some fennel right now. I have cooked with it only a few times before, but the flavor it lended to this sauce made me realize I need to start adding it to a lot more recipes. When raw, it has a pretty strong licorice smell and flavor. But like garlic, once it's cooked the flavor mellows into something super delicious.
Another great aspect of this recipe is that chicken thighs are one of the more flavorful parts of the chicken in addition to being one of the cheapest to purchase. A package of eight thighs cost me around $4. Divided by 2.5 people, eight thighs will make at least two meals.
If you have the time, this could work as a weeknight meal. If not, serve it on a weekend and save the leftovers for later in the week. The Husband says this dish is better the second time around.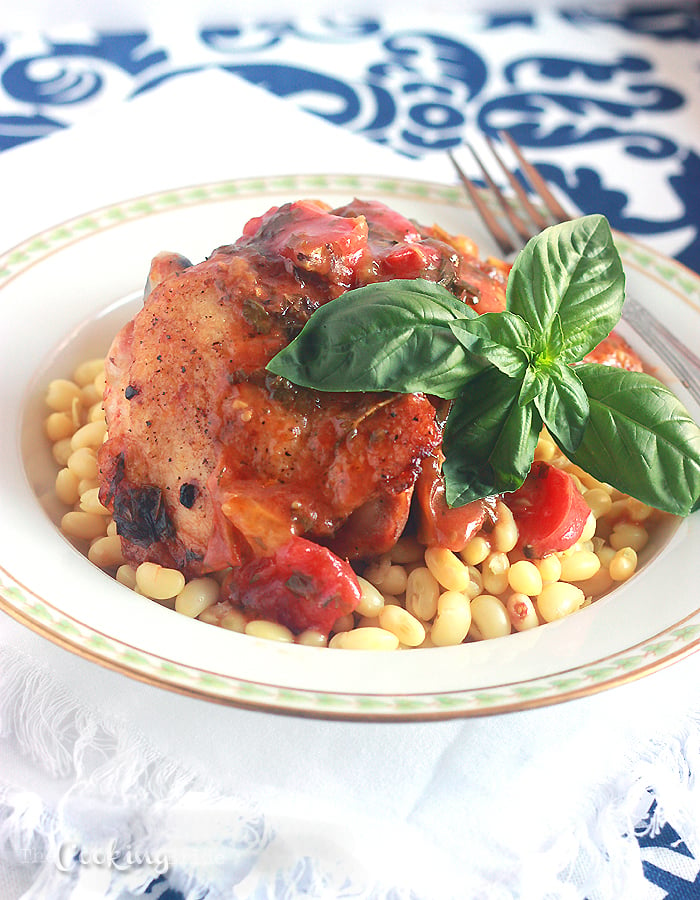 Roasted Chicken Thighs with Fennel and Tomatoes
Healthy chicken thighs recipe is roasted in the oven with aromatic garlic and fennel then covered in a rich tomato herb sauce.

Ingredients
8

skinless chicken thighs

2

tablespoons

Olive oil

4

medium tomatoes

chopped

1

fennel bulb

cut into wedges

4

garlic cloves

diced

1

tablespoon

tomato paste

1

cup

low sodium chicken stock

1

tablespoon

chopped fresh basil

1 ½ teaspoons dried

2

teaspoons

chopped fresh oregano

1 teaspoon dried

Salt and pepper to taste
Instructions
Preheat oven to 350 degrees.

Season chicken thighs with salt and pepper.

Heat the olive oil in a large skillet over medium high heat. Working in batches if needed, add the chicken skin side down to the pan. Sauté until the skin is browned, about 5 – 7 minutes. Remove chicken from pan and set aside.

Add the fennel to the pan and sauté until browned on all sides, about five minutes. Add garlic and sauté until fragrant, about 30 seconds to one minute.

Add the chicken broth and the tomato paste to the pan. Stir tomato paste is completely dissolved. Add the tomatoes and and herbs cook for 2 to 3 minutes. Season sauce with salt and pepper.

Spread tomato sauce into the bottom of a 9 x 13 x 2-inch baking dish. Nestle the chicken thighs in the sauce. Bake for 40-45 minutes or until the meat's internal temperature reaches 170 degrees. Allow chicken to rest for 10-15 minutes before serving.

Serve with tomato sauce drizzled over the top.