Last updated on March 31st, 2023
Pull yourself out of the grilling doldrums with grilled pineapple chicken thighs marinated in pineapple juice, soy sauce, garlic, brown sugar and chili garlic sauce.
My family and I love grilling. In fact, we grill year-round when the weather permits. But I definitely notice we grill with more frequency as soon as the temperatures start warming up. However, I feel like we often get in a rut. It seems like it's always hot dogs, hamburgers or chicken wings. A few years ago, someone recommended grilling pineapple and we LOVED it! I decided to take that idea and run with it. The result was this yummy grilled pineapple chicken marinade topped with sweet grilled pineapple rings.
Marinate the Chicken
The pineapple marinade can be used with any cut of chicken meat your prefer – it would even work on pork! I'm partial to chicken thighs. One, they are a cheaper cut of chicken. Two, they have so much more flavor that a boring old chicken breast! But, if you like the boring old chicken breasts, this marinade will work well on those too.
Start by whisking together 1/4 cup vegetable oil, one teaspoon of minced garlic, 1/2 teaspoon ground black pepper, 1/2 cup of soy sauce, 1 cup of pineapple juice, two tablespoons of brown sugar and two teaspoons of chili garlic sauce in a large mixing bowl.
Chili garlic sauce is one of our favorite condiments. We'll find and excuse to put it on anything! It's a chunky Asian sauce made of red jalapeno peppers, minced garlic, sugar, salt, and vinegar. If you love Sriracha sauce, you'll love this. The two are very similar, only chili garlic sauce is thicker. However, it does pack some heat. I'm a spicy food wimp. I can't handle four alarm food. Two teaspoons gave just enough heat without being overpowering, even my kids were able to eat this with no complaint. If you like a little more heat, feel free to add more chili garlic sauce one teaspoon at a time, until you reach your desired heat level.
Place four pounds of chicken thighs in the bowl of marinade. Turn each chicken thigh to ensure they are coated with the marinade. You could also divide the chicken thighs between two large plastic freezer bags and pour the marinade over the top of each. Place the bowl or the bags in the refrigerator and marinate for up to two hours. Turn the chicken or give the bag a good shake halfway through the marinating time to make sure all the pieces are getting the opportunity to soak up all that yummy flavor.
How to get crispy chicken skin on the grill
The whole point of eating skin on chicken of because of the crispy skin, right? There is nothing I hate more is rubbery skin on grilled chicken! I've been doing some research and testing and have finally come up with a method to get crispy skin on a charcoal grill.
When it comes to crispy chicken skin, moisture is your worst enemy. Since we're soaking our chicken pieces in liquid, we need to dry the skin before placing it on the grill. Drain the chicken thighs and discard the marinade. Place them skin side up on a pan or platter and blot the skin with paper towels. Then allow the chicken to air dry at room temperature for about 30 minutes before putting them on the grill (I actually forgot to take a photo of this step, but you can watch my video below to see what I'm doing!).
Heat the Grill
Heat a gas or charcoal grill for medium high heat. You'll want to have a hot side and a cool side. Do this by pushing all of your hot coals to one side of the grill. This is your hot side. We will use this side to render the chicken skin, so it's nice and crispy. The side that does not have the hot coals directly underneath is your cool side. Once the chicken skin has rendered its fat and is nice and crispy, we will finish cooking our chicken on the cool side.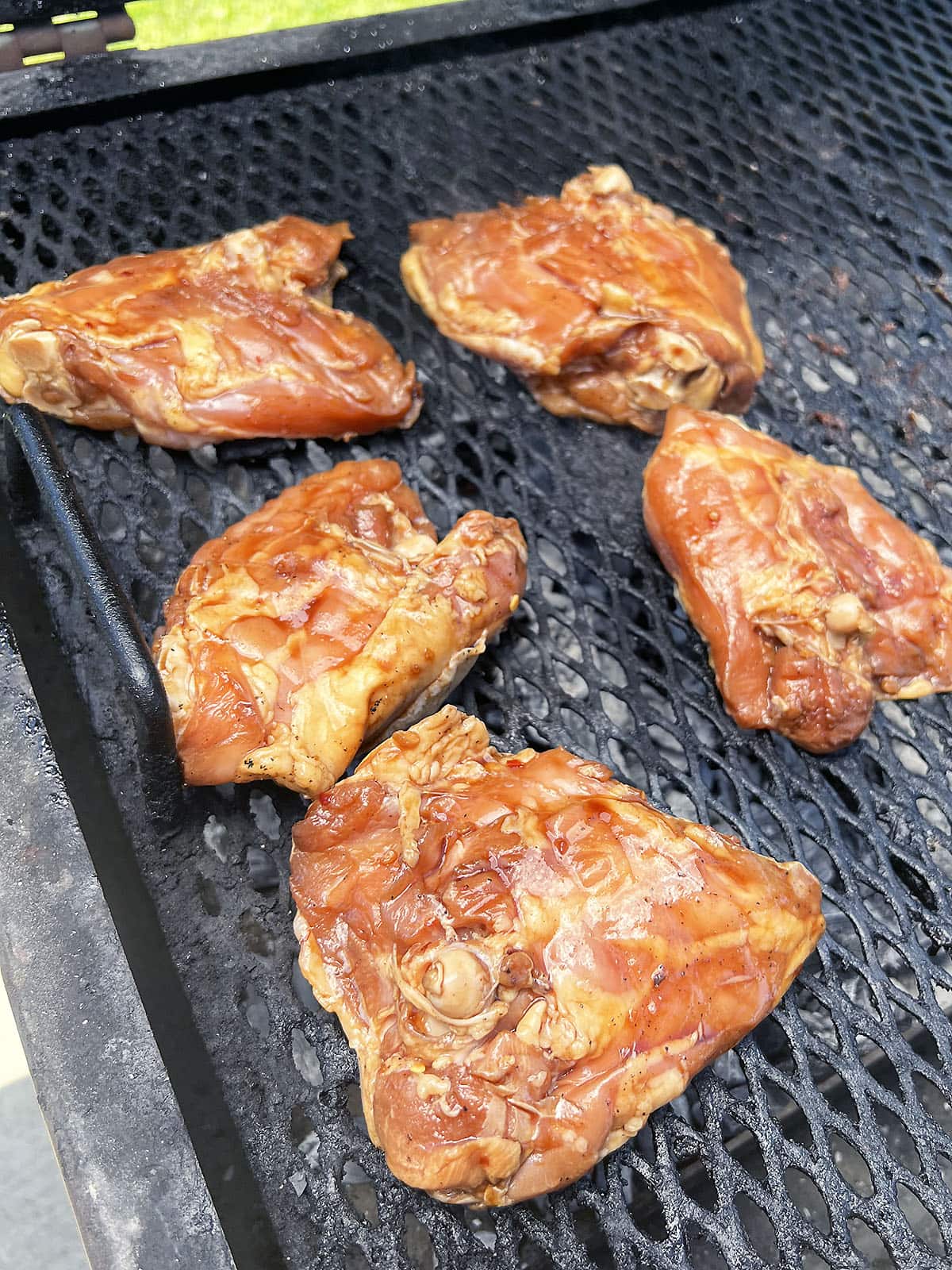 I recommend starting these off at around 425 degrees. Place the chicken thighs skin side down on the hot side of the grill. Leave the chicken on there for 5-10. Then flip the chicken over and move it to the cool side to finish cooking. If after all that you still have a few pieces of chicken skin that aren't quite a crispy as you'd like, it's okay to place it skin side down back on the hot side for a few more minutes. But do keep a close eye on it so you don't overcook the meat.
How do I know if my chicken is cooked through?
For years, the USDA recommended cooking chicken until it reached an internal temperature of 180° F. In 2020, it actually amended its guidelines and now chicken is considered safe to eat once it reaches 165° F. I actually recommend taking the chicken off early, around 160° F or so. We're going to let the chicken rest for 15 minutes before serving. The internal temperature will continue to rise while the chicken rests. Allowing the chicken to rest also allows the chicken juices that have risen to the surface during cooking to redistribute within the meat.
Grill the Pineapple
Keep that grill warm! While the chicken is resting, we're going to grill our pineapple. Place sliced and cored pineapple rings on the hot side the grill for 2-3 minutes. Flip the pineapple and grill for 2-3 minutes more. Serve each chicken thigh with a slice of pineapple on the top or to the side.
Storage, Freezing and Reheating
Storage. Grilled pineapple chicken should be placed in an airtight container or plastic bag and stored in the refrigerator within two hours of cooking. Consume within four days.
Freezing. Wrap leftover chicken pieces in plastic wrap and a layer of aluminum foil. You could also seal individual servings in a vacuum sealed bag. Consume within three months.
Reheating. Allow chicken pieces to thaw completely in the refrigerator. To prevent the chicken from drying out during reheating, preheat the oven to 250 degrees. Arrange the chicken on a baking sheet and allow them to come up to temperature gradually for one hour.
What to Serve with Grilled Pineapple chicken