Last updated on September 27th, 2022
Not a bourbon lover but want to jump on the mint julep cocktail craze? Try a sweet tea mint julep. Sweeter than a traditional julep, but just as satisfying.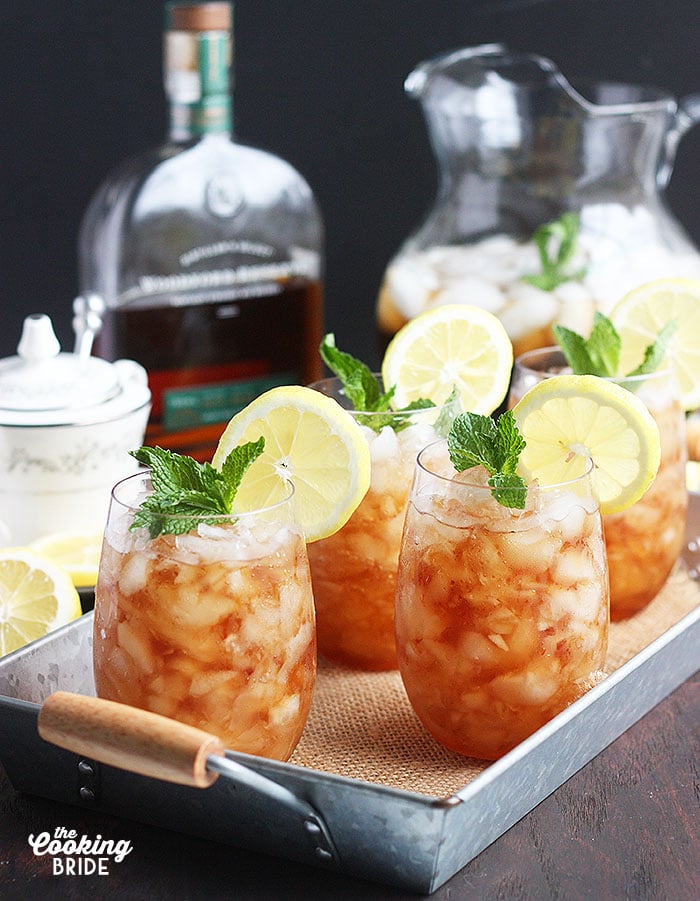 The mint julep is the epitome of genteel Southern cocktail. It's enjoyed on a back porch watching the sun go down on a hot day or by thousands of spectators at the Kentucky Derby. But what if bourbon just isn't your thing? Does that mean you have to miss out? Not at all.
History of the mint julep
The mint julep cocktail can trace its lineage back to Arabia. In the early 1800's, the mint julep was a breakfast beverage enjoyed by the upper class. Doctors also prescribed it to treat stomach ailments. Originally made with brandy or rum, it's thought that bourbon — which is a local spirit in the U.S. — was introduced by lower class Southern farmers who could not afford imported liquors.
It was U.S. Senator Henry Clay from Kentucky that popularized the drink in the 1850's. You may remember reading about Clay in high school history class. He served in both the United States Senate and House of Representatives, as well as Speaker of the House and Secretary of State. He frequently patroned the Red Robin Bar at the historic Willard Hotel while Congress was in session and it was here he introduced the classic mint julep cocktail to his compatriots.
Why are mint juleps associated with the Kentucky Derby?
Though its American origins date back over 200 years, the mint julep didn't become the official cocktail of the Kentucky Derby until 1938. That didn't mean people weren't drinking it at the races before then. History shows a link between horse racing and mint julep cocktails dating back to the 1820's. Today, Churchill Downs, the official venue of the Kentucky Derby, serves up 120,000 juleps over the two days of races.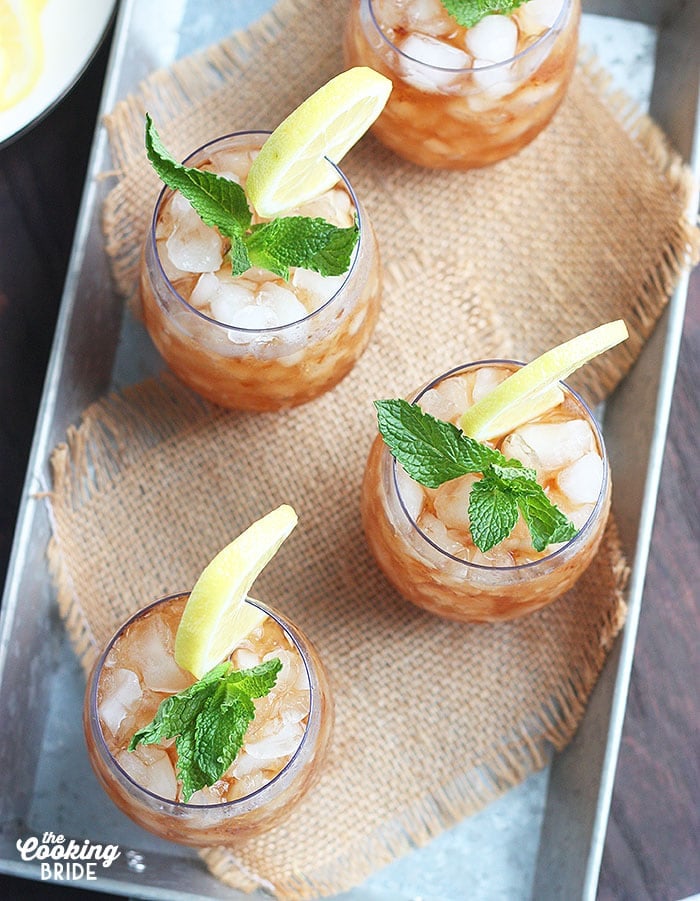 What's in a Mint Julep?
A classic mint julep cocktail contains only three ingredients – bourbon, simple syrup and mint. It's served over ice, preferably crushed, with a garnish of fresh mint leaves. Traditionalists insist a mint julep must be served in a silver or pewter cup.
What is the best bourbon for a mint julep?
Old Forester is the official bourbon of the Kentucky Derby.  However, if you have wads of cash to throw around, you can pay for a mint julep made with Woodford Reserve and served in a gold-plated glass with a silver straw.
Since bourbon is the star of the show in this cocktail, you want something smooth. Stay away from really cheap brands such as Old Crow and Evan Williams. Instead, opt for a mid-priced bourbon like Maker's Mark, Four Roses Yellow Label, Woodford Reserve or Bulleit. These brands will run you around $25-30.
How to Make Sweet Tea Mint Julep Cocktail
I get it. Bourbon is not for everyone. So what do you do if you really want to jump on the mint julep craze, but you're just not a bourbon lover? Introduce the South's most beloved cocktail to its favorite cold beverage.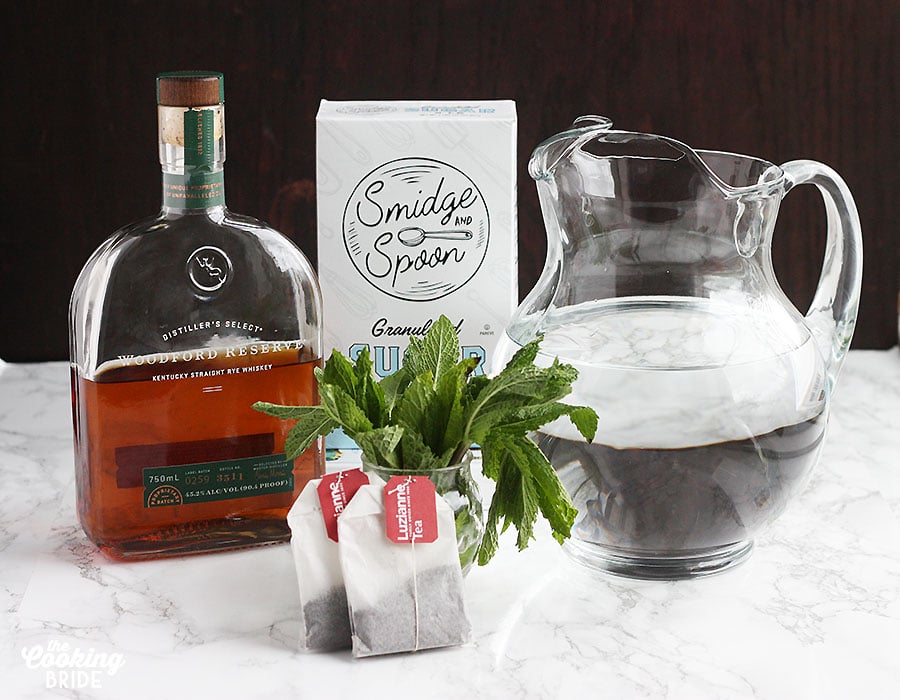 We're replacing the simple syrup with sweet tea. It's a little sweeter than a standard mint julep. The tannins in the tea help to soften the flavor of the bourbon.
Start by making a batch of sweet tea. I used my own sweet tea recipe, given to me by The Husband's aunt. Start with eight cups of cold water in a medium sauce pan. Bring the water to a roiling boil. Remove the pan from the heat.
Next, add the tea bags. Southerners are as particular about their tea bags as they are their brand of mayonnaise. Not just any brand of tea will do. A few weeks ago, I conducted a poll on Facebook and Instagram regarding everyone's favorite brand for sweet tea. Lipton and Luzianne were the two clear winners.
Add two family sized tea bags to the hot water. We're skipping the step of muddling the mint leaves with the sugar by adding 15 or mint leaves straight to the hot water. Cover and let the tea mixture steep for about 15 minutes.
Finally, add 1 ½ cups of granulated sugar. You can, of course, adjust this ratio to suit your liking. Stir in the sugar until it is dissolved. I recommend letting the sweet tea chill before making the cocktail.
To make the cocktail, fill a glass completely to the top with crushed ice. Add 2-3 ounces of bourbon. Again, adjust this to your taste. Start with two ounces at first, you can always add more. Finally, top the cocktail off with the sweet tea. Garnish with fresh mint leaves.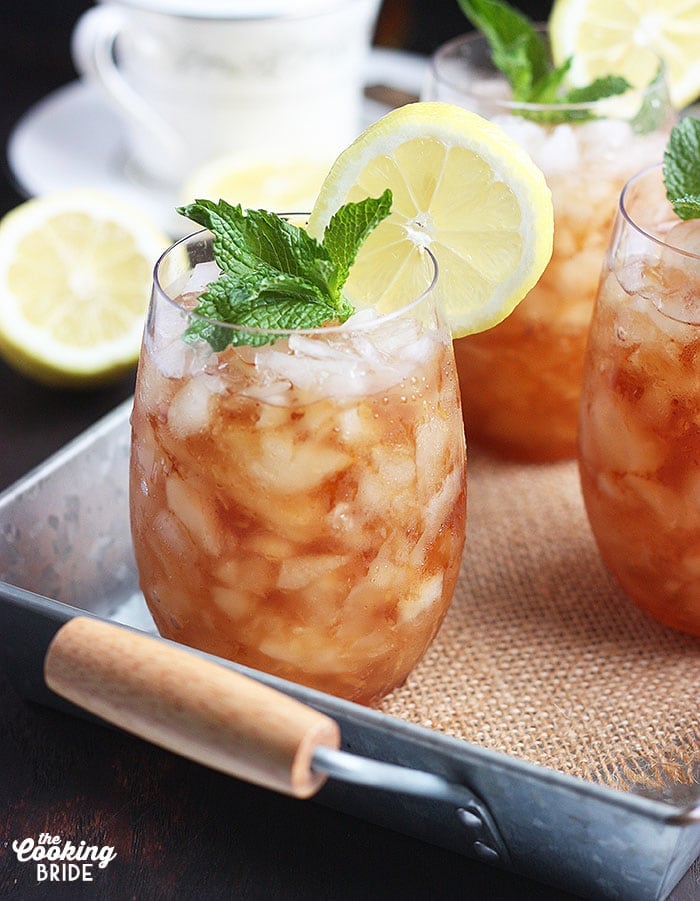 Sweet Tea Mint Julep
Not a bourbon lover but want to jump on the mint julep cocktail craze? Try a sweet tea mint julep. Sweeter than a traditional julep, but just as satisfying.
Ingredients
8

cups

cold water

2

family sized black tea bags

15

mint leaves

plus more for garnish

2-3

ounces

of bourbon

per cocktail
Instructions
Pour the cold water into a medium sauce pan. Bring the water to a rolling boil over medium high heat. Remove the pan from the heat.

Add the teabags and the mint leaves. Let steep for 15 minutes. Remove the tea bags and mint leaves and discard.

Add 1 ½ cups of granulated sugar. Stir until the sugar is dissolved. Allow the tea to cool completely before serving.

To assemble the drink, fill an 8-ounce glass to the brim with crushed iced. Add 2 ounces of bourbon. Top off the drink with the sweet tea.

Garnish each glass with fresh mint leaves if desired.
Nutrition
Serving:
1
cocktail
|
Calories:
199
kcal
|
Carbohydrates:
6.6
g
|
Sodium:
1
mg
|
Potassium:
15
mg
|
Sugar:
6.3
g
|
Vitamin A:
120
IU
|
Vitamin C:
0.6
mg
|
Calcium:
5
mg
|
Iron:
0.4
mg