Last updated on May 15th, 2023
Love the guac? Give this easy guacamole recipe a try! Ripe avocacos, sun-dried tomatoes and lime juice create fresh flavors.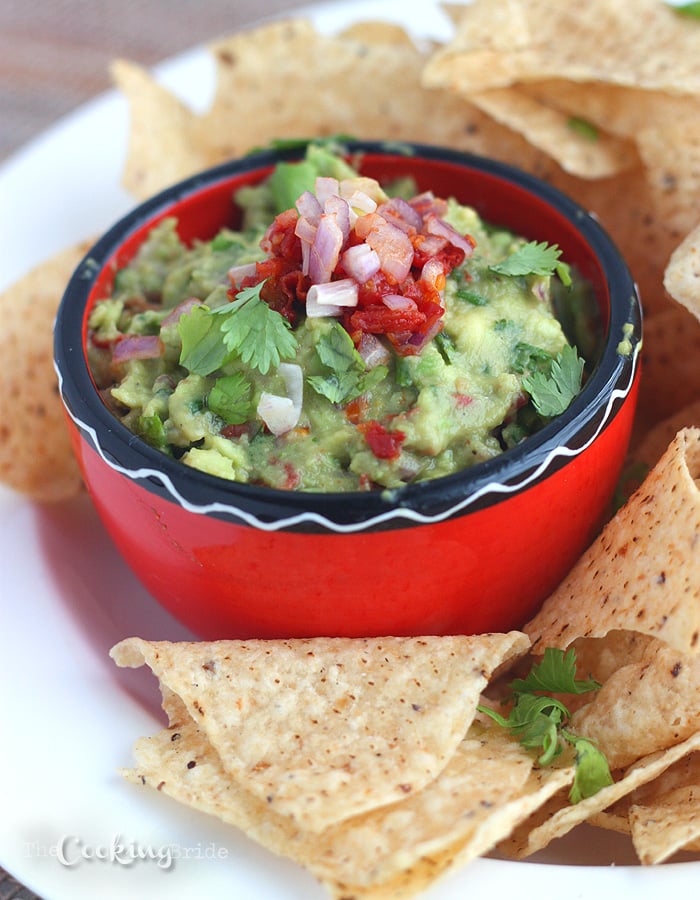 Babalu Tapas & Tacos is a restaurant that has been spreading across the Southeast, but the very first location opened right here in Jackson, Mississippi.  As soon as you are seated, your waiter or waitress will ask if you want an order of guacamole. Even if you don't like guacamole, just say yes. This isn't gloppy green mush from a plastic container. It's made fresh tableside right in front of your eyes. The last time The Husband and I met there for lunch, I watched our waitress like a hawk, taking a mental note of the ingredients she put in so I could attempt to recreate it at home.
Choosing the Best Avocado for Homemade Guacamole
As you peruse the produce section at the grocery store, you may notice a few different types of avocados — both large and small. Resist the urge the buy the biggest avocados you can find. Instead look for Hass avocados. They are a little smaller, but they contain less water and have a more creamy texture because of their higher oil content.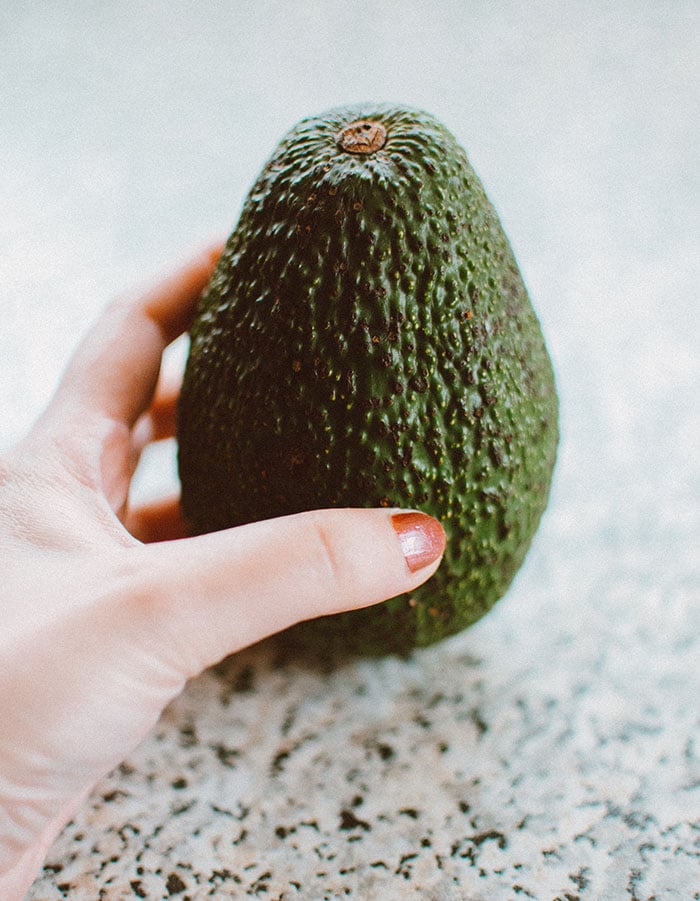 Now, the million dollar question is … how to choose the perfectly ripe avocado. First, look at the color of the skin on the outside. Under ripe avocados are going to be on the green side. As they ripen, the skin turns dark green to almost black. So … choose an avocado with a dark skin.
Next, give it a little squeeze. Yes, I know that sounds so cliche, but I'm serious. Not a stress test squeeze. You don't want to leave a bruised and browned avocado for the next unsuspecting shopper. Gently press the flesh of the avocado. If it has a little give, it's ripe. But if it feels mushy, put it down. It's way too ripe and likely brown on the inside.
To slice open the avocado, simply take a sharp knife and cut through until you feel the blade come in contact with the pit. Slide your knife all the way around the perimeter of the pit, then gently pry it open. If you have truly chosen the perfect ripe avocado, one half should break away easily.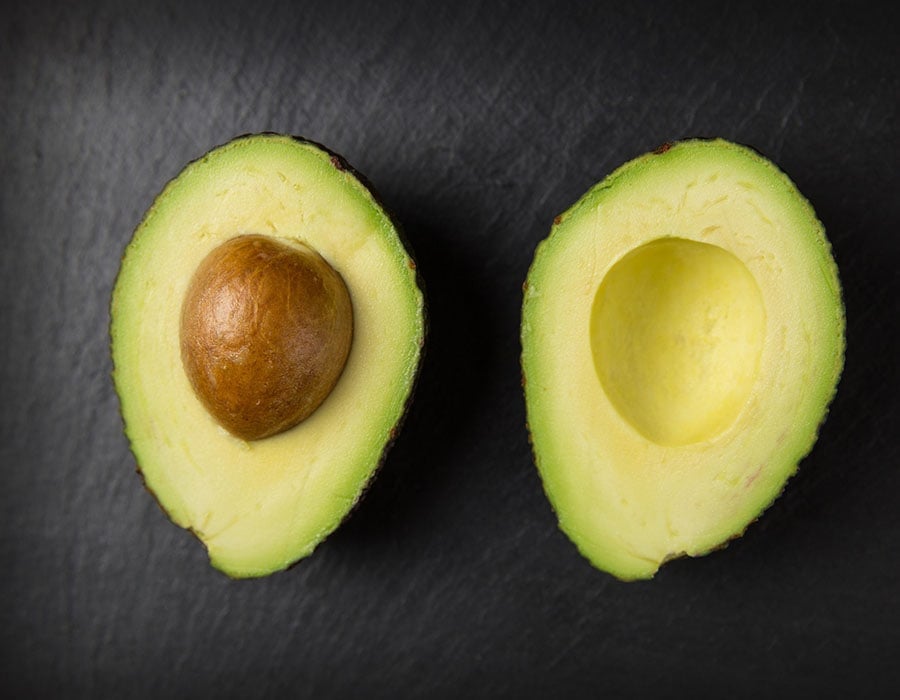 You'll need to remove the large hard pit from the center. Some recomment laying the avocado half flat on a cutting board and whacking the pit with the blade of a large knife. Knowing my luck, I would accidentally slip and whack a finger. I prefer to gently lift the pit out with the edge of a spoon. Next, run the spoon all along the inside perimeter of the skin and gently pry out the inside.
How to Make Babalu Guacamole
If you've ever had the homemade guacamole at Babalu and you are a fan, you are in luck. The recipe is super simple to make. You will need:
2 Hass avocados
1 tablespoon chopped green onions
1 tablespoon chopped red onion
1 ½ tablespoons freshly squeezed lime juice
1 ½ tablespoons minced fresh cilantro
1 tablespoon minced sun-dried tomatoes packed in oil
Kosher salt and pepper to taste
Start by scooping out the insides of the two Hass avocados into a medium mixing bowl. Add the remaining ingredients, then using a potato masher or even a plain old fork, mash the avocado until creamy and mix everything together until its evenly incorporated throughout.
How to Store Homemade Guacamole
One of the biggest complaints about avocados is their tendency to turn brown within 2.5 seconds of cutting it open. Okay, maybe I'm exaggerating just a teensy bit. Three seconds.
Avocados have a enzyme that reacts when exposed to air, causing the fruit to turn brown. Nothing is less appealing than brown guacamole. Acids, such as lime juice, help prevent oxidation from occurring, keeping your guacamole fresh looking for several hours.
It's best to serve homemade guacamole right away. However, you can make this in advance and store it in the refrigerator for several hours. Guacamole shouldn't be left a room temperature for more than a couple hours. Anything more than that and harmful bacteria starts to breed. Leftover guacamole will keep in the refrigerator for 2-3 days.
Did you know you can even freeze guacamole? This comes in handy when avocados are in season and cheaper. Simply spoon everything into a zippered plastic bag, fold the air out, and lay flat in a freezer. Allow the guacamole to thaw in the refrigerator for several hours before serving.
I have a confession to make. I made this no less than three times in the last four it was that good. I love the addition of sun-dried tomatoes vs. chopped fresh tomatoes. The sun-dried tomatoes added some tang and a little chewiness. That, and I like to snack on them while doing my prep work. One for the guacamole, two one for me. . . one for the guacamole, one for me . . .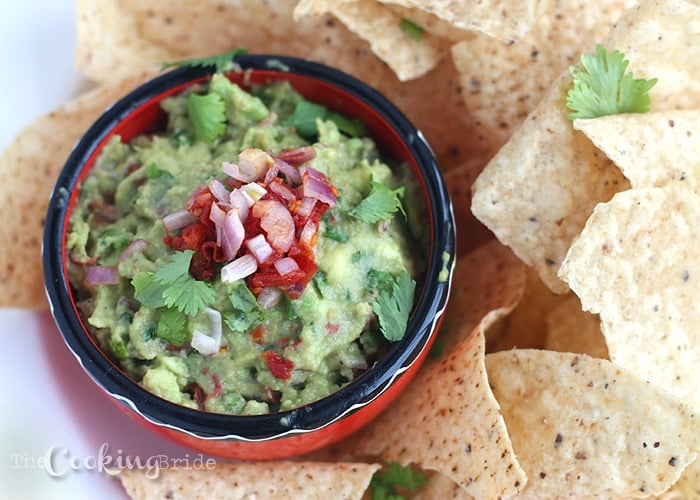 You Might Also Like:
Babalu Guacamole
Love the guac served at Babalu Tapas & Tacos? Give this easy guacamole recipe a try! Ripe avocacos, sun-dried tomatoes and lime juice create fresh flavors.
Ingredients
2

Hass avocados

1

tablespoon

chopped green onions

1

tablespoon

chopped red onion

1 ½

tablespoons

freshly squeezed lime juice

1 ½

tablespoons

minced fresh cilantro

1

tablespoon

minced sun-dried tomatoes packed in oil

Kosher salt and pepper

to taste
Instructions
Split avocadoes, remove and discard pit, and scoop meat into a medium bowl.

Add remaining ingredients and using a fork or a potato masher, mash until ingredients are well-incorporated.

Season with salt and pepper to taste.