Last updated on April 2nd, 2023
Shrimp nachos are loaded with spicy succulent shrimp, creamy chili cheese sauce, black beans, diced tomatoes, jalapenos and cilantro.
I don't make nachos enough. I'm not sure why. Chips are the only real requirement, which means you can go crazy with the toppings. Not to mention it's a complete meal that you are supposed to eat with your hands. A few months ago, my family and I came back from our annual beach trip on the Alabama coast with a cooler full of fresh caught frozen Gulf shrimp. They were so pink and delicious, I just couldn't resist cooking some up and tossing them on top of a plate full of tortilla chips and homemade chili cheese sauce.
Season the Shrimp
We're going to start with a pound of uncooked peeled and deveined large shrimp. I'll leave it up to you if you want to pull the tails off or not. I will admit, while tail-on shrimp looks prettier in pictures, it's a total pain to have to dispose of the tail every time you want to take a bite.
Combine one tablespoon of olive oil with two large cloves of minced garlic. Add one tablespoon of Cajun seasoning, more if you like a little more spice. Add the shrimp and stir until the shrimp are completely coated with the oil and seasoning. Set the bowl of shrimp aside for now.
Make the Chili Cheese Sauce
Have you ever had nachos from the concession stand at a football game. It always tastes like glue. This is NOT that type of chili cheese sauce!
In a large saucepan, melt four tablespoons of unsalted butter over medium-high heat. Gradually whisk in four tablespoons of all-purpose flour. Cook the flour for for 2-3 minutes, stirring constantly. Do not allow the flour to brown.
Slowly stir in two cups of whole milk, continuing to whisk until the mixture is smooth and does not contain any lumps. Add one (10 oz.) can of chopped the green chilis and bring the sauce to a simmer. Continue to cook for about 5 minutes or until the sauce has thickened, stirring constantly. Remove the sauce from the heat.
Add two cups of freshly grated cheddar cheese. It's important to grate your own cheese from a block instead of using pre-shredded cheese. Shredded cheese from a bag contains anti-caking agents to keep the cheese from sticking together. But it also prevents the cheese from melting smoothly. You'll end up with a greasy, gloppy mess instead of creamy deliciousness. Stir in the cheese until it's melted.
Add 1/2 teaspoon of salt and 1/4 teaspoon of cayenne pepper to the sauce. Again, if you like a little more heat, feel free to add a little more cayenne pepper. Remove the sauce from the heat and set aside.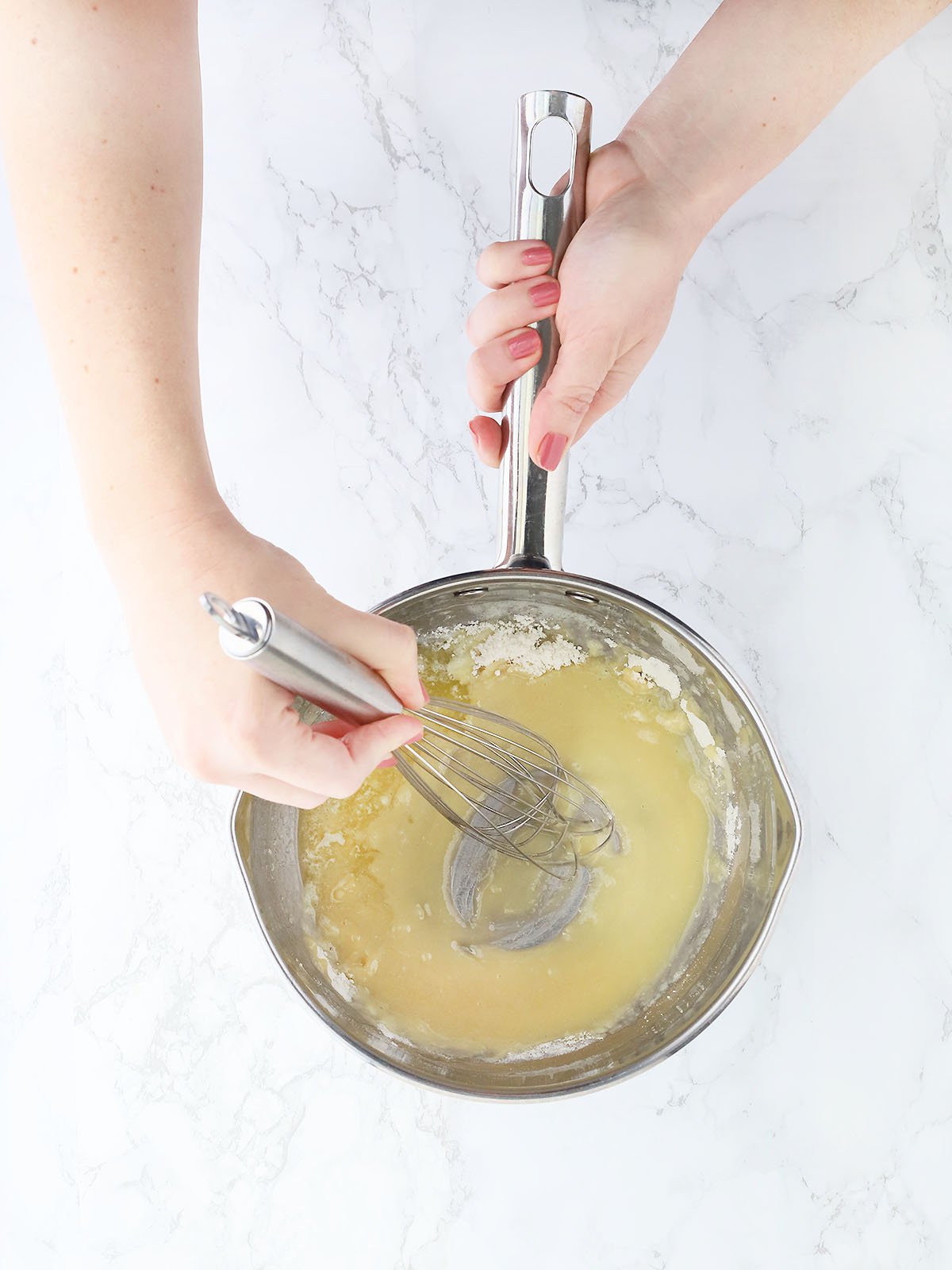 Assemble the nachos:
Preheat the oven to 400 degrees. Arrange a bag of tortilla chips in a thin layer in a 9 x 10 casserole dish or on a large foil lines baking sheet. Drizzle the chili cheese sauce over chips and top with one cup of the Monterey Jack cheese. Spoon one 15 ounce can of drained black beans over the shredded cheese.
Spread the shrimp over the top of the black beans. Sprinkle with an additional cup of Monterrey Jack Cheese. Place the nachos in the oven and bake until the shrimp is opaque, and the cheese is melted, about 8-10 minutes.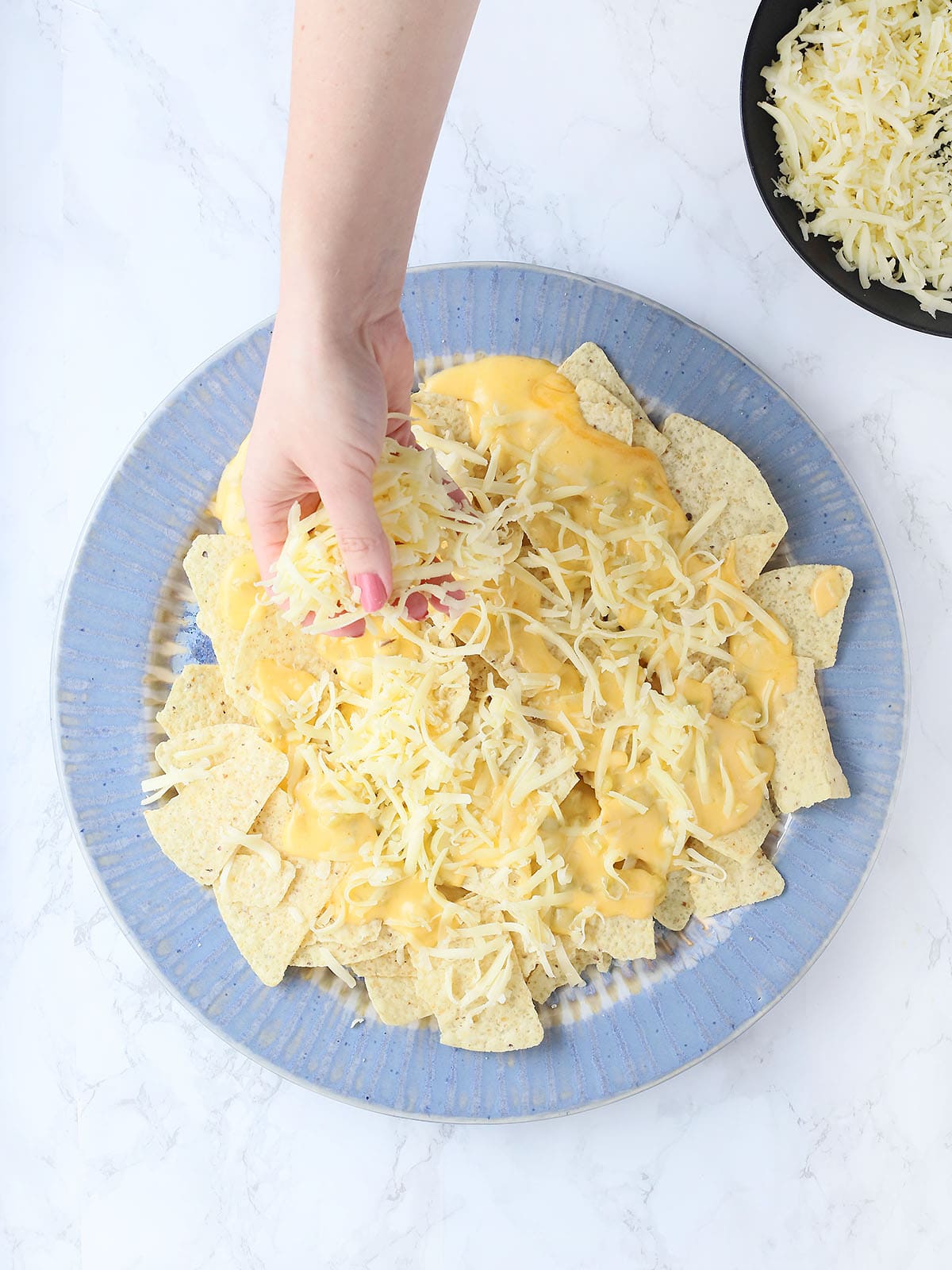 Remove the nachos from the oven. Before serving, top with one diced Roma tomato and 1/4 cup of sliced green onions. Add some pickled jalapenos and chopped cilantro to your liking, if desired. Serve the nachos immediately.
You Might Also Like: